Buriram provincial government initiates Thailand's first partial lockdown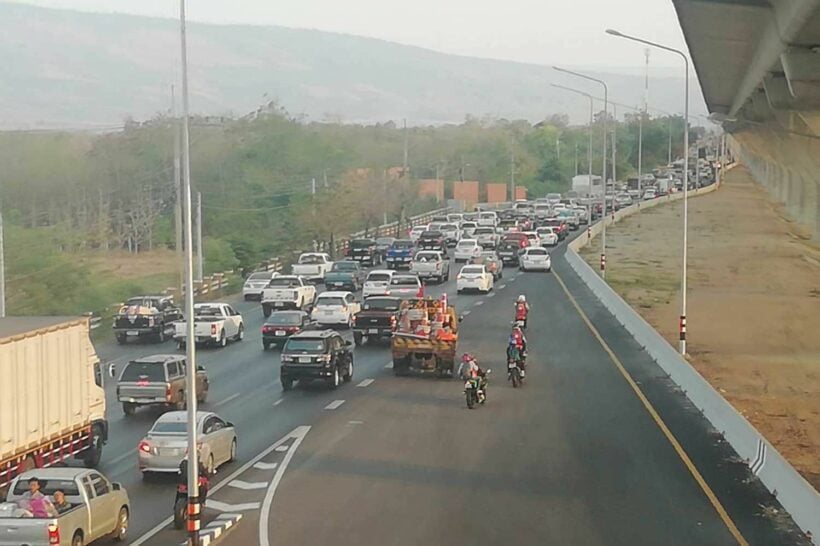 Buriram province, in east of Bangkok, bordering with Cambodia and home of the Thai leg of the MotoGP, is the first of the country's 76 provinces to take a pro-active stance against the Covid-19 coronavirus. The provincial government has imposed a partial lockdown to restrict the spread of the disease.
The Buriram Governor Tatchakorn Hatthathayakul says, even though there has no Covid-19 cases reported in the province… "it is necessary for stringent measures to be imposed to protect people".
"All visitors, Thai or foreign, must be screened upon arrival at the provincial airport, railway station, hotel or village."
"Non-residents must register, so that they can be traced throughout their stay in the province or during the 14 days following their arrival. This tracking system will be linked with the health officials' network."
The Governor stressed that group activities, such as seminars, conferences, ceremonies, summer courses for students, ordinations of novices and markets (other than food markets), where more than 50 people are expected to gather, will be cancelled or postponed.
"If this is not possible, then prior permission must be obtained from the relevant chief district officer and they must comply strictly with the safety standards issued by the Public Health Ministry."
The governor also said that the chairman of Buri Ram Football Club has promised to convert a Bric Box hotel into a temporary hospital with 80 rooms, to accommodate up to 115 patients.
SOURCE: Thai PBS World

Keep in contact with The Thaiger by following our
Facebook page
.
All new arrivals to Thailand banned, effective immediately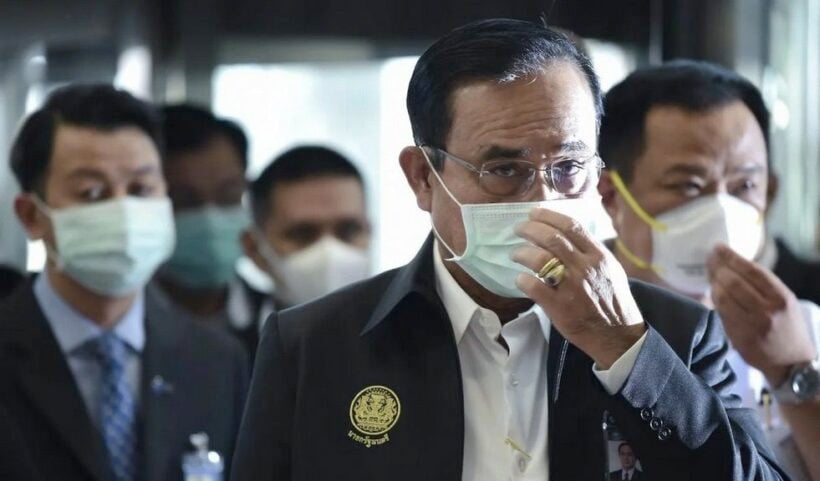 Effective today, and until at least April 15, Thailand will bar all arrivals due to the increasing number of Covid-19 coronavirus cases.
Thaveesilp Wissanuyothin, spokesman of the Center for Covid-19 Situation Administration, says that PM Prayut Chan-ocha has ordered the Ministry of Foreign Affairs to issue a new directive prohibiting any new arrivals.
"The spread of Covid-19 must be stopped. The Ministry of Foreign Affairs will give more details on the directive. However, people who already have permission and who need to enter Thailand are exempted, but there will be a strict process via the embassy."
Thaveesilp says Thais returning from overseas and foreign visitors are partly responsible for the continuing rise in the number of new infections.
"Though the number of travellers from overseas has significantly declined, the PM believes more needs to be done to stem overseas arrivals in order to further flatten the curve."
He says the PM wants to see stringent measures imposed on overseas arrivals between April 2-15. The Foreign Ministry has been tasked to find out ways to implement the directive from the PM.
Asked whether the government is moving toward imposing curfew to enforce its "stay at home" measure, Thaveesilp said "just wait for what the prime minister will have to say today."
He says 4 of the 6 Thais who recently returned from Italy tested positive for the virus, with another 50 people who have come into contact with them being quarantined.
As many as 47 of the 132 Thai Muslims in southern Thailand who returned from a religious function outside Kuala Lumpur last month have also tested positive and 4 have died. More than 1,000 people had to be quarantined as a result.
Four executives of the CP Group, Thailand's largest private company and one of world's largest conglomerates, returned recently from negotiating the Tesco deal and one of them died after being infected with the virus.
Thaveesilp says these figures only reinforce concerns that the spread of the deadly virus cannot be curbed if people from overseas continue to be allowed in without more stringent screening.
He says the PM told the Foreign Ministry to further tighten restrictions on Thais planning to return from abroad, asking them to postpone their trips until after April 15. This new measure, he said, applies to all Thai citizens abroad, including American Field Service exchange program students who are living in the US with their host families, with the exception for those already issued with permits to return to Thailand.
The total number of coronavirus cases in Thailand hit 1,875 today with 104 new infections confirmed over a 24-hour period, a fifth consecutive drop in the daily number. 3 more deaths were reported.
Source: The Nation | Thai PBS World
Keep in contact with The Thaiger by following our
Facebook page
.
New Covid-19 test kits produced in Thailand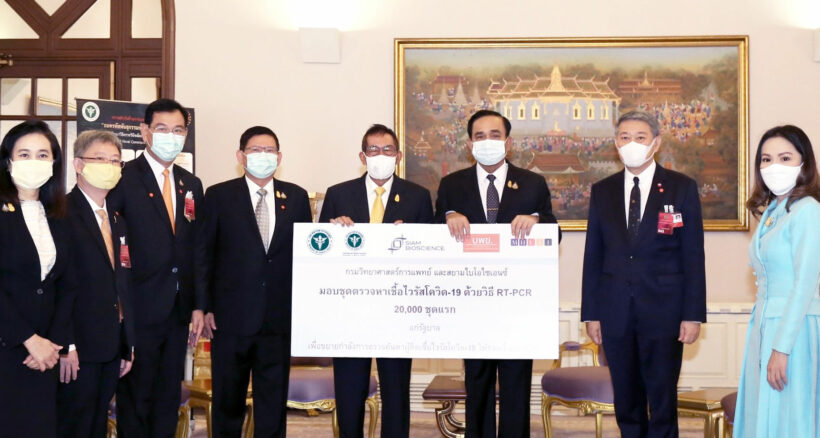 Today the first batch of 20,000 new Covid-19 test kits, developed by a joint effort of the Siam Bioscience and The Department of Medical Science, has been delivered to Government House. Each locally produced test kit costs around 1,500 baht each, while imported ones will cost about 4,500 baht each.
The association of Siam Bioscience and The Department of Medical Science aim to produce 20,000 test kits every week, and once 100,000 kits have been produced, they will be distributed among 100 hospitals nationwide.
Meanwhile, the Government Pharmaceutical Organisation yesterday approved the urgent purchase of 400,000 N95 masks and the same number of personal protection suits from China. A budget of 660 million baht has been earmarked for the purchase. China will send 150,000 by air within this week and will ship 250,000 in the next few weeks.
A similar story where Chulalongkorn University has developed, and currently testing, a new blood test for the Covid-19 virus. The "Baiya Rapid Covid-19" testing strip uses blood drawn from the fingertip and delivers results in 10 to 15 minutes.
SOURCE: The Nation
Keep in contact with The Thaiger by following our
Facebook page
.
National curfew announced. Takes effect tomorrow.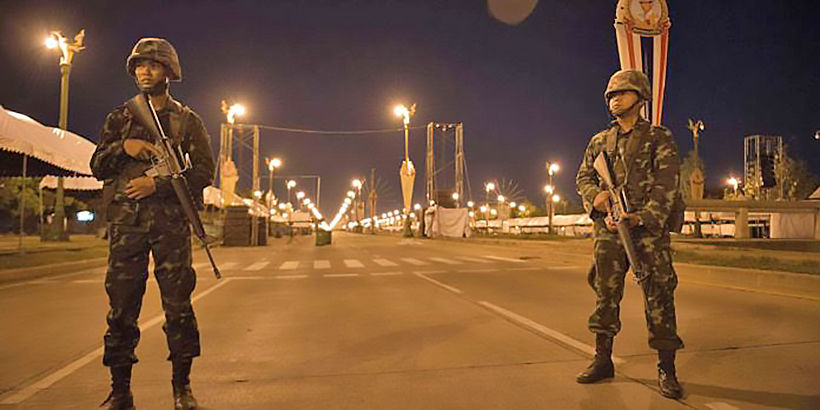 Thailand will announce a nationwide curfew between 10pm – 4am starting tomorrow (Friday) to try to curb the spread of the Covid-19 coronavirus. The government made the announcement in a statement today.
There will be some exceptions to the new measure, including the transport of medical supplies, movement of people into quarantine, patients and travel of medical personnel, according to the statement presented this afternoon.
"The prime minister will make the announcement this evening on national television around 6 pm"
Thailand has been under a national state of emergency since last week and has closed its borders to foreigners.
SOURCE: Reuters
Keep in contact with The Thaiger by following our
Facebook page
.