Property Watch: Tourism's disruptive behavior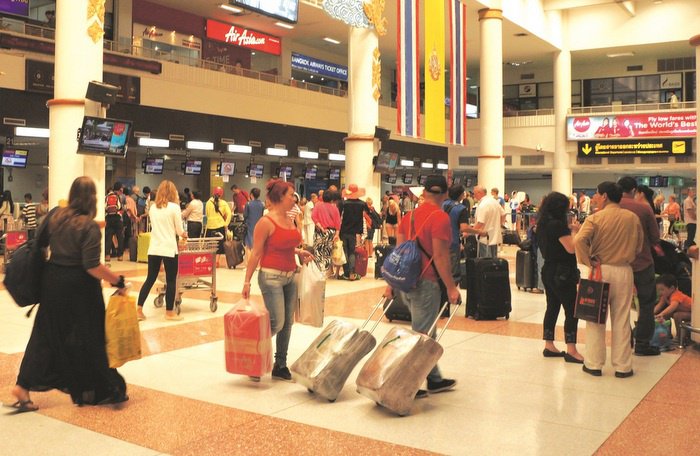 PHUKET: As the island rains have drenched the collective spiritual well-being of Phuket's hotels and property people, a little step into the reality zone could be needed.
There is little doubt that the months of May and June – well, throw in September – remain agonizing for those in the trade. I came to live here in 2000 and year in and year out, it's pretty much the same line, though the faces, places and perhaps haircuts have changed.
Typically the online rant goes, 'I've never seen the island this quiet. Folks I know have moved to (insert Chiang Mai, Vietnam, Cambodia or any other flavor of the month). It's all over for the island, time to move on'.
Sound familiar? Yes. Anyway, that being said, there is little doubt that Phuket, Asia and the world in general are changing dramatically in the year of all things disruptive – currency, politics, MERS and a number of other things that are shaking up the bag of tricks. Let's not forget FIFA.
I've had a good, hard look at data compiled by C9 Hotelworks from the first five months of the year and in reality it's mainly an affirmation of things we already knew or should have expected. Wait, there will be surprises later on, so keep reading.
Overall passenger arrivals at Phuket International Airport rose 3% in the period of January to May, compared to the same months in 2014. While one can look back at the political crisis of last year, the reality is the hardest hit months were not the declaration of Martial Law in May but the ensuring period of June through September. So bottom line, there is year on year growth.
Let's take a quick look at the Russians. This is the second largest international market for Phuket. Back of a burned out ruble, comparing 2014 to 2015, numbers went backwards by 42.5%. On overseas arrivals, Russia still accounts for 11.4%, though has slid down from a peak of 20.4% last year and 18.5% in 2013. There is a defined gap in the market where the Russian's once occupied such a prominent place. Who will be the replacement players?
Of course, it's the Chinese. Mainland China now accounts for 37.2% of the international set. Growth this year in the five-month period has been 30.9%. In 2014 this tracked at 11.7%. The volume is there, though the impact on average room rates and length of stay is obvious.
Meanwhile, South Korea, which holds 5.3% of the segment, slipped by 15.3% versus last year. Expect MERS to add to the loss. One of the key segments for Phuket's upscale pool villa resorts is the Korean honeymoon market and this appears to be in marked decline.
A closely watched market by hotels is Australia, who still rank in the Top 5 with 6.3%, but this year dropped numbers by 7%. Most industry watchers cite currency as a key negative, but on the flip side, numbers to Bali remain up for Australians.
Taking a step backward, most of the fast growing segments to Phuket are from Asia – meaning Hong Kong, Indian, China, and Malaysia, with growth in this band for January through May sitting at 30 to 34% over the same period in 2014. One unlikely star performer is South Africa who are tapping into the increase in flights via the Middle East and are up over 80% for the period versus 2014.
This shift has been in the worst since the Grand Financial Crisis and will only become more defined as regional airlift increases and a rising consumer class targets leisure holidays. While there's a cry that the legacy Europeans have abandoned Phuket, it is entirely untrue. Western Europe as a group grew 8% this year and topping the list has been France with an uptick of 31.7%.
Overall, as Phuket is evolving, the driver if fundamental change is Asia and the fact that lower room rates is inevitable. This is a reaction to dramatic increase in hotel supply and geography. One additional key impact is the shorter length of stay by the new markets which means Phuket-wide occupancy is not seeing a correlation to the airport arrival growth.
Clearly Phuket hotels, tourism and property players have to understand the trend is here to stay and forward plan offerings and investment which are now being disruptive to old school thinking. Change may not always be viewed as good, or necessarily bad, but in this case it's inevitable.
Bill Barnett is Managing Director of C9 Hotelworks (c9hotelworks.com), a Phuket-based hotel and property consulting firm. His BLOG (thephuketinsider.com) is the source for all hotel and real estate news within greater Phuket.
— Bill Barnett

Join the conversation and have your say on Thailand news published on The Thaiger.
Thaiger Talk is our new Thaiger Community where you can join the discussion on everything happening in Thailand right now.
Please note that articles are not posted to the forum instantly and can take up to 20 min before being visible. Click for more information and the Thaiger Talk Guidelines.