Buyback Option at VIP KATA Condominium by Phuket9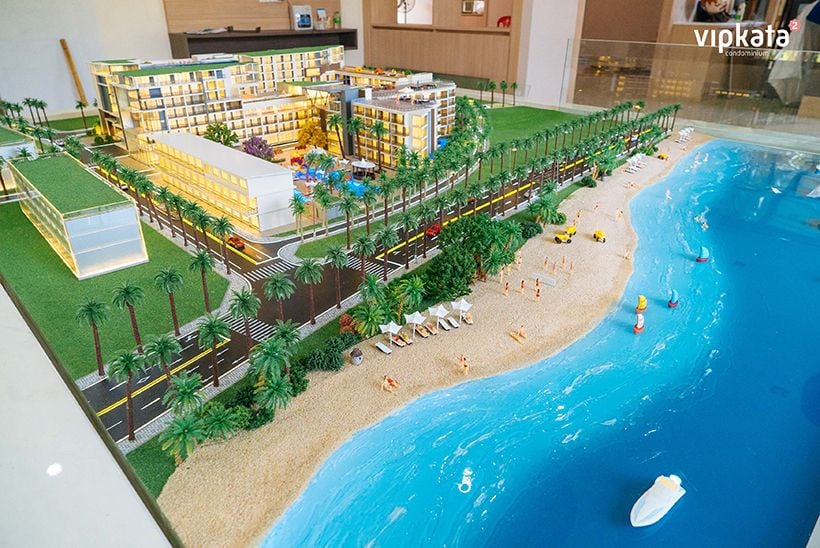 Phuket9 Company announces a buy-back option for VIP KATA Condominium Project with a rental return of 56% over 8 years.
The first two buildings of VIP KATA Condominium were launched in July 2018. After one month in August 2018, Phuket9 commenced construction of the second phase – 2 more buildings including 209 apartments, 2 common swimming pools, rooftop gardens, restaurants and a kids club.
By March 2019 foundation construction of 2 new buildings is completed and more than 50% of apartments are already sold out.
From March 2019 Phuket9 offers an option of re-purchasing apartments registered under leasehold. This offer is available only for a limited number of apartments.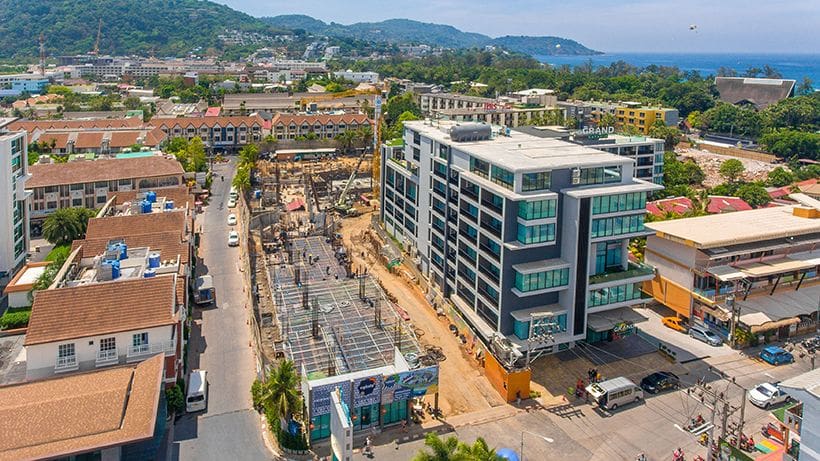 56% Rental Income
Rental program and apartment management in VIP KATA Condominium has been operating for 8 years and brings 7% income per annum to the customer. Value-added tax (VAT) is deducted from rental income.
At the end of a rental program agreement, further cooperation or agreement extension is discussed on a case-by-case basis.
Instant Rental Income
If a customer purchases an apartment in new buildings of VIP KATA Condominium, he/she has an opportunity to receive income starting the next day after full advanced payment is complete, even before construction is completed. In other words, if a customer decides to make a full advanced payment, his/her investment will bring income instantly after the payment is transferred to a company account.
Condominium Buyback Agreement
Agreement of buy-back by a developer is signed together with a unit purchase agreement from the VIP KATA Condominium. This agreement is an option for our customers.
The unit may be bought out by a developer at the end of the rental program (after 8 years). A customer has an opportunity to get 56% (7% per annum) rental return and plan an investment exit with 100% unit price return.
Condominium unit buyback agreement implies obligatory unit sale to a developer in case customer signed this agreement. If at the end of a rental program customer planning to sell an apartment by himself/herself at the market or extend rental program agreement with a developer, buy-back agreement should be not signed.
Condo Purchase in VIP KATA
If you want to purchase an apartment in the completed buildings of VIP KATA Condominium, or in one of the buildings under construction, you can contact Phuket9 sales department for more information. You will receive a current price list, apartment floor-plans for each level, reservation and payment details, examples of agreements translated into your language.
Purchase Process
You can purchase an apartment remotely. However if a customer has the opportunity it's better to visit the developer's office and construction site to see the location, check out the completed buildings of the first phase and construction works of the second phase.
Apartment Reservation
After choosing an apartment the customer makes the first payment 100,000 THB to Phuket9 and gets a receipt of their apartment reservation.
In most cases, apartment reservation is made only after visiting show-room and construction site. After 100,000 THB payment the customer leaves Thailand and further agreement signing is made remotely.
The signing of an Agreement
Preparation of purchase/sale agreement takes from a few days to 2 weeks, depending on how many amendments customer will make.
After all the preparations are done developer sends 2 signed copies to a customer by express mail.
The customer signs 2 copies and sends 1 of them to Phuket9 office address.
Payment by Agreement
After the agreement is signed the customer makes payment in accordance with the payment schedule specified by the agreement. After payment is received, the developer sends a receipt and the agreement comes into force.
Rental Income
Depending on the terms and conditions of the rental program, the developer transfers a percentage to the customer's Thai bank account twice a year.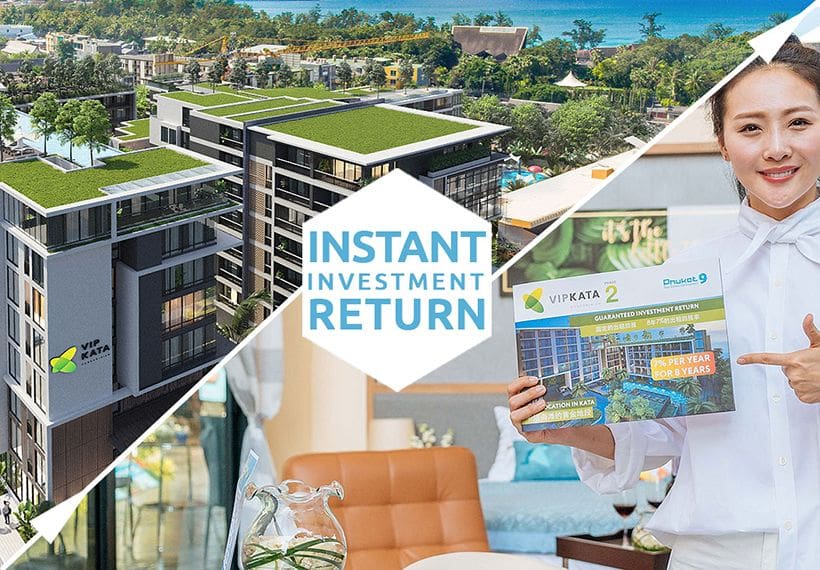 Investment With Guaranteed Income
If you're interested to invest in VIP KATA Condominium by Phuket9, please check out some of the following advantages of this project:
Location – 500 metres away from the beach, developed area facilities
Unique concept – more than 380 apartments, kids park, rooftop gardens
Completed buildings and 2 more buildings under construction
Rental program with 56% ROI – instant income already during construction works
Unit buy-back option for fixed investment exit
Furniture and decoration packages are included in the price
Bonuses for customers like discounted accommodation in company hotels
Phuket9 company is one of the fastest growing development companies in Phuket known for active construction of commercial properties in Phuket – hotels, kids parks, spa, medical clinics.
Welcome to Phuket! Contact us for more information, transfer order to company office or construction site.
Phuket9 sales department contacts: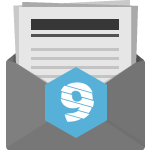 Receive Project Information and get in touch with our team to receive our latest sales kit to your mailbox.
Сontact us directly:
sales@phuket9.com
+66 62 369 8978
Keep in contact with The Thaiger by following our
Facebook page
.


Find more property for sale and rent across Thailand at Thaiger Property, powered by FazWaz. You can even list your property for free.

Do you need help with your business? Are you searching for a new job? Or an employer looking to hire? Try JobCute today.

Read more headlines, reports & breaking news in Phuket. Or catch up on your Thailand news.

Thai Airways must modify rehabilitation plan to survive: Airline President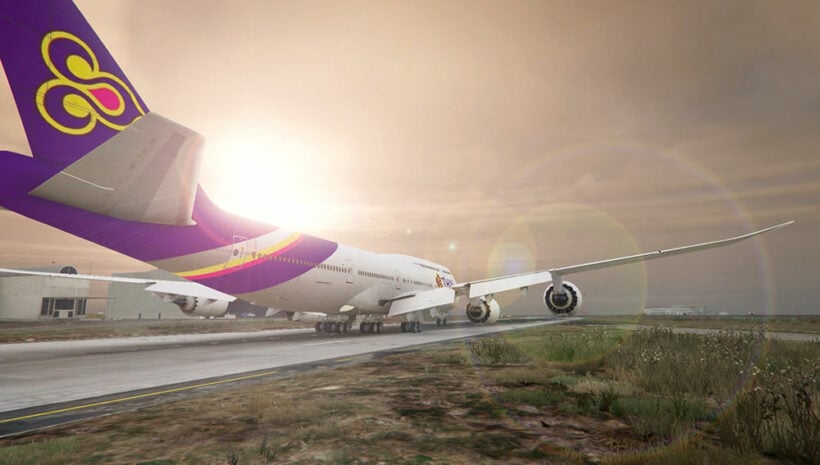 PHOTO: gta5-mods.com
"Thai Airways will have to modify its rehabilitation plans to survive in the face of tight competition." This frank admission by the airline's president Sumet Damrongchaith.
The national carrier is now carrying a total debt of over 2.45 billion baht and losses of more than 20 billion, despite being able to reduce its debts by 48 billion baht over the past five years.
Sumet says the first step will be to restructure the airline's management and finances as well as reconsider its plan to spend 1.5 billion baht on 38 new aircraft. He admits the biggest problem is that Thai Airways has low capital but a high debt-to-equity ratio of eight times.
In order to maintain its competitiveness, the carrier will have to reduce its debts versus assets and boost its working capital with support from the ministries of Transport and Finance. Hence, it plans to borrow approximately 3.2 billion baht in fiscal 2020 in line with the budget limit set by the Office of Public Debt Management.
This loan will be taken to support the airline's investments as well as for its working capital, to update equipment and maintain existing aircraft, but will not be used to repay old debts.
The Nation also reports that the airline is also concerned about maintaining its liquidity because at the end of June this year, its revolving credit line stood at 13.4% of the total revenue forecast for 2019.
Sumet admits that, though the original rehabilitation plan has a set framework, the situation has now changed due to the appreciation of the baht, so in order to achieve goals, the work method has to be redesigned, such as finding a way to procure more passengers.
"We are now in the process of analysing new markets."
Meanwhile, Thai Aiways' board chairman Aek-Niti Nitithan-Praphas says the board is reconsidering plans to procure a new fleet taking into consideration the state of the global and domestic economies as well as the US-China trade war.
"The growth of the tourism industry and the airlines' financial status needs to be reviewed in line with strong competition and routes that are no longer popular. It's better to carefully revise the plan instead of exposing the airline to greater risk. The target should be reduce expenses by 20%."
Meanwhile, Thai Airways aims to boost the sale of tickets, find ways of increasing online shopping of duty-free goods and reducing unnecessary expenses by 10%without affecting the quality of service in the last three months of 2019.
The airline is also negotiating the option of cutting down overtime expenses and is looking into curbing losses incurred by it's semi-budget offshoot Thai Smile by increasing its flying hours to 10.5 hours daily. These steps are expected to help the airline reach breakeven point in the short term.
The airline is also considering long-term goals such roping in more passengers by offering greater benefits to Royal Orchid Plus members, focusing on digital marketing, retiring non-performing assets as well as increasing revenue from related businesses such as kitchens and aircraft repair centres.
SOURCE: The Nation
Keep in contact with The Thaiger by following our
Facebook page
.
Singha grabs a 90% stake in Thailand's Santa Fe restaurant chain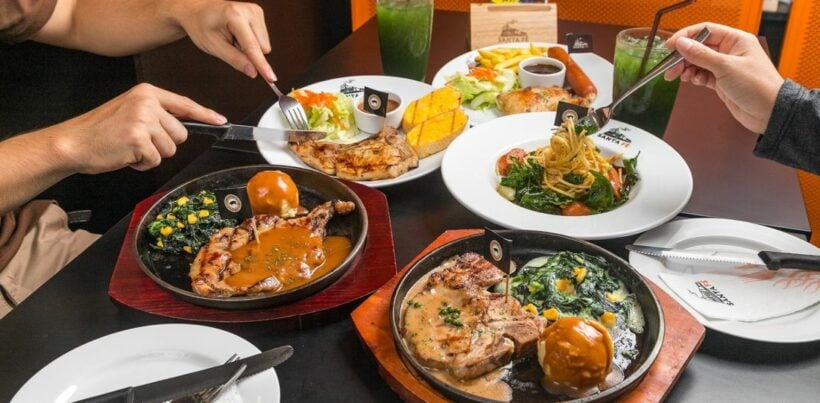 (…or is that a 90% 'steak'?)
PHOTOS: Wongnai
DealStreetAsia, an investor news site reporting on Asian business, confirms that Singha Corporation has purchased a majority stake in the Thai restaurant chain, Santa Fe. It's understood that Singha purchased the shares held by Lakeshore Capital for approximately US$50 million or 1.53 billion baht, giving it a 90% stake in the chain seen in most Thai shopping centres.
The Nation reports that Singha will now oversee over 110 restaurants across Thailand in one of the country's biggest food industry deals of the year. The company first turned its attention to the food industry two years ago, launching Food Factors Company under the Boon Rawd Brewery group.
WongnaiFood Factors aims to make 5 billion baht over 3 years under the stewardship of Piti Bhirombhakdi. The company has an ambitious long-term target of 10 billion baht a year, along with plans to be listed on the stock exchange.
The Santa Fe chain was established in 2003 by Surachai Charn-Anudet's KT Restaurant Company, with the aim of becoming a major competitor to Sizzler, the American chain brought to Thailand by Minor Food.
SOURCE: The Nation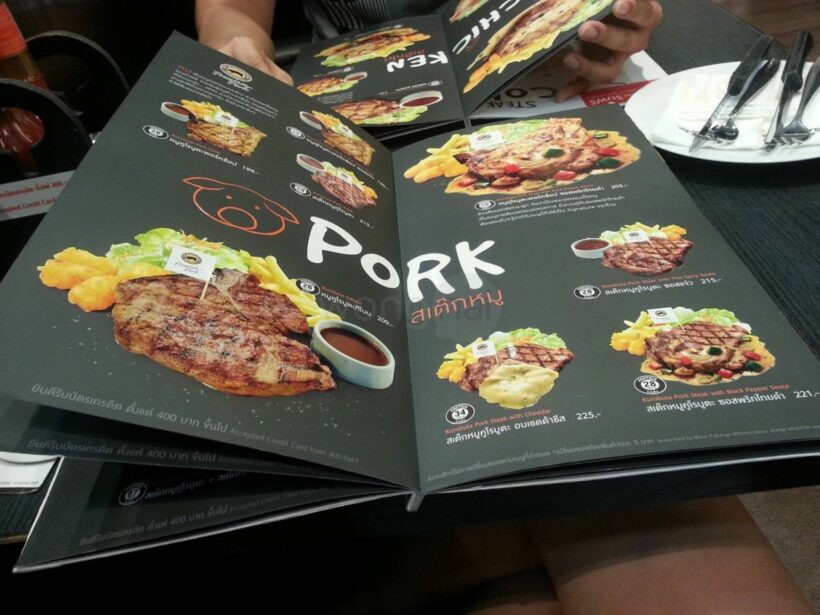 Keep in contact with The Thaiger by following our
Facebook page
.
Thai Airways under pressure to deliver workable business plan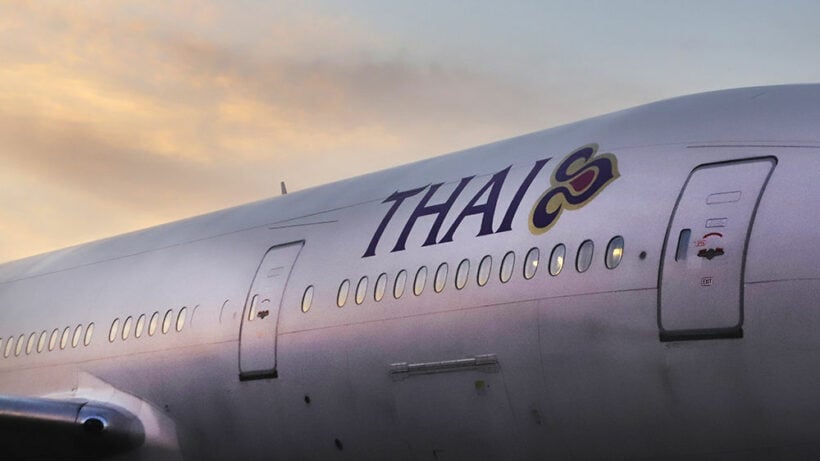 Thai Airways is coming under more pressure, after being given 30 days to deliver its new rehabilitation and business plans.
Thaworn Senniam, the Deputy Transport Minister, gave the instruction yesterday while meeting with the executive of the national carrier for an update on its financial status.
He says the business plan must provide clear information on how the fortunes of the airline can be turned around, with a focus on making it profitable once more, while improving customer satisfaction.
The order comes after Thai Airways President, Sumeth Damrongchaitham, denied last week that the airline was experiencing a liquidity crunch, claiming it had sufficient cash flow "for present and future operations".
Minister Thaworn has previously said he does not believe Thai Airways' existing rehabilitation plan will help it succeed in a turnaround. He has also ordered a monthly progress report on the carrier's plans to buy new aircraft.
In September, the directors of Thai Airways asked the Executive Board to review a plan to order 38 additional aircraft, worth a total of 156 billion baht.
According to their second-quarter 2019 filing to the Stock Exchange of Thailand, Thai Airways and its subsidiaries reported a net loss of 6.878 billion baht, compared to a loss of 3.086 billion baht over the same period last year.
SOURCE: The Nation
Keep in contact with The Thaiger by following our
Facebook page
.