Profile: DJ Retro hits the Phuket stage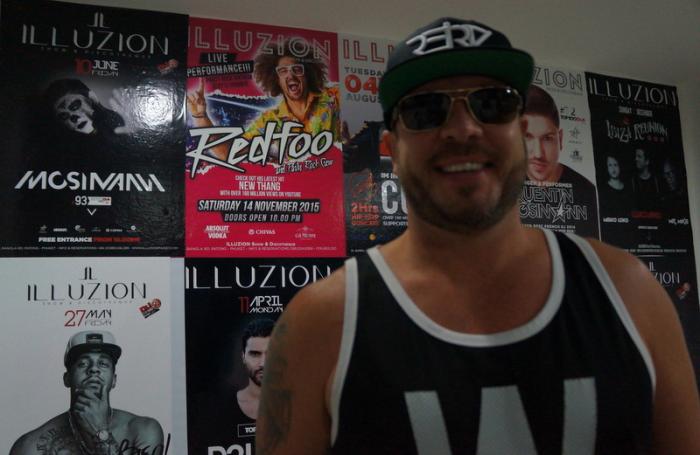 PHUKET: Jeff Retro, a DJ from a top night club in Las Vegas, performed for thousands of guests at Illuzion night club in Patong on July 9.
Jeff has been a DJ for about 15 years now. He was born in Ohio and comes from a musical background. He was raised by a single mother who majored in music in college and worked as a music and choir director. His father was a music major as well and still plays with a small band in Ohio.
Jeff did not want to have anything to do with music when he was younger, but was rather more interested in sports. He played football, basketball and baseball. Music was still a part of his life, but he was undecided about what he wanted to do professionally.
After changing his major four times in college, his mother insisted that he choose a field and stick to it, so he settled on and graduated with a degree in communication.
After graduating from college, Jeff started working in real estate and was self-employed for several years. He also worked part time at a radio station, but not with the intention of pursuing music as a career.
When he started out, he made about six dollars an hour as a part time DJ. He says it was a laughable amount and he certainly didn't do it for the money. At one point, he was even working as a full time DJ, but then he would always go back to working in real estate, he said.
However, his life took a major turn in 2008, when the financial crisis was in full swing.
Jeff says he lost a lot of money and property in the economic crash, at which point he decided to re-evaluate his life and his priorities.
Following his heart and his true calling, Jeff decided to become a full-time DJ. He packed up all his belongings and moved from Florida to Nevada.
Without any real idea of what he was doing, he followed his instincts, which told him that he was on to something great. He confesses that he didn't know a single person when he left home and wasn't sure how it would all work out, but he kept going just the same.
Jeff began playing gigs at restaurants, which was a far cry from the posh nightclubs he now plays at. However, he paid his dues, he says, and took on any jobs he could get his hands on.
Going on in a similar fashion for almost six years in Vegas, Jeff had actually decided to call it quits and move back home at one point. He even called and told his mother that he had failed and would be returning home.
However, an unexpected gig came up about that time, which turned his life around. The Hakkasan Group invited him to open for their new night club. It wasn't even a paid gig, but he took it anyway.
However, this opportunity soon led to others and things started going uphill from there, Jeff says.
He attributes his success to his humility, and says he certainly does not consider himself a rock star.
He is a true music lover and hordes of Phuket residents and tourists were well entertained by his sophisticated beats.
— Chutharat Plerin
Keep in contact with The Thaiger by following our
Facebook page
.


Have something to say? Scroll down to leave a comment, or visit our Thaiger Thailand Q&A Forum to discuss people, events, to-do and more with the local community.

John Legend & Chrissy Teigen check out the tastes at a Korat Market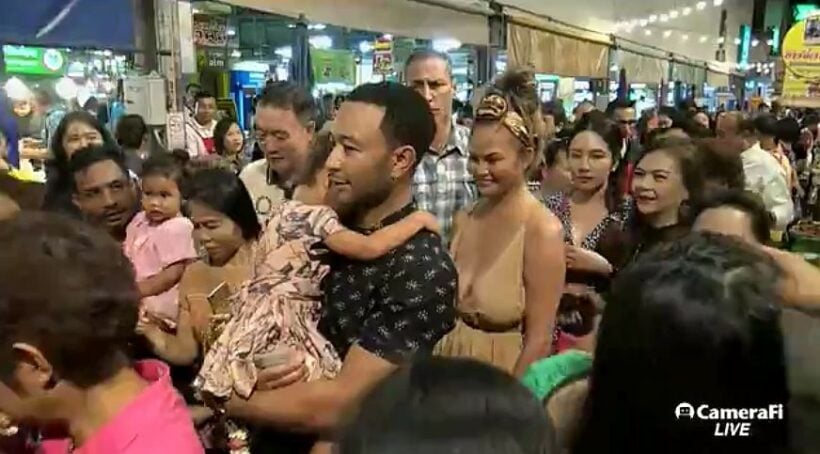 American music legend, John Legend, and his Thai-American wife Chrissy Teigen headed to a Nakhon Ratchasima food market only to be surrounded by locals trying to get a quick selfie.
The army of fans surround the musician, his wife and daughter to follow them around the market in the 25 minute Facebook post. It was smiles all around but as the video wears on so does the patience of the American singer whose only protection appears to be a plain-shirt body-guard who is at least 40 centimetres taller than everyone around him (he doesn't stand out at all).
A Thai policemen comes to their rescue and helps escort them somewhere a bit quieter.
Legend's model wife Chrissy Teigen is seen almost wearing her dress as any number of wardrobe malfunctions appear moments away from happening throughout the video.
The family were reported to have visited a number of famous Korat landmarks during their visit to the area.
Legend performed in Bangkok in March 2018 this year as part of his Darkness and Light tour.
Keep in contact with The Thaiger by following our
Facebook page
.
Phuket's lifeguards say goodbye to a champion of local beach safety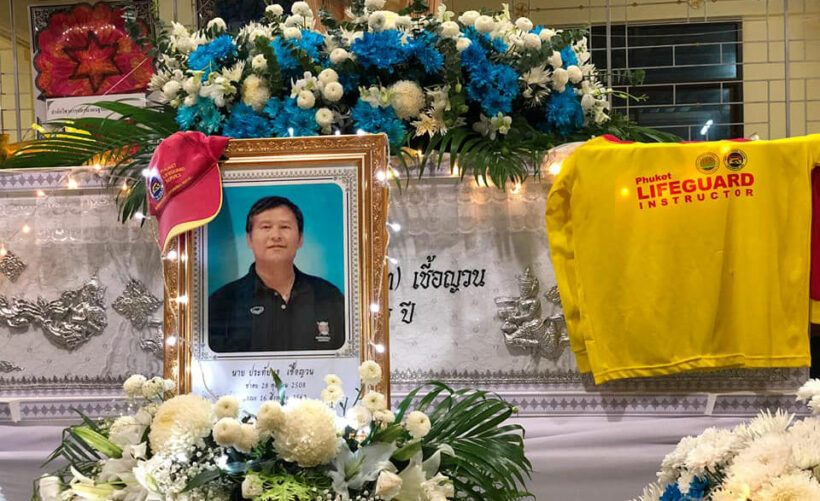 PHOTOS: Phuket Lifeguard Service
A commemoration ceremony has been held for Prathaiyuth Chuayuan, a local Phuketian who helped drive Phuket's first beach lifeguard services. He passed away on Friday morning after a heart attack.
He first experienced chest pains whilst delivering his daughter to school in Phuket Town on Friday morning, drove himself immediately to the Vachira Hospital nearby but succumbed to cardiac arrest around 9am.
He was 57 years old.
He worked with Australian lifesavers to help train local lifeguards and improve the skills of the Phuket's beach enthusiasts, and finally sought international accreditation for the growing body of competent Phuket lifeguards.
The Phuket Lifeguards Service, founded and run by Prathaiyuth and his wife Witanya, saved innumerable lives each year whilst battling Provincial Hall and local government for increased funding in annual contract negotiations.
Daren Jenner, a FOT (Friend of The Thaiger) and local safety officer for the International Surf Lifesaving Association, sent a message to us expressing his deepest condolences to Prathaiyuth's wife, family and friends.
"I had many good conversations with him over the years. He was a good-hearted man who did his best in difficult and changing circumstances. A very big loss for Phuket and the lifesaving community here. ISLA sends our deepest respect for his long commitment to ocean safety in SE Asia."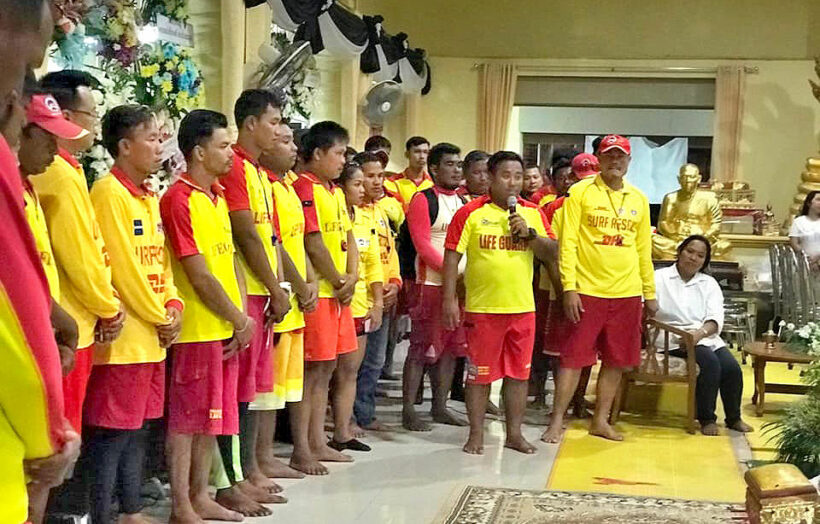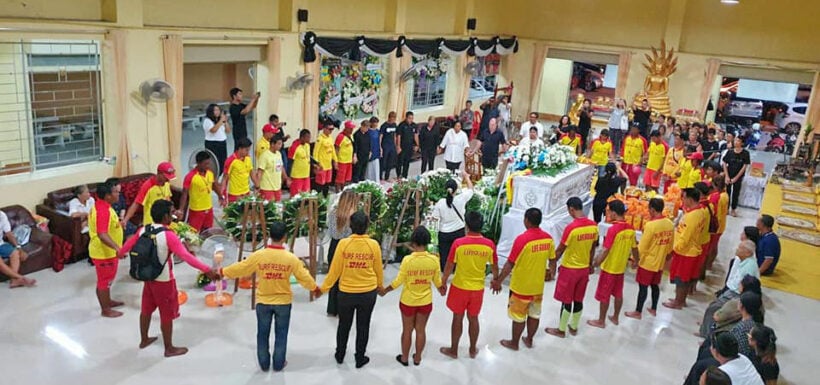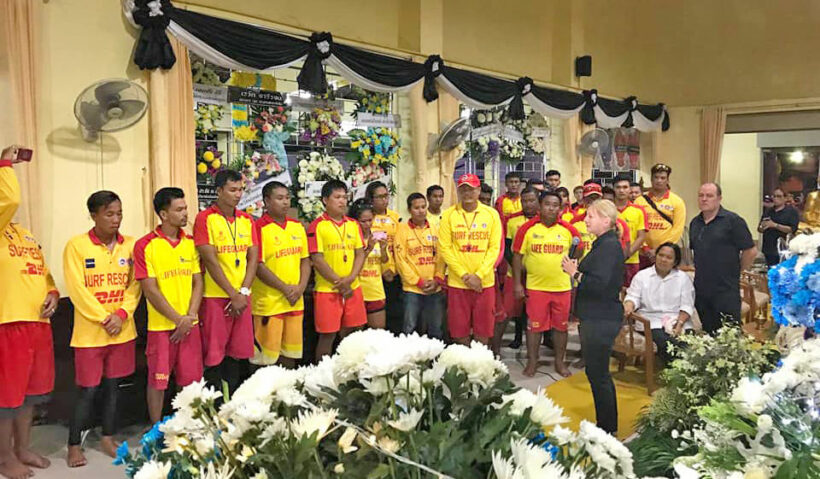 Keep in contact with The Thaiger by following our
Facebook page
.
Happy Birthday to Her Majesty Queen Sirikit, the Queen Mother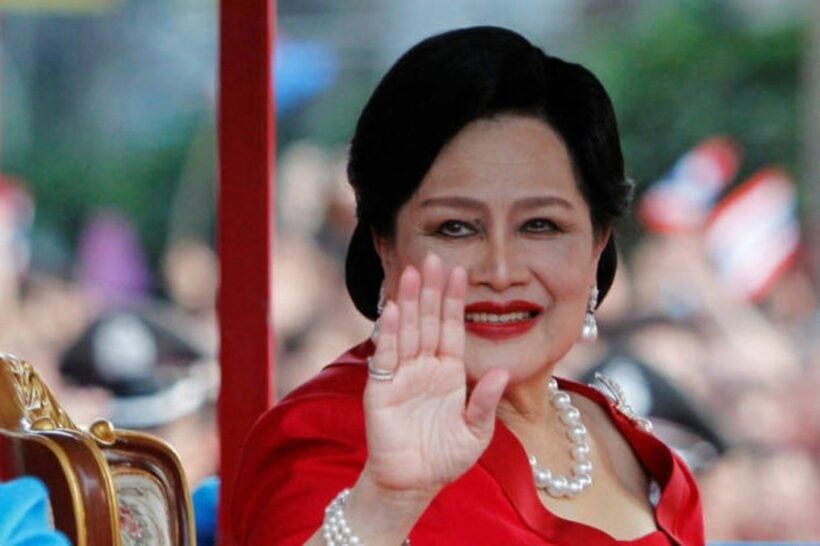 Today is the birthday of Her Majesty Queen Sirikit who was married to King Bhumibol Adulyadej. Following the Coronation of His Majesty King Maha Vajiralongkorn, her son, and his marriage to the new Queen Suthida, Queen Sirikit has now been bestowed the title of Queen Mother.
Her Majesty Queen Sirikit is the daughter of His Highness Prince Chandaburi Suranath (Mom Chao Nakkhatra Mangkala Kitiyakara) and Mom Luang Bua Kitiyakara (nee Mom Luang Bua Snidwongse).
She was born on August 12, 1932.  She attended kindergarten class at Rajini School, but subsequently went to St. Francis Xavier convent school at Samsen District in Bangkok.  Her father later on became Thai Minister to France, then to Denmark and, ultimately, Ambassador to the Court of St. James in England.  Her Majesty accompanied him and continued her general education in the three countries and lastly in Switzerland.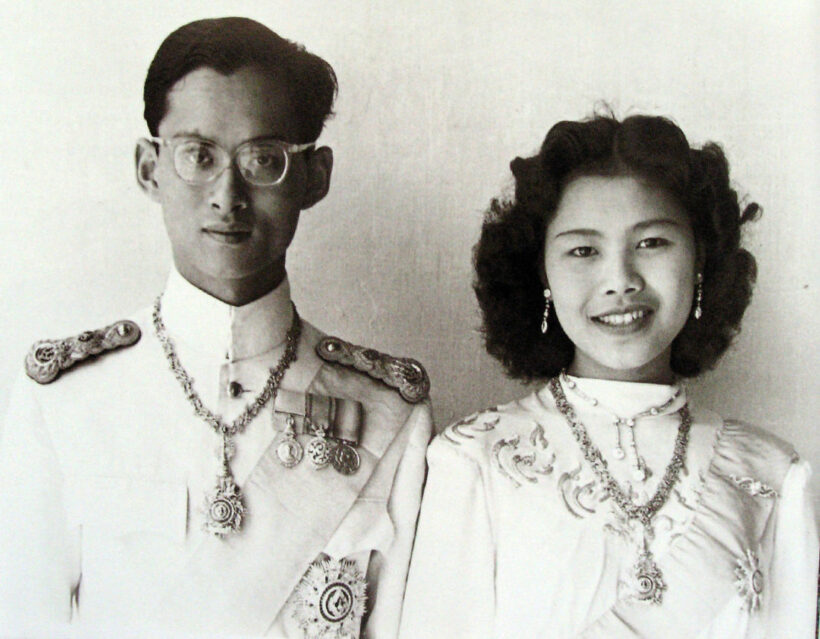 It was while her father was stationed in Paris that she first met His Majesty King Bhumibol Adulyadej, who was then studying in Switzerland but went now and then to Paris.  The chance meeting in Paris ripened into friendship and understanding.  When His Majesty met with a very serious motor accident in Geneva, Switzerland, and had to stay in a hospital at Lausanne, Her Majesty was a frequent visitor.
When His Majesty was well again and left the hospital, he was graciously pleased to arrange for Her Majesty to continue her studies at Riante Rive, a boarding school in Lausanne.  On July 19, 1949, Their Majesties were quietly engaged in Lausanne.  On March 24, 1950, Their Majesties landed in Bangkok by ship after a long absence.  On April 28 of the same year, the royal wedding took place at Pathumwan Palace.
The couple had three daughters and one son:
Princess Ubolratana Rajakanya (born 1951), married and divorced American businessman Peter Jensen, had two daughters and one son, their son was killed in the 2004 tsunami.
King Maha Vajiralongkorn (born 1952), married Suthida Tidjai just days before his Coronation this year. He has seven children from previous marriages.
Princess Maha Chakri Sirindhorn (born 1955), unmarried.
Princess Chulabhorn Walailak (born 1957), married Virayudh Tishyasarin, an Air Vice Marshal in the Royal Thai Air Force, had two daughters, divorced.
In 1956, King Bhumibol became a Buddhist monk for a period of time as is customary for Thai Buddhist males and Queen Sirikit served as Regent. Because of the excellent way she served as Regent, King Bhumibol gave her the style "Somdet Phra Nang Chao Sirikit Phra Borommarachininat" which would translate to Queen Regent.
Queen Sirikit is well known for her charitable work. She has been President of the Thai Red Cross Society since 1956. Through the Thai Red Cross, the Queen has been active in relief work for the many refugees from Cambodia and Burma in Thailand. The Queen took an active role in the aftermath of the tsunami disaster in southern Thailand in December of 2004. Tragically, the tsunami took the life of her grandson Bhumi Jensen, the son of her eldest daughter.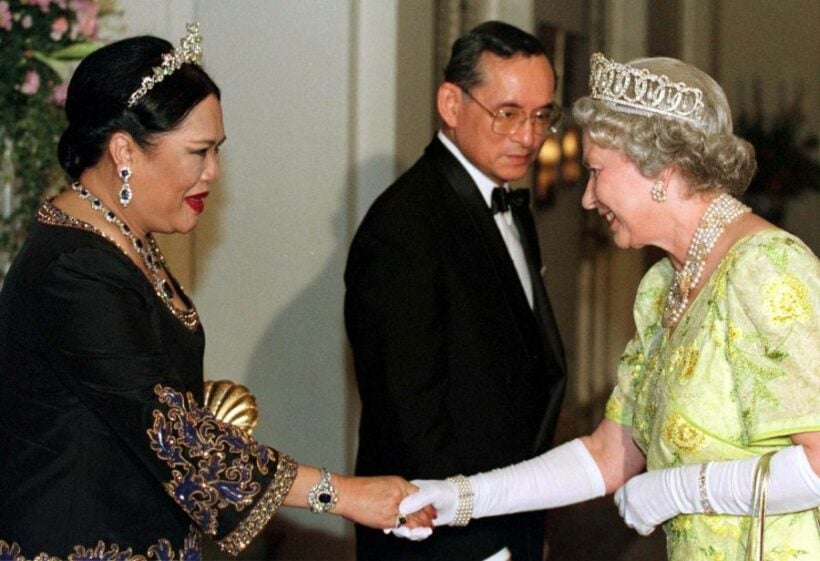 The health of King Bhumibol Adulyadej declined in his later years. The king resided at Siriraj Hospital in Bangkok for several years and Queen Sirikit also moved to the hospital to be with him.
On July 21, 2012, Queen Sirikit felt unsteady and staggered while exercising at Siriraj Hospital where King Bhumibol Adulyadej resided. Doctors determined that she has suffered a stroke. The Queen was not seen in public until August of 2013 when the King was discharged from the hospital. Since then, Queen Sirikit has refrained from making public appearances.
King Bhumibol Adulyadej died on October 13, 2016, at Siriraj Hospital in Bangkok, at the age of 88, following several years of illness.
Mothers Day in Thailand has been traditionally held on Queen Sirikit's birthday, and now with her new role as Queen Mother, the tradition continues.
Long live Queen Sirikit, the Queen Mother.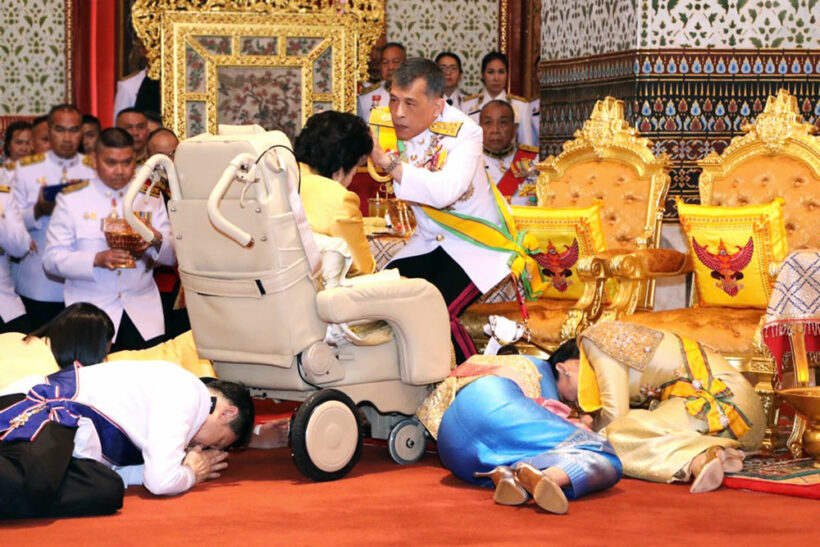 HM the King bestows the new role on his mother, Queen Sirikit, the Queen Mother, on the day after his coronation
Keep in contact with The Thaiger by following our
Facebook page
.