Looking back: Skulduggery in Ayutthaya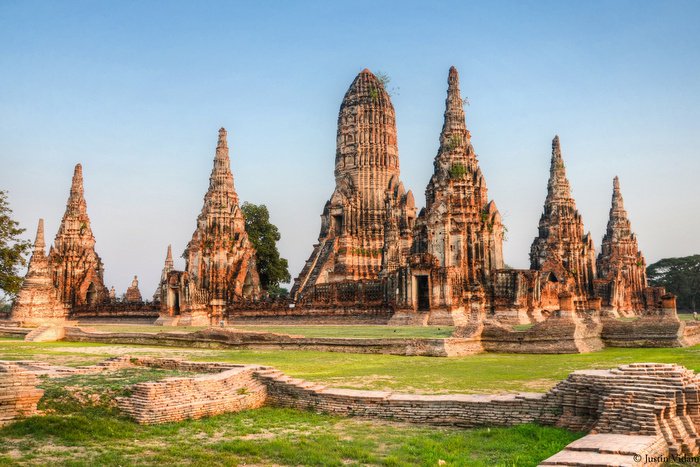 PHUKET: After Sukhothai, Ayutthaya was the second capital city of the Siamese Kingdom, founded in 1350. King Prasat Thong, who reigned from 1629 to 1656, was the founder of a new dynasty during the heydays of Ayutthaya. His father, Okya Sri Thammathirat, was King Songtham's maternal uncle. King
Prasat Thong himself held the title of Okya Sri Vorawong, a position with immense authority.
King Songtham had appointed his brother, Prince Si Sin as the "Front Palace", a position that was only given to a king's successor. The Front Palace often acted as the vice-king to a reigning king.
Toward the end of King Songtham's reign however, a faction of nobility, which included Prasat Thong, convinced the king to name his son, Prince Chetthathirat, as the king's successor instead.
When King Songtham finally passed away in 1628, Prince Chetthathirat ascended to the throne and became king.
The nobles then began purging supporters of Prince Si Sin and finally captured him. Si Sin was sent into exile to Phetchaburi. He was left to starve in a well in Phetchaburi, but was rescued. The prince organized a rebellion and marched on Ayutthaya.
Prasat Thong sent his two of his most trusted generals, Okya Kamhaeng and the leader of his Japanese mercenary army, Yamada Nagamasa, to Phetchaburi in order to put down Prince Si Sin's rebellion.
Prince Si Sin's brave attempt to reclaim his throne was swiftly crushed; the prince was captured and brought back to Ayutthaya, where he was executed.
With Prince Si Sin gone, King Chetthathirat's reign was secure. The king was grateful to Prasat Thong and gave him extensive authority. Because he was the kingmaker, Prasat Thong had powerful supporters. Soon it began to emerge that he was in fact challenging the King's very authority. Barely a year later, a conflict emerged between King Chetthathirat and Prasat Thong. Before the King could react, Prasat Thong ordered his soldiers and mercenaries to storm the royal palace in a coup that ended in the capture of King Chetthathirat.
The King was executed, and Prasat Thong replaced the King with his 11-year-old brother, Prince Athittayawong.
Following the young prince's coronation, Prasat Thong appointed himself as the king's regent, assumed the position of Front Palace and also referred to himself as the "second king". His coup had lost him many supporters who were starting to realize the true extent of his ambitions.
Amongst his allies – who later turned on him – were his closest generals, Okya Kamhaeng
and Yamada Nagamasa. Okya Kamhaeng was charged with treason and swiftly executed. Yamada Nagamasa, on the other hand, was appointed governor of Nakhon Sri Thammarat, a southern city far away from the capital.
As soon as Yamada Nagamasa had left the capital, only 38 days after King Athittayawong was crowned, news reached him that Prasat Thong had deposed the young king and had crowned himself
King of Siam. The 11-year-old Athittayawong had been brutally executed. When the Japanese mercenary general heard the news, he rebelled against Prasat Thong. An assassin was later sent by Prasat Thong to poison Yamada Nagamasa. He died in 1630.
Prasat Thong was the first king of his own dynasty. He kept himself in power through terror. As a usurper, he was always afraid of plots to dethrone or assassinate him. Prasat Thong's usurpation, his order to assassinate Yamada Nagamasa and the purging of the Japanese community in Siam in the aftermath of the coup, caused a fracture between Thai-Japanese relations. From 1634 onwards, the Shogun refused to allow Japanese trading ships to sail to Siam and no Siamese vessels were allowed to enter Japanese waters. Prasat Thong tried sending embassy envoys to Japan to rebuild relations in 1636, but the Shogun rejected his offer and turned the envoys away.
In 1649, King Prasat Thong's beloved daughter passed away. At her cremation in February of 1650, it was noticed that the fire did not consume some of her remains. The King thought that this was the result of dark magic or poisoning so he ordered the execution of 2,900 high-ranking officials, nobles and even princes in the royal court. In actual fact, it was the perfect opportunity to eliminate a good number of potential rivals in one fell swoop.
King Prasat Thong was deeply disturbed and unhappy throughout his reign. Not only was he constantly imagining threats to his throne and life, but also his reign was going to see his kingdom cross into a new millennium in the Thai, or Chulasakarat calendar. The first year of the new millennium happened to fall on the year of the tiger. According to superstition, this could usher in an age of darkness and calamity. In order to avert or mitigate such disastrous consequences, King Prasat Thong organized lavish Brahmin ceremonies. He also constructed and restored more than a hundred Buddhist temples throughout the capital, including the magnificent Wat Chaiwattanaram Temple, which still stands in the ruins of Ayutthaya today.
King Prasat Thong died peacefully on August 7, 1656, after reigning for 27 years. His sons would again lock themselves in bloody dispute, each one vying for the throne.
King Songtham's eldest son, Prince Chai, seized the throne, but was quickly deposed by his younger brother, Prince Narai.
Prince Narai, lacking support, was urged to name Prasat Thong's youngest brother, Prince Si Suthammaracha, as king. Prince Narai himself assumed the Front Palace and became vice-king, or Upparaja. However, King Si Suthammaracha only managed to reign for two months. According to historical chronicles, the King tried to have his way with Princess Si Chulalok, Prince Narai's younger sister, against her will. Furious, the prince gathered his loyal soldiers and attacked the royal palace. A fierce battle erupted within the grounds of the palace.
King Si Suthammaracha was captured and dragged to Wat Khokphraya, where he was immediately executed.
After the incident, Prince Narai ascended the throne and became King of Siam in the year 1656.
— Anand Singh
Thai Life

Join the conversation and have your say on Thailand news published on The Thaiger.
Thaiger Talk is our new Thaiger Community where you can join the discussion on everything happening in Thailand right now.
Please note that articles are not posted to the forum instantly and can take up to 20 min before being visible. Click for more information and the Thaiger Talk Guidelines.