A call to arts: ThinkDesign Art Festival at the Royal Phuket Marina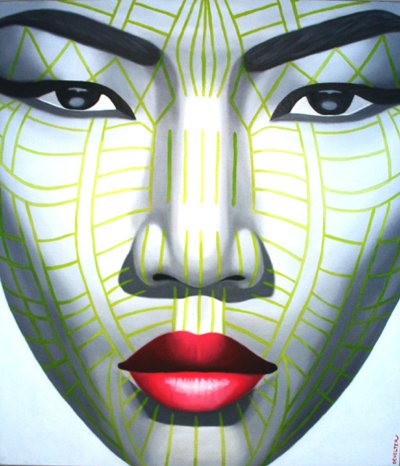 PHUKET: The first annual ThinkDesign Art Festival will be held from December 27 – 30, at the Royal Phuket Marina and will showcase the talents of over 150 visual and performing artists from Thailand and around the world.
This is the largest gathering of creativity on the island since the Phuket Andaman Painting Exhibitions held over ten years ago.
Michael Earle, an American architect who has extensive work experience in Spain and Dubai, is the producer for this inaugural ThinkDesign Art Festival.
"Since I moved to Phuket and began producing ThinkDesign magazine, I've become aware of how much talent there is in the local art community. I've also noticed that there is little contact between this great local art and the expat community whose homes have large wall spaces. I'm hoping that this festival will open a dialogue whereby the international residents and visitors will embrace the talent produced both on Phuket and in Thailand."
Michael has spent months exploring the galleries and ateliers of painters, sculptors and poets on Phuket. The result is a festival that will highlight a large collection of traditional painting and sculpture and include video and performance art. He is assisted by local sculptor, John Underwood, who has erected a quarter kilometer of exhibition wall space.
In addition, he has invited international artists whose work sits in respected collections throughout the West.
"I've invited Gomez Bueno to present his wildly exciting canvases of urban life in America. He is a social critic and political artist who works in large format paintings. He uses strong graphic design language that reminds the viewer of the Pop Art movement of the 1960s."
Also invited to the show is Christian Develter, a Belgian artist, who has a strong following of collectors drawn to his bold use of mixing oil and acrylic colors of iconic figures that reflect the popularity of contemporary Asian painting.
The ThinkDesign Art Festival will also include popular Phuket painters Marilyn Band, Map Abday and Robin Gillow.
"I've looked at painters and galleries all over the world, and I believe that painting on Phuket can compete with artists anywhere. I'm really happy to be able to bring well deserved attention to these artists," said Michael.
— Bruce Stanley
Keep in contact with The Thaiger by following our
Facebook page
.
Grieving husband on a mission to take his wife's ashes to all the places she longed to see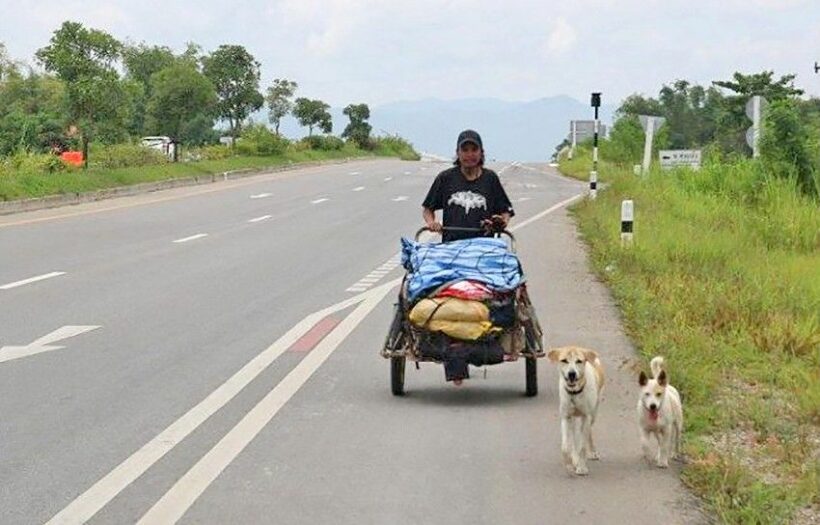 Every day, Sakchai Suphanthamat can be seen pushing his cart along the highway, in the company of three dogs, two of whom he has picked up along the way.
Sakchai carries his wife's ashes, on a pilgrimage to take her to all the places she longed to see while she was alive.
The Bangkok Post reports that the bereaved man started his journey three years ago. He left from Trang, the province where he married his wife, who died of tetanus in 2016.
She had always wanted to see Doi Inthanon in Chiang Mai, Thailand's tallest mountain, and so Sakchai decided to head there first. The journey of more than 1,500 kilometres took him over a year.
Sakchai, 40 years old and from Udon Thani, says his wife had also wanted to see the sea in Trat, south-east Thailand, and he decided to take her ashes there too.
The Bangkok Post reports that Sakchai has been left heartbroken. He says being left with nothing to look forward to after his wife's passing led to the decision to embark on this epic journey with her ashes.
"I am determined to take her bones around the country. She liked the sea and wanted to stay close to it. She used to tell me that she wanted to visit the sea in Trat province in the East. During my journey I stop every three kilometres or so, so the dogs can have a rest."
Sakchai and the dogs sleep under mosquito nets at night and local people who've heard about his journey bring food for him and the dogs. As Sakchai sleeps, his wife's ashes are always by his side.
"I still love her and have vivid memories of our time together, even though she left me three years and four days ago.''
See previous story HERE
SOURCE: bangkokpost.com
Keep in contact with The Thaiger by following our
Facebook page
.
Out of 37 countries, Thailand has the worst pension system, says Bloomberg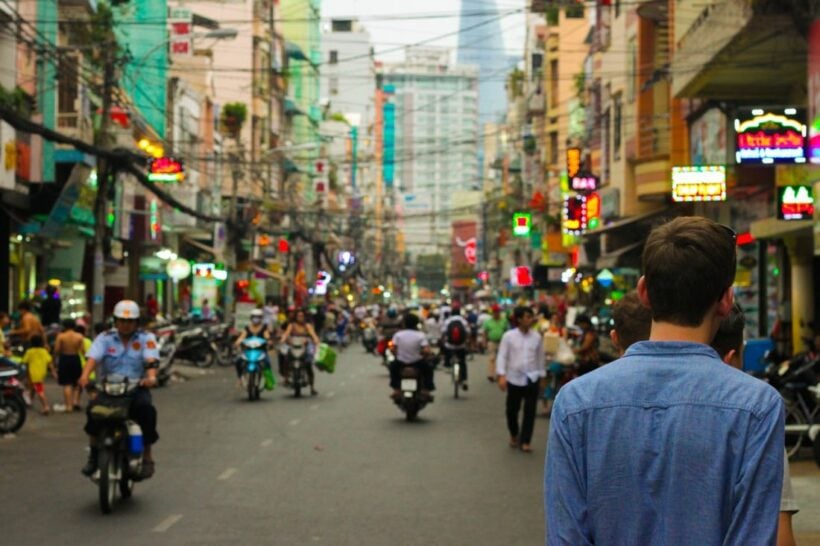 Thai Residents reports that on Sunday, Bloomberg published an article on the world's best pension systems, using information gathered from the 2019 Melbourne Mercer Global Pensions Index.
The survey looked at the pension systems of 37 countries with metrics including employee rights, savings, the number of homeowners, growth of assets, and growth of the economy. The purpose of the analysis was to determine what was needed to improve state pension systems and to gauge the level of confidence citizens had in their state pension system.
The Netherlands and Denmark were found to have the world's best state pensions, with Australia, Finland, Sweden, Norway, Singapore, New Zealand, Canada, and Chile next. Out of all 37 countries, Thailand finished last, with what the report described as an extremely ineffective and ambiguous system.
"Thailand was in the bottom slot and should introduce a minimum level of mandatory retirement savings and increase support for the poorest."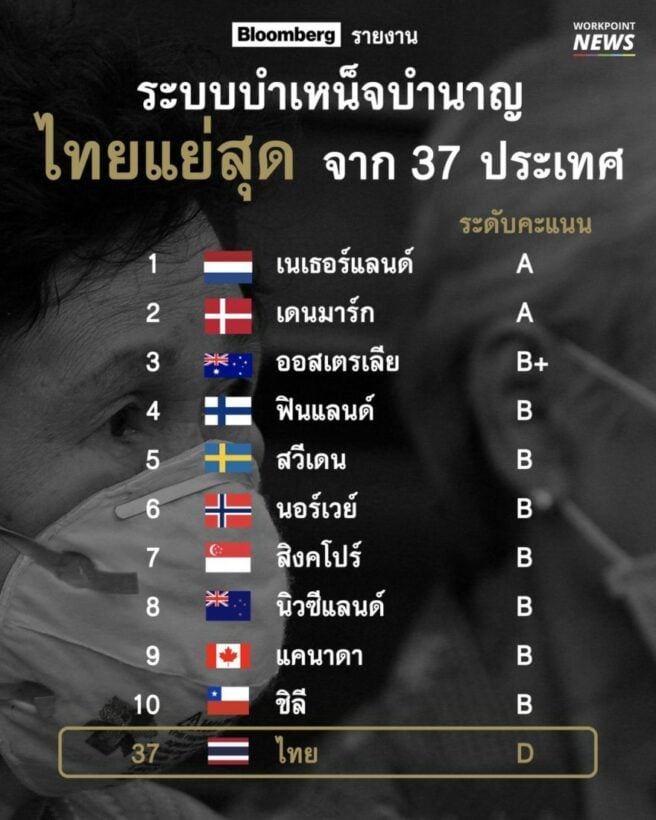 Photo: WorkpointNews
Thai Residents states that only those employed within the government system in Thailand are eligible for a pension based on salary. For most Thai citizens, pension amounts vary from 600 baht to 1,000 baht a month, depending on the recipient's age.
A report carried out by The Securities and Exchange Commission (SEC) advises Thai citizens to have at least 4 million baht saved by the time they retire, but Thai Residents reports that 60% of Thai retirees have less than 1 million baht in savings, with one in three citizens who have reached retirement age are forced to continue working in order to survive.
SOURCE: thairesidents.com
Keep in contact with The Thaiger by following our
Facebook page
.
Tax on salt content being considered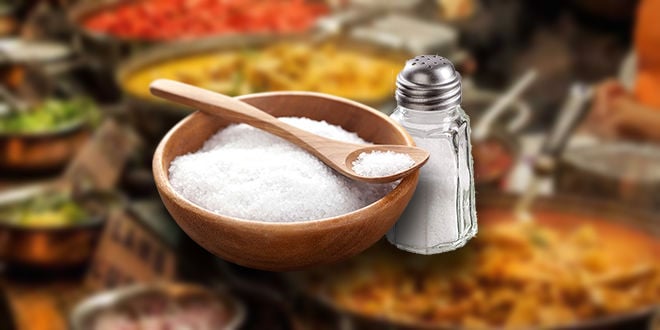 The Excise Department is considering imposing a tax on the salt content of food to encourage food producers to reduce the sodium content of snacks, instant noodles and seasoning cubes.
The director of the Office of Tax Planning said that the department is discussing a limit on the amount of sodium food can contain, in line with the standard set by the World Health Organization (WHO), which is 2,000 milligrams of salt per day.
In reality, Thai people consume an average of 1,000 milligrams per meal, making their daily intake well above WHO guidelines, according to the director.
He said any tax imposed would be at a level which would encourage food producers to reduce the sodium in their processed food without being punitive, adding that the proposal isn't intended to generate more tax revenue, but to help protect the health of consumers. Excessive sodium in the diet can lead to high blood pressure and kidney disease.
Fish sauce, soy sauce and salt would not be taxed.
SOURCE: thaipbsworld.com
Keep in contact with The Thaiger by following our
Facebook page
.