Iraq Kurds seize Kirkuk; Sunni militants surge toward Baghdad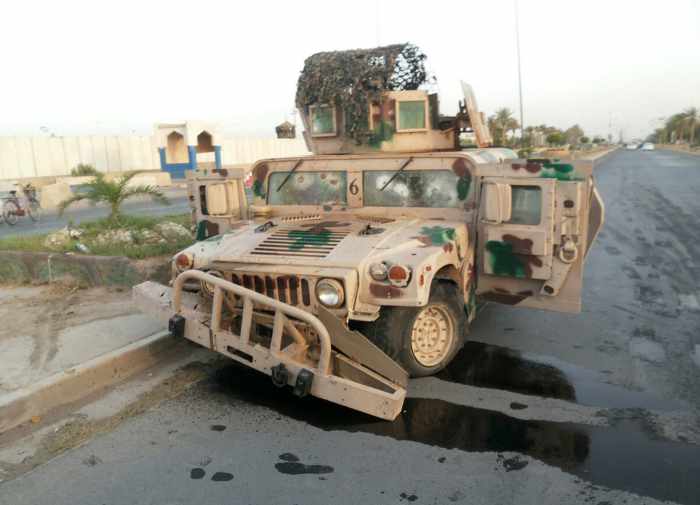 PHUKET MEDIA WATCH
– World news selected by Gazette editors for Phuket's international community
Iraq Kurds seize Kirkuk; Sunni militants surge toward Baghdad
Reuters / Phuket Gazette
PHUKET: Iraqi Kurds seized control of the northern oil city of Kirkuk on Thursday, while surging Sunni Islamist rebels advanced towards Baghdad, as the central government's army abandoned its posts in a rapid collapse that has lost it control of the north.
Peshmerga fighters, the security forces of Iraq's autonomous Kurdish north, swept into Kirkuk after the army abandoned its posts there, a peshmerga spokesman said.
"The whole of Kirkuk has fallen into the hands of peshmerga," said Jabbar Yawar. "No Iraqi army remains in Kirkuk now."
Kurds have long dreamed of taking Kirkuk, a city with huge oil reserves just outside their autonomous region, which they regard as their historical capital. The swift move by their highly organised security forces demonstrates how this week's sudden advance by fighters of the Al Qaeda offshoot Islamic State of Iraq and the Levant (ISIL) has redrawn Iraq's map.
Since Tuesday, black clad ISIL fighters have seized Iraq's second biggest city Mosul and Tikrit, hometown of former dictator Saddam Hussein, as well as other towns and cities north of Baghdad. They continued their lightning advance on Thursday, moving into towns just an hour's drive from the capital.
The army of the Shi'ite-led government in Baghdad has essentially fled in the face of the onslaught, abandoning buildings and weapons to the fighters who aim to create a strict Sunni Caliphate on both sides of the Iraq-Syria frontier.
Security and police sources said militants now controlled parts of the small town of Udhaim, 90 km (60 miles) north of Baghdad, after most of the army troops left their positions and withdrew towards the nearby town of Khalis.
"We are waiting for supporting troops and we are determined not to let them take control. We are afraid that terrorists are seeking to cut the main highway that links Baghdad to the north," said a police officer in Udhaim.
In Tikrit, militants have set up military councils to run the towns they captured, residents said.
"They came in hundreds to my town and said they are not here for blood or revenge but they seek reforms and to impose justice. They picked a retired general to run the town," said a tribal figure from the town of Alam, north of Tikrit.
"'Our final destination will be Baghdad, the decisive battle will be there,' that's what their leader of the militants group kept repeating," the tribal figure said.
Security was stepped up in Baghdad to prevent the Sunni militants from reaching the capital, which is itself divided into Sunni and Shi'ite neighbourhoods and saw ferocious sectarian street fighting in 2006-2007 under U.S. occupation.
The stunning advance of ISIL, effectively seizing northern Iraq's main population centres in a matter of days, is the biggest threat to Iraq since U.S. troops withdrew in 2011.
The administration of President Barack Obama has come under fire for failing to do enough to shore up the government in Baghdad before pulling out its troops.
LOW MORALE
The million-strong Iraqi army, trained by the United States at a cost of nearly $25 billion, suffers from low morale. Its effectiveness is hurt by the view in Sunni areas that it represents the hostile interests of the Shi'ite-led government.
In Washington, an Obama administration official said the government of Iraqi Prime Minister Nuri al-Maliki had in the past sought U.S. air strikes against ISIL positions. The White House suggested such strikes were not being considered and said Washington's main focus now is on building up government forces.
Iraq's parliament is due to hold an extraordinary session on Thursday to vote on declaring a state of emergency which should expand the powers of Shi'ite Prime Minister Nuri al-Maliki.
About 500,000 Iraqis have fled Mosul, home to 2 million people, and the surrounding province, many seeking safety in autonomous Kurdistan, a region that has prospered while patrolled by the powerful peshmerga, avoiding the violence that has plagued the rest of Iraq since the U.S. invasion in 2003.
The Kurdish capture of Kirkuk instantly overturns the fragile balance of power that has held Iraq together as a state since Saddam's fall.
Iraq's Kurds have done well since 2003, running their own affairs while being given a fixed percentage of the country's overall oil revenue. But with full control of Kirkuk – and the vast oil deposits beneath it – they could earn more on their own, eliminating the incentive to remain part of a failing Iraq.
Maliki's army already lost control of much of the Euphrates valley west of the capital to ISIL last year, and with the evaporation of the army in the Tigris valley to the north this week, the government could be left in control only of Baghdad and areas south.
The surge also potentially leaves the long desert frontier between Iraq and Syria effectively in ISIL hands, advancing its stated goal of erasing the border altogether and creating a single state ruled according to mediaeval Islamic principles.
Maliki described the fall of Mosul as a "conspiracy" and said the security forces who had abandoned their posts would be punished. He also said Iraqis were volunteering in several provinces to join army brigades to fight ISIL.
In a statement on its Twitter account, ISIL said it had taken Mosul as part of a plan "to conquer the entire state and cleanse it from the apostates", referring to the province of Nineveh of which the city is the capital.
Militants were reported to have executed soldiers and policemen after their seizure of some towns.
In Mosul, 80 Turkish citizens were being held hostage by ISIL, the foreign ministry in Ankara said, after its consulate there was overrun. Turkey threatened to retaliate if any of the group, which included special forces soldiers, diplomats and children, were harmed.
Ambassadors of the NATO defence alliance held an emergency meeting in Brussels at Turkey's request and Prime Minister Tayyip Erdogan held talks with U.S. Vice President Joe Biden about the developments.
ISIL, led by Abu Bakr al-Baghdadi, broke with al Qaeda's international leader, Osama bin Laden's former lieutenant Ayman al-Zawahri, and has clashed with al Qaeda fighters in Syria.
In Iraq, it has carried out endless bombings against Shi'ite civilians, killing hundreds a month. The violence in Iraq raised fears about the outlook for oil supplies, with futures prices in New York pushed higher towards $110 a barrel.
— Phuket Gazette Editors
Keep in contact with The Thaiger by following our
Facebook page
.


Find more SE Asian News courtesy of The Thaiger.

Broke? Find employment in Southeast Asia with JobCute Thailand and SmartJob Indonesia. Rich? Invest in real estate across Asia with FazWaz Property Group or get out on a yacht anywhere with Boatcrowd. Even book medical procedures worldwide with MyMediTravel, all powered by DB Ventures.

Burmese surfing team head to SEAsia Games, a first for Myanmar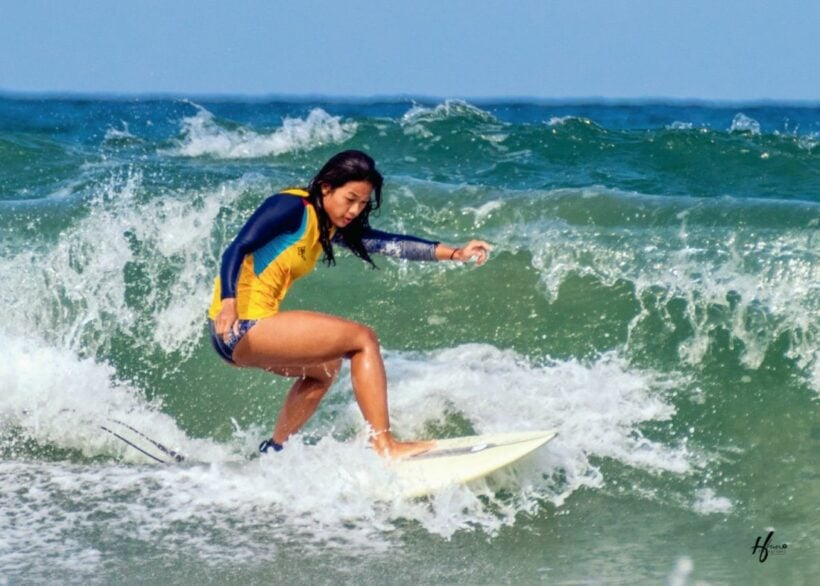 PHOTO: Burmese surfer Thwe Thwe Soe practicing off the coast of Ngwe Saung – Myanmore
Paddling hard and smiling, Thwe Thwe Soe flung herself up on the board just as a wave was breaking, spreading her arms out for balance before getting knocked off.
"I can't live without surfing. I did not expect to be chosen for the national team but I'm thrilled at the opportunity."
Thwe Thwe Soe was speaking after a day in the blue waters off the small coastal resort town of Ngwe Saung. Competitive surfing was barely known in Myanmar a few years ago but one local beach town is riding a wave of enthusiasm to the Southeast Asia Games for the first time ever.
The Southeast Asian country is flanked by surf-ready coasts to the west and south, but decades of military rule, lack of equipment and poverty kept aspiring athletes from testing the waters. The 25 year old encountered the sport while studying in southern California and has been hooked since, saying she "always feels happy" on the water.
Now she is going up against the region's giants at the December games in the Philippines. Thwe Thwe Soe has one of the best chances to medal among the handful of surfers going, but all are training hard.
"We surf for at least four to six hours a day," said American coach Robert Brickell, a 26 year old originally from New York.
The mild waves at Ngwe Saung present a paradox for competitive surfers – they are good to learn on but much tamer than the conditions in surfing hotspots. The team went to Bali in Indonesia for two months to get used to some "big wave surfing" and have made enormous strides in a short amount of time, Brickell said.
"My hope is that we can show everybody that people from Myanmar, we know how to surf, we know how to respect the ocean. And of course our hope is to win some meets."
The Surf Association of Myanmar was established only this year. The sport is slowly gaining prominence thanks to the impassioned surfers, most from a village near the beach and newcomers themselves. Ngwe Saung is the heartland of the growing craze and has now hosted several competitions.
"We hadn't heard of surfing before 2017. It will be a difficult competition but we will do our best for sure." said 19 year old Aung Min Naing.
SOURCE: Agence France-Presse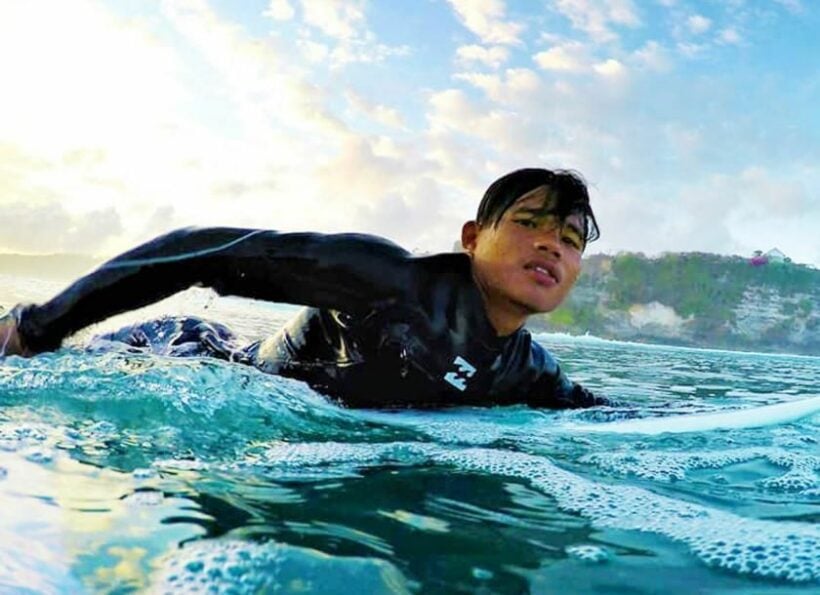 PHOTO: Aspiring new Burmese surfer, Aung Min Naing – MMTimes.com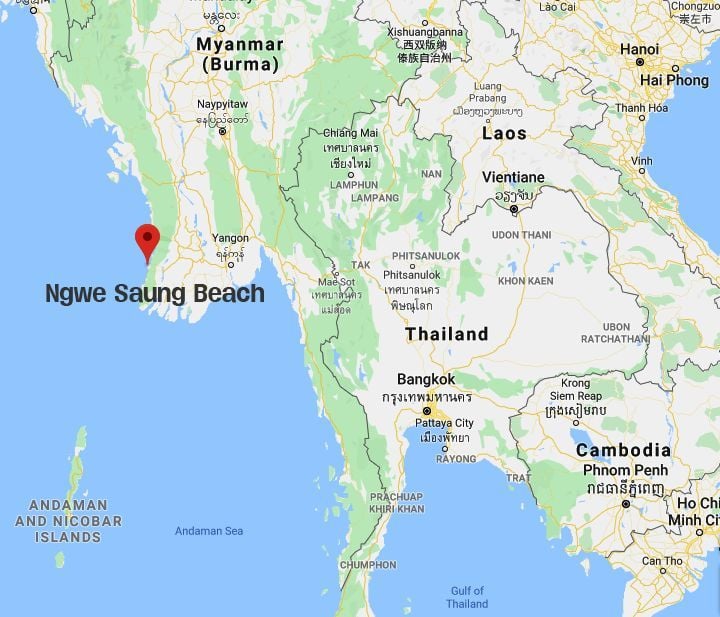 Keep in contact with The Thaiger by following our
Facebook page
.
The K-pop Olympics: performers battle in the K-pop festival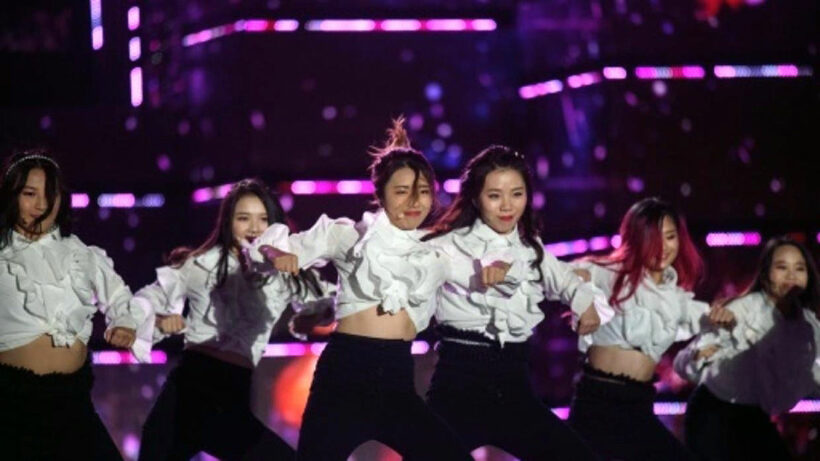 On the streets, in parks and garages, seven Cuban youngsters spent seven months practising K-pop moves to secure a spot on their dream stage: an appearance in South Korea to imitate their idols. 13 final teams from 80 countries are competing in the 2019 event.
At the grandly titled and government-funded Changwon K-pop World Festival contestants from around the globe perform imitation dances or sing cover versions of the genre's biggest hits, with thousands of fans cheering them on.
In terms of global heft, South Korea is overshadowed by its much larger neighbours China and Japan, but the event is a way for Seoul to derive soft power from one of the country's biggest cultural exports. In terms of pop-power, South Korea's K-Pop is now a recognised world-wide music phenomenon with bands like BTS and Blackpink figuring amongst the other big-hitters on the Billboard charts and outselling their western counterparts with millions of albums and downloads.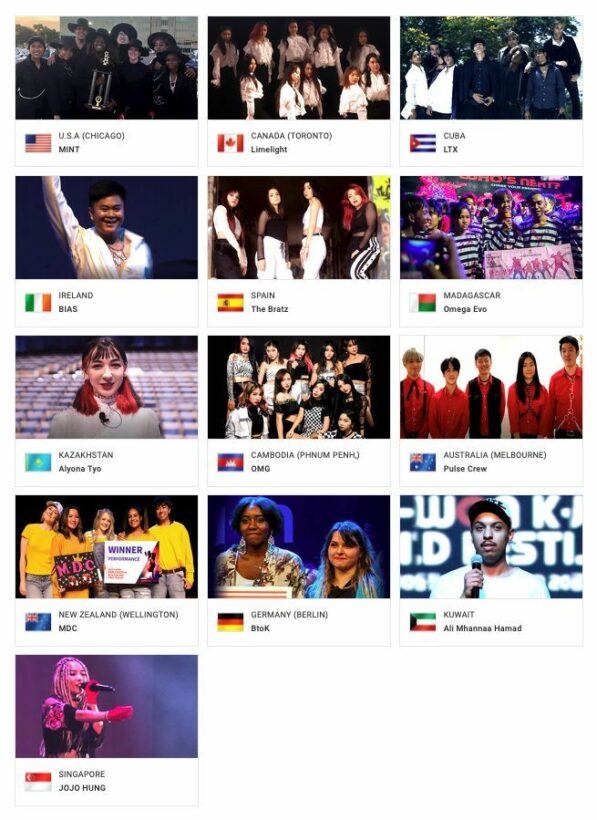 Finalists for this year
Cuba's Communist government is one of North Korea's few remaining allies: when President Miguel Diaz-Canel, successor to the Castro brothers Fidel and Raul, visited Pyongyang last November he was only the third foreign head of state to do so since leader Kim Jong Un inherited power in 2011.
But rather than geopolitics, Havana performer Karel Rodriguez Diaz – whose mannerisms and sleek hairstyle could easily be mistaken for those of a K-pop star – is more motivated by high-tempo beats and superslick dance moves.
"We never had a place with a mirror or a choreographer who could teach us the steps" but they kept on practising, he said.
His team-mate Elio Gonzalez added: "We are so excited to represent not just Cuba but also the whole of Latin America."
Some 6,400 teams from more than 80 countries entered the competition, according to organisers, with 13 groups from places as diverse as Kuwait and Madagascar winning through to the final in Changwon, where they appeared on stage waving their national flags.
"This is like watching the Olympics, a K-pop Olympics," said the event's host Lia, a member of K-pop group ITZY.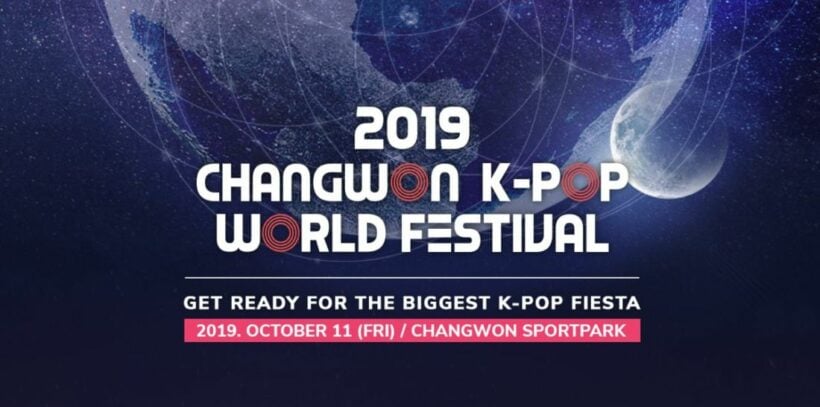 The Korean Wave
K-pop – along with K-drama soap operas – has been one of South Korea's most successful cultural exports to date. A key part of the "Korean Wave" which has swept Asia and beyond in the last 20 years, the K-pop industry is now estimated to be worth $5 billion, with boyband BTS its latest high-profile exponent, becoming the world's most successful band in the past 12 months, selling out stadium concerts within minutes, around the world.
The South Korean government has financed a variety of K-pop themed events in what CedarBough Saeji, a visiting professor at Indiana University Bloomington in the US, said was a form of long-term "soft power diplomacy".
"When you are covering you get to 'become' those idols for the three and a half minutes of the song," she said, adding that performers will go so far as matching their clothing, accessories and hairstyle to their heroes and heroines.
"The cover dancers of today will be diplomats, news reporters, and business leaders in forty years," she went on.
"And hopefully they'll still have a soft spot in their heart for Korea. Korea can't win the world through hard power – armies, economic bullying – but with soft power even a small country like Korea has a chance."
The music also provides an artistic alternative for overseas fans, especially those in developing countries, Saeji added.
"The West, especially the United States, has been so dominant culturally for so long, and having a different cultural pole to look to provides hope that one's own country can experience similar success in the future."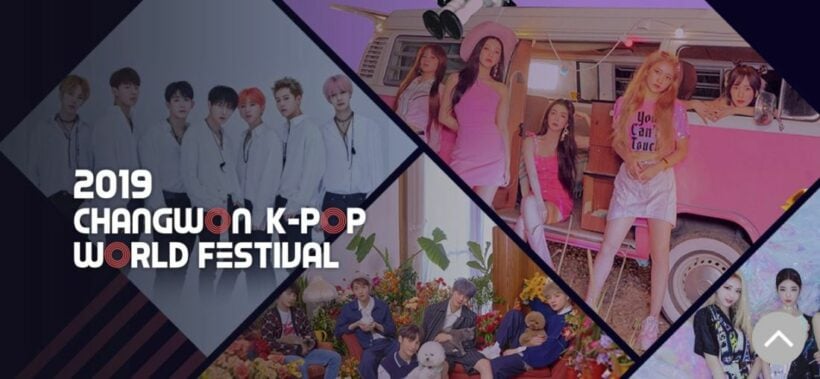 Be who you want
Beneath its glitz and glamour, the K-pop industry is also known for its cutthroat competition, a lack of privacy, online bullying and relentless public pressure to maintain a wholesome image at all times and at any cost.
Sulli, a popular K-pop star and former child actress who had long been the target of abusive online comments was found dead on Monday, with her death sending shockwaves through fans around the world.
"I think a day where (people) would be ashamed of the K-show business will surely come," a South Korean online user wrote in the wake of the star's death.
"I think an industry that makes money by (making people) sing, dance, undergo plastic surgeries and go on a diet to please the gaze of others since they are teenagers should really go bankcrupt."
But for Kenny Pham, a finalist from the US at last week's contest, K-pop's diversity – with some tunes having dark themes, while others were "cute" or sensual – is what gives him a sense of liberation.
"I like how expressive you could be," the 19 year old told AFP last week.
"I feel like it's a place where you could show the passion you have for music, dance or fashion. No one is bashing you for what your likes are."
SOURCE: Agence France-Presse
Keep in contact with The Thaiger by following our
Facebook page
.
Saudi Arabia eases visa restrictions for US and European visitors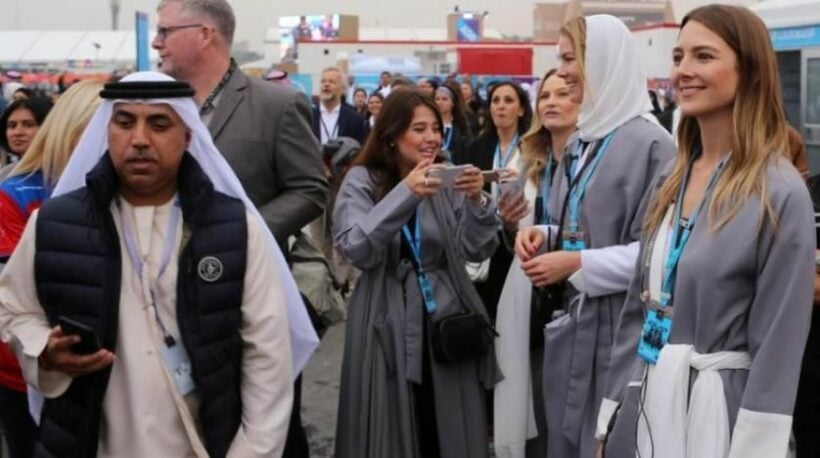 PHOTO: aawsat.com
American and European passport holders, along with those from most Asian countries, can now apply for Saudi Arabian tourist visas either online or on arrival, provided they meet certain criteria.
Prior to this, the only foreigners allowed to visit Saudi Arabia were usually those travelling on business, resident workers and their family members, or Muslim pilgrims on pilgrimage to Mecca and Medina.
In an attempt to boost tourism and diversify the economy's reliance on oil, the Kingdom has expanded the availability of tourist visas beyond what was initially 49 countries. Visitors from eligible countries no longer need to apply for a visa at an overseas Saudi embassy but can do so online or on arrival.
The multiple-entry visa costs approximately US$120, is valid for a year, and permits a stay of up to 3 months on each entry.
However, authorities in the Kingdom were quick to implement a public decency code following the visa announcement.
"Immodest dress and public displays of affection are banned, but foreign men and women may rent hotel rooms together without having to prove they are married."
A strict ban on alcohol remains in place.
Last weekend the South Korean band BTS became the first foreigners to hold a solo concert in the Kingdom, allowing teenage and older woman to attend without a male escort and allowing them to dance and sing along (in Korean of course). The band, in turn, turned down some of their 'ab flashing' and physicality during their record-breaking "Love Yourself" stadium concert in Riyadh.
The septet were invited to perform in Saudi Arabia as part of the Kingdom's attempts to become more open to foreigners and diversify their income away from oil production.
SOURCE: Reuters
Keep in contact with The Thaiger by following our
Facebook page
.