Thailand's zoo horrors captured by British photographer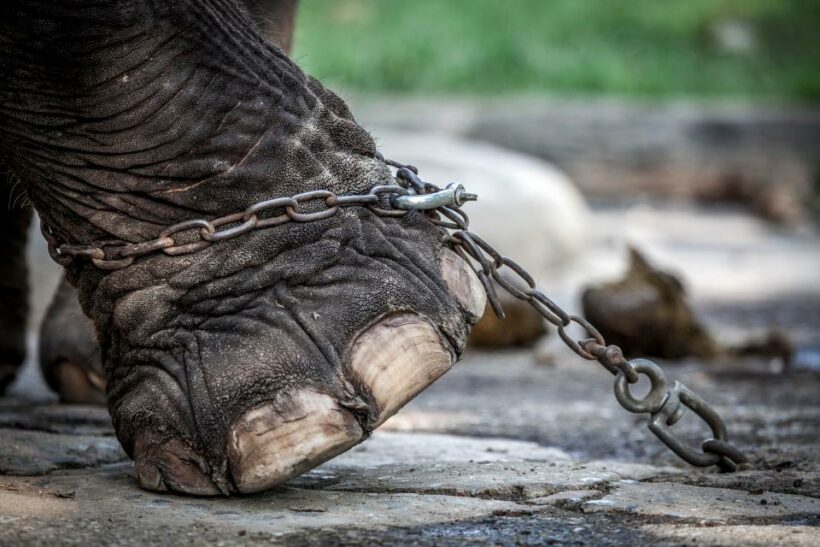 PHOTO: Aaron Gekoski
A British photographer has had a sickening series of photos published in thesun.co.uk after witnessing what he described as "a wildlife house of horrors".
37 year old environmental photojournalist Aaron Gekoski says he witnessed the shows on a tour of Thailand's zoos and will now campaign for more restrictions over the industry.
In the article he claims… "Orangutans are shown being forced to fight in boxing rings with gloves strapped to their hands, an elephant performs tricks on a stone stage and then afterwards they are locked up with the others in hellish conditions".
Some of the zoos Aaron visited include Safari World near Bangkok, Pata Zoo in the capital and Phuket Zoo. He wrote in his blog, "What I witnessed was shocking and incredibly distressing."
Thailand's animal shows are coming under increasing attack as westerners complain about the appalling conditions animals are kept, the 'tricks' they are forced to perform and questions about the training methods used to get the animals to perform. Aaron claims that many animals are beaten and mistreated and have their spirits broken by handlers, rendering them completely submissive.
"Yet most tourists aren't aware of the abuse that takes place or how poor the quality of life is for many captive animals."
"These images depict the exploitative and utterly disrespectful use of wild animals, being forced to entertain the ill-informed and mindless," said Chris Draper, the Head of Animal Welfare & Captivity at the Born Free Foundation.
Read the rest of the article and about Aaron's campaign HERE.
Footage from the Pata Zoo in Bangkok HERE.
75 tonnes of marijuana and Kratom destroyed in Nakhon Phanom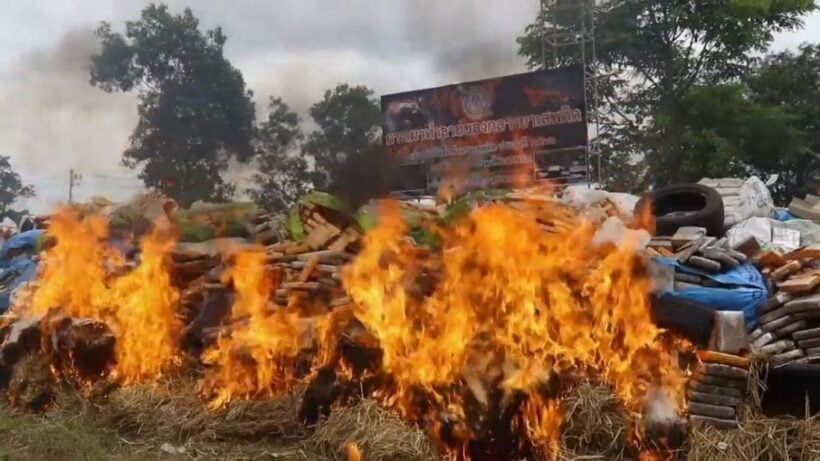 8.4 tonnes of marijuana and 67.3 tonnes of kratom leaves have been destroyed by Nakhon Phanom provincial administration officials in a ceremony to mark the International Day Against Drug Abuse and Illicit Trafficking. The ceremony was held in an open field in front of the Muang district office.
As part of the ceremony, officials also launched local campaigns against drug abuse.
Officials say the burned drug were seized by various agencies in the province during the past 12 months.
They reeled off some local statistics about the drugs seized in the province as part of the ceremony. Nakhon Phanom is in Thailand's far north-east on the Laos border.
From October 1, 2018, to May 31, authorities in Nakhon Phanom seized 7 million methamphetamine pills, 6 tonnes of marijuana, 29 marijuana plants, 19.3 kilograms of crystal methamphetamine, 67 kilogram of kratom leaves and 58 cans of glue used for inhaling.
A total of 1,809 arrests were made in 1,784 drug cases during the period.
SOURCE: The Nation
Seven injured in Khon Kaen minivan and trailer crashed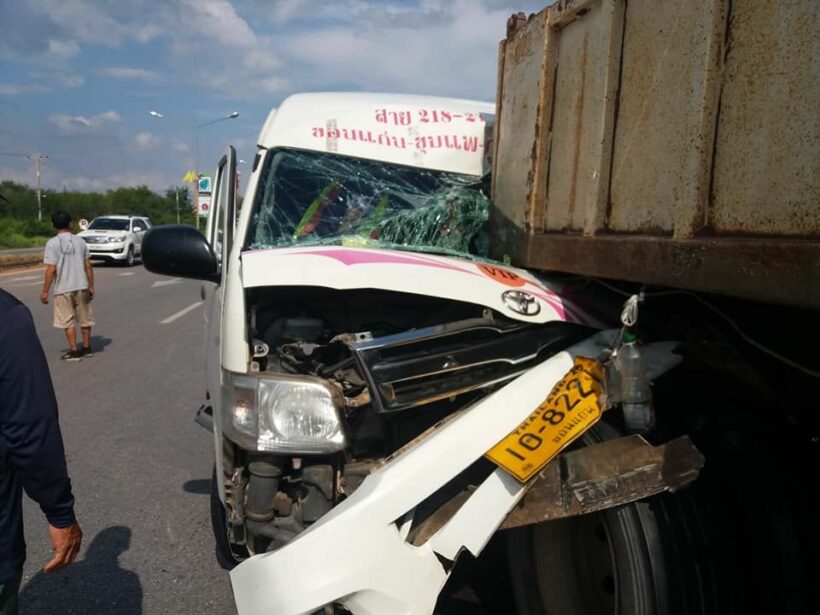 PHOTOS: Chumphae Rescue
Seven passengers have been rescued after a minivan collided with a trailer in Khon Kaen, northeast of Thailand.
Chumphae rescue workers were notified of the incident on Maliwan Road in Chumphae, Khon Kaen yesterday. They arrived to find the minivan slammed into the rear end of the trailer truck. The minivan's left hand side was crushed up to the passenger cabin.
There were 13 passengers and one driver in the minivan. Seven of them sustained injuries and were rushed to hospital.
Police are continuing their investigation.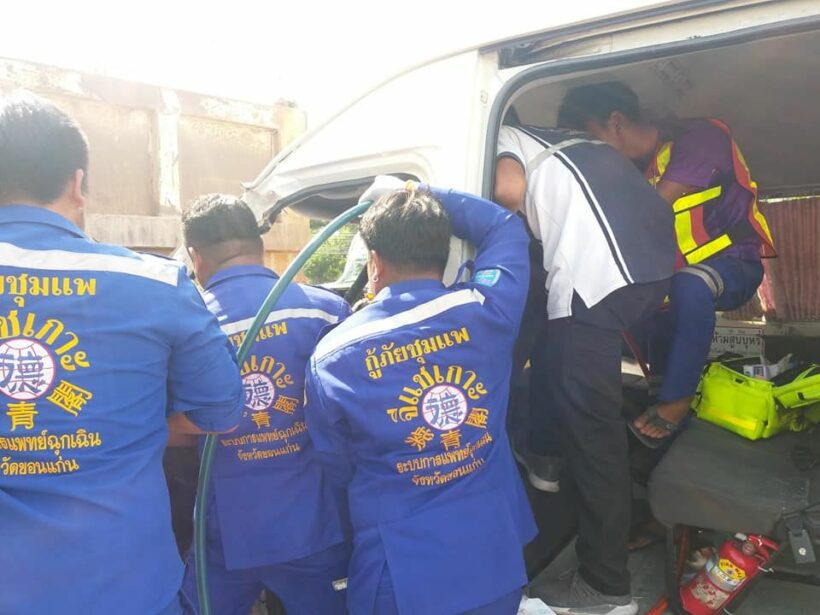 TAT chief blames high baht for drop in tourists to Thailand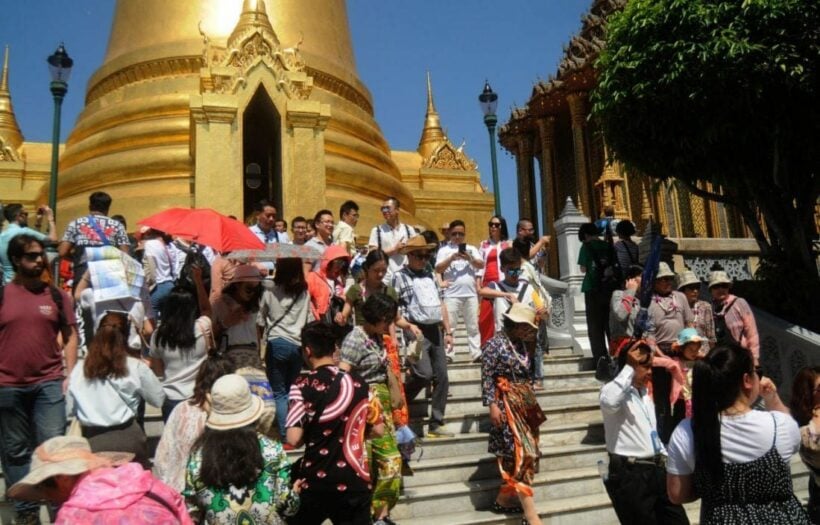 Thailand's tourism numbers have been dropping over the past three months, against projections and when compared to year-on-year figures. And the blame game has started.
TAT (Tourism Authority of Thailand) chief Yuthasak Suphasorn is blaming the high value of the Thai baht for the worse than expected tourist figures. He admits that European visitors are being more careful over their money and that Thai tourism tzars will now have to look to places like India to sustain growth.
It was the first time that anyone at the TAT had mentioned the Thai baht was having such a big effect on the tourism industry and will surely be making a few waves in government circles.
Thailand's media has been lamenting 'Brexit', the 'US-China trade war' and 'looming recession' in the west as contributing factors too.
Yuthasak was speaking to Daily News as figures showed that tourist arrivals in the first half of the year were 20 million, less than expected. On the bright side, spending was 1,000 billion baht by foreign visitors and 560 billion domestically – considered acceptable during the current global economic outlook.
Yuthasak said that European tour companies had been forced to raise their local prices anywhere between 10-20% meaning that many Europeans were looking to travel elsewhere for value. He also admitted that those who are coming to Thailand are being more careful about their spending as they are receiving less baht when they exchange their currency.
Chinese tourist numbers have been shedding since January this year with nearly 9% drops in April and May. This follows drops of 10-20% every month in the second half of last year, mostly attributed to the Patong 'Phoenix' tragedy. The percentages end up as huge slabs of Chinese travellers traveling to destinations other than Thailand.
He put a smile on the general outlook remaining positive saying that he predicts tourism to generate 3,400 billion baht this year with 40-45 million visitors expected in 2019. This would compare favourably to 38.5 million last year.
Statistically, to achieve his stated figures, Thailand, with no immediate remedies apparent, will have to have a booming second half which, on current trends, is unlikely given that the country is in wet-season.
SOURCE: Daily News | ThaiVisa