Thai, Italian and Japanese runners star at Laguna Phuket Marathon 2018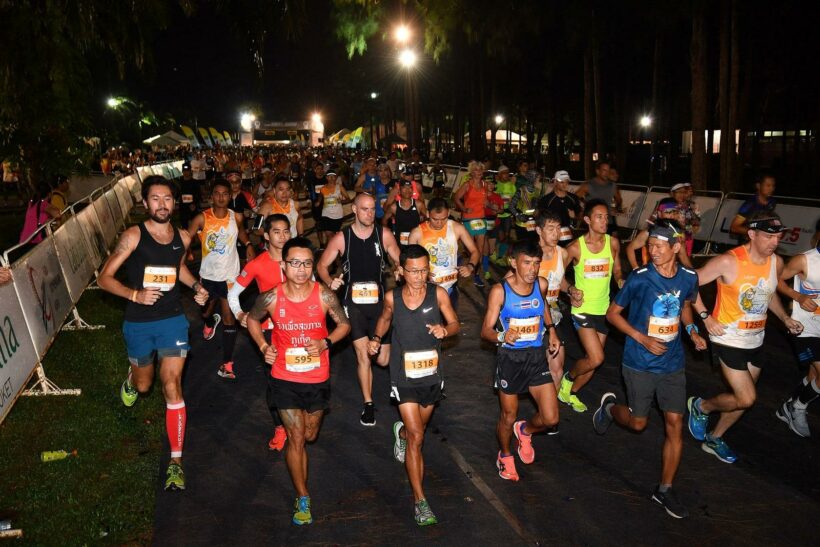 PHOTO: Naratip Golf Srisupab/SEALs Sports Images
Nine thousand runners from more than 50 countries took to the start line of the 2018 Laguna Phuket Marathon on 9th and 10th June and even before the first start, records had been smashed: Largest field of runners ever (9,000); the largest number of international participants (1,300), the largest ever Marathon participation (2,000), largest ever Half Marathon participation (3,000), and the largest ever 10.5km participation (2,000).
In the Marathon distance it was 2016 winner Koji Nishizawa (winner of the 5km distance the day before in a time of 00:17:09) who at the 10km check point was in the lead group consisting of Ethiopian Kisi Koniti Gerba (second in the 10.5km the day before) and Thai national team runner Supit Chantharat.

Koji Nishizawa (JPN). Marathon Winner.
After a tough battle over the first half of the course, Nishizawa broke away to claim the Men's title in a time of 02:44:16 ahead of Chantharat in second with local favourite Jaray Jearanai (THA) finishing fast to take third. In the Women's division it was Sabrina Polito (ITA) who got the better of a strong field of Thai and international runners to cross the line first in a time of 03:30:27.
Following his record-breaking 2,215km charity run in 2017, Thai rockstar and celebrity Artiwara "Toon" Khongmalai, was back competing at the Laguna Phuket Marathon, and for the first time Thai running idol and author of "Homo Finishers", Sarawut Hengsawad.
A top-class Half Marathon field included Thai national team runners, Olympians Boonthung Srisung and Natthaya Thanaronnawat. Boonthung was the runaway winner in the Male division in a time of 01:13:08, six minutes faster than last year's winner while in the Women's division Natthaya Thanaronnawat claimed the title in a time of 01:27:02 ahead of Maire Nic Amhlaoibh (IRL) in second.
In a packed 10.5km field, last year's power couple Hiroki Nakajima (JPN) and Tomomi Nakajima (JPN), on honeymoon at the 2017 race and overall winners in the Marathon male and female divisions respectively, returned this year to take out the 10.5km male and female divisions in times of 00:34:25 (two minutes faster than the 2017 winner) and 00:41:49 respectively, and then went on to race the Half Marathon the following day finishing second and third.

Sabrina Polito (ITA). Marathon Winner
Joining the 2,000 10.5km runners was Phuket's Governor, Norapat Plodthong and Vice Governor Sanith Sriwihok.
While Koji Nishizawa completed the 5km and Marathon double for the Men, in the Women's 5km it was Hayley Newman of Australia who three-peated in a time of 00:19:46 and went on to finish fourth in the Half Marathon.

Organised by Go Adventure Asia, Laguna Phuket Marathon is certified by AIMS (Association of International Marathons and Distance Races) for a 13th consecutive year and remains a qualifying event for the Boston Marathon. Dates for next year's 14th edition are June 8 & 9, 2019.
For more information, visit www.phuketmarathon.com or www.facebook.com/phuketmarathon.
Keep in contact with The Thaiger by following our
Facebook page
.
Nigerian astronaut needs $3 million to get home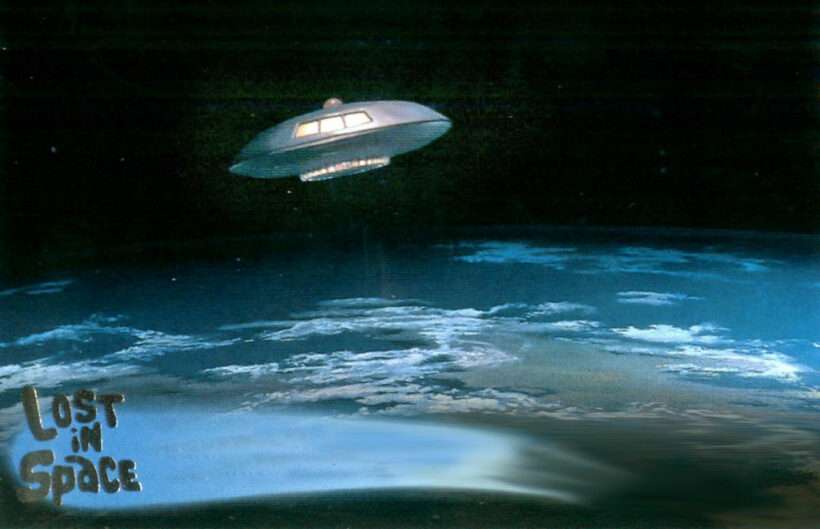 PHOTO: Lost In Space? Or lost in reality? Maybe someone will fall for it – Lost in Space's Jupiter 2
The Nigerians have somewhat of a reputation for scams and scammers. Who hasn't received an email offering loads of cash in return for your bank account and a moderate deposit? But this letter takes the famous Nigerian Scam to another level. Or perhaps it's true (we don't think so…)?
Subject: Nigerian Astronaut Wants To Come Home
Dr. Bakare Tunde – Astronautics Project Manager
National Space Research and Development Agency (NASRDA)
Plot 555, Misau Street, PMB 437
Garki, Abuja, FCT NIGERIA
Dear Mr. Sir,
REQUEST FOR ASSISTANCE-STRICTLY CONFIDENTIAL
I am Dr. Bakare Tunde, the cousin of Nigerian Astronaut, Air Force Major Abacha Tunde. He was the first African in space when he made a secret flight to the Salyut 6 space station in 1979. He was on a later Soviet spaceflight, Soyuz T-16Z to the secret Soviet military space station Salyut 8T in 1989. He was stranded there in 1990 when the Soviet Union was dissolved. His other Soviet crew members returned to earth on the Soyuz T-16Z, but his place was taken up by return cargo. There have been occasional Progrez supply flights to keep him going since that time. He is in good humor, but wants to come home.
In the 14 years since he has been on the station, he has accumulated flight pay and interest amounting to almost $ 15,000,000 American Dollars. This is held in a trust at the Lagos National Savings and Trust Association. If we can obtain access to this money, we can place a down payment with the Russian Space Authorities for a Soyuz return flight to bring him back to Earth. I am told this will cost $ 3,000,000 American Dollars. In order to access the his trust fund we need your assistance.
Consequently, my colleagues and I are willing to transfer the total amount to your account or subsequent disbursement, since we as civil servants are prohibited by the Code of Conduct Bureau (Civil Service Laws) from opening and/ or operating foreign accounts in our names.
Needless to say, the trust reposed on you at this juncture is enormous. In return, we have agreed to offer you 20 percent of the transferred sum, while 10 percent shall be set aside for incidental expenses (internal and external) between the parties in the course of the transaction. You will be mandated to remit the balance 70 percent to other accounts in due course.
Kindly expedite action as we are behind schedule to enable us include downpayment in this financial quarter.
Please acknowledge the receipt of this message via my direct number 234 (0) 9-234-XXXX only.
Yours Sincerely, Dr. Bakare Tunde
Astronautics Project Manager
XXXX@nasrda.gov.ng
Keep in contact with The Thaiger by following our
Facebook page
.
Thousands of Japanese rescuers looking for survivors of Typhoon Hagibis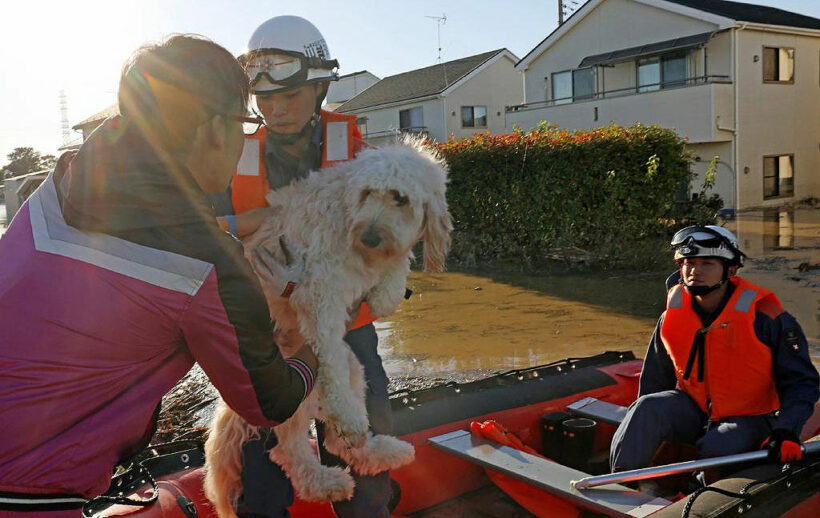 Thousands of rescue workers are searching for survivors from the fury of Typhoon Hagibis, two days after the storm slammed into Japan. As of the time of this post, the storm had killed at least 35 people.
(Video from Sky News below…)
Hagibis crashed into the country Saturday evening, but brought hours of torrential rains before it made landfall, causing landslides and filling rivers until they burst their banks.
More than 110,000 rescuers, including 31,000 troops, worked through the night searching for people trapped by the disaster. Local media report at least 35 people have been killed, with the Kyodo news agency reporting nearly 20 people were missing. Government figures from Sunday night were lower, though updates were expected throughout today.
While Hagibis, one of the most powerful storms to hit the Tokyo area in decades, packed wind gusts of up to 216 kilometres per hours (134 miles per hour), it was the heavy rains that caused most damage, with 21 rivers bursting their banks.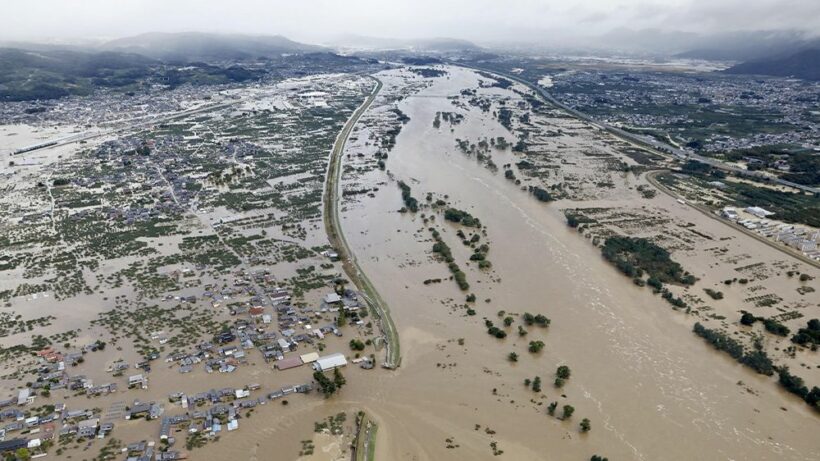 In central Nagano, a levee breach sent water from the Chikuma river gushing into residential neighbourhoods, flooding homes up to the second floor. Military and fire department helicopters winched survivors from roofs and balconies in several locations, but in Fukushima one operation went tragically awry when a woman died after falling while being rescued.
The destruction forced the Rugby World Cup being hosted by Japan to cancel several games, but the "Brave Blossoms", as the national team is known, lifted spirits with a stunning 28-21 victory over Scotland on Sunday that put them into the quarter-finals of the tournament for the first time.
Rescue efforts have been continuing this morning, with local television showing soldiers rowing a rubber rescue dingy through floodwaters in Fukushima, while elsewhere workers removed dirt with a digger.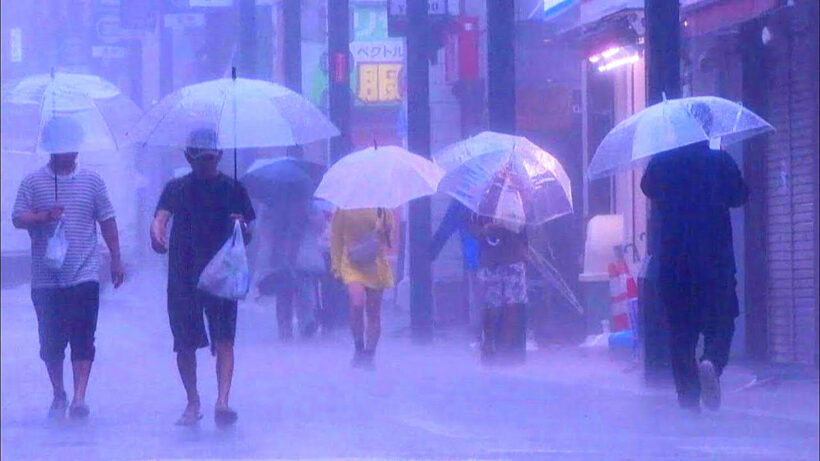 The death toll mounted throughout yesterday as bodies were recovered from flooded homes and cars, buildings caught in landslides, and swollen rivers.
The dead included a municipal worker whose car was overcome by floodwaters and at least five Chinese crew members aboard a boat that sank in Tokyo Bay on Saturday night.
As of this morning, some 57,500 households remained without power, with 120,000 experiencing water outages. The disaster left tens of thousands of people in shelters, with many unsure when they would be able to return home.
But most subway trains have resumed service, along with many bullet train lines, and flights had also restarted.
SOURCE: Agence France-Presse PHOTOS: AFP
Keep in contact with The Thaiger by following our
Facebook page
.
Tour De France comes to Phang Nga – L'Etape Thailand on October 27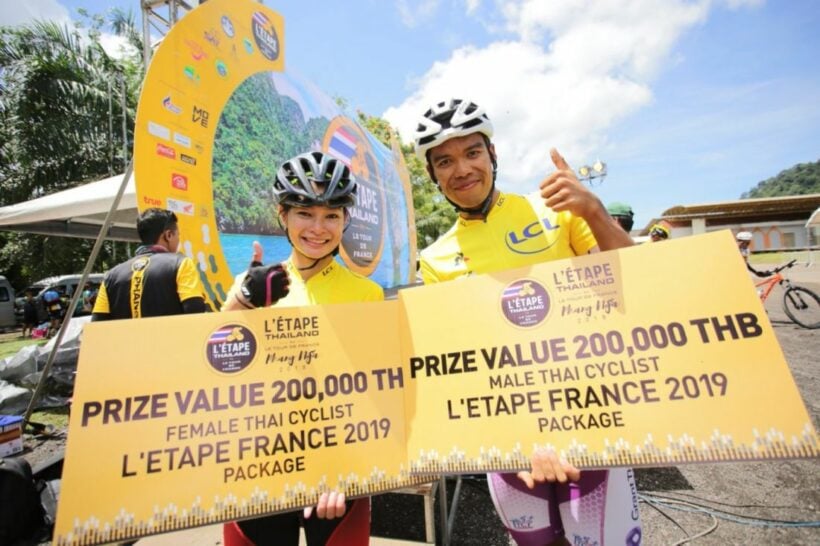 PHOTO: L'Etape Thailand by Le Tour De France
Thailand will be the first country in ASEAN to attract the world-class cycling event to Thailand for local and international cyclists to experience a challenging and scenic ride on a course comparable to the world's most popular cycling event, The Tour De France.
The event is being held around Khao Lak in Phang Nga on October 27.
"L'Étape by Le Tour De France" will be an organised participation event allowing amateur cyclists to face the same challenges and race conditions as if they were riding in the Tour de France. Additionally, there will be activities and an Expo including a travelling Tour De France museum to welcome newcomers to the event.
L'Étape by Le Tour De France is one of the most popular events operated by Tour de France and been held in 11 countries over five continents. Its founding event, L'Étape du Tour, started in France in 1993, and expanded in the 2010s to the US, Australia, UK, South Korea, Colombia, Brazil and others. In 2017, there were about 50,000 participants.

Here is a list of the Khao Lak events in Phang Nga…
The race 159 KM Super Early Bird (Limited)
• The race 159 KM (Individual)
• Thais baht 2,500 baht
• Foreigners 2,600 baht
The race 159 KM (Group 5 Pax)
• Thais 2,500 baht
• Foreigners 2,600 baht
The race 159 KM (Group 8 Pax)
• Thais 2,500 baht
• Foreigners 2,600 baht
The race 159 KM (Group 10 Pax)
• Thais 2,500 baht
• Foreigners 2,600 baht
The race 70 KM Super Early Bird (Limited)
• The race 70 KM (Individual)
• Thais 2,500 baht
• Foreigners THB 2,600
The race 70 KM (Group 5 Pax)
• Thais 2,500 baht
• Foreigners 2,600 baht
The race 70 KM (Group 8 Pax)
• Thais 2,500 baht
• Foreigners 2,600 baht
The race 70 KM (Group 10 Pax)
• Thais 2,500 baht
• Foreigners 2,600 baht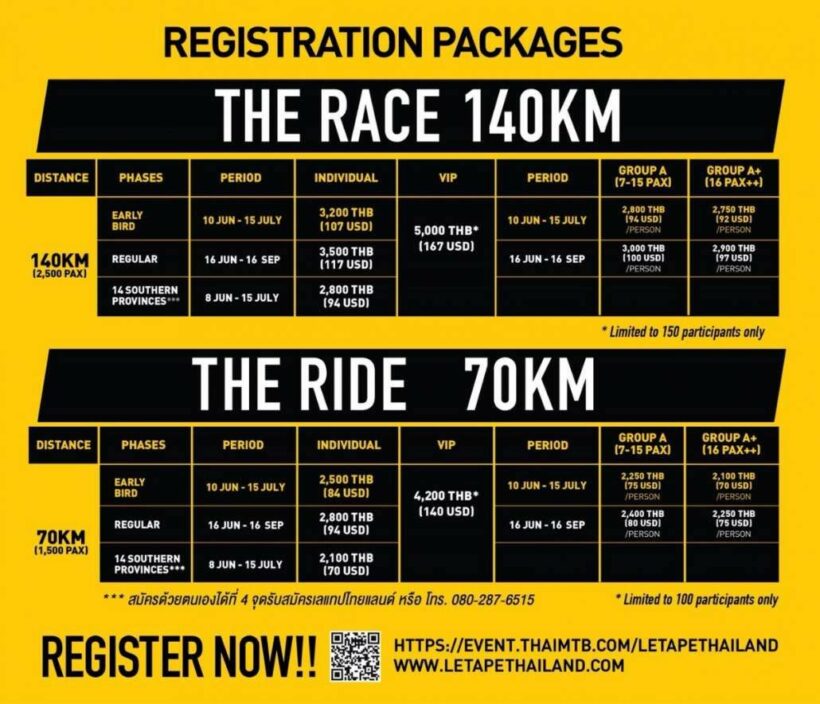 Keep in contact with The Thaiger by following our
Facebook page
.