Myanmar-Thai border mega bust. 15 tonnes of drug-making chemicals.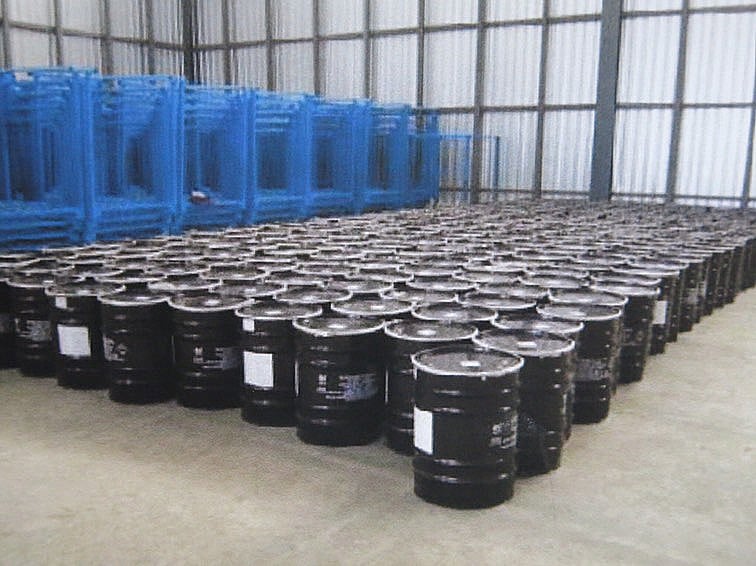 By Jessada Chantharak
A 15 tonne batch of sodium cyanide that could have been used to make millions of methamphetamine pills was seized and Chiang Rai man was arrested last week when a smuggling operation into Myanmar from Thailand was intercepted.
Truck driver, 41 year old Sawat Kaewdam, is facing charges over alleged illegal entry and failing to obtain a permit to transport a hazardous substance into Myanmar. The seized sodium cyanide could be synthesised into phenyl-2-propanone, a narcotic substrate and used to produce about 295 million methamphetamine pills. Sawat was nabbed in the Myanmar border town of Tachileik, thanks to the Thai-Myanmar police collaboration, a senior official said on Sunday.

Office of the Narcotics Control Board (ONCB) secretary-general Sirinya Sidthichai told a press conference in Bangkok about the interception and arrest by officers of the Myanmar Police Force's Central Committee for Drug Abuse Control (CCDAC). The ONCB had in May received a report from Chiang Rai's Chiang Saen Custom Checkpoint that someone had applied to transport sodium cyanide from Thailand to the Myanmar city of Yangon through the Mekong River.
The checkpoint refused the request as the Agreement on Commercial Navigation on the Lancang-Mekong River prohibited the river transport of dangerous substance such as sodium cyanide.The exporter then kept the chemical at a Chiang Saen warehouse.
Sodium cyanide is designated a "hazardous substance type 3" under the Hazard Substances Act 1992, and its manufacture, import and export, or possession requires a permit from the Department of Industrial Works (DIW), Sirinya said. It also is on a list of substances that, under a 2016 order of the National Council for Peace and Order, is to be monitored for importing and exporting by national security agencies due to its potential use in making illegal drugs.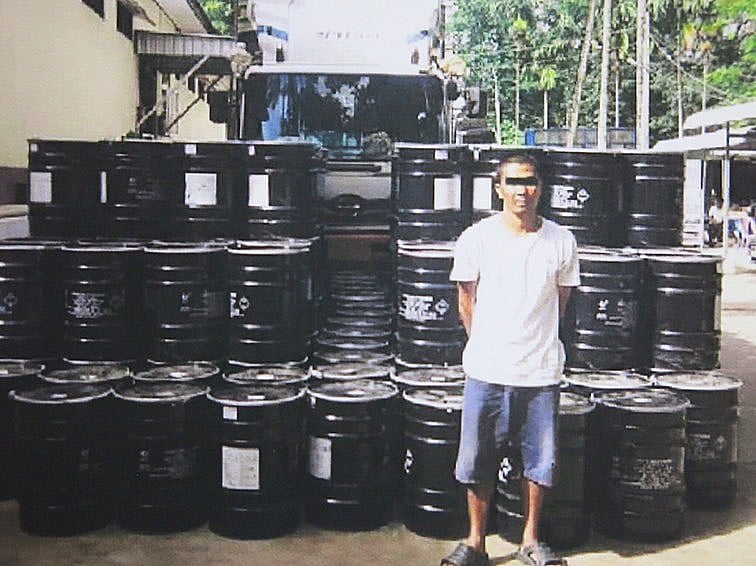 On June 2, the 300 gallons of Sodium Cyanide, weighing 15 tonnes and worth about 1.5 million baht, were sent to Tachileik via the Mae Sai Custom Checkpoint along with a permit from the DIW, Sirinya said. The ONCB then alerted the CCDAC in Tachileik to investigate.
Myanmar officers found the batch lacked an import permit to Myanmar, seized it for inspection and arrested driver Sawat. Facing charges, the Chiang Rai native claimed he was hired to transport the batch to a gold mine in Yangon. Sodium cyanide is also used to extract gold. Sirinya said the batch – which could produce 295 million yaba pills or 9,500 kilograms of crystal meth or "ice" – had originally been ordered from China to be delivered to Yangon, but it was brought in via Tachileik. Tachileik is a long distance from Myanmar's capital, a fact that led officials to suspect that its intended use might be narcotics manufacturing.
Praising the Thai-Myanmar collaboration in the drug bust and suspect apprehension and transfer, Sirinya cited a separate drug case as an example.
On May 31, CCDAC in Tachileik had arrested drug fugitive Charoen Kiatpornpanich, 37 – who was part of a gang whose leader 60 year old Yuth Chankaew was arrested in 2014 along with 20 kilograms of "ice". His three accomplices were also netted, and the gang's assets worth 35 million baht were subsequently seized.Charoen, later identified as the gang's drug storing and delivery guy, fled to Myanmar, and so ONCB asked the CCDAC to locate him. Charoen was finally arrested along with 8million baht worth of assets, including 4.2 million baht in cash, 8.4 million kyat (about 200,000baht), a large amount of gold ornaments and a Toyota Alphard mini-van in Tachileik, Sirinya said. In Thailand, ONCB meanwhile seized Chaoroen's assets worth 12 million baht, including three cars, eight motorcycles, and two land plots plus cash and valuables, he added. The ONCB would soon have Charoen extradited to face drug prosecution in Thailand, he added.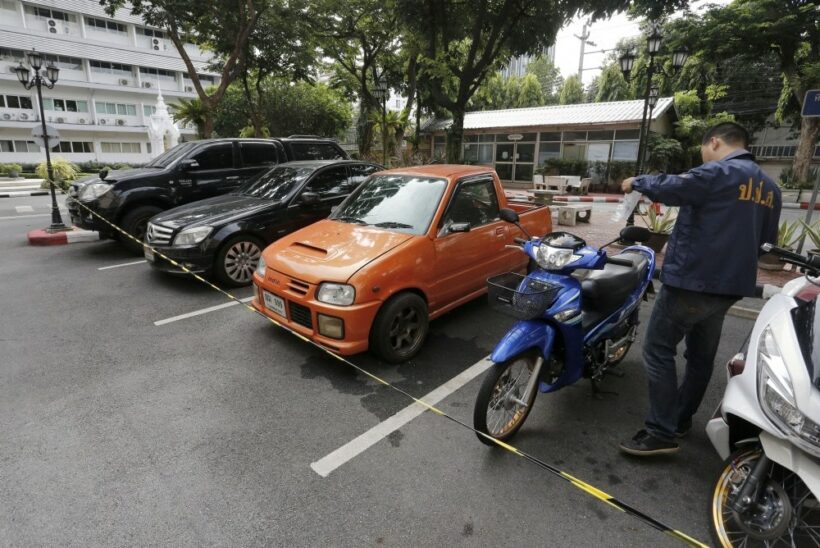 STORY: The Nation


Read more headlines, reports & breaking news in Thailand. Or catch up on your Thailand news.
Belarusian 'Anastasia' will be in Moscow detention another 3 days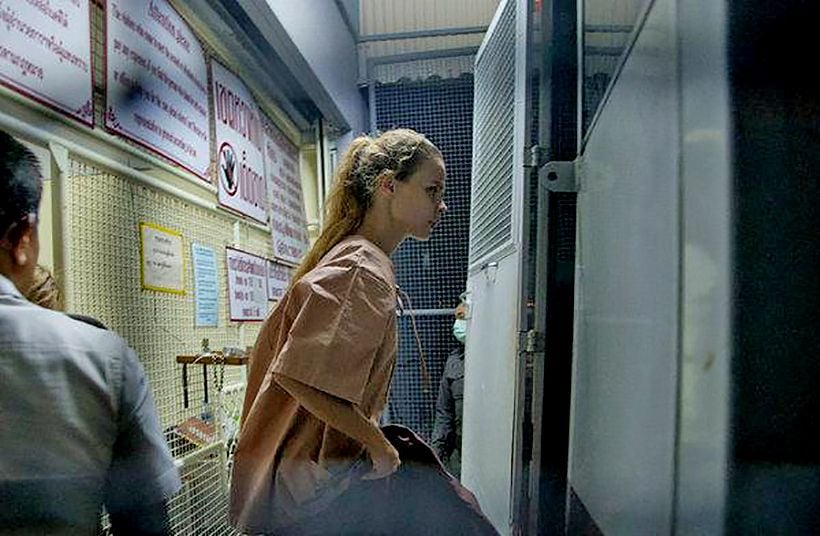 Anastasia Vashukevich, aka. Nastya Rybka, the Belarusian model/sex-educator/Instagramer who spent a year in a Thai jail awaiting last week's Court case, and was then deported, remains in a Moscow jail as of last night after the presiding judge decided to extend her detention by 72 hours.
She was arrested at Moscow airport on Thursday after being deported from Thailand on Tuesday night. She, and seven others, pleaded guilty last Tuesday for participating in a "sex training course" in Pattaya nearly 12 months ago.
During a hearing yesterday in Moscow, she said she did not want to "in any way compromise aluminum mining magnate, Oleg Deripaska".
According to Interfax she said in the hearing, "I have had enough."
Her lawyer Dmitry Zatsarinsky, told reporters that his young client "has committed no crime" and had "nothing to do with" Deripaska and "still less with US President Donald Trump".
On Friday her lawyer denounced Anastasia's arrest, which was made while she was in transit in Moscow after a flight from Thailand on her way to Belarus.
The Belarusian gained notoriety last year when she claimed she had proof of Russian collusion with the Trump Presidential election campaign. She has now had her detention in Moscow extended by three days by a Russian court.
According to Interfax reports, she told the court she denied the accusation of prostitution, telling the court that "I am not guilty of what I am accused."
She unexpectedly pleaded guilty in a Bangkok court to charges of prostitution relating to last February's sex training course in Pattaya. The Thai judge suspended the group's sentences but deported them, effective immediately.
Anastasia had been in custody in Thailand since a police raid in what AFP described as the "sleazy seaside resort of Pattaya" last February.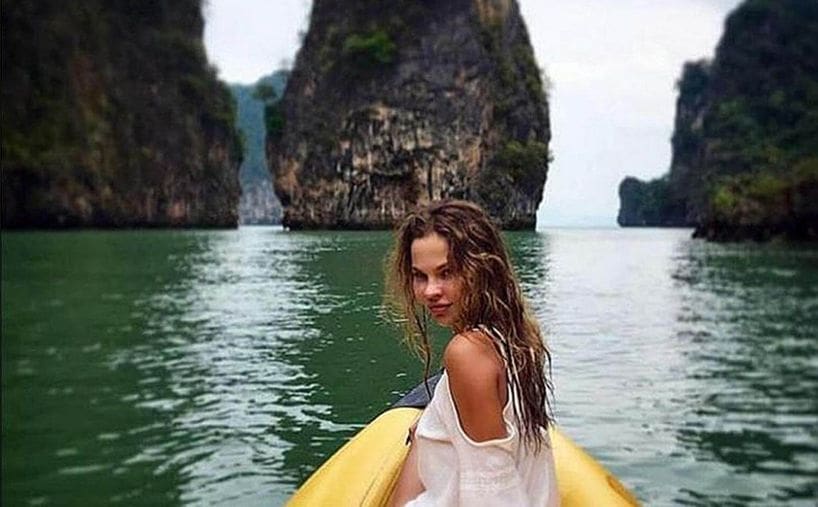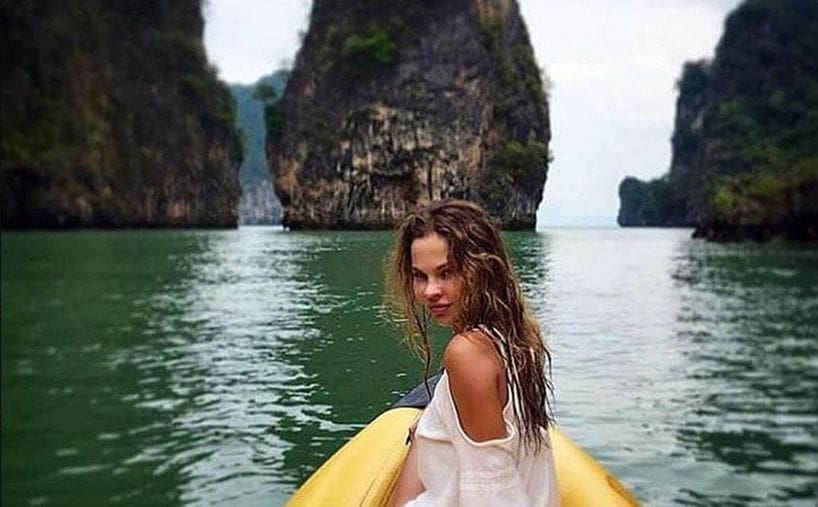 Anastasia cruising around Phang Nga in 2017 – Instagram
New 500 baht fine for drunk cycling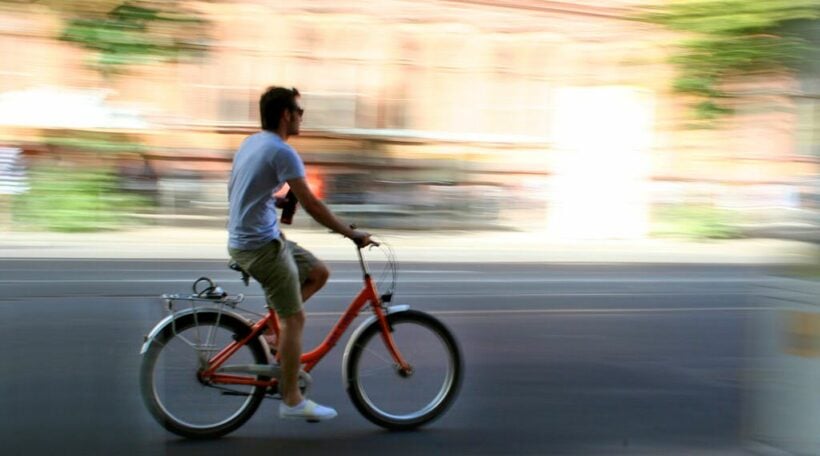 Up to now drink-driving cyclists have not been included in the laws governing drunk drivers of other vehicles in Thailand. But with the rising popularity of cycling as a fitness trend, that's about to change with a new 500 baht fine if bought drunk in control of a bike.
Drunk bicyclists who are currently immune to litigation because there is no law to make drunk cycling an offence. The new laws are covered in the upgraded traffic bill which passed the first reading of the National Legislative Assembly last week.
But, according to the Bill drafters, riding bicycles in public while being drunk is still regarded as a petty offence and the penalty would be just a 500 baht fine.
The same new traffic bill also seeks to empower traffic police to seize driving licenses of drivers found to be drunk behind the wheels and judged incapable of driving.
The bill will also merge the Land Transport Department and police databases to coordinate and share information on backgrounds and traffic violations records of drivers and motorcyclists.
A score system is being introduced under which law-breaking drivers will have their scores cut for every traffic violation.  Everyone will start a 12 month period with 12 points. If the scores are down to zero, the drivers will have their driving licenses suspended for up to 90 days.
Bangkok smog: Police get out their hoses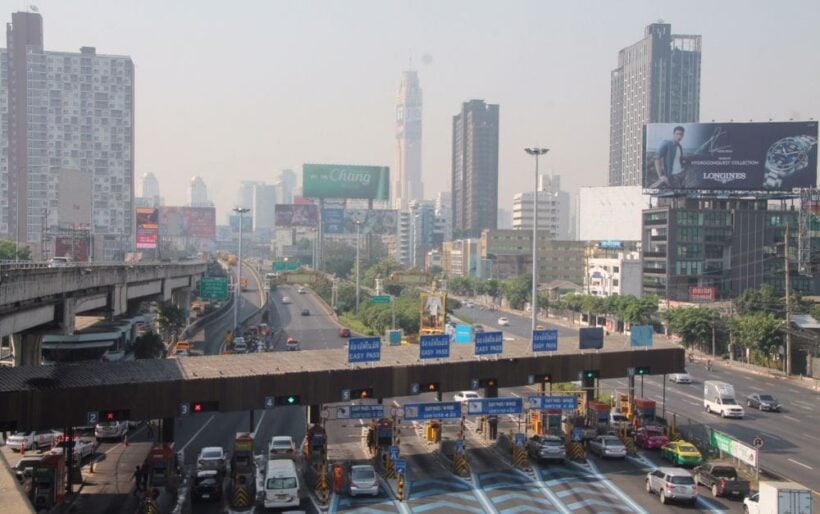 by Kornkamon Aksorndech 
Traffic police and volunteers sprayed water at four locations in Bangkok this morning in a bid to curb the dust and smog pollution.
Pol Maj General Nithithorn Jintakanon, commander of the Traffic Police Division of the Metropolitan Police Bureau, presided at the dispatch of 150 police officers and volunteers from his headquarters on Vibhavadi-Rangsit Road.
They chose four high-traffic locations and sprayed water in front of the Government Complex on Chaeng Wattana Road, the Din Daeng expressway toll gates and at the Ratchadapisek-Lat Phrao intersection on Lat Phrao Road and a Ramkhamhaeng Road intersection.
#pissinginthewind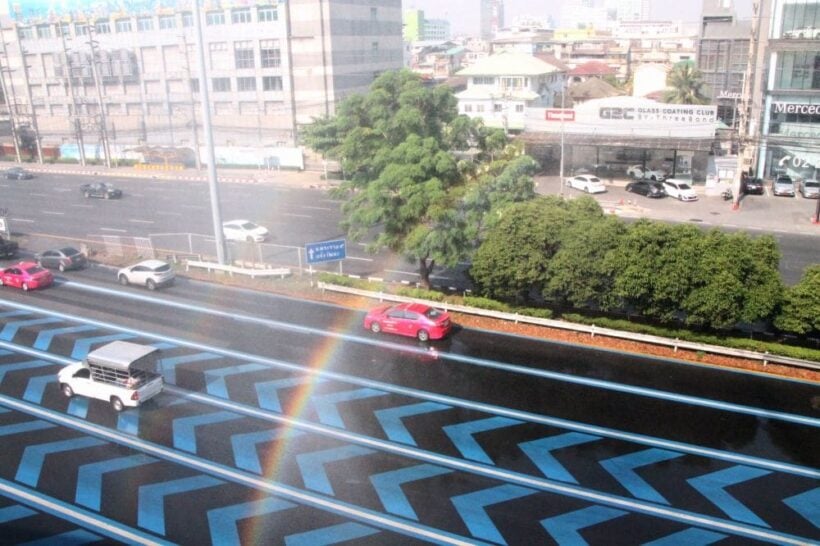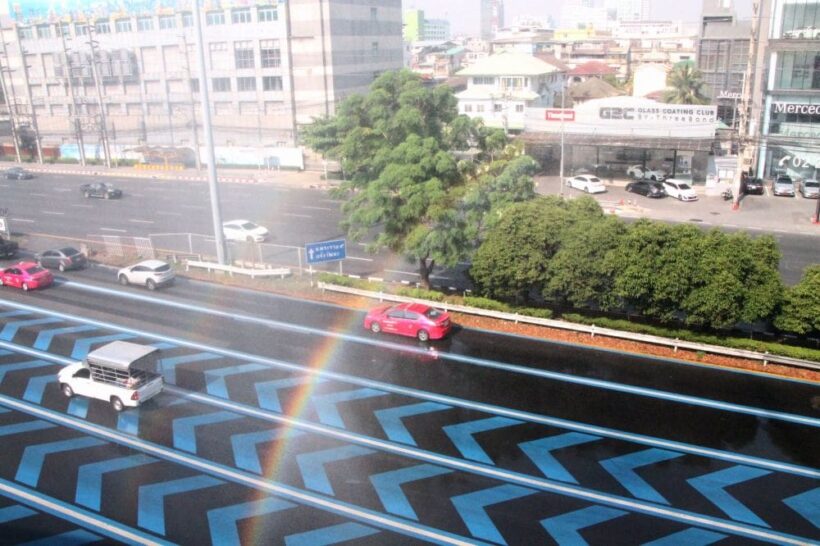 SOURCE: The Nation