Myanmar-Thai border mega bust. 15 tonnes of drug-making chemicals.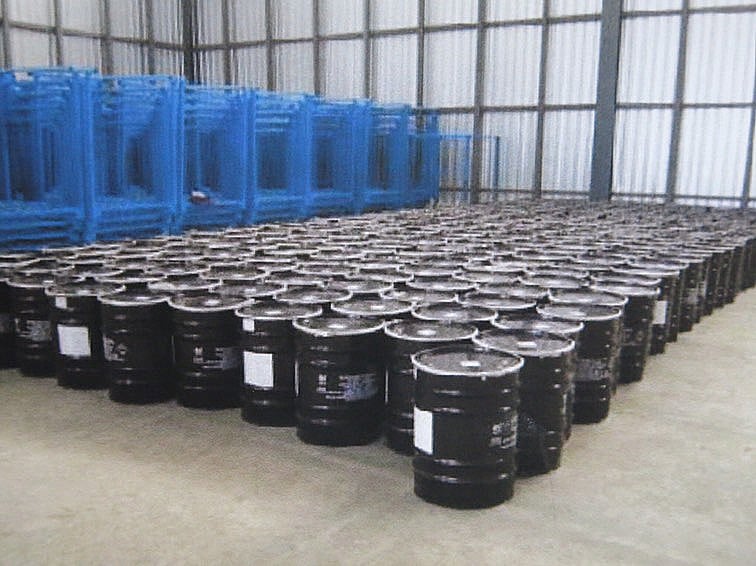 By Jessada Chantharak
A 15 tonne batch of sodium cyanide that could have been used to make millions of methamphetamine pills was seized and Chiang Rai man was arrested last week when a smuggling operation into Myanmar from Thailand was intercepted.
Truck driver, 41 year old Sawat Kaewdam, is facing charges over alleged illegal entry and failing to obtain a permit to transport a hazardous substance into Myanmar. The seized sodium cyanide could be synthesised into phenyl-2-propanone, a narcotic substrate and used to produce about 295 million methamphetamine pills. Sawat was nabbed in the Myanmar border town of Tachileik, thanks to the Thai-Myanmar police collaboration, a senior official said on Sunday.

Office of the Narcotics Control Board (ONCB) secretary-general Sirinya Sidthichai told a press conference in Bangkok about the interception and arrest by officers of the Myanmar Police Force's Central Committee for Drug Abuse Control (CCDAC). The ONCB had in May received a report from Chiang Rai's Chiang Saen Custom Checkpoint that someone had applied to transport sodium cyanide from Thailand to the Myanmar city of Yangon through the Mekong River.
The checkpoint refused the request as the Agreement on Commercial Navigation on the Lancang-Mekong River prohibited the river transport of dangerous substance such as sodium cyanide.The exporter then kept the chemical at a Chiang Saen warehouse.
Sodium cyanide is designated a "hazardous substance type 3" under the Hazard Substances Act 1992, and its manufacture, import and export, or possession requires a permit from the Department of Industrial Works (DIW), Sirinya said. It also is on a list of substances that, under a 2016 order of the National Council for Peace and Order, is to be monitored for importing and exporting by national security agencies due to its potential use in making illegal drugs.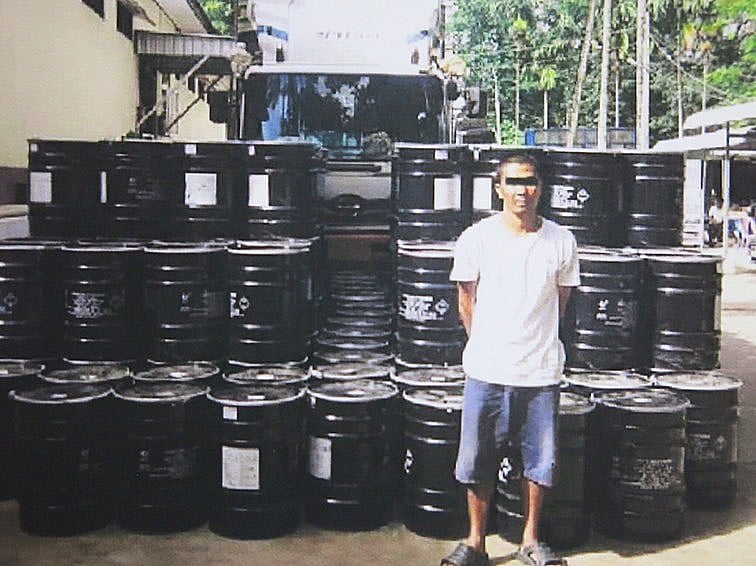 On June 2, the 300 gallons of Sodium Cyanide, weighing 15 tonnes and worth about 1.5 million baht, were sent to Tachileik via the Mae Sai Custom Checkpoint along with a permit from the DIW, Sirinya said. The ONCB then alerted the CCDAC in Tachileik to investigate.
Myanmar officers found the batch lacked an import permit to Myanmar, seized it for inspection and arrested driver Sawat. Facing charges, the Chiang Rai native claimed he was hired to transport the batch to a gold mine in Yangon. Sodium cyanide is also used to extract gold. Sirinya said the batch – which could produce 295 million yaba pills or 9,500 kilograms of crystal meth or "ice" – had originally been ordered from China to be delivered to Yangon, but it was brought in via Tachileik. Tachileik is a long distance from Myanmar's capital, a fact that led officials to suspect that its intended use might be narcotics manufacturing.
Praising the Thai-Myanmar collaboration in the drug bust and suspect apprehension and transfer, Sirinya cited a separate drug case as an example.
On May 31, CCDAC in Tachileik had arrested drug fugitive Charoen Kiatpornpanich, 37 – who was part of a gang whose leader 60 year old Yuth Chankaew was arrested in 2014 along with 20 kilograms of "ice". His three accomplices were also netted, and the gang's assets worth 35 million baht were subsequently seized.Charoen, later identified as the gang's drug storing and delivery guy, fled to Myanmar, and so ONCB asked the CCDAC to locate him. Charoen was finally arrested along with 8million baht worth of assets, including 4.2 million baht in cash, 8.4 million kyat (about 200,000baht), a large amount of gold ornaments and a Toyota Alphard mini-van in Tachileik, Sirinya said. In Thailand, ONCB meanwhile seized Chaoroen's assets worth 12 million baht, including three cars, eight motorcycles, and two land plots plus cash and valuables, he added. The ONCB would soon have Charoen extradited to face drug prosecution in Thailand, he added.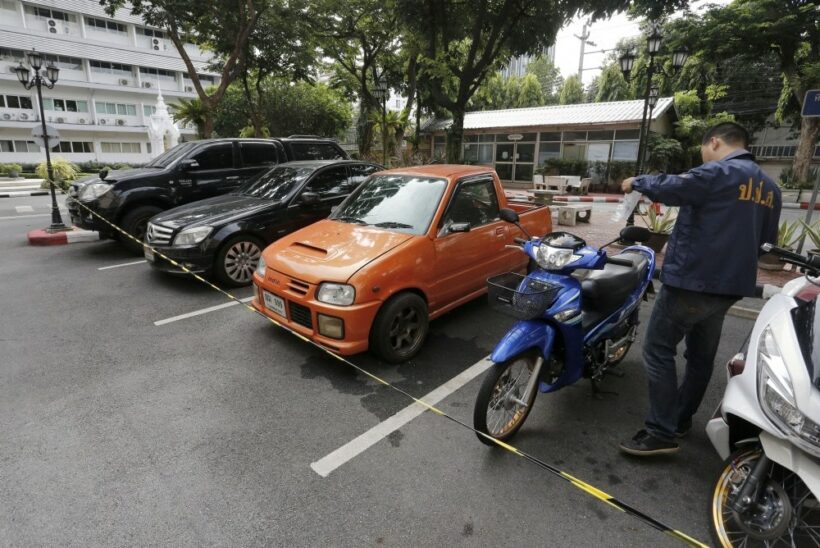 STORY: The Nation
- The Thaiger & The Nation
Narathiwat: 40 pipe bombs seized at a checkpoint on busy highway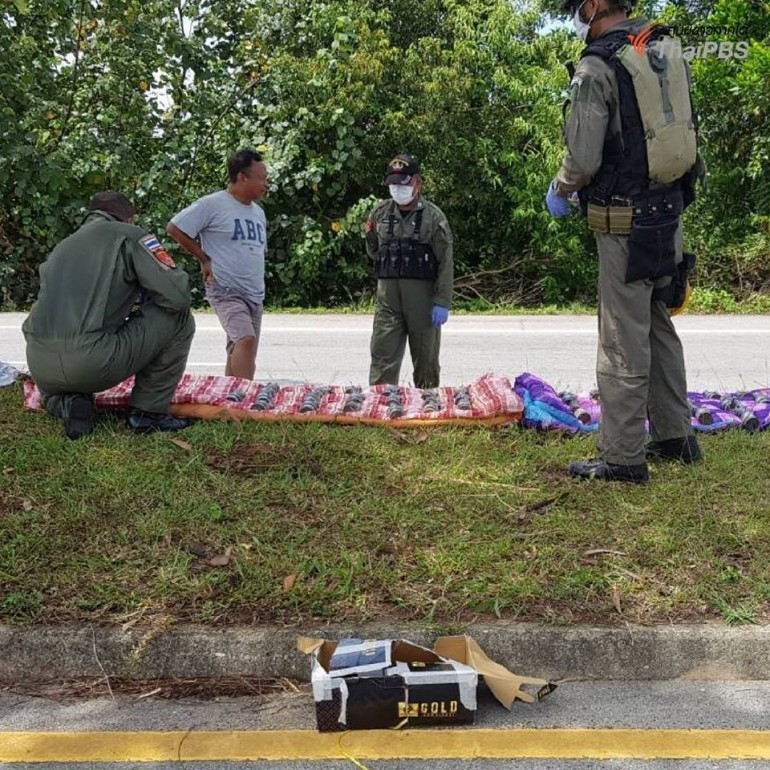 Police in Narathiwat have uncovered 40 pipe bombs together with other potential bomb-making paraphernalia from a pickup truck at a checkpoint. The pick-up was travelling on the Sungai Kolok-Takbai highway in the southern province of Narathiwat.
Thai PBS are reporting that highway police set up a checkpoint on the main north-south highway.  Around midday, a gold-coloured Isuzu pick-up approached the checkpoint and was stopped for a routine search.
A suspect, 36 year old Sanusee Yatae, was arrested while another, identified by police as Abdul-arsi Sama, managed to elude police and remains at bay whilst police continue searching.
The police unfolded two quilts in the passengers' cabin of the pick-up and found the 40 pipe bombs.  The explosives ordnance disposal unit was then called in to check out the bombs.
Besides the 40 pipe bombs, there were two radio transmitters, four torches, two boxes of radio circuitry, 36 boxes of timer circuits set for five minutes, one box of timer circuits set for ten minutes, two boxes of time circuits set for 30 minutes and one steel pipe bomb.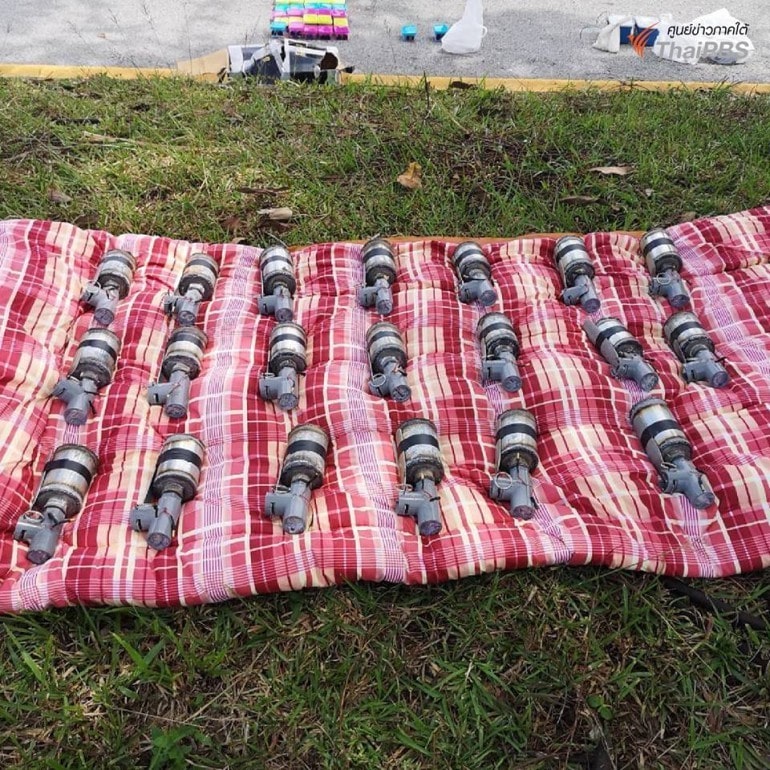 SOURCE: Thai PBS

Thaiger Radio News – Saturday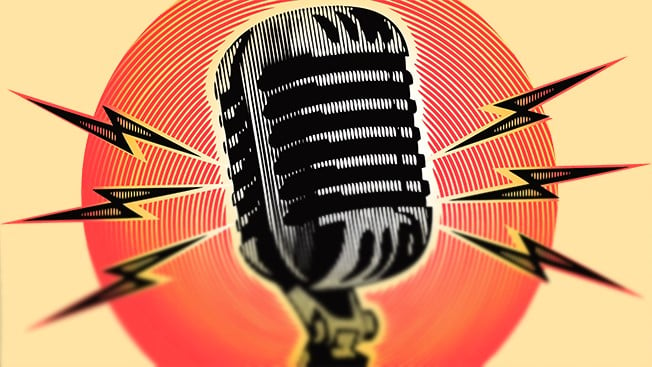 Thai PM features on front of Time magazine's Asia edition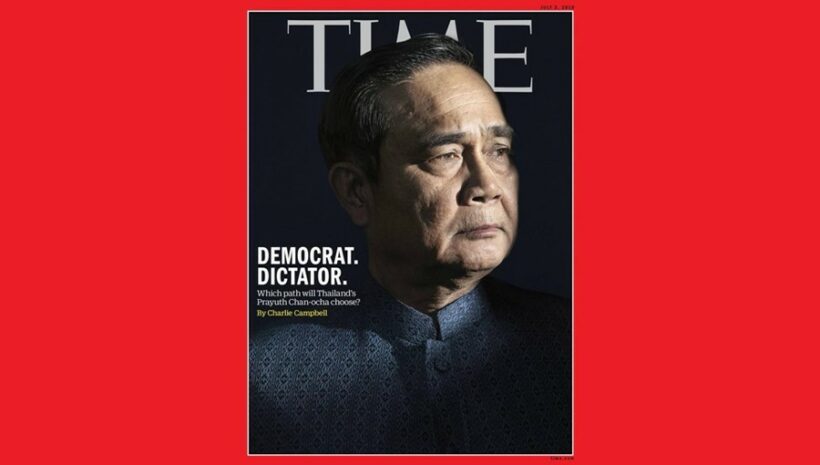 Thailand's PM Prayut Chan-o-cha is being featured on the cover of Time magazine's Asia edition for the start of July, available on July 2.
The cover carries the headline: "Democrat.  Dictator. Which path will Thailand's Prayuth Chan-o-cha choose?"
General Prayuth Chan-ocha appears at ease among the lavish trappings of politics. Thailand's Prime Minister is never far from doting courtiers in Bangkok's 1920s Government House, a neo-Gothic building stippled with classical nudes and one particularly plump jade Buddha.
The cover story is "Thailand's Leader Promised to Restore Democracy.  Instead, He's Tightening His Grip". The article has been penned by Charlie Campbell, the Beijing correspondent for Time.
The analytical article is mostly about the current political situation in Thailand under the junta and remarks from Prayut explaining why the coup was necessary.
"These were not four years of empowerment, but it was the time to solve problems, overcome obstacles and build stability, security to move forward to the future."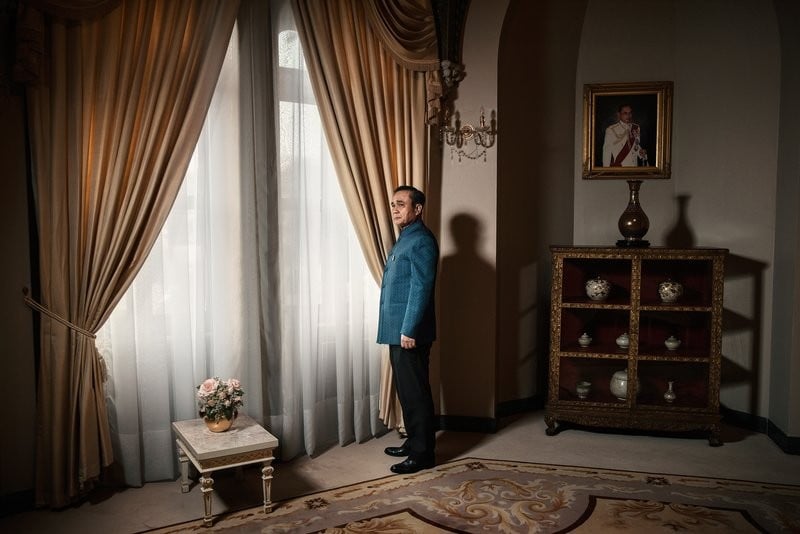 Adam Ferguson for TIME
The PM is currently on a European trip to shore up support for his government's Eastern Economic Corridor and to keep Europe discussing trade with the Kingdom.
Prayuth, meanwhile, insists that his dictatorship is reluctant and temporary. "I never imagined becoming Prime Minister in this way," he says. "It was the hardest decision of my life." So he definitely won't stay in power past February? "That depends on the situation and the people," he says with a shrug. "I have no control over this." Millions of Thais feel the same way.
The article also compares the problems across south east asia's fragile democracies and compares some of the successes of 'dictatorial democracies', like Thailand, with some of the west's elected, but fragmented, governments.
You can read the rest of the Time article HERE.