Myanmar-Thai border mega bust. 15 tonnes of drug-making chemicals.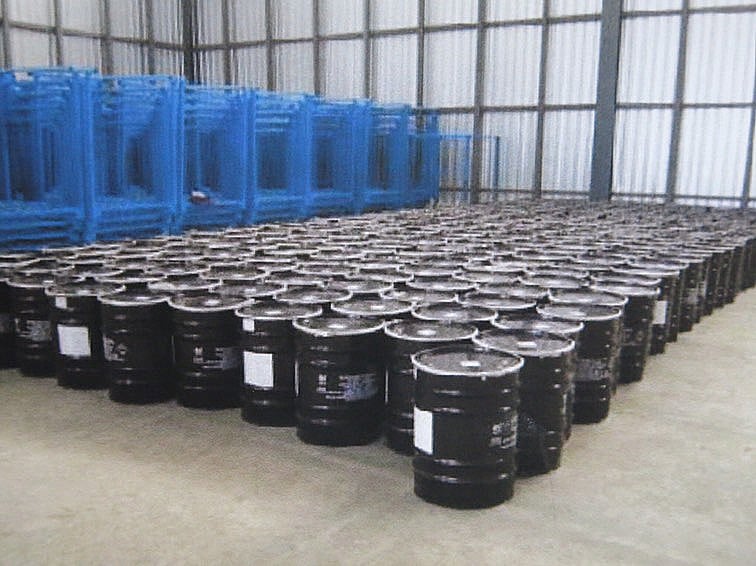 By Jessada Chantharak
A 15 tonne batch of sodium cyanide that could have been used to make millions of methamphetamine pills was seized and Chiang Rai man was arrested last week when a smuggling operation into Myanmar from Thailand was intercepted.
Truck driver, 41 year old Sawat Kaewdam, is facing charges over alleged illegal entry and failing to obtain a permit to transport a hazardous substance into Myanmar. The seized sodium cyanide could be synthesised into phenyl-2-propanone, a narcotic substrate and used to produce about 295 million methamphetamine pills. Sawat was nabbed in the Myanmar border town of Tachileik, thanks to the Thai-Myanmar police collaboration, a senior official said on Sunday.

Office of the Narcotics Control Board (ONCB) secretary-general Sirinya Sidthichai told a press conference in Bangkok about the interception and arrest by officers of the Myanmar Police Force's Central Committee for Drug Abuse Control (CCDAC). The ONCB had in May received a report from Chiang Rai's Chiang Saen Custom Checkpoint that someone had applied to transport sodium cyanide from Thailand to the Myanmar city of Yangon through the Mekong River.
The checkpoint refused the request as the Agreement on Commercial Navigation on the Lancang-Mekong River prohibited the river transport of dangerous substance such as sodium cyanide.The exporter then kept the chemical at a Chiang Saen warehouse.
Sodium cyanide is designated a "hazardous substance type 3" under the Hazard Substances Act 1992, and its manufacture, import and export, or possession requires a permit from the Department of Industrial Works (DIW), Sirinya said. It also is on a list of substances that, under a 2016 order of the National Council for Peace and Order, is to be monitored for importing and exporting by national security agencies due to its potential use in making illegal drugs.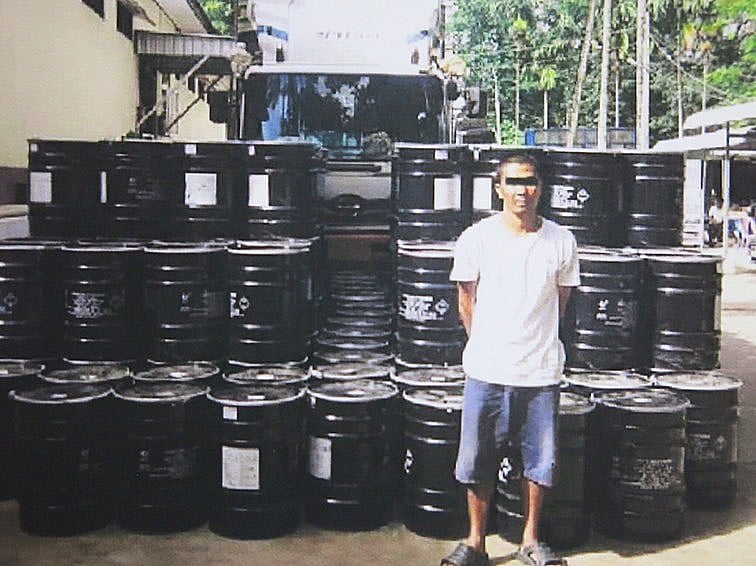 On June 2, the 300 gallons of Sodium Cyanide, weighing 15 tonnes and worth about 1.5 million baht, were sent to Tachileik via the Mae Sai Custom Checkpoint along with a permit from the DIW, Sirinya said. The ONCB then alerted the CCDAC in Tachileik to investigate.
Myanmar officers found the batch lacked an import permit to Myanmar, seized it for inspection and arrested driver Sawat. Facing charges, the Chiang Rai native claimed he was hired to transport the batch to a gold mine in Yangon. Sodium cyanide is also used to extract gold. Sirinya said the batch – which could produce 295 million yaba pills or 9,500 kilograms of crystal meth or "ice" – had originally been ordered from China to be delivered to Yangon, but it was brought in via Tachileik. Tachileik is a long distance from Myanmar's capital, a fact that led officials to suspect that its intended use might be narcotics manufacturing.
Praising the Thai-Myanmar collaboration in the drug bust and suspect apprehension and transfer, Sirinya cited a separate drug case as an example.
On May 31, CCDAC in Tachileik had arrested drug fugitive Charoen Kiatpornpanich, 37 – who was part of a gang whose leader 60 year old Yuth Chankaew was arrested in 2014 along with 20 kilograms of "ice". His three accomplices were also netted, and the gang's assets worth 35 million baht were subsequently seized.Charoen, later identified as the gang's drug storing and delivery guy, fled to Myanmar, and so ONCB asked the CCDAC to locate him. Charoen was finally arrested along with 8million baht worth of assets, including 4.2 million baht in cash, 8.4 million kyat (about 200,000baht), a large amount of gold ornaments and a Toyota Alphard mini-van in Tachileik, Sirinya said. In Thailand, ONCB meanwhile seized Chaoroen's assets worth 12 million baht, including three cars, eight motorcycles, and two land plots plus cash and valuables, he added. The ONCB would soon have Charoen extradited to face drug prosecution in Thailand, he added.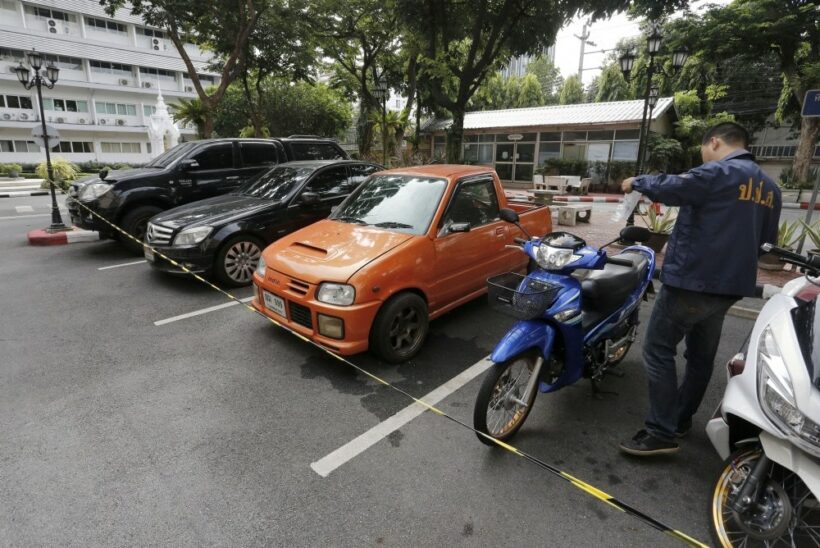 STORY: The Nation
Keep in contact with The Thaiger by following our
Facebook page
.
Points deduction system for drivers to be introduced mid-December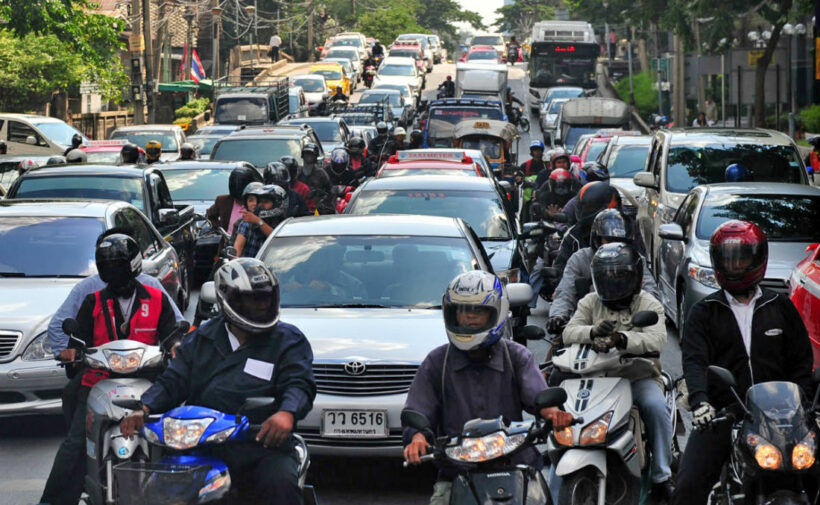 The point deduction system, for traffic and road infringements, is tentatively scheduled for activation for motorists and motorcyclists in mid-December. It is hoped that the system will help reduce road fatalities and injuries on Thai roads.
The deputy commander of Highways Police Command says that every licensed driver will be given an allocation of 12 points. Each time the driver commits a traffic law violation, points will be deducted. When there are no points left, the driver's license will be suspended for 90 days, after which the driver or motorcyclist will have to undergo training administered by the Land Transport Department to get their licence back, and another 12 points.
Those who don't attend the training, however, will have their licence returned after 90 days, but with only 8 points.
Points to be deducted differ, depending on the offence. Offences are divided into four categories:
• One point deduction
Using a cell-phone while driving; exceeding the speed limit; not wearing crash helmets for motorcyclists; not wearing seat belts; not giving way to emergency vehicles, riding on the sidewalk and not stopping for pedestrians on zebra crossings.
• Two points deduction
Running a red light; driving on the wrong side of the road; reckless driving; driving while his/her license is suspended and drunk driving.
• Three points deduction
Organising or promoting street racing without permission; hit-and run; driving while under the influence of narcotics; driving while under the influence of alcohol exceeding 150mg per ml.
• Four points deduction
Driving under the influence of alcohol exceeding 200mg per ml, drunk driving in a way which may cause serious injuries or death to the other people; driving in a manner disregarding the safety of the other people or causing trouble to other people.
SOURCE: Thai PBS World
Keep in contact with The Thaiger by following our
Facebook page
.
The body of an unidentified foreigner found floating south of Pattaya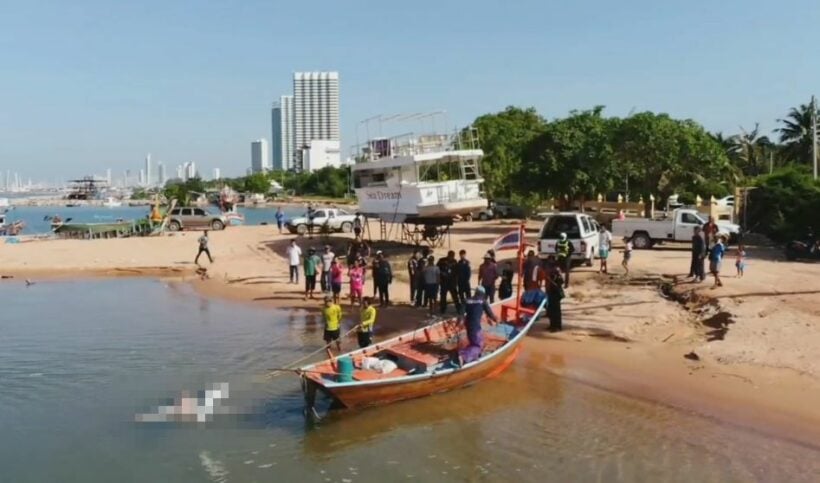 A fisherman has recovered a body, thought to be a foreigner, from the Gulf of Thailand off Sattahip.
Na Jomtien Police were notified of the body by 24 year old Teerapong Boonwat, a fishing boat captain plying the waters around Sattahip, south of Pattaya.
Mr. Boonwat had recovered the body found floating near Koh Ped (Duck Island), about three nautical miles from the Sattahip shore. Police and emergency responders rushed to the scene near Amparam Temple.
Police report that the male body appears to be a foreigner aged around 40 years old with a beard and little head hair. He was wearing a white T-shirt, long jeans and black sneakers.
No identification was found on the man. It is believed that he had died at least 7 days before his body was found floating in the water. The police didn't state if there was any signs of foul play or the condition of the body.
Police are investigating the incident and reviewing missing person reports to establish identification.
SOURCE: The Pattaya News
Keep in contact with The Thaiger by following our
Facebook page
.
Opposition hits out at government's military spending in 2020 budget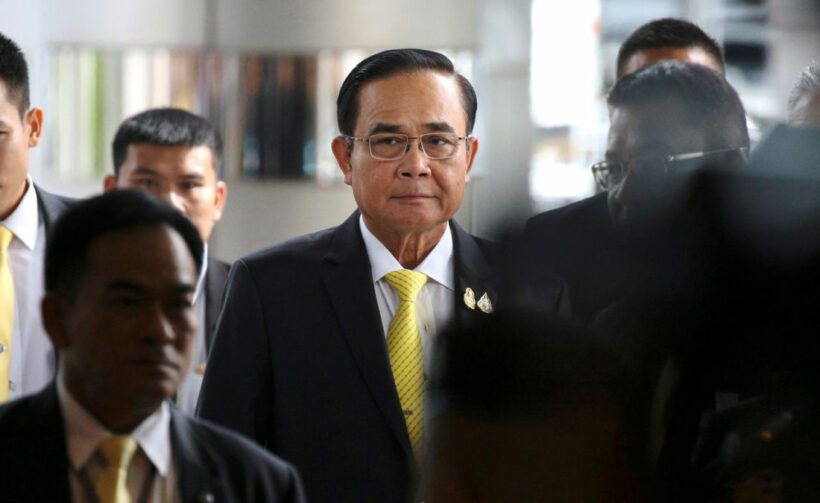 PHOTO: Reuters | The Business Times
The opposition is accusing the government of being more concerned with military arms than the daily struggles of Thai citizens. During a debate in Parliament on the budget bill, the government was accused of caring more about the growth in military spending than citizens' financial woes.
The opposition levied the attack after PM General Prayut Chan-o-cha delivered the 3.2 trillion baht bill to the House of Representatives. The debate on the 2020 budget is expected to continue for two more days and if approved by Parliament, the bill will come into force early next year.
The PM says the budget aligns with the "20 year strategy" to improve the living standards of the nation's citizens while growing the economy, but opponents accuse him of making defence spending a priority.
The leader of the opposition, Sompong Amornvivat, claims that in the five years the PM has been in power, total spending has hit 14.3 trillion baht, with loans of 2.2 trillion baht, without any significant growth in the economy. He accuses the government of spending more than 6 billion baht on defence, with the Interior Ministry getting 25 billion baht more than last year.
It's also understood that the government has also put 518.8 billion baht aside, which it can spend as it wishes, without the consent of Parliament.
The government's tourism stimulus plan, whereby domestic tourists would be given cash incentives, also came under fire as Sompong declared it a waste of money that would do nothing to boost productivity.
The subject of the PM's oath-taking fiasco reared its head again, as the leader of the Seree Ruam Thai Party, Pol General Sereepisut Temiyavej declared the PM and his government unfit to rule or propose a budget bill as a result of it.
Anudit Nakorntab from the Pheu Thai party said the government should postpone unnecessary spending on military arms while the country's citizens battle economic hardship, accusing the previous junta-led administration of also prioritising the military in its spending.
SOURCE: The Nation
Keep in contact with The Thaiger by following our
Facebook page
.