Laguna Phuket Marathon Results – All the winners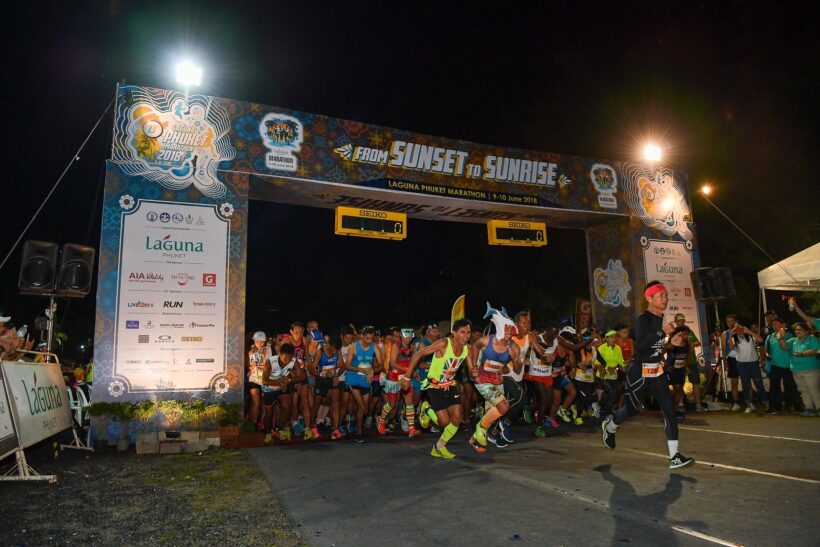 ALL PHOTOS: Naratip Golf Srisupab/SEALs Sports Images
The Laguna Phuket Marathon has been run and won for 2018. Here are the winners. Congratulations to all the participants and organisers. Here are the Top Three results for each distance…
Marathon (42.195km) – Male
Koji Nishizawa (JPN), 02:44:16
Supit Chantharat (THA), 02:54:52
Jaray Jearanai (THA), 02:59:37
Marathon (42.195km) – Female
Sabrina Polito (ITA), 03:30:27
Asuka Nakajima (JPN), 03:38:36
Sabine Claudia Egger-Weickhardt (AUS), 03:41:55
Marathon Team Relay – Male
Team Kratingpleaw (THA), 04:27:36
Team Bigbang (THA), 05:24:29
Marathon Team Relay – Female
Team HSIS Just Run (THA), 06:13:54
Marathon Team Relay – Mixed
Team UA Team 2 (THA), 03:43:54
Team UA Team 1 (THA), 04:44:02
Team WAIT ME PLEASE (THA), 04:59:12
Half Marathon (21.097km) – Male
Boonthung Srisung (THA), 01:13:08
Hiroki Nakajima (JPN), 01:13:41
Wai Tim Chu (CHN), 01:22:45
Half Marathon (21.097km) – Female
Natthaya Thanaronnawat (THA), 01:27:02
Maire Nic Amhlaoibh (IRL), 01:28:59
Tomomi Nakajima (JPN), 01:31:52
10.5km – Male
Hiroki Nakajima (JPN), 00:34:25
Kisi Koniti Gerba (ETH), 00:36:32
Matthew Hobbs (GBR), 00:36:38
10.5km – Female
Tomomi Nakajima (JPN), 00:41:49
Surakarn Wanna (THA), 00:43:33
Natcha Bunta (THA), 00:49:31
5km – Male 
Koji Nishizawa (JPN), 00:17:09
Rattakarn Lamanee (THA), 00:17:39
Christopher Strom (AUS), 00:17:52
5km – Female
Hayley Newman (AUS), 00:19:46
Sam McInnes (GBR), 00:20:16
Patcharin Kritsan (THA), 00:21:15
2km – Men
Masaya Yokoyama (JPN), 00:08:26
Conor Walby (GBR), 00:08:37
Siravich Sirisakulsombut (THA), 00:08:57
2km – Women
Sienna Hunt (GBR), 00:08:34
Ruby Vidotto (THA), 00:09:53
Yui Yokoyama JPN), 00:09:55

Koji Nishizawa (JPN) Winner Marathon (Male)

Sabrina Polito (ITA) Winner Marathon (Female)

Half Marathon (Female) Winner Natthaya Thanaronnawat

Half Marathon (Male) Winner Boonthung Srisung
Organised by Go Adventure Asia, Laguna Phuket Marathon is certified by AIMS (Association of International Marathons and Distance Races) for a 13th consecutive year and remains a qualifying event for the Boston Marathon. Dates for next year's 14th edition are 8th and 9th June, 2019.
For more information, visit www.phuketmarathon.com or www.facebook.com/phuketmarathon.


Read more headlines, reports & breaking news in Phuket. Or catch up on your Thailand news.
Three million baht Central Pattaya stormwater roadworks – FAIL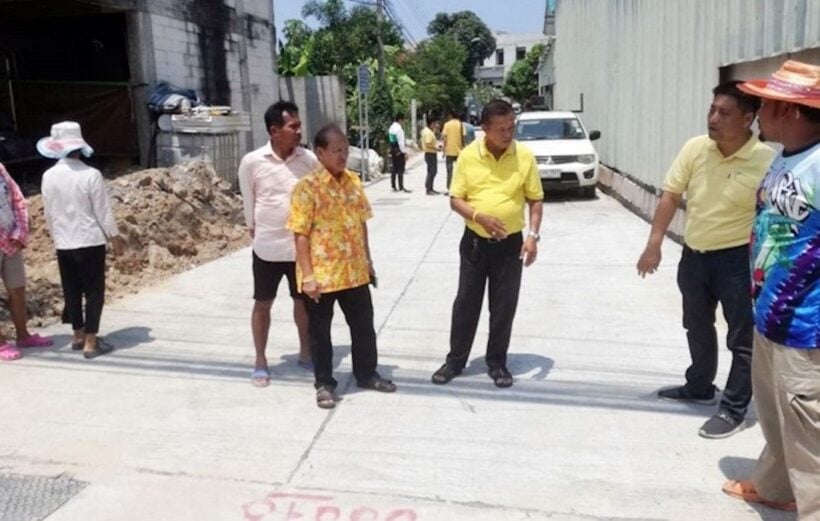 PHOTO: A representative of the City Engineering Department inspects two side streets in the Soi Arunothai Community. Central Pattaya residents are complaining that 3 million baht in roadworks has been a waste of money – Pattaya Mail
Three million baht spent but not a lot to show for the considerable investment. Central Pattaya residents say that nearly 3 million baht was spent on roadwork but has failed to alleviate the flooding in the sois where the money was invested.
Nattapong Santaveesuk of the city's Engineering Department toured two side streets in Soi Arunothai with neighborhood representatives Amnuay Muangthong this week.
The Pattaya Mail reports that residents living on Soi Charoensuk and Soi Udomsuk complain that their streets were ripped up, new drainage pipes laid and the road resurfaced, all with the goal of ending years of chronic flooding.
But it didn't work.
Both streets continue to flood and take a long time to drain according to residents
Both projects are under warranty for two more years, according to city engineers, so they will ask the contractors to appraise the situation and perhaps rip up the roads again to fix what they failed to do the first time.
SOURCE: Pattaya Mail
Top 10 ways to save water at home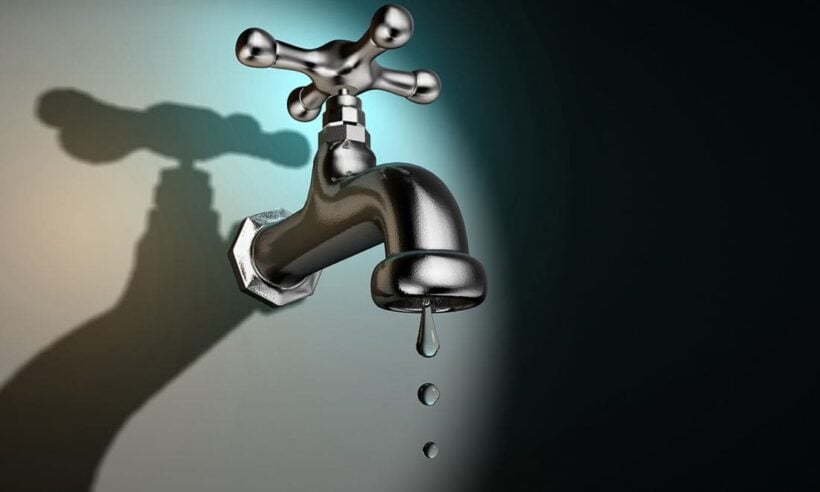 Hot weather and Thailand's boom-or-bust water issues (floods in wet season and water shortages in the hot season) are a part of our life. And it's predicted that there will be hotter hot seasons and wetter wet-seasons in the future. Even if we're not sure what the future brings we should all be conscious of our water usage, be more self-sufficient and empower ourselves to do something positive to protect Thailand's precious water reserves.
Here are a few ideas that may help you become more water-wise…
• Shower with a bucket. Don't let all that water pour down the drain and stick a bucket next to you whilst you shower. The plants will be grateful for an extra drink on hot days and save you using the hose sometimes. Whilst you're at it, cut your 5 minute shower down to three minutes. Really, you can sing somewhere else! And, really, do we absolutely have to have four showers a day? No. A fresh spray of the deodorant and a fresh shirt will be perfectly OK during water shortages. For couples, well, shower together!
• Leave the water running whilst brushing your teeth? Try turning it off until you want to rinse out your mouth. All that useable water flowing down the basic drain whilst you're brushing isn't making your teeth any whiter! Same when you're washing your hands or washing your hair. Turn off the tap whilst you're doing all the scrubbing. These little habits could end up saving tens of litres every time you do these common tasks.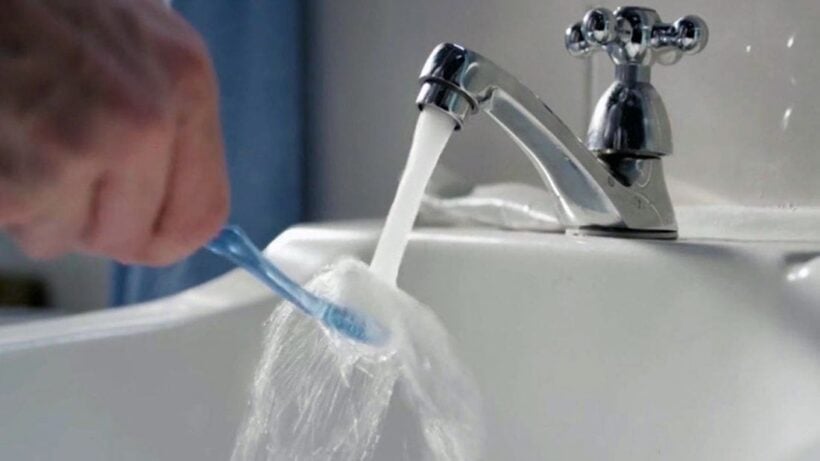 • Boiling pasta? Rice? Eggs? Once the left-over water has cooled use it to water your indoor or outdoor plants. Just make sure the water has cooled first!
• Washing the car at a car wash is more efficient than doing it yourself at home. Car wash businesses recycle a lot of their water. Even better, drive around with a dirty car now and then – it's not hurting you or the car and will save water by delaying your car wash.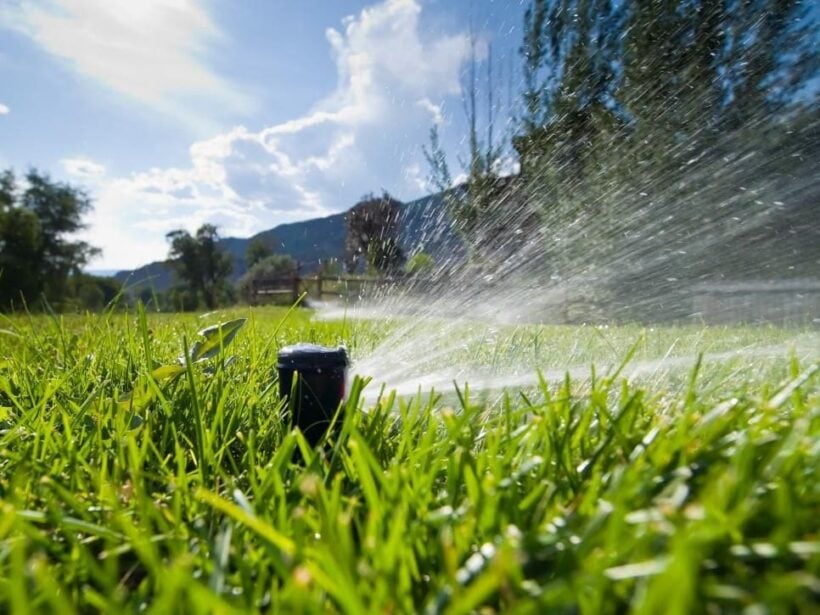 • Lawns use lots of water and daily watering during the hot season can soak up hundreds of litres of valuable. Letting your lawn go brown, be assured it will come back in the wet season. And long-term, landscape accordingly with water wise ground covers, succulents, and other plants that thrive in drought conditions. Lawns may be a luxury we can't afford in these water-conscious times.
• Only run the dishwasher when it's full. Even better wash the dishes by hand. Dishwashing machines are notable water wasters. Grab you partner or a friend and have a chat or a laugh for the five minutes it will take you to wash the dishes by hand. You could save up to 50-100 litres of water! And fill up the sink once and do all the washing together without leaving the water running all the time.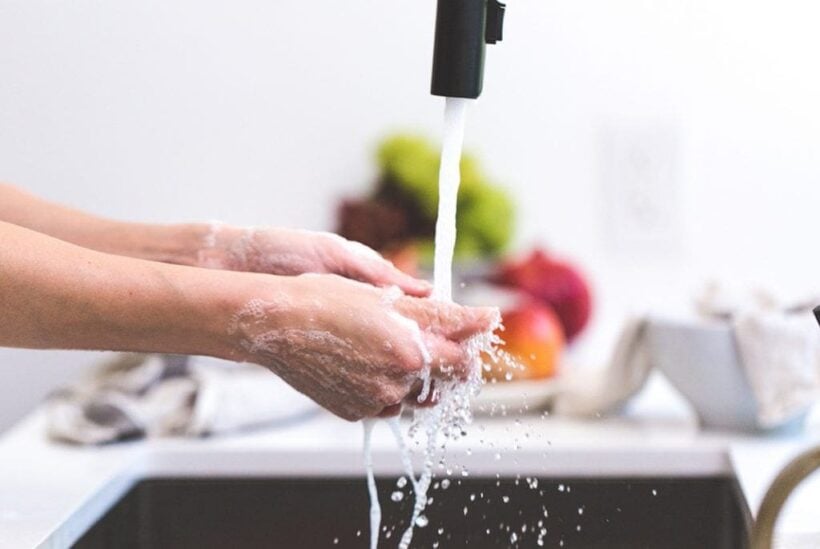 • Whilst it hasn't been a worry in the past, our useable potable water supplies around Thailand are becoming an issue that won't be fixed immediately. Consider installing a simple rain catchment system. They can be cheap or expensive and should be considered if you're building a new house as an integral part of the design. Your roof is an amazing water-catcher. Use it.
• Flush the toilet less often and with less water. Most modern toilets have a half-flush option and there are other tricks to reducing the re-fill in your toilet's cistern – putting a brick into your cistern is one way (gently!).
• Water the plants early in the morning. You'll need less water, since cooler morning temperatures mean less evaporation. It's not a great idea to water in the evenings, since this can promote mould growth in the humid Thai weather and hot evenings. And you really don't need to water the driveway. It's not growing. No one is going to walk past your house and compliment you on your sparkling clean drive-way.
• The dog WILL survive without being washed every day, or week. Indeed our dogs used to survive perfectly well without being washed at all. If the family pooch does need a wash try and use some of the water you saved from the bucket in the shower and be careful not to leave the hose on whilst rubbing in the shampoo. As for the cat, it is genetically programmed to clean itself better than you could ever hope to. Leave the cat alone – it DOES NOT need to be washed.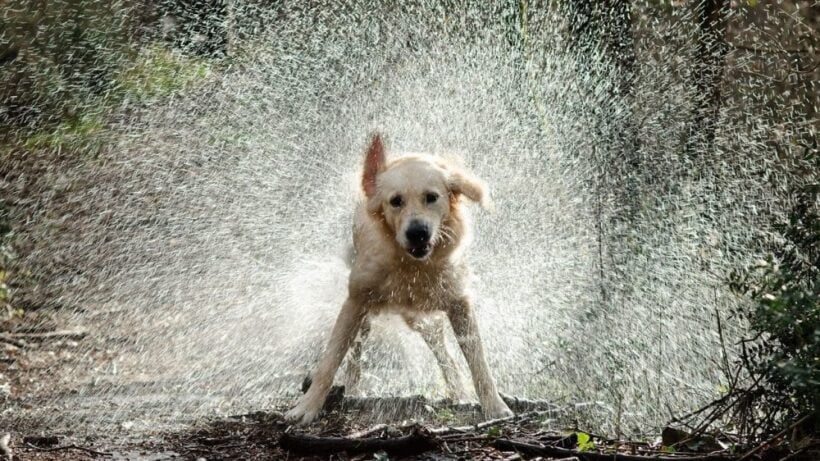 Strong growth from key markets compensate for slight dip in Chinese tourists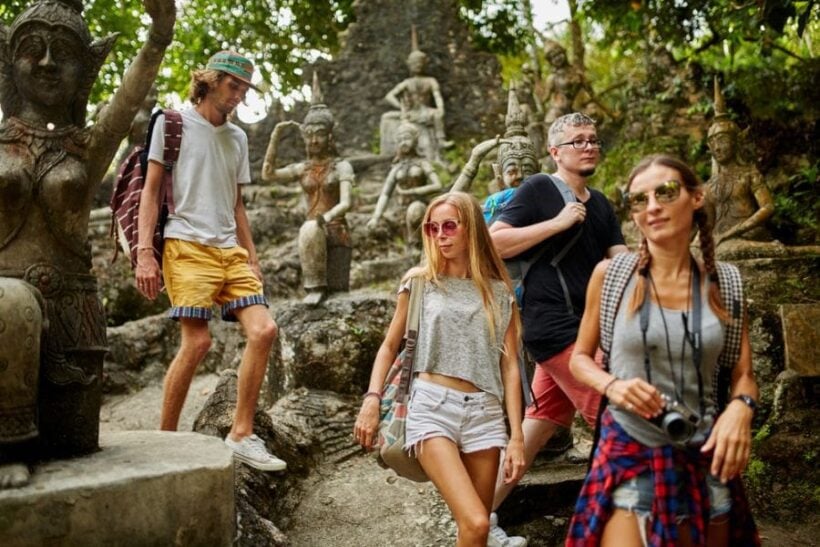 by Thanchanok Phobut | Senior Coordinator, Thailand
CBRE, international property consultants, believe that the Thai tourism market is still as resilient as ever.
Earlier this year, the Ministry of Tourism and Sports announced they are expecting more than 40 million tourists to visit Thailand this year, up from the record-breaking 38.3 million last year. According to the latest figures, the first two months of 2019 showed a 2.5% year-on-year growth in international tourist arrivals at 7.3 million, compared to 7.1 million the previous year.
In the first two months of 2019, the total number of Chinese tourist arrivals decreased slightly by 2.2% – 2.17 million in 2018 to 2.12 million this year. Chinese tourist arrivals in February, the month in which the Chinese New Year was celebrated this year, decreased by 12.3% year-on-year.
Other key feeder markets like Malaysia, India, Korea, and Japan showed double-digit growth in the first two months of 2019, with India having the highest growth at 20.1% year-on-year. Even though the combined number of tourists from these four feeder markets was smaller than that of the Chinese market alone, this positive trend could replace any loss of Chinese tourists. The challenge remains for Thailand to win back this biggest feeder market now that the most significant holiday for Chinese people has passed.
Bangkok still attracts tourists from around the world. The number of international tourist arrivals to Bangkok in the first two months of 2019 was 4.68 million, a 3% year-on-year growth. The development of a third runway in Suvarnabhumi International Airport, approved by the government on April 17, will strengthen Bangkok's capacity to handle larger numbers of tourists in the future.
"In the first quarter of 2019, Rosewood Bangkok, a 159 key luxury hotel next to Phloen Chit BTS station, opened its doors to the public. This was one of Bangkok's most highly-anticipated luxury hotel openings together with Capella Bangkok and Four Seasons Hotel Bangkok on the Chao Phraya River, both of which will open later this year, underpinning renewed interest in the riverside area and capitalising on recent developments outside of the hotel sector," comments Mr. Atakawee Choosang, Head of Capital Markets – CBRE Hotels in Thailand.
CBRE believes that Bangkok will continue to be one of the top tourist destinations in the world with new luxury hotel openings, improving infrastructure, and attractions that appeal to a wide range of tourists.