Phuket sporting year reviewed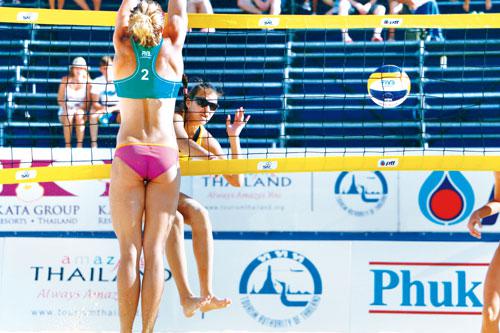 PHUKET: A winding year of the snake, 2013 had its ups and downs – but mostly ups. Following are several Phuket Gazette editors' picks for this year's top local sporting events, moments and milestones.
Top-5 finish for Phuket United's inaugural season
The island's pro futsal team Phuket United ended their first season in Thailand's professional five-a-side footy league in fine form, beating lowly Highways Department 4-2 in Bangkok on March 23 to secure a top-five league finish.
Phuket's result of the GMM Sport Thailand Futsal Premier League (TFPL) 2012-2013 season closer was in contrast to their season debut in which they were defeated by the same team on the same pitch – the victory was the Andaman Pearl's seventh in a row, and ensured that they met their initial season goal of being one of the top five teams of the league.
A hat-trick by Phuket's top scorer Jackson Santos brought the Brazilian winger's season tally to 36 goals, making him the runner up for golden boot, which was won by Si Saket's star Brazilian Ramualdo Namorato (39 goals).
Despite his stellar performance for the club, the young Brazilian did not re-sign with Phuket for the 2014 season which will commence in January, 2014.
Aussie Oi! wins Phuket Raceweek
Winds gusting to 20 knots made for a perfect end to what was perhaps the best Cape Panwa Hotel Phuket Raceweek regatta yet. The weather conditions delivered fast and exciting racing throughout the event, leaving the sailors of more than 15 nationalities tired but happy.
Wan Ma Rang in IRC Racing I, improved throughout, had their best racing on the final day closing out the regatta with two second places. However, it wasn't enough to overhaul Katsu, who sailed consistently well to hold onto second place by three points.
Class honors went to Australian Peter Ahern and his all-star crew on Oi!, who with seven wins from eight races, were untouchable.
Formerly Team Premier, Peter Ahern, Scott Bailey and Fergus Wilmer recently bought the boat, renamed her Oi! and Phuket Raceweek was their first competitive event.
IRC Racing II was dominated by fellow Australian Peter Sorensen and his crew on Fujin, and that domination continued through to the final race. Eight wins from eight races speaks for itself and as sailing star Steve McConaghy, who was racing on-board the former Ichi Ban, said, "You could sail this thing backwards and still win."
The battle, however, was for second and third in the class, between Stuart Williamson's Skandia Endeavour of Whitby and Neils Degenkolw's Phoenix. Despite struggling with their starts and being called OCS on more than one occasion, a good performance on the final day for Williamson and his crew (a 2,3 scoreline), saw them secure second overall and relegate Phoenix to third.
While the Aussies took home a lot of silverware at this year's regatta, what was noticeable is the large number of top boats from Ao Chalong Yacht Club, both winners and high scoring performers.
At the event's closing, Media Business Services (MBS), led by Byron and Kanyarat Jones, were announced as the new owners and rights holders of the Cape Panwa Hotel Phuket Raceweek.
Founder and now former rights holder Grenville Fordham of Image Asia Events made the handover official in front of 500 sailors, VIPs, guests and the media attending the final Gala Dinner.

For full results in all classes, visit phuketraceweek.com.

China reigns supreme in Phuket FIVB Open
It took just two sets for the Chinese team, Chen Xue and Xinyi Xia to beat the American pair Emily Day and Summer Ross and win the gold medal in the FIVB Phuket Thailand Open Powered By PTT 2013.
The Americans failed to crack the great Chinese wall despite numerous attempts and the high flying, petite Xinyi Xia's precise blows earned her team precious points and loud applause from the audience.
In the match for third place, the Salgado sisters (Maria-Clara/Carolina) beat their fellow Brazilians, – Maria Antonelli and Agatha Bednarczuk.

Missed expectations for Phuket FC
Playing in their third consecutive year in Thailand's second-tier pro football league – Yamaha League One (YL1) – the Phuket FC "Islanders" ended the 2013 season on a low note, falling to their final position of 12th place following a 3-0 away loss in Thailand's Northeast to Nakhon Ratchasima FC on November 2.
In other YL1 season finales, Singtharua FC secured their ticket back to the Thai Premier League with a final tally of 65 points following a 2-1 win over Airforce AVA FC, who had already secured promotion as league champions with 69 points.
The third team earning their place in the elite league next season was PTT Rayong with 63 points following their 2-2 draw to Bangkok FC who just missed out, finishing fourth with 61 points.
The other two Rayong-based teams competing in YL1 2013 – Rayong FC and Rayong United – also bid farewell to the YL1 after they were relegated as the two bottom-of-the-table teams. Since the number of teams to compete in both the TPL and YL1 next season will increase to 20 per league, only one team got relegated from the TPL to the YL1 – Pattaya United.
Meanwhile, four more teams were promoted up to the YL1 from the AIS League Division 2 champions league playoffs which concluded earlier this month; namely, Chiangmai FC, Phitsanulok FC, Roi Et United and Ang Thong FC.

Phuket FC got new Brazilian coach
The Islanders endured yet another mid-season trajectory change when Thai ex-Head Coach Paniphon "Tu" Kerdyaem posted his resignation on Facebook on August 4.
The announcement followed a close yet disappointing 1-1 home draw with lower ranked Thai Tobacco Monopoly (TTM) FC – representing Phuket's 11th draw in 20 matches up to that point.
Having joined the club at the start of the season, Coach Tu's record of six wins, 11 draws and three losses, coupled with a cup record of two wins and two losses was relatively decent when compared to the combined record of the previous handful of coaches that have passed through the last two seasons.
Under the leadership of at least five coaches in the 2011 and 2012 seasons in the YL1, Phuket FC had an average win rate of 30.8%, a draw rate of 32.3% and loss rate of 36.7%. Under Coach Tu's leadership in the first 20 of 34 league matches this season, the club's win rate was 30%, followed by a 55% draw rate and only 15% loss rate.
Although Coach Tu's successor – Brazilian, Stefano "Teco" Cugurra – started off his tenure with a 2-0 home victory over Nakhon Pathom on August 11, he would not see victory again until October 6 (1-0 over Saraburi FC).
In his 14 matches in charge so far, the 39-year-old coach has won two, drawn four and lost eight. Despite this unimpressive record, he still has his job and was given a clean-slate to prove his skills.
Club Chairman Pamuke Achiriyachai justified his decision: "Teco joined midway through the season and had to work with what the old coaching team left him, so it's not fair to measure him on this alone. We want to give him a chance to show what he can do… He'll have the first three games to prove himself."
As part of his 2014 strategy, the coach has allocated four of his roster's six quota spots for foreign players to his own countrymen; three of the Brazilians – midfielder Cristian Alex (returning from last season), defender Tales Dos Santos and midfielder Eber Henrique – were introduced to media, while the fourth one has yet to be confirmed. The other two spots are for Japanese defender Yusuke Sato and an as-of-yet unconfirmed Myanmar national.
All in, Phuket FC retained only nine
Keep in contact with The Thaiger by following our
Facebook page
.
Torrential rains again wash away parts of Pattaya Beach, more on the way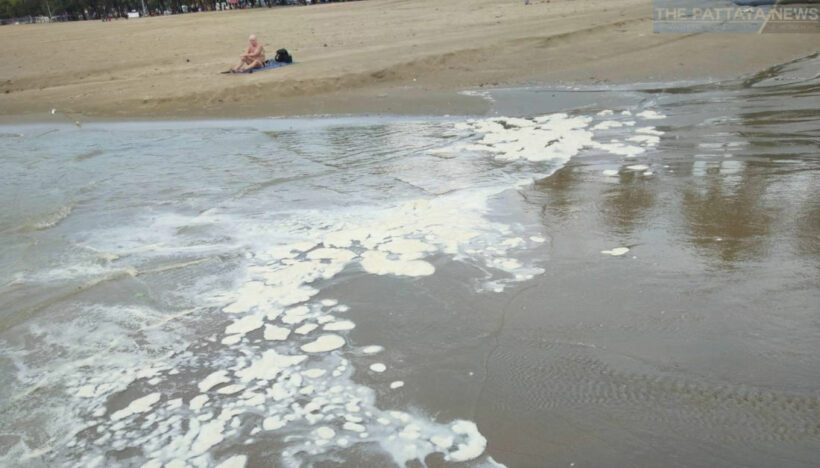 PHOTOS: The Pattaya News
Heavy rains have caused flooding and beach erosion on Pattaya's recently reclaimed beach yesterday afternoon. The torrential rain continued for many hours around Central Pattaya. Heavy rains are also expected again today (forecast below).
Many areas ended up flooded causing local traffic hazards and delays. Water flooded down storm drains and onto Pattaya's beaches and into the sea, literally washing the beach away in some locations.
Tourists and swimmers avoided the water as they saw "an unidentified white substance on the water's surface". The white scum appeared to look like some sort of detergent or foam which had washed down the city's drains.
Last year some 400 million baht was spent re-building some of Pattaya's beaches which end up damaged and washed out to sea any time there are heavy rains.
SOURCE: The Pattaya News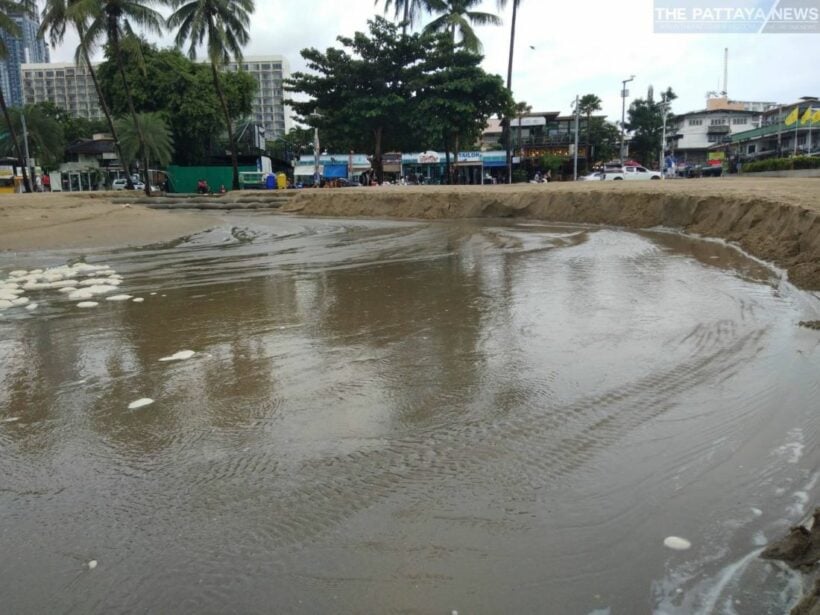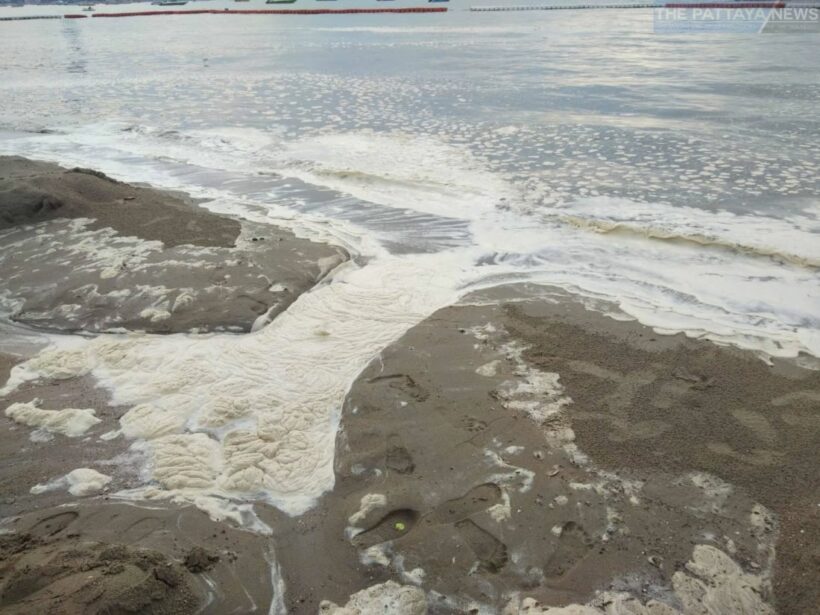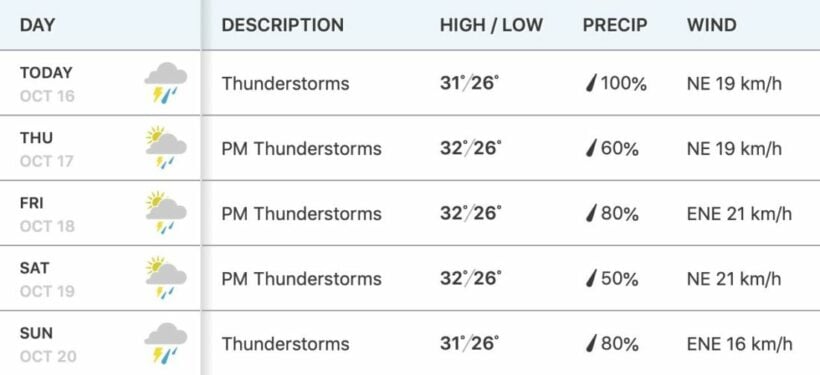 Keep in contact with The Thaiger by following our
Facebook page
.
Thai High Speed Railway linking airports now to be signed off on October 25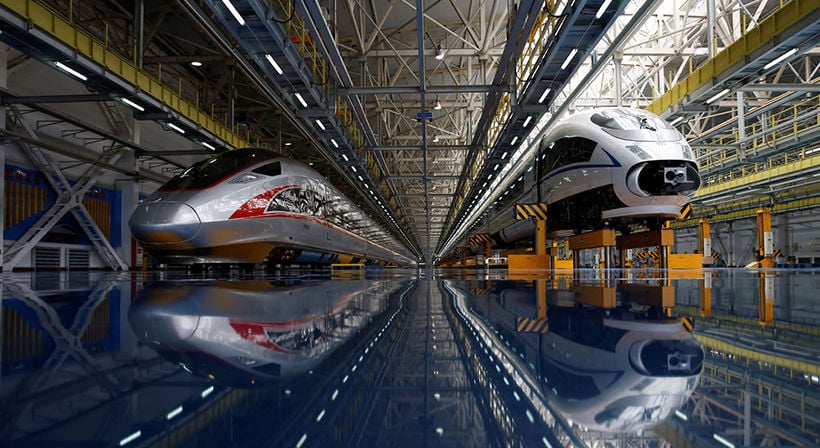 The State Railway of Thailand and the Charoen Pokphand Group-led consortium are putting pen to paper and signing the contract for the high-speed train project on October 25.
The much-discussed high speed railway will link Suvarnabhumi, Don Mueang and U-Tapao international airports. The new SRT board was approved by the Thai cabinet today.
Deputy PM Anutin Charnvirakul says he is confident the contract will now be signed, adding that he has already met with Supachai Chearavanont, CEO of the CP group, and assured him of the government's full cooperation and support.
The Charoen Pokphand-led consortium won the bid to develop the 224-billion baht high-speed train infrastructure as a signature project for the government's flagship Eastern Economic Corridor (EEC) high-tech investment hub. The train service is scheduled to be operational in 2024 (The Thaiger is taking bets now).
Recently, however, the CP-led consortium raised concerns over land expropriation and eviction problems and asked for the government to share the risk on this issue. The Transport Ministry has already rejected the request putting the onus on CP as part of the proposal.
Mr. Anutin explained that, in any large infrastructure project involving expropriation of land, it is usual for the government or state agency not to be able to hand over the land to the contractor all at once. In such cases, the contracted completion date can be moved back.
He said the CP-led consortium should proceed with the high-speed train project without further delay because 70% of the land is ready to be handed over.
Meanwhile, the deputy PM admits that he didn't know why the entire SRT board resigned en masse, delaying the signing of the contract, and denied that he had put pressure on the board to quit. He also denied that Transport Minister Saksayam Chidchob, also of the Bhumjaithai party, objected to the SRT board's mass resignation because the latter wanted the contract to be signed quickly.
SOURCE: Thai PBS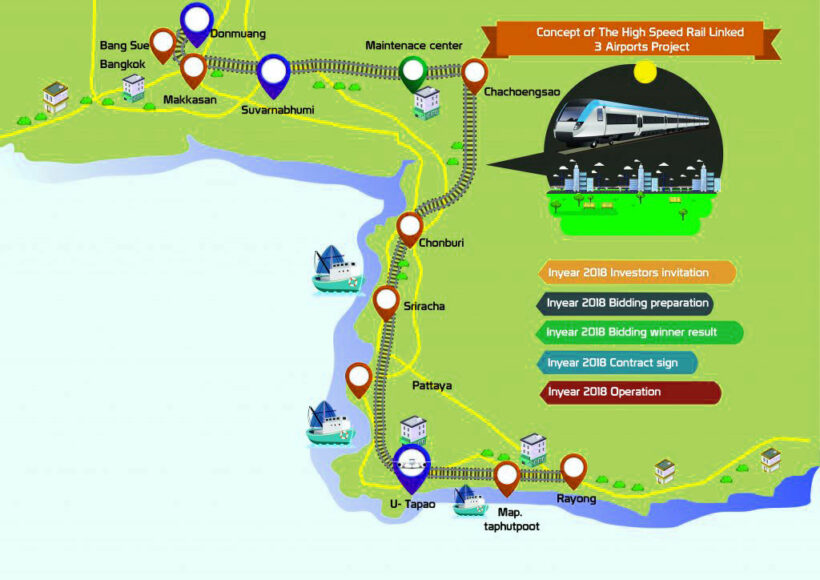 Keep in contact with The Thaiger by following our
Facebook page
.
Toilet break goes wrong when trucks collide in Pattaya, injuring two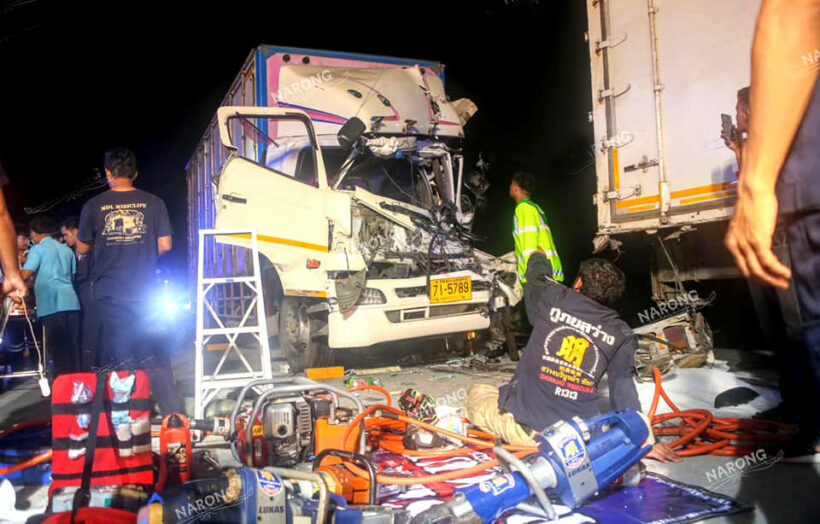 PHOTOS: Pattaya Update News
The driver of a ten-wheeler truck got more than he bargained for after stopping for a toilet break at the side of the road in Pattaya.
Pattaya Update News reports that 57 year old Jirawat parked his truck on the Krathing Rai-Rayong road at about 1.30am over the weekend. While he was away from his vehicle, attending to business, a six-wheeler truck ploughed into the back of his truck.
The driver of the six-wheeler, 42 year old Suthin, suffered head injuries, while his 45 year old wife passenger, Netchanok, sustained a leg injury. Both occupants of the truck had to be cut free by rescue workers before being rushed to hospital.
Meanwhile, Jirawat says the sound of the crash startled him, causing him to fall over and urinate on himself. Returning to his vehicle, he alerted the authorities. It's unclear what, if any, action will be taken by police against either of the drivers.
SOURCE: Pattaya Update News | ThaiVisa
Keep in contact with The Thaiger by following our
Facebook page
.