Phuket
What it takes to stay safe while snorkelling in Phuket waters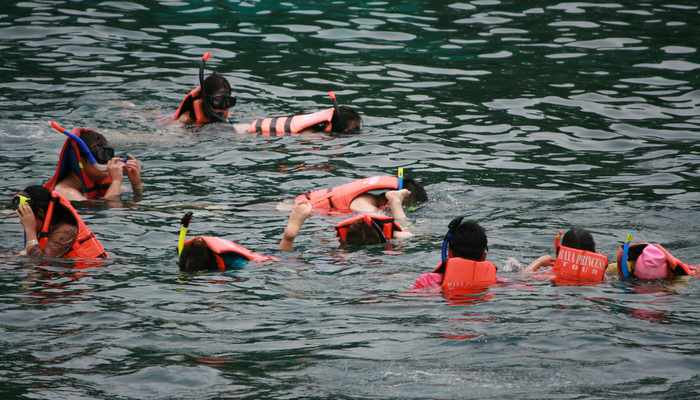 Special Report
The Tourism Authority of Thailand (TAT) says that about 80 per cent of visitors to Phuket plunge into the Andaman Sea with snorkelling gear to explore Thailand's treasures below the surface. At least eight of those tourists have died while snorkelling within the last 16 months.
The Phuket Gazette's Chutharat Plerin and Saran Mitrarat dive into the issue.

PHUKET: Supervision is essential to snorkelling safety, explains TAT Phuket Office Director Anoma Wongyai.
"It is a fun activity, but please make sure you are a capable swimmer, or under supervision of someone with water-rescue skills and first-aid certification," she warned.
The presumption, however, that a tour agency offering snorkelling services will provide a guide with the necessary rescue skills could be a fatal one.
As was discovered when 73-year-old Mike Reynolds began to drown while out on a snorkelling trip to Koh Phi Phi with his daughters and grandson last month (story here).
"The tour operators on our boat didn't know CPR [cardiopulmonary resuscitation] and panicked whilst we were doing it," said Australian Surf Life Saver Jason Gollan, who, along with his daughter, saved Mr Reynolds' life (story here).
"Tour boat operators need to have oxygen available on the boat should this ever happen again. This could have made Mike's condition far less critical than what it has become."
FLOATING STANDARDS
Companies providing snorkelling tours are not required to meet the same safety regulations as scuba-diving operations, confirmed Sakorn Pukham of the Phuket Marine Office.
"Snorkelling tour boats must have three items of safety equipment on board: Thai Industrial Standard [TIS] certified life jackets, fire extinguishers and an emergency water pump that is in good condition," Mr Sakorn said.
They are not required to carry medical-grade oxygen.
Despite the unique equipment needed and training necessary to snorkel safely, the Bureau of Tourism
Business and Guide Registration Phuket office explained that no special documentation was required for agencies offering snorkelling tours.
"There are no requirements or laws concerning safety measures specifically for operators taking tourists out snorkelling."
Many tour agencies were unwilling to go on the record and talk to the Gazette about what, if any, safety measures they had in place for their customers that went beyond the legal requirements for general tour agencies.
LIFE WEAR
Though familiar to many, the equipment used while snorkelling is foreign to others. With large numbers of mainland Chinese, Russians and many others snorkelling in Phuket waters, it isn't a surprise that for some it is their first time in the sea with a mask, snorkel and fins.
The key to being comfortable in the water is having equipment that fits, explained PADI West Coast Regional Manager Andy Auer.
"Your mask should have a good seal around your face, and be comfortable. A comfortable snorkel is also important," Mr Auer said.
"Be aware of the size of the snorkel, as the bigger it is the more dead air space it will have. Also, having a valve for easy clearing is important."
Those who aren't strong swimmers are asked to wear life jackets, explained the owner of Phuket Absolute Marine, Sathanan Chaipradit, whose boat Mr Reynolds was with at the time of the accident.
However, many of the so-called "life jackets" certified by the TIS are little more than buoyancy aids, explained another tour operator, who declined to be named.
"A real life jacket, not just a buoyancy aid, will float a person who is unconscious with their face out of water. This can prevent them from drowning," he said.
"However, they are not used here in Thailand because they are expensive.
"A buoyancy aid will not save an unconscious person's life."
Other considerations for those preparing for a snorkelling trip are a form of protection from the sun and a long-sleeve rashguard to protect you from potential jellyfish stings, one dive supply shop owner said.
Mr Auer noted in a nutshell: "The more comfortable you are with the equipment, the more relaxed you will be during your snorkelling. As a result, you will see more and have more fun."
TRAINING
Katie Severn, one of Mr Reynolds' daughters on the boat the day of his accident, explained that their group was not trained on how to use the snorkelling gear.
"They gave us the spiel. If you need a life jacket, please wear one. This is your snorkel, goggles, put them on. They didn't give instructions on how to breathe through it," she said.
Aussie lifeguard Mr Gollan confirmed Mrs Severn's recounting of the incident.
"This could have been what caused the problem with Mr Reynolds as it may have been faulty."
The owner of the snorkelling company that declined to be named, confirmed that lack of training for snorkellers is typical in the region.
"Most snorkeling companies put the people from the back of the boat straight into deep water without any training," he said. "They just put them into the water and off they go."
"They give them a life jacket, but sometimes they do not fit the life jacket properly."
Unlike many tour agencies offering day trips to the region's spectacular sites in Similans National Park and Phang Nga Bay, the operator explained that his company did not conduct mass trips, but instead catered to smaller groups.
"We care about the customers, not about the money so much. We make sure that customers are 100 per cent safe," he said.
"I cannot tell you exactly how long it takes to train our customers. It depends on the customer's ability. If we have a good swimmer from Australia, then it can be done in a few minutes. If we have somebody who is not familiar with the water, it might take 20 minutes.
"A lot of cultures do not have water training at all. Therefore, before we take a booking, we need to know who we are booking and their abilities in the water so that we adjust our supervision appropriately."
The safest way to snorkel is under the supervision of your guide, he said.
"A safety guide should be with the customer at all times. However, if the tour is in very shallow water, one guide can look after many, many people."
WHY DO PEOPLE DIE?

The number one reason people die when they are snorkelling is lack of proper oversight, said the snorkelling tour operator.
"From my 30 years of experience in the watersports business: 16 years in Australia and 14 years in Phuket, it is because nobody is watching them. It is due to a lack of care as well as a lack of knowledge and training of tour guides," he said.
"Many guides don't have the necessary skills and are sometimes distracted doing other things instead of keeping an eye on their customers."
Tour guides need to be strong swimmers, have first aid experience and know how to make a rescue in water. They must especially know what to do when someone is having difficulty breathing, he said.
Snorkelling is not the problem; it is not dangerous, the operator sa
— Chutharat Plerin

Join the conversation and have your say on Thailand news published on The Thaiger.
Thaiger Talk is our new Thaiger Community where you can join the discussion on everything happening in Thailand right now.
Please note that articles are not posted to the forum instantly and can take up to 20 min before being visible. Click for more information and the Thaiger Talk Guidelines.