Village go coco-nuts over Patong defeat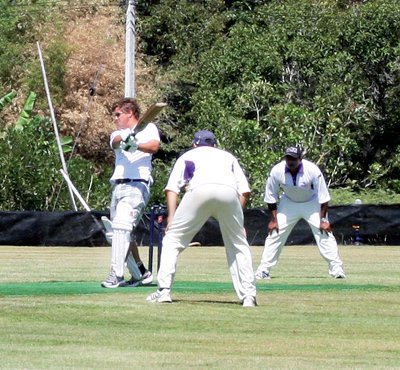 PHUKET: In a crucial Phuket Island Furniture League match, Patong and the Village faced each other at the ACG with both teams needing a win to boost their hopes of a showdown with title favorites, Laguna CC.
Undefeated so far this season, the Village knew that taking points from Patong would effectively end the reigning champions expectations of at least making another final and place themselves in strong contention to become champions.
Village support has been extraordinary all season, and this game again brought out the crowds whose vocal presence suggested that a portion of the 'Barmy Army' – England's traveling cricket support faction – had left Dubai, where England are playing Pakistan, to take up temporary residence at the ACG.
It certainly made for an interesting afternoon of cricket with Village players saluting their support in the clubhouse, on taking wickets, in styles reminiscent of modern day footballers celebrating a goal. Had the ground not been so dry, a few shirtless body-slides towards the pavilion may also have been witnessed.
Having won the toss, the Village decided to take advantage of the cooler morning conditions and bat first. Kevin Quilty and Justin White opened for the Village, but Patong's paceman, Anil Rawat sent a stump-shattering wake-up call to Quilty with his second delivery that sent alarm bells ringing throughout the Village side.
Crucial to these games is lasting the 40 overs and Martin Foster, who next came to the crease, was determined to anchor the innings. His defensive tactics prevented any further loss, and with White (22), a partnership of 36 was forged.
However, both batsmen were unable to advance the partnership or their score when a catch on the boundary by Patong's captain Richard Folds, silenced the crowd who thought Foster's (10) hike to square-leg off a Kishor Jhagta delivery was on its way for six. A few minutes later, White too was dismissed when Maneesh Sadarangani found a gap to bowl the opener with the score at 36 for 3.
A brief visit by Paul Stamp yielded three runs before Joshi Naresh, returning after an extended absence, trapped him lbw. This brought Tim Ross into the fray and along with Diwan Mydeen, the pair added 58 to the score. Ross blasted his way to 42 off 40 balls before being caught by Folds, again in support of Jhagta's bowling. Ross should have been dismissed earlier, but a fumbled catch at mid-on by Mike Khan allowed his innings to continue. Mydeen's run was ended when he was on 16, caught by Naresh off a Seemant Raju delivery.
With the score at 98 for 6, the game seemed to be in Patong's hands. But like their dismal catching display, it soon slipped from their grasp.
Patong could have put the innings to bed at 130 had they held even later catching opportunities, in particular that of Chris Gordon who was dropped on 10. However, the tail-end not only wagged, but thrashed like a crocodile's in a feeding frenzy, with young Gordon racing to 32 off 38 balls. Craig Patterson (11) was dropped when on 2, but recovered, and with Mark Ashman (9 not out) they both got in on the buffet to help reach a score of 172 by the end of the 37th over. Raju topped the Patong bowling figures with 3 for 36, while Jhagta took 2 for 30 and Naresh posted 2 for 32.
Slightly demoralized, Patong very soon slipped into despair when the top order collapsed for just 17 runs with Patterson and Mydeen bagging a brace each in under 20 minutes from the start of the Patong innings.
Sadarangani (15), Rawat (27) and Folds (22) hinted at a recovery, but Patterson and this time White, combined to send Patong's hopes plummeting to a resignation of defeat.
The Village tail-end being compared to voracious predators, Patong's lower order would have take the role of helpless prey such as waterfowl, with Noble, Jhagta and Naresh all recording ducks and Patong capitulating on 90 runs all out.
Patong's misery ended in the 23rd over with Patterson claiming six wickets and only 17 runs conceded, his wild celebrations reflecting the importance of his contribution to the team's win.
The Village's 82 run victory over Patong now sees them at the top of the table with a four from four winning streak.
For more information on cricket visit phuketcricketgroup.com.
The Phuket Gazette is the Official Phuket Media Partner of the ACG.
— Neil Quail


Read more headlines, reports & breaking news in Phuket. Or catch up on your Thailand news.
Top 10 things to know about Phuket for beginners (2019)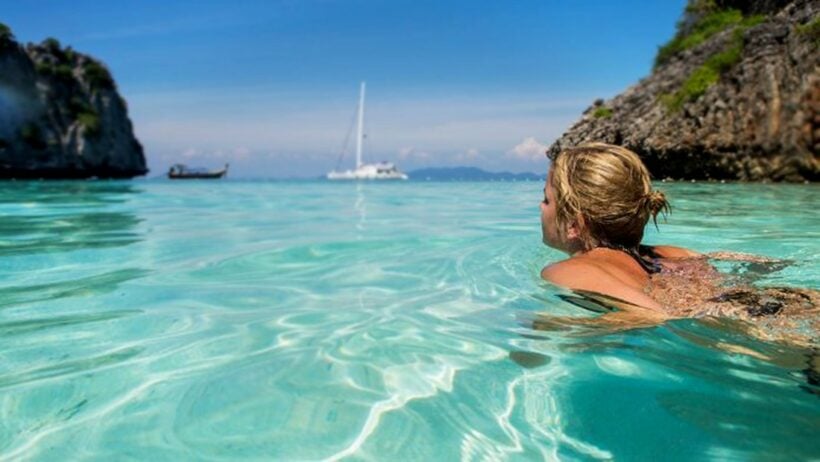 1. Welcome to Phuket
Phuket is an island and a province. It's the largest island in Thailand – 48 km north to south, 21 km east to west. It's about 20% smaller, in area, than Singapore but much less densely populated.  Whilst the island nation of Singapore boasts a population of nearly 6 million, Phuket has a permanent population of around 400-450,000 (but varies a lot with the influx of tourists and a workforce that is always changing). Most of Phuket remains jungle and tropical rainforest despite an acceleration of development over the past 20 years.
Unlike some of Thailand's other popular islands (that are in the Gulf of Thailand), Phuket is located in the Andaman Sea. Phuket is only just an island, linked to the Thai mainland by a 400 metre bridge. The channel beneath is frequently dredged to maintain Phuket's status as an island. On the other side of Sarasin Bridge is the Province of Phang Nga.
Phuket is 878 km north of the equator.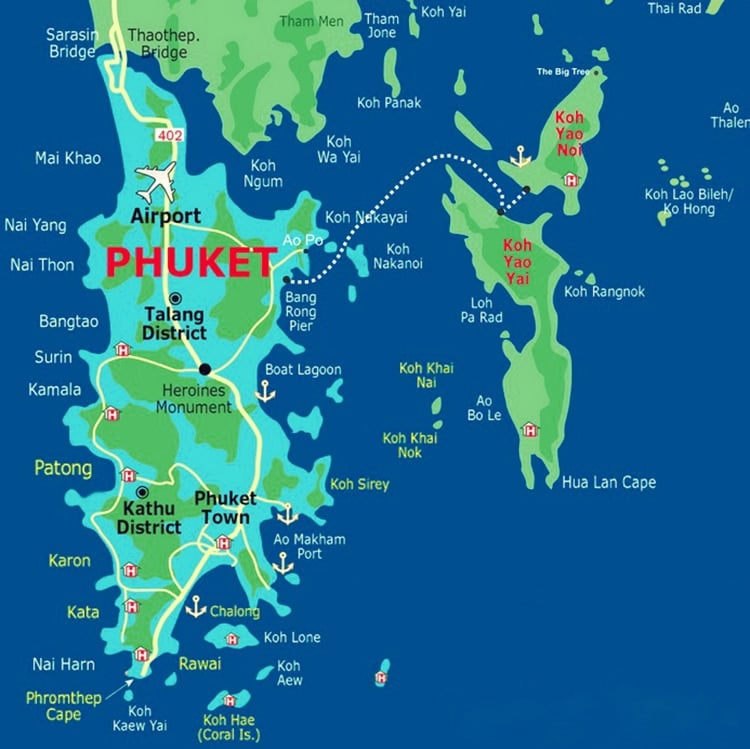 2. Basics
The currency used in Phuket is the Thai Baht and the electricity is 220-240 Volts/50 Hz. Thai is the spoken language although, especially with the west coast businesses and tourist zones, you will get away with English.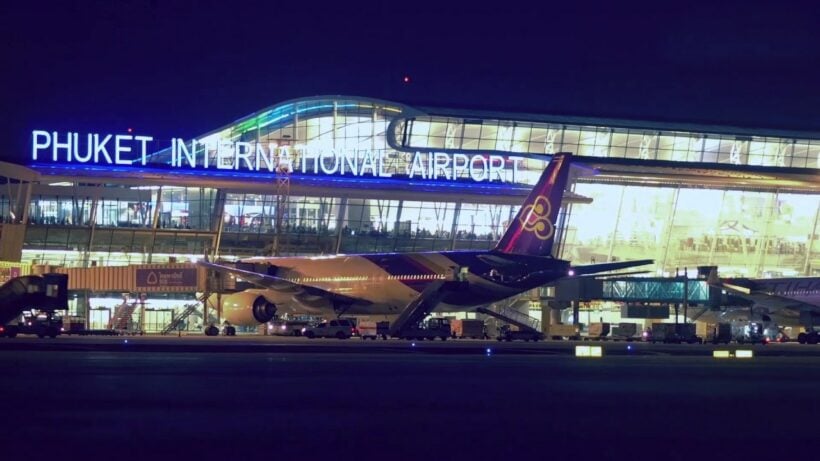 There is one international airport but multiple piers along the east coast for the many day trips to nearby islands. Public transport on Phuket is negligible. There are constant attempts to establish better public transport but the attempts are usually foiled by a strong taxi and tuk tuk monopoly that keep the charges higher and, largely, unregulated. On the upside there's plenty of taxis and tuk tuks on Phuket but be prepared to bargain and agree your price before you get in despite the taxis being legally required to use a meter.
Hiring cars or a motorbike is easy but we would caution anyone keen to move around the island independently to check their travel or health insurance and to hire from a recommended or reputable company. Roads are fairly good and getting around is easy but the traffic can, at times, be very heavy.
3. Religion
Most of the population is Buddhist, like the rest of Thailand but the island also has a significant Muslim population of around 25-30%. Buddhism on Phuket is influenced by the island's strong trade links and infusion of Chinese traders and workers over the past 400 years. Then you add the local expats and 12-15 million tourists each year and you have a very diverse mix of religions and backgrounds living on the island at any one time. There are hundreds of Buddhist temples around Phuket.

4. The name
The name Phuket (poo-KET) is derived from a Malay word bukit, which translates as hill. On European shipping charts it was called Junk Ceylon or Junkceylon which derives from Tanjung Salang in Malay, translating as Cape Salang. Later the island was known as Thalang which, before the southern end and west coast became popular after the 1970s, was the island's commercial and residential hub.
During the reign of King Chulalongkorn (Rama V), Phuket was the administrative centre of tin production in the southern provinces. In 1933 Monthon Phuket (มณฑลภูเก็ต) was dissolved and Phuket became a Province. It's the only island in Thailand which is both an island and a Province.
5. Income
The main source of income in Phuket is tourism, by far. But before the west discovered the island's pristine west coast beaches in the 1970s, Phuket was know all the way back to the 16th century as a tin-mining hub. (If you drive around Phuket you will see hundreds of small lakes. Most of these are old tin-mines). The island's tin mining history has been remembered at the Kathu Mining Museum, located on the back road that runs through the hills between Kathu and Koh Keaw. Besides tourism, latex, pineapples, cashew nuts and palm oil are also grown on the island. But, every year, tourism forges ahead as the island's most reliable income producer.
6. Weather
As a tropical island Phuket is always humid and hot.
Phuket's weather is fairly reliable. Reliably wet during the monsoon and reliably dry in the dry season. But there are also plenty of variations in the shoulder seasons and, even when it rains, it's usually brief (and torrential) with lots of sunshine in between.

The dry season runs from December to April and the monsoon season from May to November. The wettest months, statistically, are May and September. Tourists flock to the island during the dry season when top temperatures range between 31 – 35 (it gets hotter as the dry season months pass), with light winds from the north east.
During the monsoon season the winds swing around to the south west providing rideable surf along some of the west coast beaches. It can also be quite dangerous for inexperienced swimmers so, please, always obey the red flag warnings along the patrolled beaches. Temperatures usually peak at 31 during monsoon season and get down to 20-22 in the evenings.
Consider all this as a guide only as there's always plenty of variation. But you will never need to pack a coat or warm weather clothes when visiting Phuket.
7. Beaches
Depending on how you count them, there are 36 unique beaches on Phuket. The island's best known and iconic sandy beaches are along the west coast –  Nai Harn, Patong, Karon, Kata, Kamala, Surin, Bang Tao, Nai Harn and Nai Thon, Nai Yang and Mai Khao up north. The western beaches are fully exposed to the Andaman Sea kicking up some rideable surf in during the annual south-west monsoon.
The east coast is largely mangroves in the north and smaller rocky beaches in the south. But there are a few hidden gems including Laem Ka in Rawai and Ao Yon in Cape Panwa. The east coast looks back towards Krabi and Phang Nga Bay and provides postcard views of the many islands dotted in the waters between Phuket and the mainland.


8. Main towns
The main commercial centre is Phuket Town. There have been attempts to get the media and locals to refer to it as Phuket City but, well, it's really just a big town and will likely remain being called Phuket Town. The wider commercial and administrative hub of Phuket, in the centre of the island's east coast, is built around the older Old Phuket Town.
Two hundred years ago, when Phuket was a bustling hub of trade with many Chinese and international sea-farers passing through, it must have been a bustling port of sailors, traders, miners and locals keen to extract money from them all. By all accounts it was a rough place to live with a busy red light district. These early trading days have left a heritage of sino-portuguese shop houses. Before the 1980s these old shop-houses were in serious need of repair.
Now streets like Thalang, Dibuk, Yowarat and Phang Nga roads are a collection of restored buildings, funky cafés, boutiques, art galleries, book shops and boutique hotels. The area has become a worthy tourist magnet deserving of your time when visiting the island.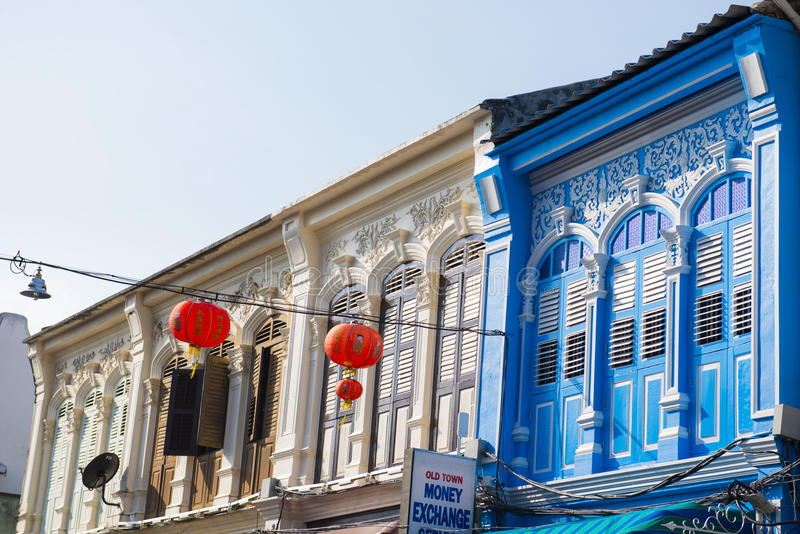 The other main hub is Patong Beach. On the opposite side of the island to Phuket Town, Patong continues to grow and rebrand itself. Once a quiet haven for back-packers it's now a much bigger haven for back-packers, along with international hotels, 5 star resorts, world-class restaurants and a vibrant nightlife. There are much better beaches on the island of Phuket but no visit to Phuket is complete without a night in Patong. It's international famous, or infamous, for its colourful and (sometimes) raunchy nightlife.
The main residential areas of Phuket include Kathu, Chalong, Rawai, Cherngtalay, Kamala and Thalang. Whilst the west coast mainly attracts the tourists, the locals live in the south, east, central and northern sections of the island. There is an increasing trend for the island's attractions and accommodation centres to move inland from the beaches as number of tourism businesses grow and diversify.
9. Events and Festivals
Songkran is on April 13 and celebrates the start of the Thai New Year. It may have started out as a respectful cleansing of the Buddha images in temples but has descended into a water-pistol war zone with roads lined with people throwing water an anyone driving by. If it sounds mad, it is. If you're in Bangla Road in Patong it keeps going for three or more days. NB. Songkran is not the time to drive your motorbike around Phuket in an Armani suit.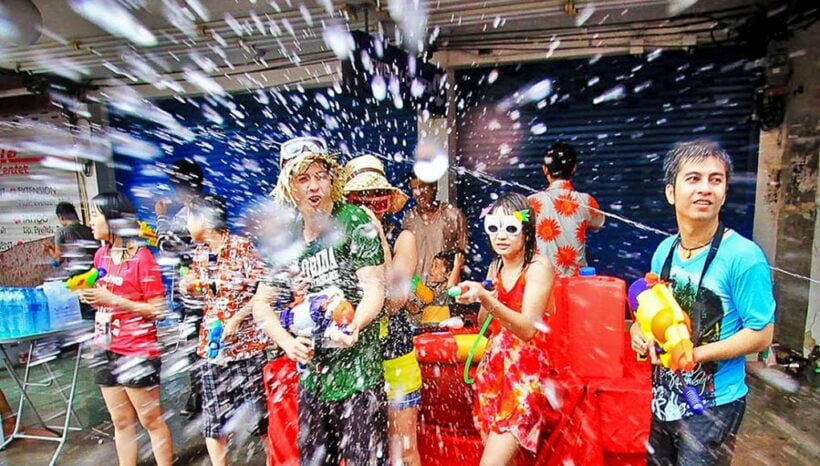 The Phuket Vegetarian Festival occurs during October, depending on the Chinese lunar calendar each year. It's a unique, jaw-dropping festival of parades, piercings, fireworks and markets full of vegetarian food. Almost impossible to describe, so we'll invite you to discover it yourself.
Loy Krathong is in November each year and is celebrated by releasing little (usually hand-made) rafts made of banana leaves, incense and flowers. Just about any waterway on the island becomes a location for families to launch krathongs.
Chinese New Year and the Old Phuket Festival are usually during February each year and celebrate the island's rich and deep Chinese heritage. Be prepared for lots of excellent street food and fireworks.
10. Topography
Phuket is an island of hills (indeed it was once called bukit which means hill in Malay). Very broadly, there is a range of hills that run down the centre, closer to the west coast, with wider expanses of flat lands on the east side.
The highest points in Phuket are Radar Hill overlooking Patong at 513 metres, and the nearby unnamed hill on the northern side of the road that runs over the hills into Patong. It overlooks Kamala on one side and the Kathu valley on the other and reaches 543 metres. You can drive most of the way up Radar Hill but there's a military installation at the top. The other hill you can probably hike all the way up to the top but there's no well-trodden path and you'd need some local advice, a backpack with lots of water and some good walking shoes.
There are a few small but pretty waterfalls on the island – Ton Sai and Bang Pae between Paklok and Thalang to the east and the Kathu Waterfall in the centre. With a distinct wet and dry season on the island you'll obviously get the best photos in the wet season.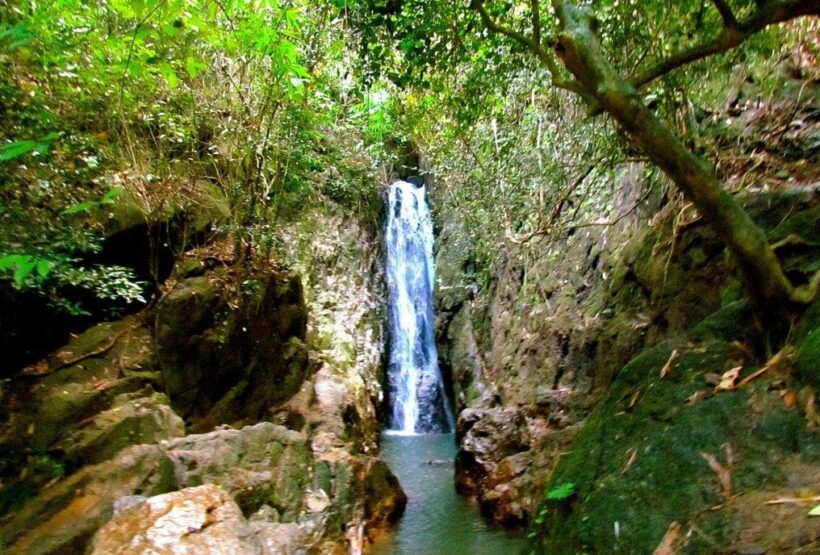 Some of the hills have their own unique attractions including the Big Buddha overlooking Kata and Karon beaches on one side and Chalong on the other. There's also Khao Rang (Rang Hill) with restaurants and a specially constructed viewing point. Khao To Sae (Monkey Hill) rises above Phuket Town and is a great place to see the local macaques but DON'T feed or approach the monkeys as they can be quite clever at parting you from your iPhone or expensive camera and have been known to be aggressive at times.
Down south is the southern-most Laem Promthep (Cape Promthep) where tourists flock to watch the sunset each night (we can promise you that you will see exactly the same sunset anywhere along the west coast of the islands if you want to avoid the crowds and tourist buses). It's also an excellent location during the day.
This is just the start of your exploration of Phuket. We look forward to seeing you on the island soon.
Police to target motorbike rental shops when renters are unlicensed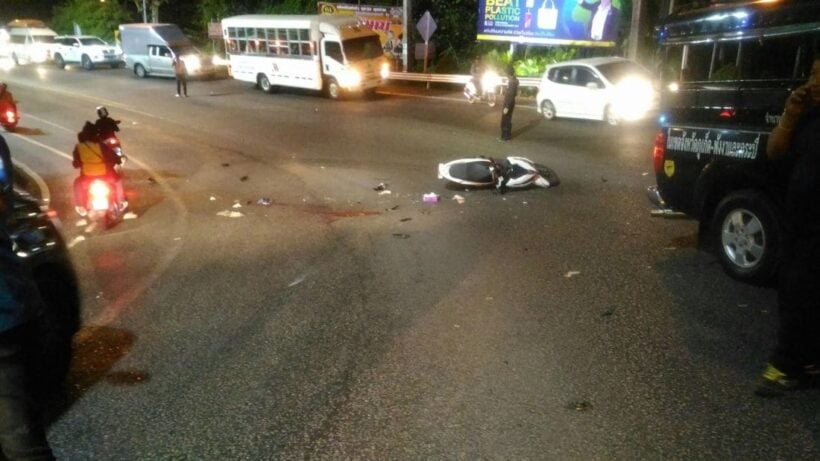 Police are targeting the rental operators of motorbikes when unlicensed foreigners have motorbike accidents.
Police today say they are questioning the renters of the bike involved in Sunday night's crash on Patong Hill between a pickup truck driven by 47 year old Thavorn Glasueak and a motorbike carrying two Russians, a 29 and 31 year old.
This incident happened at the notorious hair-pin curve on the way up Patong Hill, from Kathu. Police say the motorbike veered out of its lane into the oncoming pickup truck travelling in the other lane.
The two Russians were rushed to Patong Hospital but died.
Meanwhile, the motorbike rental operator that rented out a motorbike to 17 year old British teenager Anthony Ryan last month was fined 2,000.
Anthony was on traveling in Thailand with a friend when he tried to pass traffic on the Kamala to Patong road and drove into an oncoming minivan in the opposite lane.
Read the report of his accident HERE.
Kamala Police report that the rental operator has already been fined 2,000 baht. They also warned other motorbike rental shops to ensure that the riders were properly licensed and took out legal insurance with their rental agreement.
In their defence police claim the rental operator said they had rented out two bikes to a second man that had a valid license. Police didn't explain what the renter was going to do with the two motorbikes. (And if the renter had a valid license, why was the shop fined?)
At this stage Kamala Police have not named the rental operator in Patong.
Phuket: Area to have water shut off for 12 days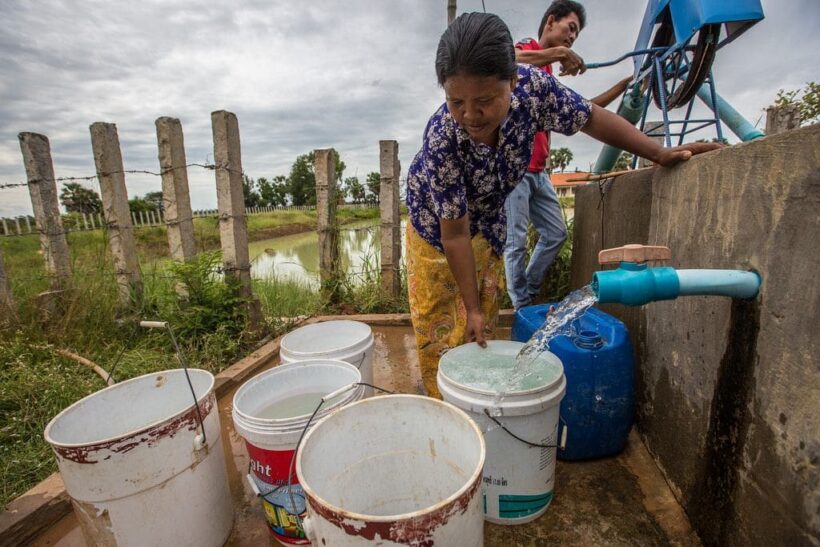 The Phuket Water Authority (PWA) has announced that water supply in some areas of Cherng Talay will be cut from February 16 to February 28. The supply will be shut off in some areas during day and night.
Water will be shut off while work is being carried out moving and replacing water pipes.
Areas to be affected in area around Cherng Talay. There will be either no water or very weak water flow to the areas during day and night.
"Residents around Cherng Talay should save water to use during the period of the shutoffs.  Water might have some discolouration after the repairs. We apologise for any inconvenience", said the PWA.
For more information, please call the PWA at 076-319173, 082-790-1634 or 1662.
Meanwhile, and unrelated, the Phuket Governor Phakaphong Tavipatana has confirmed that Phuket has enough water supplies for residential use despite the PWA's announcement, then cancellation, of water restrictions last week.
Read more HERE.