Phuket sports: Believe to achieve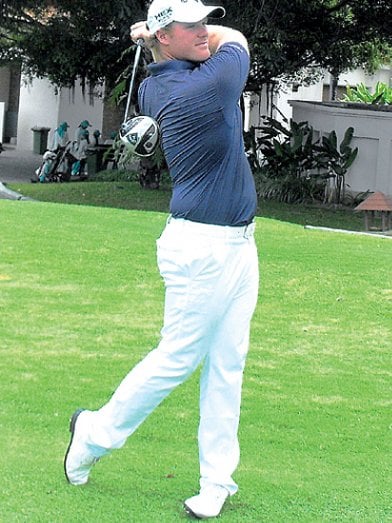 PHUKET: It wasn't difficult to identify professional golfer Lindsay Renolds on entering Laguna Golf Club recently. Standing near the entrance was a young man surrounded by staff members, who at first glance seemed to be getting advice from the Phuket pro, but in fact were catching up on how he performed at his latest tournament played in India.
Obviously popular and friendly with a big welcoming smile, the curls of reddish hair that were noticeable from beneath his Callaway cap all lent a distinct Celtic impression to our first meeting. And sure enough, after a couple of questions, the fact that his father Michael is of Irish-New Zealand descent came to light.
Michael now lives in Canada and Lindsay represents the country as a professional player. However, his formative school years were spent at Dulwich School, now British International School (BIS), and he still lists his residence as here on Phuket.
In 1998, Lindsay watched Tiger Woods play and win the Johnnie Walker Classic at Phuket's Blue Canyon Country Club. The experience changed his life.
"I was 12 years old at the time," he recalls. "Up to then I had wanted to be a pilot, but after watching Tiger play and speaking to both him and his father at the event, it was like a switch. I knew what I wanted to do, and that was to play golf," said Lindsay.
Activities would keep Lindsay in school until 5pm when he would make the journey out to Laguna and there Jeff Craig, former club pro, would give the youngster advice and coaching.
"In a matter of months I went from a beginner to being not bad and Jeff suggested to my parents that they should buy a set of clubs," he said.
Parents are crucial to the success of any young athlete and it's clear from the way Lindsay speaks of his that their influence played an important part in making a career decision.
"My parents never pushed or forced me into anything – that's why I improved so much – everything I did regarding golf, I wanted to do. There's a big difference between pushing and supporting. They supported the one thing that can't be taught to people – a drive to succeed, and that's what is inside me," he said in a determined tone.
Bizarrely, our interview was interrupted at this point when Lindsay and Jeff were reunited having not seen each other for six years. It was wonderful to see the two old friends meet again while the pride in Jeff's words and voice was obvious.
"I've always said Lindsay would be a great player. It was just a matter of time. I kept telling his dad that this is one of the kids that has it. I've never seen anyone with the physical talent that he has. He's tour quality right now, but it takes a couple of years to get comfortable. He's got such confidence in his game and it's so exciting to see that young kid grow up to become what he is today," said Jeff.
Earning a scholarship to Coastal California University gave Lindsay the opportunity to play college golf tournaments which he suggests is the best route for any aspiring golfer. The tournaments took him all around the world, while his college room mate was none other than current PGA star Dustin Johnson.
After a few years at amateur level Lindsay decided to turn pro in 2009. It was a big decision to make considering the pressure to succeed and secure a tour place is made even more difficult with the depth of players that exists on the professional circuit. Now on the Asian Tour, he sees his professional prospects growing.
"Obviously this is a huge opportunity for me to play a lot of tournaments this year. I had a lot of trouble finding events last year, but this year I will be playing on four different tours. The Asian Tour being the strongest and best one, but also on Asian Development Tour, PGA Thailand, All Thailand Tour, and MENA Tour based in the Middle East," he said.
Golf is a dynamic sport, always changing and exploiting technologies and it's very much an individual's game. At the same time, many see golf as the perfect socializing or networking activity. But what aspects keep Lindsay's interest keen?
"I like the fact that golf is an individual sport. Everything you do, all the mistakes you make, it's entirely up to you. If you work hard you will get the results you want. If you don't work hard, don't expect to do well," he advises.
"Yes, golf has changed so much, even in the few years that I've been playing. It's a combination of mechanics, science and feel, but it's definitely more of a science now. Machines and computers suggest a player has to alter a body position by four degrees. It's difficult to change by that margin – what does four degrees feel like?" he asks with a smile.
Lindsay has recently revamped his swing with coach Andrew Rice in an effort to improve his game which is clearly not bad, but if he's going to challenge the top players he admits certain adjustments have to be made.
"I changed my swing a lot a few months ago and I remember thinking I felt like a beginner again. Everything felt completely different, but I stuck with it, worked hard and it has paid off," he said.
From professionals down to the lowly weekend hacker, everyone has good days and bad days on the course. Lindsay of course is no different, but it's interesting to learn of his unique game psychology.
"If you believe and trust – it will work. On days when I'm not playing well, I go back to what the club face is doing, back to the basics of trying to feel the club face throughout my swing. At the end of the day if the ball is going left the club face is turning left and vice versa. That's how basic I keep it. You'd be surprised by how many golfers think that because they hit it left it's because of their backswing. When you're playing a round of golf the last thing you want to do is think too much about you're back swing," said Lindsay.
"I still play bad shots, but I keep it positive by thinking about that perfect shot I played earlier. Once I have a swing thought, I don't back out. It shows a lack of self-confidence to change. If I have a bad tournament I get out there and work harder to improve," he added.
How to steel the mind dealt with, what are Lindsay's immediate career goals?
"For the Asian Tour, simply to have a victory. It's a high goal for someone who has just made it on tour, and who is playing in his first full season as a pro, but it is possible. I believe it can be done, and that's one of the keys to reaching your goals – to believe and keep working hard – you will achieve" he said.
"On the Asian tour, the top 60 on the money list at the end of the year get to stay on the tour the following year. If you win however, not only are you exempt for two years years, but it also allows you to play in all the big events, which are co-sanctioned with the European Tour. That in itself just opens up more doors to have a chance to get your European Tour Card," Lindsay explained.
"Ultimately the PGA is every golfers dream. But I love Asia. I'm keen to base myself here in Phuket or Dubai and play on the European Tour and Asian tour. I just like the lifestyle and the weather here," he added.
Lindsay was at Laguna to practice and not wanting to take up any more of his time, two final questions were put forward. As a professional and seeing the wealth of golfing talent that Asia has to offer, what advice would he give young players with hopes of following in his path?
"Playing in as many tournaments as possible is very important. It's a lot different than playing with friends. Also, they should focus more on what the ball is doing rather than what their swing is doing. Work on aspects such as fade, draw and trajectory," he said.
Like any golfer, Lindsay has his favorite courses both here and abroad so where does this professional player go to enjoy a round?
"On Phuket, Blue Canyon is one o
— Neil Quail
Phuket News

Join the conversation and have your say on Thailand news published on The Thaiger.
Thaiger Talk is our new Thaiger Community where you can join the discussion on everything happening in Thailand right now.
Please note that articles are not posted to the forum instantly and can take up to 20 min before being visible. Click for more information and the Thaiger Talk Guidelines.