Phuket fishing boats vow to remain ashore amid strict regulations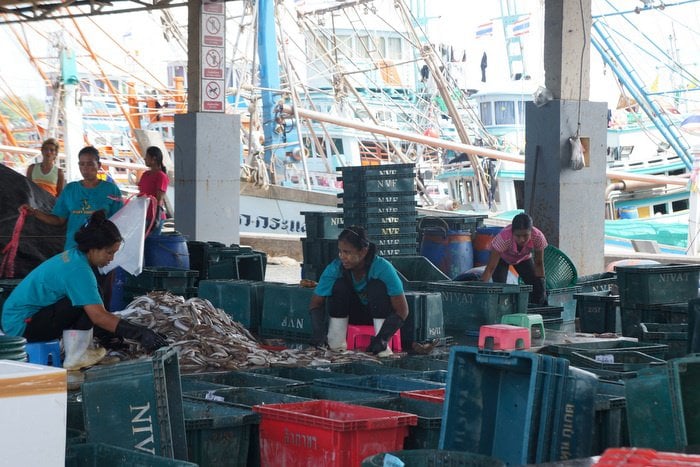 PHUKET: Commercial Phuket fishing boats have vowed to remain ashore rather than be netted by officials and charged for Illegal, Unreported and Unregulated (IUU) fishing practices.
"We requested that the government relax the strict measures being enforced on us. However, they refused," Somyos Wongbunyakul, president of the Phuket Fishing Association, told the Phuket Gazette.
"The new regulations began on July 1 – no excuses. We have no choice but to stay ashore."
Mr Somyos confessed that many fishing vessels knowingly participate in illegal fishing practices, but argued that it was necessary to sustain a profit margin.
"For example, certain fishing permits allow one boat to use one net. However, this can't catch enough fish, so we use a duel-trawler system with just one net," Mr Somyos explained.
"We are aware that it is illegal, as we don't have permission to be fishing in this way – but what can we do?"
The move by fishermen in Phuket and 22 other provinces in Thailand follows the European Union issuing Thailand a 'yellow card' in April and threatening to boycott fish exported from the Kingdom.
Thailand was given six months to implement a tailor-made action plan to tackle the issue.
"As a result of a thorough analysis and a series of discussions with Thai authorities since 2011, the Commission has denounced the country's shortcomings in its fisheries monitoring, control and sanctioning systems and concludes that Thailand is not doing enough," read the EU statement.
Karmenu Vella, European commissioner for the environment, maritime affairs and fisheries, noted that it was the EU's "rigorous policy on a harmful practices such as illegal fishing, together with our genuine capacity to act" that was paying off.
"I urge Thailand to join the European Union in the fight for sustainable fisheries. Failure to take strong action against illegal fishing will carry consequences."
The warning ushered in the strict Port In-Port Out policy, which demands that fishing vessels prove compliance with a number of regulations as they enter and depart ports, with some variation depending on their size. The following is to be checked: ship registration, ship's licence, ship's captain certificate, ship's engineering certificate, radio licence, radio use certificate, fishing permission (which dictates what equipment can be used), logbook, captain identification card, steersman identification card, engineer identification card, crew registration (crew list), crew working permit (the pink card), employment contract and safety equipment.
The 15 implemented practices are part of ensuring sustainable fishing practices for Thailand, Wansiri Rongrong-muang, program consultant of the Environment Justice Foundation (EJF), told the Gazette.
"The problem of illegal fishing in Thailand has been going on for more than 30 years. In 1980, Thailand created regulations that limited the number of otter trawlers allowed to fish in Thai waters," Ms Wansiri said. "However, officers did not strictly enforce the law, allowing illegal fishing to continue, at least until the Port In-Port Out campaign."
Illegal fishing in Thailand can be broken down into three types: breaking a restriction in a fishing permit by using other equipment; fishing too close to shore; and fishing in prohibited national parks or marine sanctuaries.
"If Thailand successfully implements the regulations, it will bring a great deal of benefits to all of us, especially when we consider our natural resources," Ms Wansiri said.
Ms Wansiri explains that the regulations would allow marine animals to have more successful breeding seasons, which would eventually lead to fishermen having larger catches.
"I hope that the government strictly enforces the new regulations. Such actions will clear Thailand of the EU yellow card. And above all, natural resources and all marine animals will have strong life cycles, as they will not be bothered by illegal fishing," she said.
Mr Somyos, however, pointed out that the six-month time line was unreasonable, especially given that it took South Korea and the Philippines about 18 months to clear themselves of EU yellow cards.
"This is not fair. The government can't do this to us. They never listen to us, only see us as bad men or thieves," Mr Somyos said. "Why don't they discuss extending the deadline with the EU?"
On Tuesday, ahead of a Wednesday meeting between relevant officials and fishermen in Phuket, the door to an extension was slammed shut by Prime Minister Gen Prayut Chan-o-cha.
"If the trawlers won't go offshore, so be it, and if they break the law, prosecute them. We have let this problem continue for far too long, because previously we could not act tough against people hit by poverty. But today we follow the law unconditionally," PM Prayut said.
Mr Somyos vowed on Wednesday to expedite the process for getting ships cleared. However, he explained the stiff penalties were not worth the risk of attempting to fish.
"We do not want to risk being fined 100,000 baht per fishermen, one year in prison or both. Staying ashore really is the only option we have," Mr Somyos said.
The business sector has voiced support for the government's handling of the IUU issue to guard against the EU's ban on seafood imports from Thailand, and is calling on the authorities to speed up
measures to meet the IUU deadline for initial appraisal, which is scheduled for August, reported The Nation.
Middlemen and smaller businesses in Phuket expect to be hit by the docking of so many fishing vessels. However, many believe that as long as the issue isn't prolonged, they will survive.
The owner of Kruvit Raft, a well-known seafood restaurant, acknowledged that she would adjust how she sources fish.
"If the fishing boats don't go out, it will surely affect us as we buy from them daily," Ampa Chooaksorn said.
"However, we will just have to purchase more fish from fish farms and consider cutting a few species from the menu.
"It will affect many people, but I'm sure everyone will continue running their businesses as best as possible."
Yongyuth Taengudom, a Phuket fishmonger who redistributes seafood to hotels and businesses on the island, is sure that the government was taking the best course of action.
"I'm just a middleman. If we don't have fish from the boats for a month or two, I can stay busy. However, I am worried about the fish processing plants and how it could affect them – especially as they most likely already have obligations for orders that they must fulfill," Mr Yongyuth said.
Mr Yongyuth did voice his concern about how the fishermen will survive financially if the boats no longer leave port.
"If it isn't taken care of quickly, there could be a number of consequences," he said.
— Chutharat Plerin
Keep in contact with The Thaiger by following our
Facebook page
.
Never miss out on future posts by
following The Thaiger
.
Phuket police arrest 6 after finding large amounts of methamphetamine in raid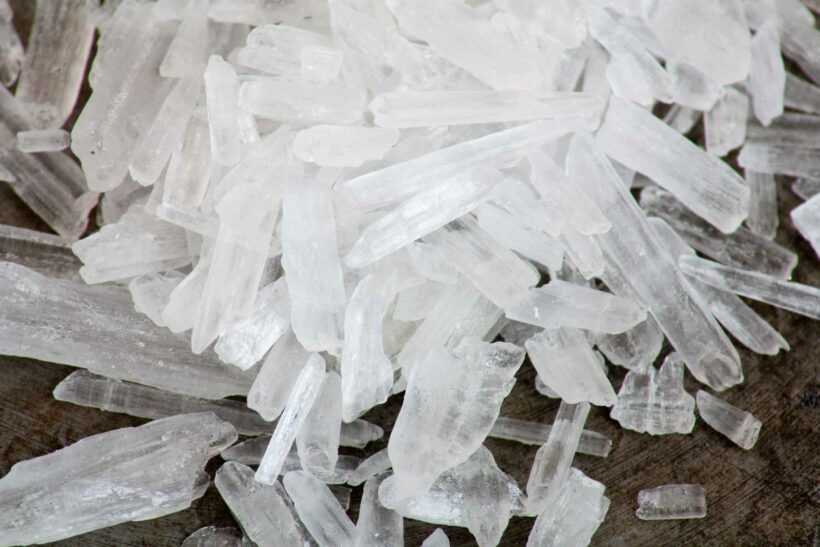 Phuket Provincial Police have arrested 6 people after finding large amounts of methamphetamine and other drugs during a raid. One suspect alone allegedly had 7.6 kilograms of crystal meth (ya ice) and over 12,500 methamphetamine pills (ya bah). 29 year old Surasak 'Bank' Wijit and 27 year old Panida 'Mei' Saeyang were arrested at an apartment car park in Soi Lookkaew, Moo 6, Rassada, in eastern Phuket, after they were found in possession of the drugs.
Police also found 2 mobile phones and a red Honda PCX, registered in Phuket, as evidence. Both suspects have been charged with posessing a Category 1 drug with the intent to sell.
Other suspects arrested at the same time include 36 year old from Chiang Rai, 42 year old Sarawut 'An' Srichanon, from Ranong and 31 year old Pornthep 'Iew' Thepchampa, who were charged with the same crimes in Chalong after police found more drugs in their possession. 33 year old Kamon 'Kung' Sae-ngow, was arrested as well after police found kratom juice and leaves at a house in Rassada. He was taken to Phuket City Police station and was charged with a Category 5 drug possession.
SOURCE:The Phuket News
Keep in contact with The Thaiger by following our
Facebook page
.
Never miss out on future posts by
following The Thaiger
.
Phuket Muay Thai fighter is the first Thai national to compete in UFC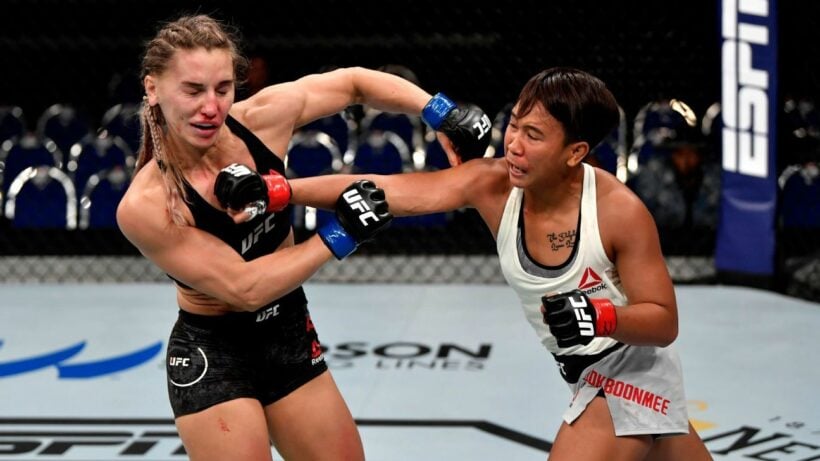 The upcoming Ultimate Fighting Championship Fight Night event in Abu Dhabi will feature Thailand's only national marking her third fight with the UFC, the world's largest mixed martial arts competition. 24 year old Loma Lookboonme, from Burirram in northeastern Thailand, will fight in the event on October 3, 2020.
Loma is a Muay Thai fighter who has adapted her MMA skills to fight in the UFC where she currently trains at the Tiger Muay Thai gym in Phuket. Loma qualified for the national team at the age of 19 and has fought in over 12 nations worldwide. She currently trains 6 days a week starting daily at 6:30am with a 3 kilometre run. In the UFC, she will be competing against China's Angela Lee who is the undisputed champion of the 52 kilogram fist weight category.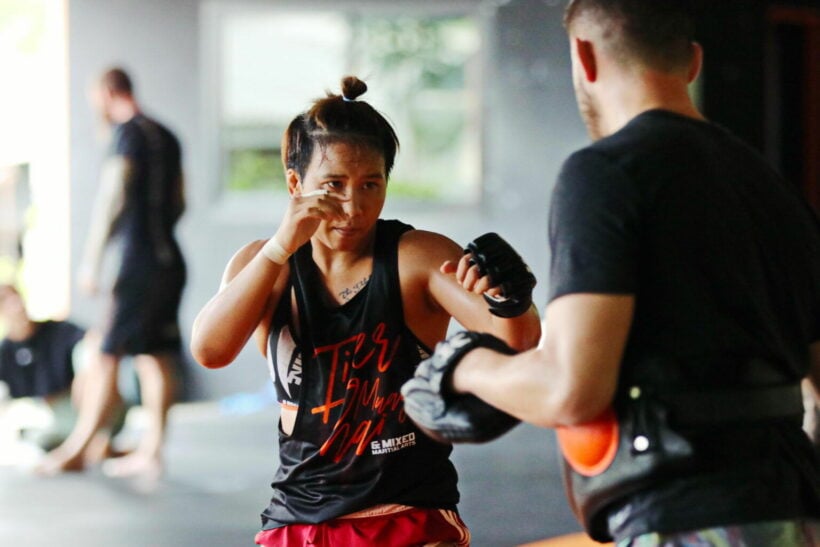 Loma's parents are former Muay Thai fighters and her 2 sisters currently compete as well. She reportedly started training at 8 years old after being inspired by her father, whom she describes as her "hero."
Like most Thais in such fighting sports, Muay Thai offers a way to rise out of poverty-and fighting for the UFC can be financially lucrative. But Loma says her only Thai sponsor is the gym where she trains, with the rest of her sponsors being from foreign brands. She says she is trying to get more Thai sponsors but feels that maybe she needs to win the UFC first before Thai brands notice her.
Loma lost her last fight and says her new opponent gives her nothing to lose. She says her goal is to get into the Top 10, but is not sure when it will happen. Loma says for now, it would be good to fight against someone in the Top 10 to help her prepare for her future.
FULL INTERVIEW: Thisrupt.co
Keep in contact with The Thaiger by following our
Facebook page
.
Never miss out on future posts by
following The Thaiger
.
Phuket airport ready for tourists after finishing Covid screening labs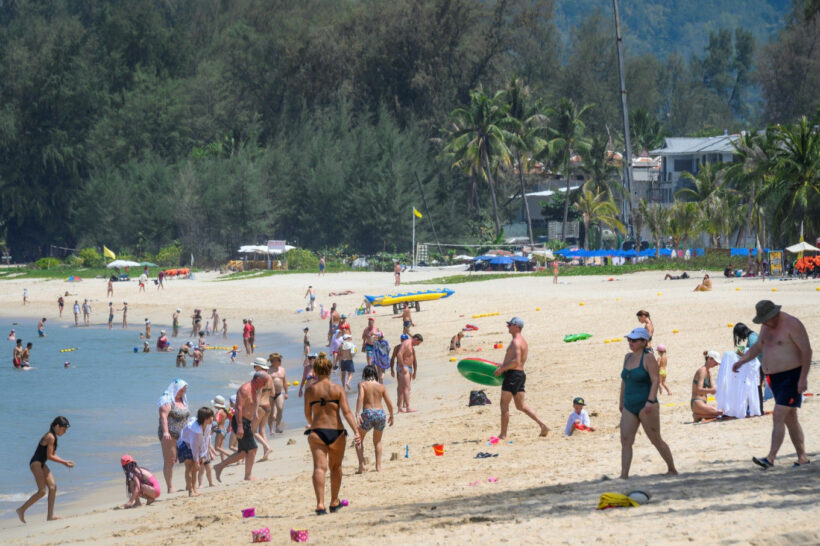 Phuket Airport is officially ready for tourists as authorities say they have finished installing Covid screening labs in an effort to welcome international travellers. The 5T Model for Covid-19 is being used at the airport with the goal of screening large groups of people in a quick and efficient manner. The Phuket health chief says the 5T's stand for Target, Testing, Treating, Trusting and Tracing.
Phuket has one large airport at the north end of the island but is separated into two separate terminals – a domestic terminal (the original airport terminal), and a new international terminal opened in 2016.
The target category refers to the target groups of tourists while the tracing stands for software that will be used to monitor their movements. The testing category refers to Covid tests that will be implemented to travellers upon arrival along with the treatment and trust categories signifying the readiness of resources for medical treatment and confident communications between all parties respectively.
The Covid-19 lab container module has been set up at Phuket airport's Terminal X (the terminal opened for charter flights opened in 2014) and will be tested tomorrow with its operation to start on September 30. As large groups of tourists could arrive (later in the year, the lab is reportedly capable of testing 96 people at a time with test results becoming available in 6 hours. What the airport would do withe tested passengers whilst waiting for 6 hours, has not been detailed at this stage.
Such a readiness plan to welcome foreign tourists originally singled out Phuket due to its popularity with travellers, and as a so-called guinea pig model to test in a controlled environment (Phuket is an island joined to the Thai mainland by a single 300 metre road bridge). Once dubbed the "Phuket Model", authorities have proposed to rename the plan to "Special Tourist Visa" due to the confusion and opposition it reportedly caused. The scheme is reportedly now being proposed for all areas of Thailand but only allowing foreigners from specific countries.
SOURCE: Pattaya Mail
Keep in contact with The Thaiger by following our
Facebook page
.
Never miss out on future posts by
following The Thaiger
.