Phuket child-exploitation gangs put in the spotlight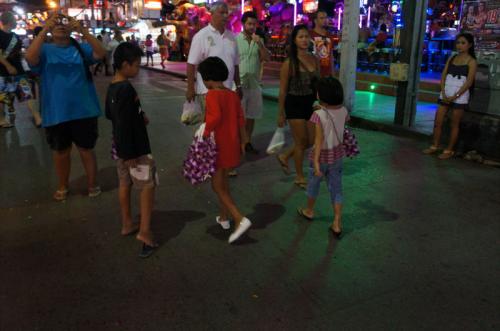 PHUKET: A 12-year-old girl fleeing her captors to the safety of officials on Soi Bangla last week, has raised the ugly specter of Phuket becoming a prime human-trafficking and child-exploitation destination, according an international children's rights agency.
The girl, nicknamed "Aoi" to protect her identity, ran up to Patong Deputy Mayor Chairat Sukban and about 10 other officers on night patrol on December 11, saying that she and some of her friends had been taken away from their parents in Cambodia under the pretense that they would be trained as nannies for high-society families in Patong.
"After we got here, the men forced us to steal tourists' bags. We had to steal one or two times a night – they were always watching us, and if we didn't steal something, we weren't allowed to eat," Aoi said.
"They said they would attack our parents back home if we did not do what they said," she explained.
"The men said anytime we see Mr Chairat we must run away… This time I decided to run to you asking for help. I want to go home. I miss my parents."
Aoi had been arrested on Soi Bangla many times. However, every time she was arrested, a Vietnamese man, claiming to be her father, would show up and take her away, explained Mr Chairat.
"Many Vietnamese and Cambodians are involved in the alien-beggar scams, and we are sure that the group of men that were holding Aoi [captive] are Vietnamese," he added.
Patong Police Superintendent Chiraphat Pochanaphan told the Gazette that his officers were searching for Aoi's imposter father. However, Col Chiraphat gave no name or description of the man.
"We are now searching for the man who claimed to be her father… Patong Police are coordinating with Social Development and Welfare officers in the search for the man," he said.
"At this stage, this is the only information I can reveal," he added.
An officer at the Social Development and Welfare Phuket office told the Gazette that Aoi was now safe and under the department's care and protection program.
"Officers are now working on sending her back home to Cambodia. I don't know how long this will take. We can only take good care of her and coordinate with the relevant authorities on getting her home," she said.
However, the welfare officer also said she could not comment on what action was being undertaken to protect other children at risk on the streets of Patong.
The silence on the issue has prompted at least one children's rights organization to speak out, warning that Aoi's flight to safety might be the tip of the iceberg once the Asean Economic Community (AEC) comes into effect in 2015 with its expanded allowances for worker migration.
"I was not previously aware of this particular story [regarding Aoi]. However, children selling flowers are found at tourist destinations all over Thailand," Nutthawut Buaprathum, a lawyer at the Center for the Protection of Children's Rights Foundation (CPCRF), said.
"I personally do not care what the police and local Social Development and Welfare officers say they can or cannot reveal about the case. What I want to know is what are they actually doing about it.
"I wonder if the police are taking serious action on investigating the case further, or whether they just let the children go after the 'parents' show up," he added.
Mr Nutthawut expressed grave concern about the impact the AEC will have on Phuket. "The Asean Economic Community is coming. I wonder how the government will handle this issue. Phuket is a top tourist destination that already attracts child-exploitation gangs that force children to work as beggars and street peddlers.
"I can see that government officers would like to pretend that Phuket is not a human-trafficking destination because it will affect tourism and might even prompt international pressure from other countries. But if the government does not take serious action on this, there will be a lot more of these people coming in the next three years – and the problem will only get worse," he said.
Mr Nutthawut explained that CFRE is part of the international network Children on the Move. "This issue is our top priority for the next three years. What we can foresee, with the arrival of the AEC, is the chance for children to exchange education, knowledge and culture. However, once it is easy to come and go among Asean member nations, there will likely be more people attempting to take advantage of this," he explained.
Deputy Mayor Chairat, who is often seen personally patrolling the streets of Patong, told the Gazette that the role of municipality officers in taking action against such gangs of street peddlers was limited.
"This issue is not only about children selling flowers on the street, but involves human trafficking. We have passed news of this to the police, Social Development and Welfare officers and senior officers at Provincial Hall who now know about this as well," Mayor Chairat said.
"However, all we can do with children or other people who are caught annoying tourists is charge them with being a public nuisance and fine them up to 2,000 baht each time.
"If we catch a child unaccompanied on the streets and we take him or her in, there is nothing we can do if the child tells us that the person who comes to claim them is their parent, uncle, aunt or other form of guardian," he said.
"Arresting the people who run these gangs is under the police's responsibility. We can only coordinate with and support the police at their request," Mr Chairat added.
— Chutharat Plerin
Keep in contact with The Thaiger by following our
Facebook page
.
Never miss out on future posts by
following The Thaiger
.
Phuket prepares to welcome first Chinese tourists in over 6 months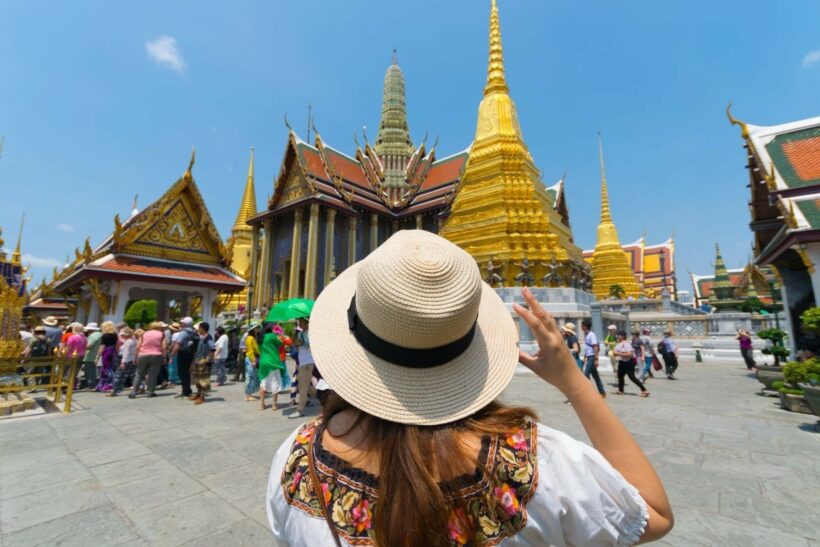 The first group of tourists to arrive under Thailand's new Special Tourist Visa scheme are expected to land in Phuket on October 8. The Bangkok Post reports that a flight from Guangzhou in southern China will carry 120 tourists, who will spend their first 14 days in alternative state quarantine. They are reported to be travelling under the government's new STV.
Arrivals who do not pass the initial health screening will be transferred to specially chosen hospitals, as "Patients under Investigation". Those who do pass the screening will be transported to alternative state quarantine once they've gone through immigration processing.
A Centre for Covid-19 Situation Administration spokesperson says the resort islands of Phuket and Koh Samui will be the first to welcome travellers under the Special Tourist Via scheme. He pointed out that Guangzhou has not recorded any new cases of the Covid-19 virus for a prolonged period, meaning next week's tourist arrivals are deemed "low risk". His assertion is confirmed from the official figures at worldometer.info website recording world Covid-19 cases.
The CCSA reports that there will be a limit of 300 foreign tourists admitted each week, but this will be reviewed after the first phase of the re-opening. All arrivals will be subject to 14 day quarantine, although the Tourism and Sports Minister Phiphat Ratchakitprakarn has suggested reducing this to 7 days eventually. The CCSA says they are not considering reducing the quarantine time at this stage.
Thiravat Hemachudha from the Thai Red Cross Emerging Infectious Disease Health Science Centre is not opposed to the idea.
"We can study this with foreign visitors who will arrive next month. During the 14 day quarantine they will be tested on the first, the seventh and the fourteenth day. If they are free of infections, we can shorten the quarantine to 7 days."
However, not all are in agreement, with a doctor from Bangkok's Chulalongkorn University cautioning against any shortening of the quarantine period.
Meanwhile, Phuket governor, Narong Woonsiew, says the province is ready to welcome the new arrivals, with Covid-19 labs in place at Phuket airport, and officials due to carry out a full dress rehearsal today.
Thanit Sermkaew, chief of the Phuket Public Health Office, says over 1,200 rooms at 9 hotels have been chosen as alternative state quarantine properties, with a total of 73 hotels, providing over 5,800 rooms, applying for consideration.
SOURCE: Bangkok Post
Catch up with the latest daily "Thailand News Today" here on The Thaiger.
Keep in contact with The Thaiger by following our
Facebook page
.
Never miss out on future posts by
following The Thaiger
.
Woman arrested for abandoning newborn baby on a bench in Phuket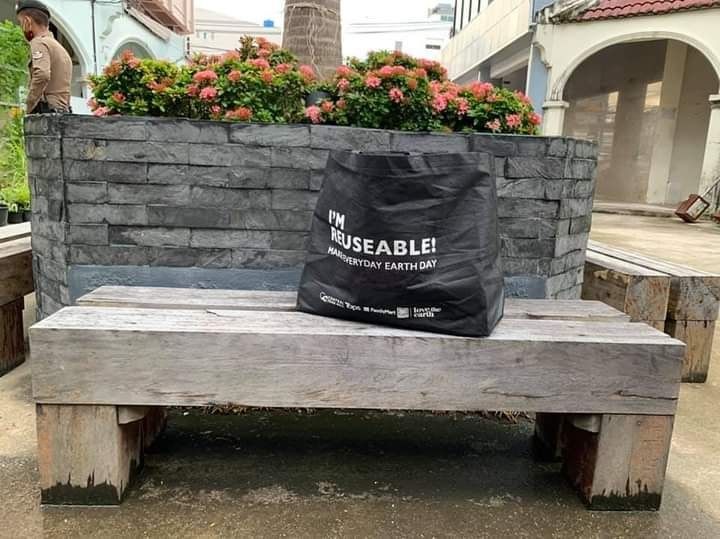 Police tracked down and arrested a Burmese woman who allegedly left her newborn baby on a bench in Phuket's Patong area last week. The mother faces charges of abandoning a baby.
The newborn was left in a reusable shopping bag on a bench behind a Krungthai Bank branch. A woman in the area heard the baby crying and found the newborn in the bag along with a bottle of milk, diapers and clothing. Police reviewed surveillance camera footage shows a woman, police later identified as Ei Ei Phyu, leaving the bag on the bench.
Police say the woman gave birth on September 9 at a local hospital in Surat Thani's Phun Phin district. Ei Ei allegedly took a van from Surat Thani to Phuket on September 22 and stayed with a friend in Patong. The early the next morning, she allegedly left her baby on the bench before boarding a bus back to Surat Thani.
Burmese workers in the Patong area told police Ei Ei used to work at a local Indian food restaurant before she moved to Surat Thani to work as a rubber tapper. Ei Ei allegedly told police she is not in the position to raise a child.
In earlier reports, police said the baby is healthy and does not appear to have any injuries.
SOURCE: Bangkok Post
Keep in contact with The Thaiger by following our
Facebook page
.
Never miss out on future posts by
following The Thaiger
.
Phuket police arrest 6 after finding large amounts of methamphetamine in raid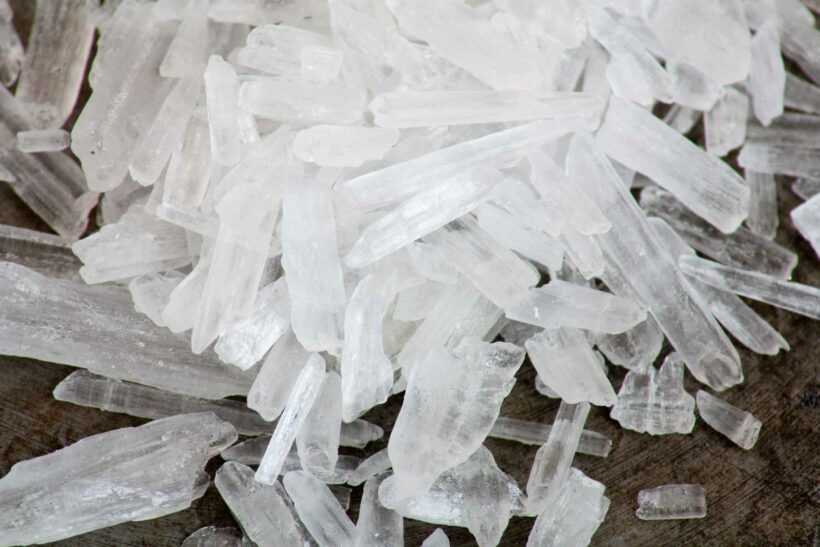 Phuket Provincial Police have arrested 6 people after finding large amounts of methamphetamine and other drugs during a raid. One suspect alone allegedly had 7.6 kilograms of crystal meth (ya ice) and over 12,500 methamphetamine pills (ya bah). 29 year old Surasak 'Bank' Wijit and 27 year old Panida 'Mei' Saeyang were arrested at an apartment car park in Soi Lookkaew, Moo 6, Rassada, in eastern Phuket, after they were found in possession of the drugs.
Police also found 2 mobile phones and a red Honda PCX, registered in Phuket, as evidence. Both suspects have been charged with posessing a Category 1 drug with the intent to sell.
Other suspects arrested at the same time include 36 year old from Chiang Rai, 42 year old Sarawut 'An' Srichanon, from Ranong and 31 year old Pornthep 'Iew' Thepchampa, who were charged with the same crimes in Chalong after police found more drugs in their possession. 33 year old Kamon 'Kung' Sae-ngow, was arrested as well after police found kratom juice and leaves at a house in Rassada. He was taken to Phuket City Police station and was charged with a Category 5 drug possession.
SOURCE:The Phuket News
Keep in contact with The Thaiger by following our
Facebook page
.
Never miss out on future posts by
following The Thaiger
.