Phuket Sports: Racing for Rich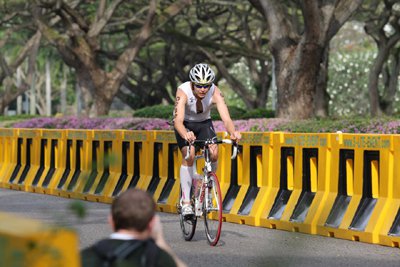 PHUKET: They say tragedy brings people together in a meaningful way. This is the case with triathlete Richard Holland and his supportive friends. In the early hours of the morning on Thursday October 11, 2012, Rich (as he's known to his friends) set out cycling in Dubai to train for the upcoming Laguna Phuket Ironman 70.3. What was supposed to be a regular training ride, turned out to be anything but that!
Despite taking numerous safety precautions, Rich was hit from behind by a car, sustaining multiple life-threatening injuries. These included: broken ribs, punctured lungs, a fractured sternum, fractured right fibula, and severe injuries to his brain. His brain injuries are substantial, the worst of which is a contusion on his brain stem. This tragic accident has left Rich in a persistent coma and thus he cannot compete in the race as planned.
This race has special significance for Rich. Having competed in the Laguna Phuket Triathlon in 2010, Rich had set his sights on the Ironman 70.3 Race and was in impeccable shape and fighting fit when his accident occurred.
To show their support and spread the appeal for Rich and cycle safety, several of his friends and fellow athletes from Dubai (and around the globe) will be competing in the Ironman event in his honor. They, and anyone else who would like to show their support, will be donning Back On Your Bike wrist bands. The 'Back On Your Bike' campaign has been established for Rich to raise money for his medical recovery.
A World-Championship level triathlete, passionate fisherman, avid outdoorsman, loving brother and loyal friend are just some of the words that come to mind when asked to describe Rich. Rich proudly represented South Africa in the 2007 World Duathlon Championships.
He has competed regularly in triathlons and duathlons around the world, from Thailand to Canada and from Singapore to Johannesburg. He is a passionate individual who exudes energy into all that he does.
Rich and his friends planned to celebrate his 30th birthday whilst in Thailand (Rich turns 30 on November 30). Rest assured that his friends and fellow triathletes will celebrate in his honor.
For more information on Back on Your Bike, and how you can participate or donate, visit: www.backonyourbike.com.
Racing For Rich: Team Mate Profiles
Andrew MacRae, Edward Hawkins and Brett Smyth, are just some of the Dubai-based athletes that will be racing for Rich on December 2.
Andrew MacRae:
Originally hailing from the UK (but currently based in Dubai), Andy is an ICT teacher with a passion for triathlon. His impressive results to date include:
9th Overall, World Biathlete Championship 2012, Dubai
2nd (AG 20 – 24), Abu Dhabi Long Course, 2011
11th (AG20 – 24), Anthwerp Ironman 70.3, 2011
23rd (AG 20 – 24), World Triathlon Championship 2012, Budapest
5th (AG 20 – 24), European Triathlon Championship 2009, Holton
Andy has set his sights on placing within the top 5 in his age group (25 – 29) in Phuket and hopes to qualify for the 70.3 World Championship, 2013.
Edward Hawkins
Ed is a UK athlete currently based in Dubai where he works as a teacher. His spare time is taken up competing in triathlons where he has notched up the following impressive results:
Represented Great Britain as a long distance triathlete
Ironman 70.3 World Championship Qualifier
Ironman Hawaii World Championship Qualifier, 2011
Great Britain Top 5 (Age Group), Roth, 2012
Brett Smyth
Relatively new to the world of triathlon, Brett was encouraged by Richard to compete in his first Ironman 70.3 event in Singapore this year (placing 31st in his age category). Brett will be racing in Phuket on behalf of Richard to show his support for the Back On your Bike Campaign. He is also acting as the official spokesperson for the Dubai athletes on tour in Phuket.
Distributed on behalf of Back On Your Bike by: Pippa Holland and Brett Smyth.
— Laguna Phuket
Keep in contact with The Thaiger by following our
Facebook page
.
Never miss out on future posts by
following The Thaiger
.
Phuket's annual vegetarian festival gets the green light – VIDEO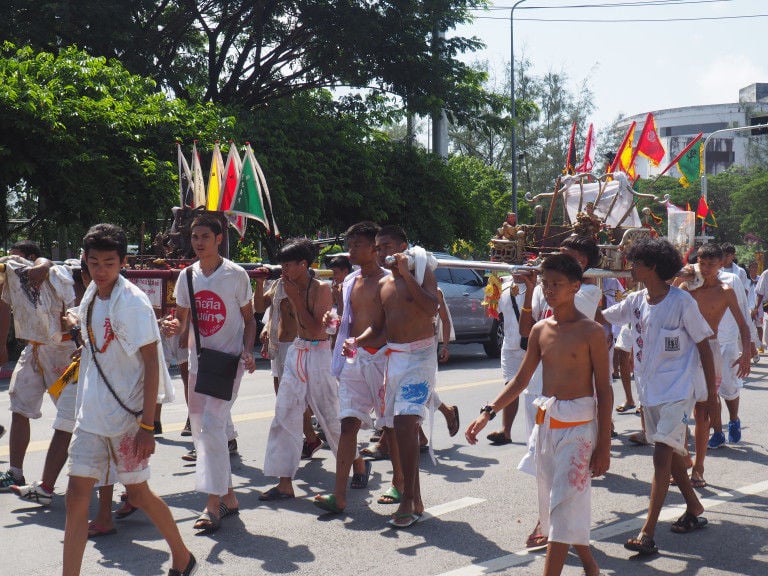 WARNING: The content below contains photos and videos of self-mutilation that some may find disturbing.
Somehow Phuket's annual vegetarian festival is to go ahead next month, but officials say they will ask participants to strictly observe social distancing. Good luck with that! For those who don't know, the festival isn't exactly known for the food. It's known for blood, body mutilation and more blood.
During street processions for the weeklong event, also known as the Nine Gods Festival, so called "mah songs" are known to practice self-mutilation and are said to enter a trance-like state, channeling spirits through their body. "Mah" means horse in Thai, and many suggest the mah song acts like a horse for the spirit to ride.
Many mah songs pierce their checks, ears and lips, some with large swords and thick needles. Some slice their tongues continuously for hours, blood dripping down on the street. Others appear to be in a trace walk barefoot as firecrackers explode on the ground.
Mah songs march down Phuket's streets for hours with a team of devotees to help tend to their wounds, adjust the piercings, wipe away drool and blood, and keep them hydrated. It's understood that devotees wear white as a symbol of purity. It's also reported that they abstain from eating meat, drinking alcohol and having sex during the weeklong festival.
It seems gruesome, but it's actually very spiritual. Business owners and locals line the street, some setting up altars. Mah songs stop at each one and do a quick ritual. Some mah songs carry a black flag, waving it over onlookers who bow their heads and place their hands in the "wai" position. Some spend time blessing the elderly and handing out bracelets to children. During a procession last year, a woman held up a bracelet as said "the 'Spirit' gave this to my mother."
This year, the festival will have to be a little different to abide by coronavirus prevention measures. The Bangkok Post says it's the first festival since the outbreak. The head festival organiser Prasert Fukthongphol says "we will seriously enforce social distancing measures and require all participants to wear face masks."
The grotesque piercings, noisy parades and visits to the shrine, are good news for Phuket's tourism and bad news if you're a vegetable. Many adherents to the Chinese-heritage local festival will go without sex, alcohol and meat for the week of so of the festival. The week of events and ceremonies hopes to scare away the bad gods again but, especially this year, attract some extra visitors to the festival.
Another Vegetarian Festival in Chon Buri has also been given the green light. The event is planned for October 16 to the 26. This year's main event for the festival will be in Naklua at Sawangboriboon Thammasathan Foundation at the Sein Sua Chinese Temple, but many other events will be around the city throughout the week.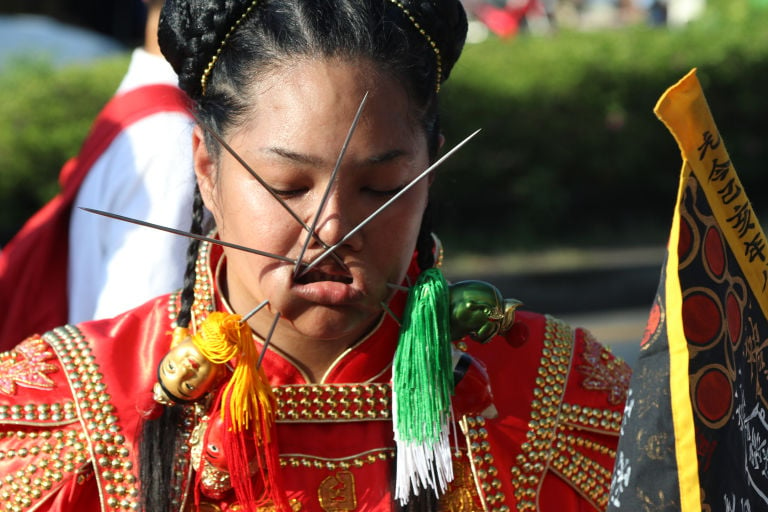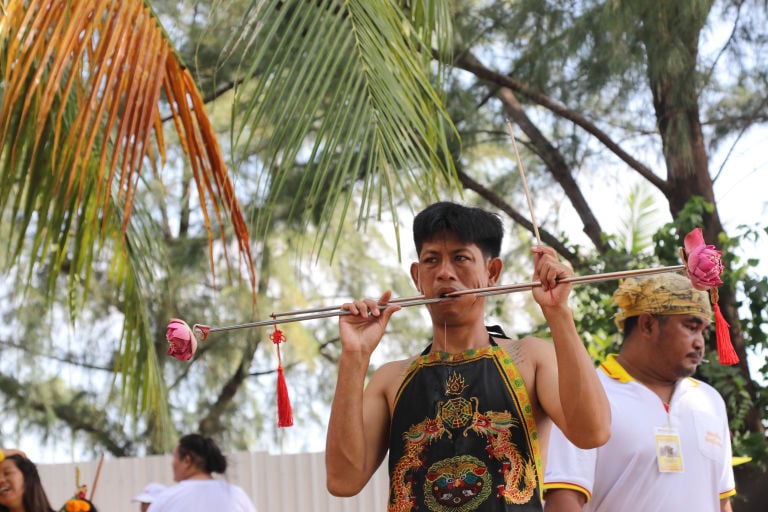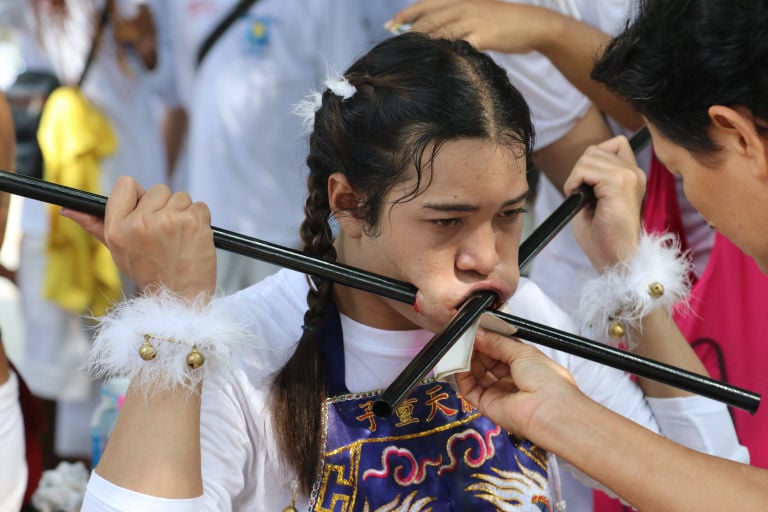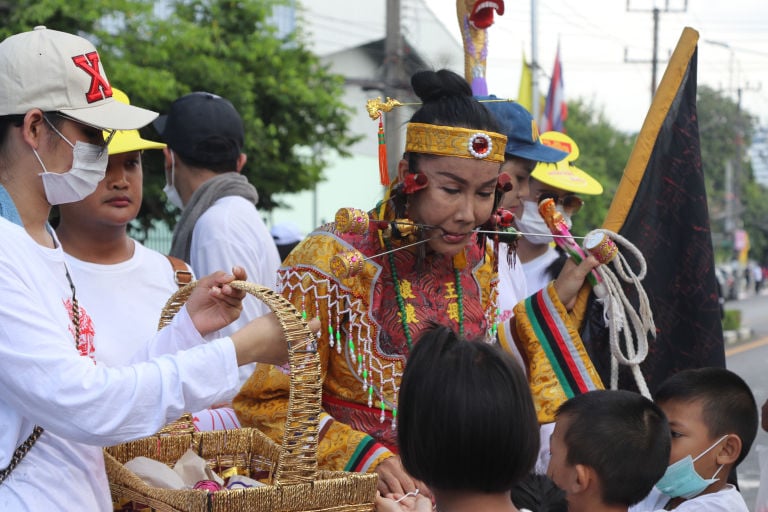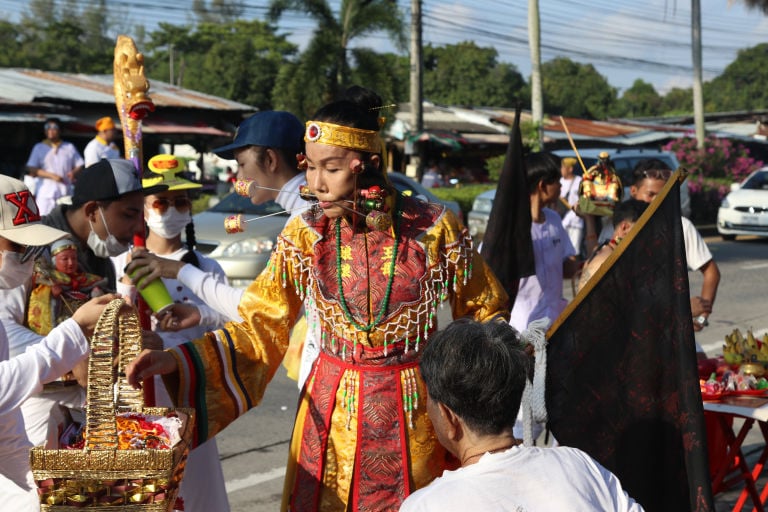 SOURCES: Bangkok Post | Pattaya News
Catch up with the latest daily "Thailand News Today" here on The Thaiger.
Keep in contact with The Thaiger by following our
Facebook page
.
Never miss out on future posts by
following The Thaiger
.
Officials says no illegal land encroachment at Phuket's Sri Panwa resort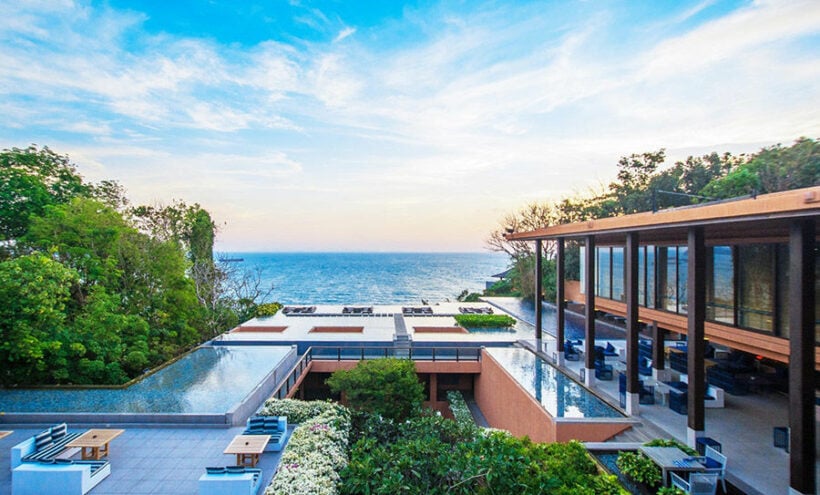 After coming in for some negative online attention recently, the land title deeds of the Sri Panwa Phuket resort have been investigated and found "to be in order". The 5-star hotel first attracted the attention of netizens when its owner, Vorasit Issara, publicly criticised anti-government activist Panusaya Sithijirawattanakul, calling for her arrest. He also claimed she wasn't Thai, a factually wrong and inflammatory statement.
His Instagram tirade prompted outrage from those who support the current protest movement, with netizens calling for a boycott of his property and leaving several negative comments on various review sites. Trip Advisor suspended the hotel's account due to the online attack.
Shortly after, the Civil Society for State Welfare called on the Social Security Office to clarify its investment in the resort's trust fund. This was echoed by at least one opposition MP and anti-corruption activists.
Responding to the land rights issue, the Phuket Land Office has issued a statement to say the hotel does not occupy state land. The resort stands on 56 rai of prime real estate, overlooking Phuket's south-eastern coast. The land office has confirmed its paperwork is all in order.
Meanwhile, it's understood Charn Issara Development, owners of the property, have threatened to sue the resort's critics for defamation.
SOURCE: Nation Thailand
Catch up with the latest daily "Thailand News Today" here on The Thaiger.
Keep in contact with The Thaiger by following our
Facebook page
.
Never miss out on future posts by
following The Thaiger
.
70% of Phuket's tourism businesses are closed, many for good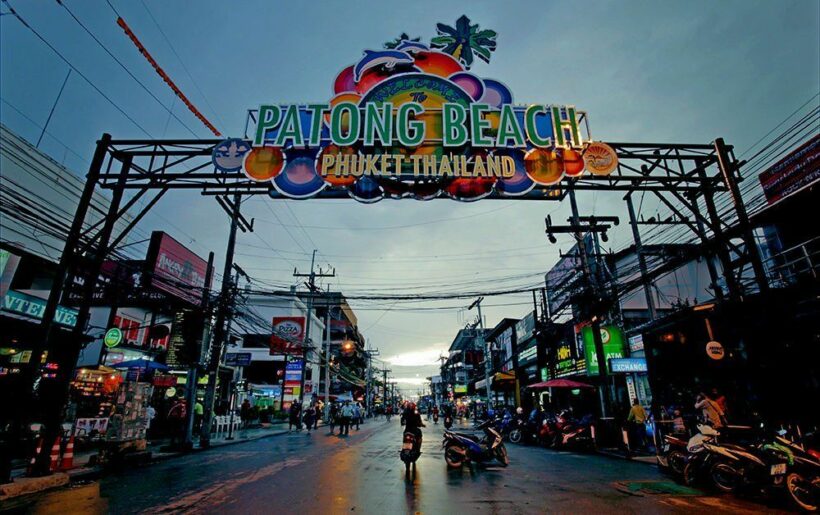 Most tourism businesses in Phuket have closed due to the Covid-19 pandemic, and they probably won't be up and running again until foreign tourists are let back in Thailand. Phuket Governor Narong Woonciew says around 70% of tourism businesses have closed, most of them just temporarily, but some have shut down permanently. But the statistics are not quite that simple, with the east side of the island, largely inhabited by locals with the central business district of Phuket Town and some of the more popular expat towns, doing far better than the tourist magnets of the west coast. The Thaiger estimates that on the west coast the number would exceed 90%.
Before the pandemic, tourism to Phuket brought in 450 billion baht a year with 400 billion baht from foreign visitors while the other 50 billion baht was from domestic tourists. Thailand has been trying to increase domestic tourism to help revive the industry after the pandemic. Phuket's governor says it helps, but not enough.
"Their visits can help solve some of our economic problems, but they cannot replace the need of foreign tourists."
66.8% of tourism businesses in Phuket have closed temporarily while 2.8% have closed permanently, according to data by the Digital Economy Promotion Agency. (Again the percentage along the west coast is MUCH higher – just take a drive through Paton, Kat, Karon). Phuket's governor is trying figure out how to recover the economy. And fast.
"By the end of September, the number of businesses to be closed will increase up to 70% for sure."
While many businesses are closed, the governor says Phuket is "almost 100% ready to welcome foreign tourists." The governor says he can't give an answer to when foreign tourists will arrive in Phuket, but he claims they've "prepared every step," from checking in at the airport to hotel quarantine. They're just going to install some new temperature check machines at the Phuket International Airport and review the procedures for welcoming the tourists.
"We have to work and prepare carefully to welcome foreign tourists… We have to gradually open our door to welcome small groups of people first, in order to test our system, and then open for bigger groups."
At the moment, only 3 venues in Phuket have been approved to operate as alternative state quarantine facilities. Anantara Phuket Suites & Villas has 100 rooms available, Anantara Mai Khao Phuket has 36 villas and Trisara resort has 15 villas. All are 5 star venues with a commensurate 5 star cost.
SOURCE: Phuket News
Catch up with the latest daily "Thailand News Today" here on The Thaiger.
Keep in contact with The Thaiger by following our
Facebook page
.
Never miss out on future posts by
following The Thaiger
.