Phuket Music Festival returns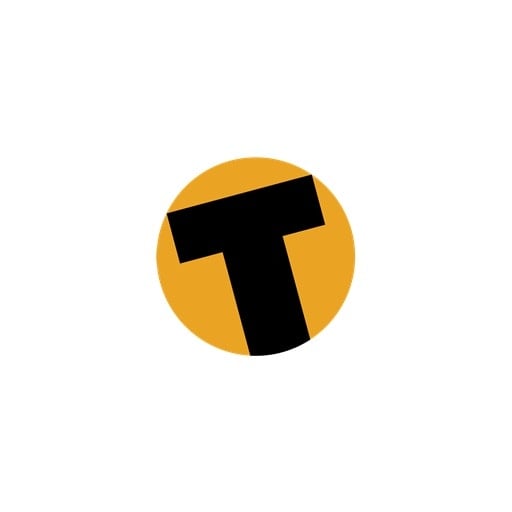 Phuket NEWS Hound
– A daily digest of news from around the world compiled by Gazette editors for Phuket's international community. World Cup? Get instantaneous scores and news updates right here on the Gazette Online (fed directly from FIFA).
PHUKET: The Phuket Music Festival will take place next weekend, June 25-26, the Bangkok Post reminds us.
Hosted by the Tourism Authority of Thailand (TAT) and the Provincial Government of Phuket in conjunction with the brewers of Singha Beer, the festival aims to promote tourism to Phuket.
This free concert, held for the second consecutive year (but last year titled 'RoyFest'), is expected to draw 50,000 local and international visitors to the island with two evenings of dance music performed by international artists and DJs.
It will be in the concept of a 'Beach Dance Party', and will feature a throng of local artists.
"The Phuket Music Festival is the biggest and most comprehensive free concert on the seaside in the South of Thailand, and one of the most unique concerts ever held….' said TAT governor Suraphon Svetasreni.
'Besides the natural environment of 'The Pearl of the Andaman', the island now has a music festival that will create a legend by transforming the white sandy beach into Thailand's largest, moonlit dance floor for everyone to enjoy," he added.
But if reports from last year's inaugural music festival were accurate, local residents of Karon Beach and surrounding areas, particularly those in the posh condos and five-star hotel rooms along the strand, found the music a bit over the top in terms of volume and duration.
While the event did draw large crowds, its desirability for environmentally-challenged Phuket became a topic of some considerable heat in the 'debates' in the Gazette online forum, with perceived beauty being very much in the ears of the beholder.
Westin Phuket ready to roll
Asia Travel Tips
Phuket's new Westin Siray Bay Resort & Spa is offering rooms for just 2,010 baht (approx $59) per night in the lead-up to the luxury property's opening, which is scheduled for August 2010.
The promotion is valid for bookings before September 30 and for stays between August 1 and October 31, 2010. The introductory rate is 'room only' and is subject to tax and service charges.
The Westin Siray Bay Resort & Spa will be the first Westin resort to open in Thailand. Located on Phuket's Siray Island, the resort overlooks Siray Bay and boasts a secluded beach with direct access.
Despite woes, Thailand still a major magnet
Travel Daily News
The Tourism Authority of Thailand (TAT) has announced that Thailand received 6,563,099 visitor arrivals during January-May 2010, registering year-on-year growth of 16.07 per cent.
Tourism receipts were estimated at 240 billion baht, or about US$7.4 billion, a year-on-year increase of 20.26% in comparison with January-May 2009.
The top five visitor-generating markets during the period were Malaysia (770,804), China (428,709), Japan (419,980), United Kingdom (352,586), and South Korea (335,648).
These markets are Thailand's traditional top tourist producers, but other markets such as India (277,393) and Russia (284,424) showed phenomenal growth during the same period.
Although the TAT has not provided a breakdown by province of where the 6,563,099 tourists stayed during their visits, Phuket is likely to have played a major role as the province remained calm throughout the Bangkok riots, and the island's airport arrival statistics were far more favorable than those for the capital.
Proximity and value for money will still be the main attractions for tourists from South Asia, the Middle East and the ASEAN countries, the TAT says.
Phuket touted in TAT tours
TR Weekly
Tourism Authority of Thailand is marketing self-drive holidays in the domestic tourism space, offering airline, hotel and car rental components in prepaid packages that focus on eight provinces, including Phuket.
The four other "main destinations" are Chiang Mai, Chiang Rai, Udon Thani and Krabi – all introduced during last year's low season. Phitsanulok, Ubon Ratchathani and Surat Thani have been added this year.
The TAT believes it can spread tourism benefits through self-drive holidays that combine a flight to a regional center and accommodation on a circular route from the car rental point.
It says the main purpose is to promote what it calls "green season" tourism, a euphemism for the five-month low (rainy) season. However, critics retort that the exercise is commercial and is in direct competition against private travel companies in the domestic market.
Self-drive package bookings are available from now until September 15, and the traveling period expires on September 30.
The packages are not available during the brown season.
Briton, Aussie face jail
The State
A Briton and an Australian who joined inThailand'santi-government protests last month were charged on Thursday with inciting violence and other crimes. They could face up to two years in prison.
Both men denied the charges, which allege they violated an emergency decree imposed during the two-months of protests.
Briton Jeff Savage, 48, screamed abusive comments about Thai Prime Minister Abhisit Vejjajiva as he was led past reporters, calling him "a murderer" and insulting Abhisit's wife.
Australian Conor Purcell, 30, is accused of inciting violence by making incendiary speeches on the main stage at the protesters' encampment.
The court set the next hearing for July 28.
— Gazette Editors
Keep in contact with The Thaiger by following our
Facebook page
.
Never miss out on future posts by
following The Thaiger
.
Happy Loy Krathong Phuket. Where to launch your krathong tonight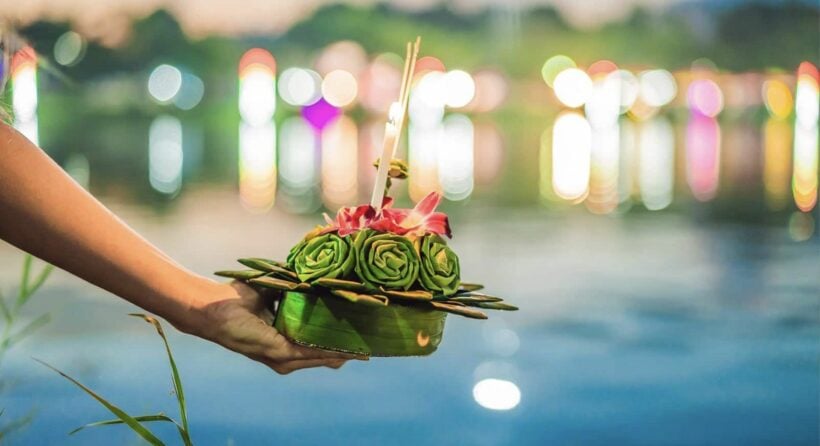 Happy Loy Krathong Phuket. But this year authorities are saying 'only floating Krathongs thanks'. No polystyrene, no steel pins – keep it natural and plant-based please. This year Loy Krathong in Thailand co-incides with the annual Halloween celebrations on October 31.
Authorities are also urging people to choose, or make, their krathongs using natural materials only. The latest craze for "edible" krathongs is also causing problems. Read about that HERE.
Loy Krathong is a festival celebrated annually throughout Thailand The name could be translated as "to float a basket", and comes from the tradition of making krathong or buoyant, decorated baskets, which are then floated on a river. Loi Krathong takes place on the evening of the full moon of the 12th month in the traditional Thai lunar calendar so the exact date of the festival changes every year.
In Phuket, the Provincial Office says fireworks, fire crackers and sky lanterns are prohibited "for people's safety" (but be assured there will still be a few sky lanterns seen flying off the islands beaches this evening).

Loy Krathong is celebrated at many of the island's popular waterways and at many of the beaches. Many hotels also host their own celebrations for their tourist customers. Here are a few of the locations you will be able to launch your own Krathong or buy one on site and watch families and couples launching Krathongs.
Popular locations in Phuket include…
• Saphan Hin Park Lake, Phuket Town
• Suan Luang Park (off Naka Market Road)
• Bang Wad Dam, Kathu
• The recreation lake near Ket Ho Temple in Kathu (The Thaiger 'local')
• Tin Mine Museum Lake on the Kathu back road, near BIS International School
• Nai Harn Lake and Nai Harn Beach
• Bang Maruam near the Alan Cooke Cricket Ground in Thalang
• Laguna (the main lake just inside the entrance)
• Just about anywhere along Patong Beach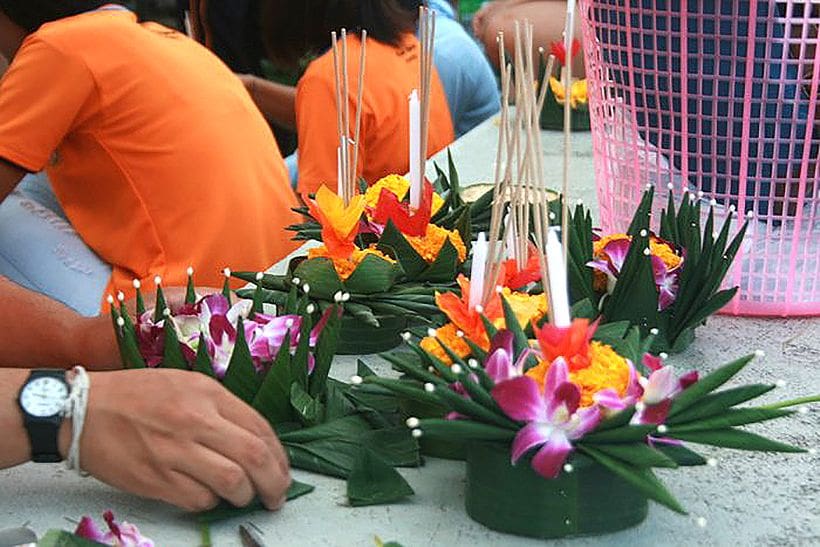 On the night of the full moon, Thais launch their krathong on a river, canal or a pond, making a wish as they do so. The festival may originate from an ancient ritual paying respect to the water spirits.
We would urge people to consider the environment if you're making your own Krathong or try and select Krathongs that are made from natural products. Many of the 'commercial' Krathongs use polystyrene and pins that end up scattered along our waterways and provide a hazard on the island's beaches when the Krathongs eventually wash ashore and disintegrate.
Same goes for the new fad of bread and "edible" krathongs. Officials say these can be dangerous for the fish and cause long term problems for water catchments.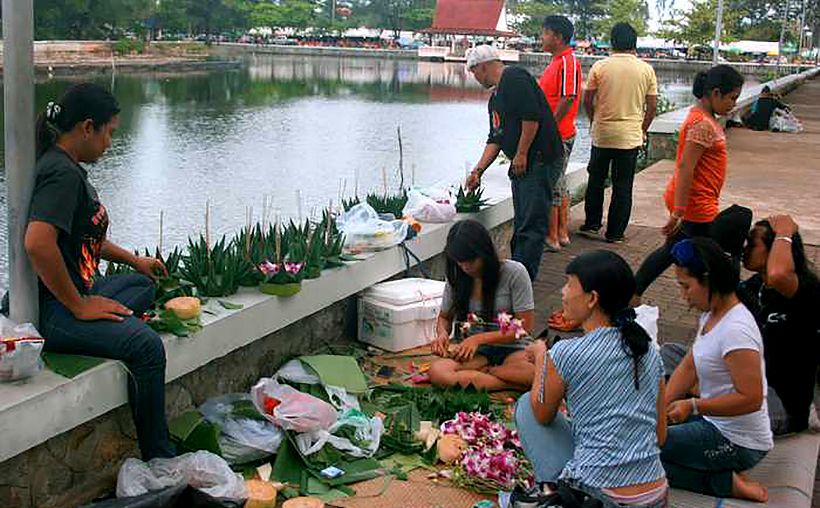 If you'd like to make a krathong, here's a very quick guide…
If you want the easy way out, you will find hundreds of stalls on the way or near any waterway around the island that is participating in the event. Try and pick ones that appear to be made from natural materials.
Happy Loy Krathong Phuket!
Keep in contact with The Thaiger by following our
Facebook page
.
Never miss out on future posts by
following The Thaiger
.
Phuket tops travel destination list of cheapest hotel prices – Dertour 2020 Price Index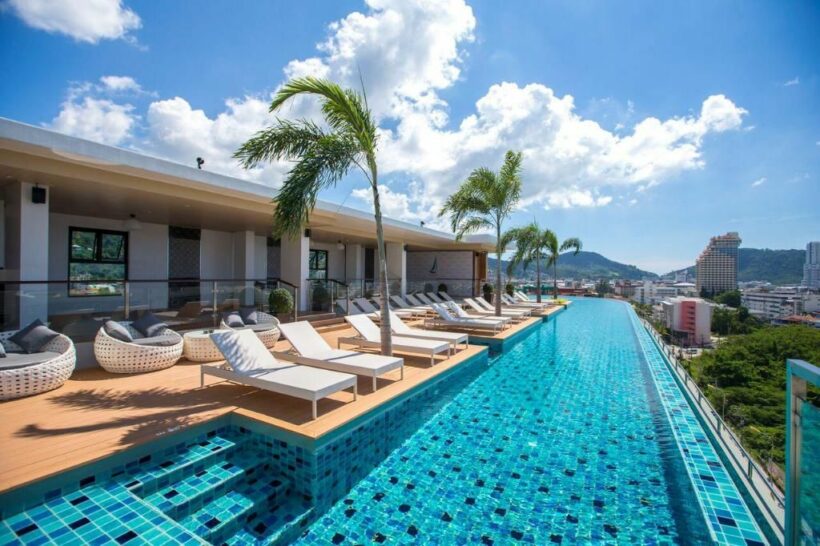 Phuket tops a list of the cheapest travel destinations with a 1 night stay at a hotel costing on average less than $30 USD, according to a study by the German travel company Dertour. Phuket is going through what some say is a "crisis", certainly a current tourist vacuum. The island province largely relies on income from foreign tourists, but with travel bans over the last 7 months, hotels and other businesses in the tourism industry have been at a loss.
For domestic tourists, Phuket currently offers a serene, peaceful tropical stay where you'll have a lot of the island to yourself. There are plenty of daily flights to the island, but all from domestic locations at this stage – the international terminal remains closed.
Along with being listed as hotels with the lowest price, Phuket also made the top 5 cities with the largest price drop from 2019 to 2020, according to Dertour's 2020 Accommodation Price Index. The company studied hotel prices for 75 popular tourist destinations around the world. Bangkok was just above Phuket at the fourth city with the largest hotel price drop. Bangkok hotel prices dropped by 34.6% while Phuket's hotel prices dropped by 33.8%.
Prices will continue to be low, CEO DER Touristik Central Europe Ingo Burmester says…
"Travel itself will be cheap in 2021… Although it has been a challenging period, we have seen a great deal of interest in domestic travel. We also predict a major catch-up effect for Mediterranean destinations, European trips and long-haul routes in 2021 as soon as travel restrictions are lifted."
Phuket ranks as the destination with the cheapest accommodation prices at an average price of $29 USD, according to the list. Average prices for 3-star hotels are $26 USD and an average of $54 USD for 5-star hotels.
Bangkok followed, ranking fifth on the list of cities with the lowest hotel price at an average of $43 USD per night. 3-star hotels in Bangkok average at $30 per night and 5-star hotels average at $93 USD.
Top 5 destinations with the lowest price in accommodation
Phuket: Average of $29 USD per night
Delhi: Average of $34 USD per night
Kuala Lumpur: Average of $36 USD per night
Bali: Average of $36 USD per night
Bangkok: Average of $43 USD per night
Top 5 destinations with the largest price drop in accommodation
Amsterdam: Dropped by 51.6%
San Francisco: Dropped by 39.2%
Vancouver: Dropped by 37.1%
Bangkok: Dropped by 34.6%
Phuket: Dropped by 33.8%
To read Dertour's full report, click HERE.
Catch up with the latest daily "Thailand News Today" here on The Thaiger.
Keep in contact with The Thaiger by following our
Facebook page
.
Never miss out on future posts by
following The Thaiger
.
Man arrested after allegedly slicing a man's face with sickle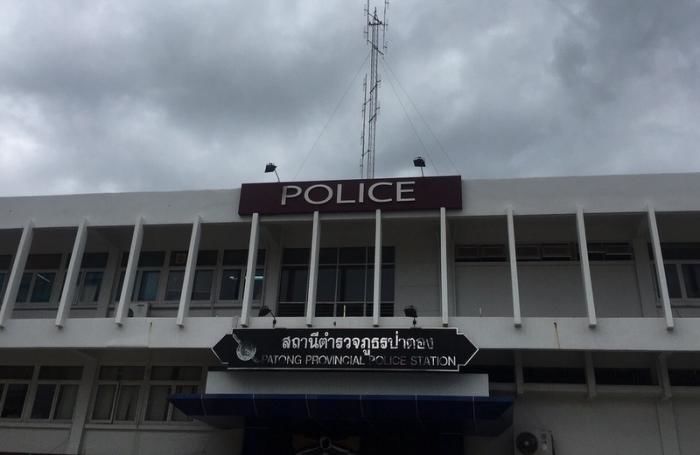 A man was arrested on charges of grievous bodily harm after he allegedly sliced his friend's face with a sickle, causing a gash about 25 centimetres long.
3 men, identified as Saeng, Ta and Rop, had been drinking at a shanty in Phuket's Rassada district where Rop lived. An argument broke out over money. A bank transfer was apparently made, but no one received any money, according to Rop as he related the story to police.
The men didn't come to an agreement and ended up going to bed. Ta stayed awake and slapped Saeng twice while he was falling asleep, Rop says. Saeng then got up, grabbed the sickle and swung the hooked blade across Ta's cheek, Rop says.
Reports don't go into detail about Ta's condition, but photos of the scene by the Phuket News show a significant amount of blood on the concrete floor.
SOURCE: Phuket News
Catch up with the latest daily "Thailand News Today" here on The Thaiger.
Keep in contact with The Thaiger by following our
Facebook page
.
Never miss out on future posts by
following The Thaiger
.