Phuket Gazette Sports: Red Bulls take front row at F1 season opener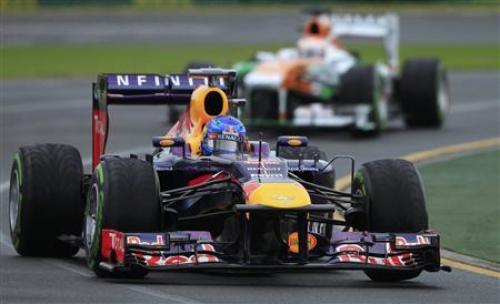 Vettel on pole for Red Bull in Melbourne
Reuters / Phuket Gazette
PHUKET: World champion Sebastian Vettel will start the Formula One season-opener from pole position on an all-Red Bull front row later today (1pm Phuket time) after posting the fastest time in the rain-delayed qualifying for the Australian Grand Prix.
The German, chasing a fourth successive world title this year, swept across the line in one minute 27.407 seconds to clinch his 37th pole as the flag dropped on the session, which was postponed from yesterday because of torrential rain.
"Definitely not easy in these conditions," Vettel said. "I had two good runs and on the drys I got into the groove.
"I am happy… but in a couple of hours the race is coming up, so it's head down again to get on with that."
Australian Mark Webber, still looking for his first home victory at the 12th attempt, also put in a blistering final lap on dry weather tyres to finish second fastest in 1.27.827.
"It's going to be just another grand prix when the helmet's on," he said. "I've got to focus very hard on getting the most out of the strategy. A podium would still be good but the middle step would be sensational."
Lewis Hamilton (1.28.087) confirmed the pace of his car in his first qualifying session for new team Mercedes and was third fastest to take a place on the second row of the grid with Ferrari's Felipe Massa.
"What an incredible job the team has done to come from last year where they were struggling a lot," 2008 world champion Hamilton said. "I said yesterday it was a blessing that they had moved (qualifying) to today, and it really was.
"It's going to be massively challenging with the tyres, I've already had graining," he added. "So that means I'm going to struggle to go as long as them in the first stint."
Brazilian Massa (1.28.493) needed a quick late lap just to get through to the final 10-car shootout but made the most of it to edge his twice world champion team mate Fernando Alonso by just three thousandths of a second.
"Looking at the conditions yesterday and today on the track, rainy and stopping, I think it was positive," Massa, who with Alonso missed out on the final session of qualifying in Australia last year, said in a television interview.
"It would have been very easy to not pass in Q2 (second qualifying session). I will try everything for the podium, to do a good race, a good start of the season."
Spaniard Alonso was fifth ahead of the Mercedes of Nico Rosberg, who topped the timesheets on frequent occasions during the sessions but could not quite get a good flying lap together once most teams had switched to dry weather tyres.
Finn Kimi Raikkonen, who had also flirted with an early exit, will start from the fourth row alongside his Lotus team mate Romain Grosjean.
Paul Di Resta steered his Force India to the ninth quickest time to barge fellow Briton Jenson Button, the winner of three of the last four races at Albert Park, into the bottom spot in the final session, nearly three seconds off the pace.
Lighter rain
The second and third sections of qualifying were postponed from yesterday afternoon because of torrential rain. The race begins at 1pm Phuket time (06:00 GMT).
The rain was much lighter this morning but parts of the track were still wet, causing a few handling problems for the drivers as they started the day on intermediate tyres.
McLaren's gamble on going for a soft tyre suitable for dry conditions backfired when their new Mexican driver Sergio Perez was one of the six drivers to drop out after the first section.
"With hindsight, I think we should have switched back to the intermediate tyre but we didn't," McLaren boss Martin Whitmarsh lamented. "So that was a shame, didn't come off for us. That took us out of Q3 with Sergio."
The team also gambled early on dry weather tyres for Button in the final section of qualifying but the 2009 world champion was simply outpaced by his rivals as the session came to a close.
"When it's dry we don't have the pace," said Button, who must keep the same tyres on the start of his car for the race.
"I'm surprised at how big the gap was because actually it felt like a pretty good lap. I didn't think the tyres would be so grained, the rears are destroyed so it's going to an interesting start let alone the first few laps."
The Australian Grand Prix starts at 1pm on Sunday and will be shown at Phuket's The Green Man (click here for details) in Chalong.
— Phuket Gazette Editors
Keep in contact with The Thaiger by following our
Facebook page
.
Salty tap water and dirty air – Bangkok's environmental woes continue today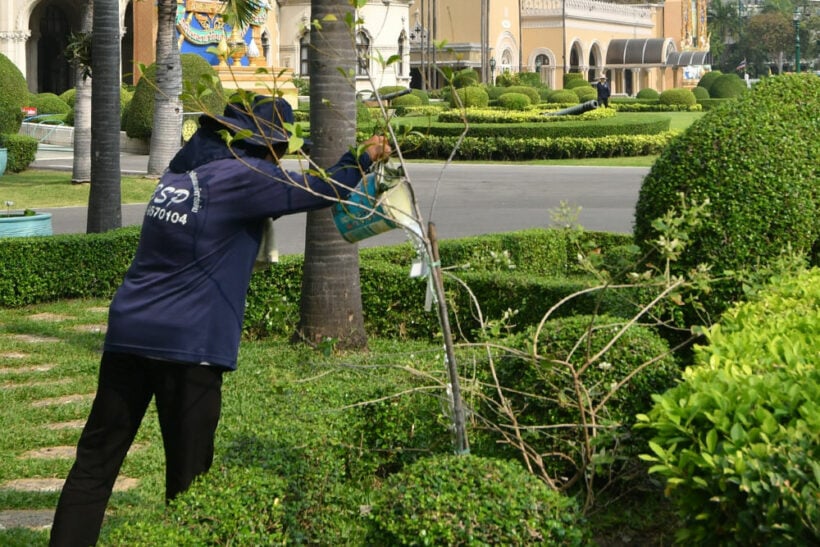 Brackish tap water, with increased salinity caused by seawater back-flowing into the Chao Phraya River, is threatening the gardens in and around the Government House compound. Government House officials are seeking assistance from the Agriculture Department.
Several small tree species – Lamduan, Chor Sumalee, Rachavadi, Nom Maew and Hom Muenlee – are more vulnerable to brackish tap water. The gardens are watered from a supply pumped in from the Chao Phraya.
It's been noted tha the saline level was around 400 milligrams per litre, still within the 1,000 mg/litre standard, but some of the species were already intolerant to the rising salinity.
Officials are seeking advice from the Agriculture Department about long-term measures to replant with species which would be more tolerant to the rising salinity of the water – situation they acknowledge will need to be managed in the short to medium term.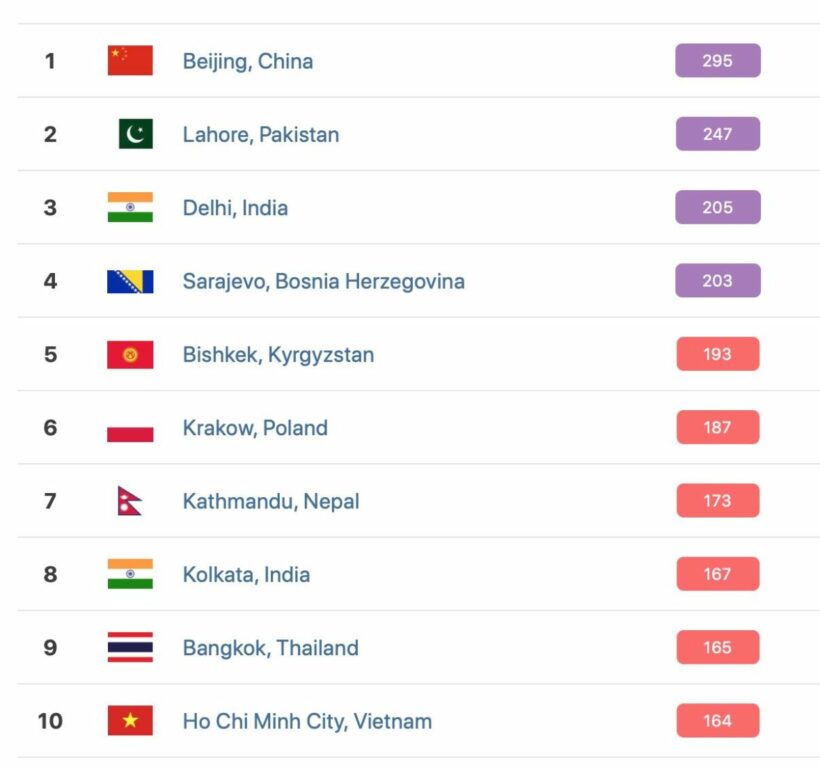 SCREENGRAB: Air Visual
Meanwhile, air around the capital today continues to be universally poor to very poor with readings as high as 187 near Suvarnabhumi Airport. Light airs, dust problems from northern-easter provinces and hot continental air flowing across the capital, continue to haunt Bangkok. Even with many factories closed today, and traffic lighter than weekdays, Bangkok's air has been recorded as the ninth worst city in the world for air pollution.
Right across the city the air quality readings are into the 'unhealthy' zone.
Chiang Mai, Lampang and Central Thailand are fairing no better – all with readings at least 3 times the Thai upper safe limit of 50 microns of 2.5micron particulate per cubic metre. The World Health Organisation sets its limit even lower at 25.
Pattaya has air quality readings today of 162, whilst even Phuket, in the south, is registering readings between 100 and 145 with reduced visibility today.
SOURCE: Thai PBS World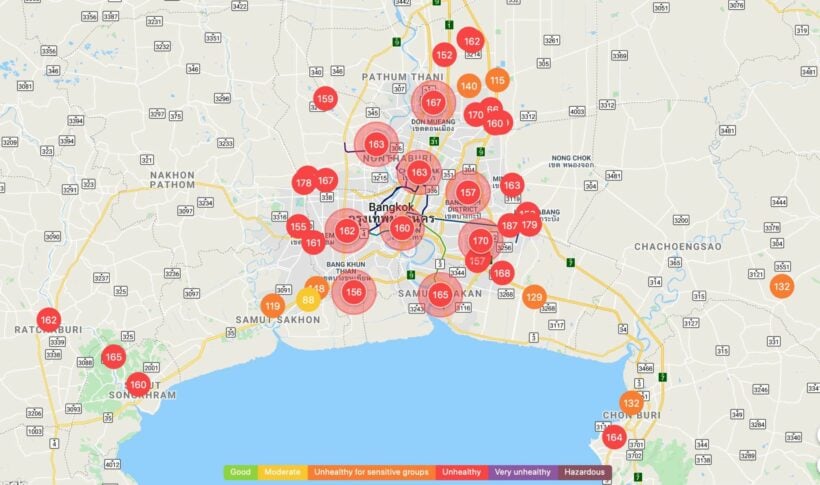 Keep in contact with The Thaiger by following our
Facebook page
.
Three massive condo developments along Phuket's up-market Layan Beach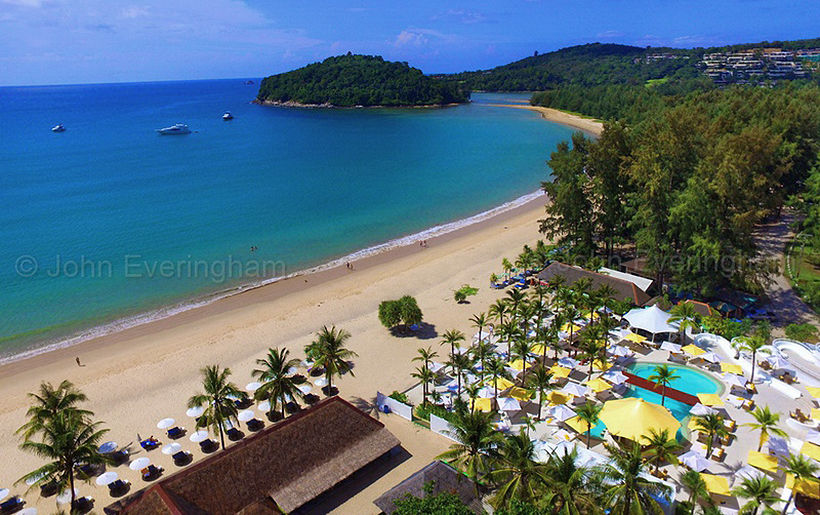 by Bill Barnett – c9hotelworks.com
Two new condo developments are going ahead in the Layan Beach area of Phuket's up-market west-coast beach strip. And there's another one underway next to the Dream Beach Club at the northern end of the Layan beach strip. All in all, another 1,200+ keys added to the available rooms along the Bang Tao/Layan Beach area.
On the northern side of Bangtao Beach, next to Maan Tawan and nearby Banyan Tree Phuket is the upcoming Sunshine Beach development. With a plan for 771 hotel and residences units on 12.6 rai, the high-density project is targeting Mainland Chinese buyers with pricing points reportedly starting from 4 million baht. Construction is expected to start in June of this year and complete in 2022.
From our discussion with sales staff the developer has claimed they have reached an agreement with the government for beach fronting facilities in the National Park strip in front of the project.
While in Layan next to Lotus Gardens is the upcoming 400 unit Layan Green Park. Pricing points run from 2.5 million baht. Unit configurations will range from studio, to one, two and three bedrooms. Guaranteed returns of 10% for a period of 10 years are being promoted.
Phuket's Layan area is seeing a surge in new real estate led projects and rising land values. At the same time as these two projects are underway, next to the Dream Beach is an oceanfront luxury project promoting sales of Grand Beach Villa and Ocean View Suites tagged as 'N5'. The developer of the project is VIP Thailand who have another project in Rawai.
Based on our research the primary source market tragets of these three projects are mainland Chinese and Russian buyers. Local concerns in the Cherngtalay area over mounting traffic, water shortages and strain on municipal infrastructure are becoming issues.
Traffic in and around the central Cherngtalay shopping district is becoming increasingly clogged with little hope for respite other than improved traffic management.
SOURCE: C9Hotelworks.com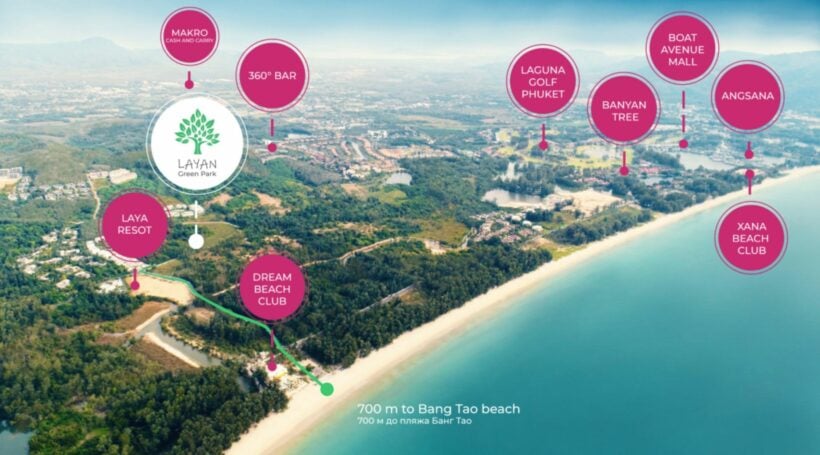 Keep in contact with The Thaiger by following our
Facebook page
.
Minor International battles Marriott over popular Phuket hotel property in court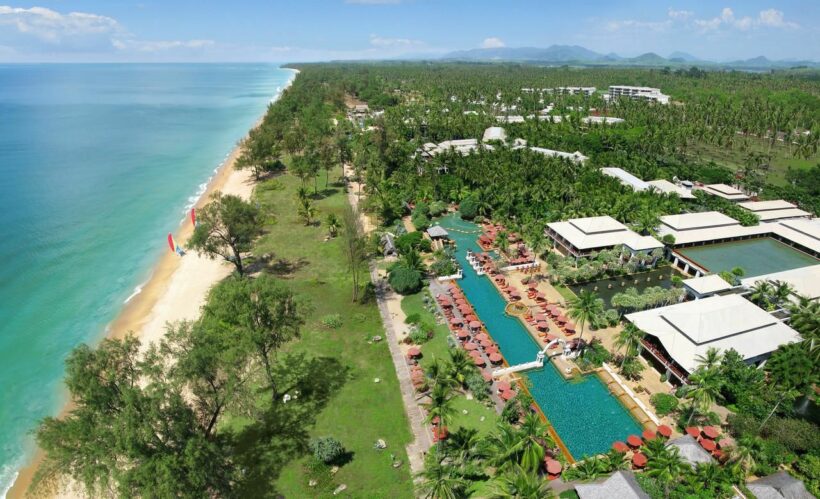 Marriott International, the American international hotel company, has failed in its bid to secure an injunction in a Thai court to stop a legal claim filed by the Minor International group.
Minor International (MINT) says that its subsidiary MI Squared Ltd had filed a legal claim in a Thai court against Marriott International and the Thai subsidiary Luxury Hotels & Resorts (Thailand) for 570,605,134 baht. The claim is linked to the JW Marriott Phuket Resort & Spa in Mai Khao, which is owned by MINT. In the statement, MINT accuses Marriott of "acting in bad faith" alleging "serious and repeated breaches of Thai law", according to ttrweekly.com.
The complaint from MINT alleges that Marriott was openly competing with the JW Marriott Phuket through its operation of competing Marriott-branded hotels in Phuket. Claims are made that the Mai Khao hotel uses its facilities to promote Marriott's other competing Marriott hotels. Another of the complaints accuses Marriott of forcing the JW Marriott Phuket to accept high volumes of low-margin business through the Marriott's loyalty program.
According to the ttrweekly.com article, the legal dispute includes allegations that Marriott "misappropriated MINT's confidential and proprietary information" to promote Marriott's competing hotels and unlawfully benefit Marriott's own interests at the expense of MINT. The JW Marriott Phuket remains under Marriott's management for now but "the operating performance has been poor".
MINT told shareholders total hotel revenue decreased from 920 million in 2013 to 876 million baht last year. Over the same period, gross operating profit fell from 409 million to 379 million baht.
(It should be noted that many of Phuket's high-end hotels have suffered a similar revenue fall due to increased competition, competitive pressures pushing room rates down and, especially over the past 12 months, a shift in tourist demographics.)
Marriott International issued a statement to ttrweekly.com following a request for comment.
"Marriott International acknowledges that a subsidiary of Minor International has initiated legal action in Thailand against Marriott and one of its Thai subsidiaries. Marriott reiterates that such claim is meritless and should be heard in confidential arbitration.
Our Thai subsidiary recently secured an interim injunction in arbitral proceedings restraining MINT's subsidiary from pursuing the action in Thailand. We subsequently agreed with MINT to suspend the Thai proceedings pending the final outcome of our ongoing arbitration. As we intend to comply with our contractual confidentiality obligations, we are unable to provide more information at this time.
We consider JW Marriott Phuket Resort & Spa has performed well compared to the market. The dispute will have no impact on operations at the hotel, which continues to offer guests with world-class service and accommodations, a beachfront location and eleven culinary options."
SOURCE: ttrweekly.com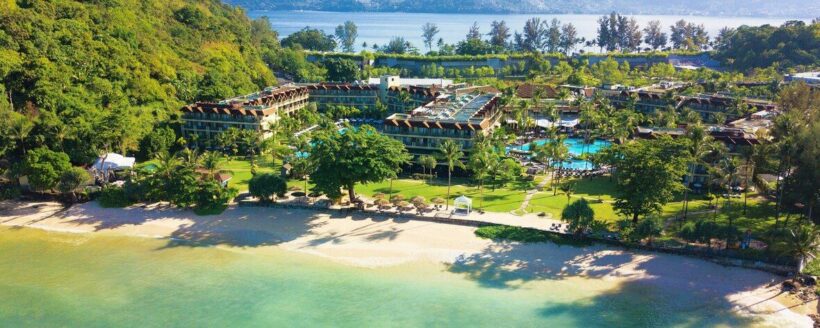 PHOTO: marriott.com
Keep in contact with The Thaiger by following our
Facebook page
.