Phuket Gazette World News: Kenyan president and war crimes; Damascus under siege; 17 jailed for cop bomb plot; Budapest up in arms; Somali rape reporter freed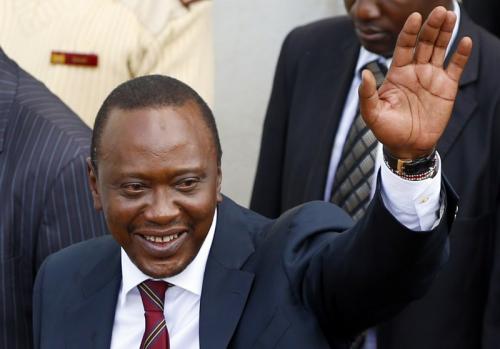 PHUKET MEDIA WATCH
– World news compiled by Gazette editors for Phuket's international community
Kenyatta lawyers push international court to drop case
Reuters / Phuket Gazette
PHUKET: Lawyers for Kenya's president-elect, Uhuru Kenyatta, will push the International Criminal Court today to drop charges against him after the case against his co-accused collapsed.
The case against Kenyatta, on charges of crimes against humanity over bloodshed in the aftermath of Kenya's 2007 election, has been further complicated by his victory in a ballot which was held largely peacefully this month.
The case is also an important test for the court, which was set up more than a decade ago as the world's first permanent war crimes tribunal but has only secured one conviction.
Kenyatta and former civil servant Francis Muthaura were among six suspects initially charged by ICC prosecutors with orchestrating violence after the 2007 election, when some 1,200 people were killed.
But last Monday, prosecutor Fatou Bensouda said the decision of a key witness to recant testimony forced her to drop charges against Muthaura. She said that would have no impact on Kenyatta's case, which was closely linked.
The status conference, or pre-trial hearing, was called by the judges in The Hague at 3pm (9pm Phuket time) to look at the consequences of the withdrawal of the charges against Muthaura for the case against Kenyatta.
Kenyatta's lawyers will call for the case against him to be dropped or at least postponed, said one lawyer who was familiar with the case but did not want to be quoted by name.
"The collapse of the case against Muthaura has a profound impact on the viability of the prosecution's case against Kenyatta," the lawyer said.
The prosecutions are based on a lot of the same evidence. Both men have always denied any wrongdoing.
Kenyatta, elected by a slim margin, faces a big challenge in bridging Kenya's ethnic divides even without the court case. His opponent, defeated presidential contender Raila Odinga, challenged the election result in court on Saturday, alleging widespread ballot rigging.
Prosecutors could be expected to resist any moves to drop the charges against Kenyatta, which were brought by Bensouda's predecessor.
However, lawyers for Kenyatta could also say the prosecution case has changed so much in the past year that the case should be moved back to the pre-trial "confirmation of charges" phase.
The prosecution would then have to show again that it has a strong enough case to go to trial.
Kenyatta's lawyers have argued that so much information was disclosed by prosecutors at the last minute that the case is fundamentally different from the one judges initially approved.
Judges have not yet formally dropped the case against Muthaura.
Syria rebels seize security compound near Golan
Reuters / Phuket Gazette
PHUKET: Syrian rebels seized a Syrian military intelligence compound in the southern Hauran Plain near the Israeli-occupied Golan Heights yesterday, stepping up attacks in the strategic region which stretches to the outskirts of the capital Damascus, rebel commanders said.
The frontier, quiet since Israel and Syria agreed on a U.S.-brokered ceasefire in 1974, has turned volatile in recent weeks, after opposition brigades stepped up attacks against army and intelligence compounds dotting the agricultural plain stretching from the border with Jordan to the Damascus outskirts.
At least 70,000 people have been killed since a peaceful protest movement led by Syria's Sunni Muslim majority broke out two years ago against four decades of family rule by President Bashar al-Assad, who belongs to the minority Alawite sect, and his father, the late Hafez al-Assad.
The demonstrations were met by bullets, eventually sparking a Sunni backlash and a mostly Islamist armed insurgency increasingly spearheaded by the al Qaeda linked al-Nusra Front, creating a political dilemma for regional and Western powers and deepening the Shi'ite-Sunni divide in the Middle East.
The compound near the Yarmouk River in the town of Shagara, 8 km (5 miles) from a ceasefire line with Israel, fell after a five-day siege, the sources said.
"We have completely taken over this security compound this morning. It's a command centre for the shabbiha (pro-Assad militia). They retreated after strong blows dealt to them during a five day siege," said Abu Iyas al-Haurani, a member of the Yarmouk Martyrs Brigade.
"Anyone who was arrested in the Yarmouk Valley was sent to this military intelligence headquarters to be tortured and it has a strategic importance. With its fall we have completed our liberation of the town of Shagara," he added.
Another rebel commander said the aim of the attacks in western Hauran is to open a new front in the fight against Assad that would stretch troops deployed in Hauran, cradle of the two-year revolt, and to secure a supply route to the western and southern approaches of Damascus, where battles have been fierce.
Assad's elite forces, however, remain dug in at Qasioun Mountain in the centre of Damascus.
Damascus under siege

Battles broke out yesterday in the southern Damascus suburb of Sbeineh, a residential area on the main road leading south into Hauran after opposition fighters stormed a compound housing shabbiha militia, activists in the capital said.
Dozens of people were killed and wounded in the fighting and in ensuing army shelling in the town, they added.
Rebel brigades overran last week a missile squadron in Khan Sheihoun, a town southwest of Damascus on the road to the Golan, and seized an army barracks.
Further south, in the old centre of Deraa, Hauran's main city, situated at the border with Jordan, rebels were trying to take the Omari mosque, scene of killings at a pro-democracy demonstration on March 18, 2011 that sparked the national revolt, but security forces positioned at a nearby post office were fighting back, activist Thaer al-Abdallah said from Deraa.
British Foreign Secretary William Hague interview with Sky News, said yesterday that Britain has "taken no decision at the moment to send arms to anybody in Syria".
He said sending arms to the opposition had to be weighed against the risks of "international terrorism and extremism taking root in Syria, the risks of Lebanon, Iraq, Jordan being destabilised, and the risks of extreme humanitarian distress."
Bahrain court jails 17 for trying to kill policemen
Reuters / Phuket Gazette
PHUKET: A Bahrain court sentenced 17 people to 15 years in prison yesterday after convicting them of trying to kill four policemen with a homemade bomb during political unrest last year.
The attackers planted the bomb in a roadblock formed of tyres, palm tree trunks and garbage bins, and detonated it when a police patrol approached, state news agency BNA quoted prosecutor Mamdouh Al-Maawda as saying.
The four policemen were seriously hurt and burned during the attack in April 2012, BNA reported.
The tiny island kingdom has been plagued by sometimes violent street protests since pro-democracy protests led by its Shi'ite Muslim majority erupted in early 2011.
Also yesterday, a group of people attacked a diesel tanker with Molotov cocktails, BNA quote
— Phuket Gazette Editors

Join the conversation and have your say on Thailand news published on The Thaiger.
Thaiger Talk is our new Thaiger Community where you can join the discussion on everything happening in Thailand right now.
Please note that articles are not posted to the forum instantly and can take up to 20 min before being visible. Click for more information and the Thaiger Talk Guidelines.