Phuket
New police station near airport, more officers slated for Phuket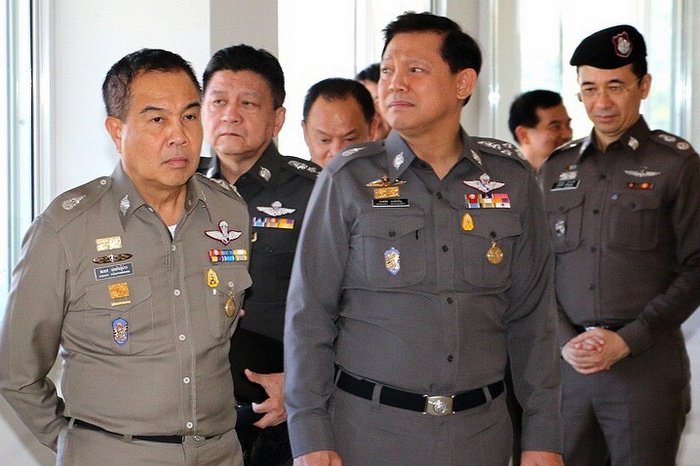 PHUKET: National police chief Somyot Pumpanmuang has backed a new police station to be set up near Phuket International Airport, Region 8 Police Commander Decha Budnampeth told the Phuket Gazette today.
Maj Gen Decha yesterday personally escorted Gen Somyot, who arrived in Phuket on Friday, to inspect several potential sites near the airport for the new police station.
"I proposed that we should have a station there, and Gen Somyot agreed," he told the Gazette.
"This is one of my top priorities, as the police station at Tah Chat Chai [near the bridge off Phuket] is too far from the airport."
Gen Decha also confirmed that his request for more manpower on the island had been approved.
"We will have 200 officers assigned to bolster police presence on the island before the end of the year," he said. "The officers will be assigned from the 600 cadets who are currently in training and will graduate later this year."
Gen Decha also confirmed that Gen Somyot had agreed that a new high-tech traffic-control system be introduced to alleviate the island's ever-worsening traffic congestion.
"Gen Somyot agreed with the idea, and so I have ordered my deputies to start collecting data and reports so we can start drawing up plans for the best type of system to help reduce traffic problems," he said.
The pro-active support from Gen Somyot follows Gen Decha reporting on Friday at a top-level meeting in Phuket Town that Region 8 Police were short on resources.
"We are still short on manpower, vehicles and have limited budgets in many areas," Gen Decha told Gen Somyot at the meeting, held at the Royal Phuket City Hotel.
"We simply do not have the resources to cope with high-profile cases, such as the murder of two English tourists on Koh Tao [story here] and the drownings of two tourists in a boating ferry accident in Ao Nang, Krabi [story here]."
Among his requests plied at the meeting, Gen Decha also asked for funds to set up more police stations in tourist hot-spots, including on Phi Phi Island and at Ao Nang, on the Krabi mainland.
Gen Decha also reported the rise of drug-related cases in his ambit and the rising incidence of human trafficking of Rohingya through the region.
Royal Thai Police deputy commissioner Gen Pongpat Pongcharoen and the superintendents from all seven provinces in the region were present at Friday's meeting.
In total, more than 200 top-ranking police officers from throughout Region 8 were present, including the heads of all regional police departments, such as the Marine Police, Highway Police and Immigration.
Gen Somyot used the gathering to lay down his top priorities for the officers.
"This is the first region I have visited since I took this position," he said, "and I would like to make clear to all officers in Region 8 our main priorities as follows: protect and maintain our Royal institute; maintain our internal security and solve the problem of unrest in the southern region; protect and prevent corruption by government officers in the region; fight the problem of narcotics; solve traffic problems with the new technology systems; and upgrade the police in preparation for the AEC."
Gen Somyot noted that Region 8 had recorded among the highest number of arrests in the country for illegal weapons, human trafficking and prostitution.
"We must reduce the number of murders and attempted murders, which have risen by 20 per cent compared with last year," he said.
Gen Somyot also stressed the need to maintain tourists' safety.
"We have to coordinate with relevant departments and delineate the duties and responsibilities of each unit clearly," he said.
"If any tourist is involved in a case with the police, we must contact their embassy or consular representative immediately, regardless of whether the foreigner is a suspect or a victim."
Gen Somyot closed the meeting reinforcing the government's stance on human trafficking.
"We consider this problem as urgent. We have to eradicate it from Thailand as soon as possible," he said.
"We have to put it in concrete facts and show the United States what we are doing to improve our rating on the Trafficking in Persons watchlist [story here].
"However, this problem is not for the police to fight alone. The military and local administrations must do their duty as well.
"There are no excuses for police stations where other agencies discover human trafficking in their areas."
— Kritsada Mueanhawong