Phuket
New Phuket bridge opens to traffic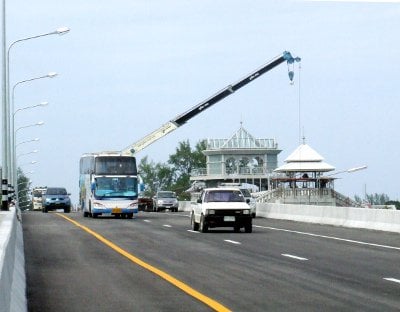 PHUKET: The new Thao Srisoonthorn Bridge, unofficially called "Sarasin Bridge 2", opened to traffic heading northbound off Phuket this morning.
The first vehicle to trundle onto the 300-million-baht span was a van carrying Phuket Provincial Highways Office Chief Arun Sanae and his immediate superior, Sakchai Suwanprasert, head of the regional Highways Office.
However, Mr Arun warned motorists that the left lane halfway across the bridge will remain closed so construction of the rotunda on the original Sarasin Bridge can continue.
Construction of the tourist attraction on the old Sarasin Bridge is expected to be complete by the end of this month, he said.
The small road that has been directing traffic northbound onto the Thao Thepkrsattri Bridge while the new bridge was being built will be closed permanently, Mr Arun added.
Project contractor Italian-Thai Development Co will turn over responsibility for the project to the Phuket Highways Office by the end of this month.
In doing so the Phuket Highways Office will inherit one final assignment in completing the project: finishing the road under the Phuket side of the bridges so that villagers living at the northern tip of the island can head south without having to leave the island on one bridge and return on another.
One landowner has refused to vacate his land, and instead let an elderly couple remain living on a plot that stands directly where the road is to go.
As a temporary measure, Italian-Thai made a detour around the house.
"We will ask the landowner to ask the couple to move out of the house and we will complete the road," said Mr Arun.
He explained that the land was originally expropriated – and paid for – by the government years ago when building the Thao Thepkrasattri Bridge, which heads southbound onto the island.
"The house will be demolished as the land doesn't belong to him. He needs to vacate the land so we can complete this project," chief Arun said.
— Atchaa Khamlo