Fresh push to give Phuket beaches lifeguard boost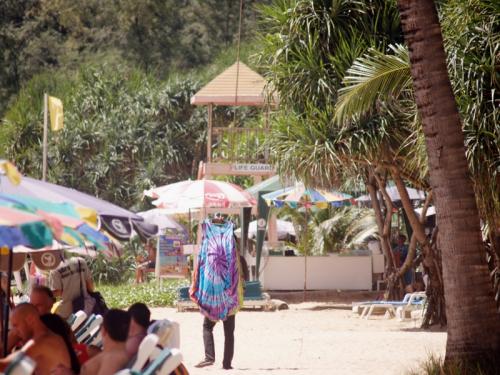 PHUKET: The Phuket Provincial Administrative Organization (PPAO) is pushing to get extra lifeguard watchtowers set up at five tourist-popular beaches on Phuket's west coast.

The move comes as the contract with the Phuket Lifeguard Club expires at the end of this month, coinciding with the regular arrival of the annual rainy season, when the island's beaches claim tourists' lives each year.

"With everyone's safety as our priority, we are planning to increase the number of lifeguard stations from 33 last year to 38 stations this year," said Kanyarat Senrung, an officer at the PPAO's Tourism Department.

"The five additional stations will be at Kata, Kata Noi, Karon, Patong and Kamala beaches," Ms Kanyarat said.

"Although the terms of the contract to be offered to the Phuket Lifeguard Club have yet to be finalized, at this stage it looks like the budget offered will be the same as last year," she added.

Phuket Lifeguard Club President Prathaiyut "Nut" Chuayuan told the Phuket Gazette today that he had yet to hear of any new offer from the PPAO for his members to continue providing their essential life-saving service.

He also said the five new lifeguard stations was news to him, but he welcomed the move.

"It's a good thing. It would make the beaches safer for tourists," he said.

Mr Prathaiyut made no commitments as to whether or not his organization would agree to continue providing lifeguards if the club were presented with the same budget as last year to provide the extra lifeguards stations – and to pay for the extra lifeguards on duty.

"I would have to talk to our members first and see the conditions offered, but I personally would like to come to some arrangement to make this happen," he said.

Last year, the Phuket Lifeguard Club initially declined to renew their contract with the PPAO, as they claimed the thankless job paid little and offered very little in providing the equipment needed or any professional development to keep lifeguards on the beaches (story here).

However, the club finally agreed to provide the lifeguard service. "I agreed to sign the new contract with the OrBorJor [PPAO] because nobody else wants to do it. This is hard work with no profit," Mr Prathaiyut said.

"Regardless, as I have said before, public safety is our priority. So we have agreed to sign the new contract," he added.

Highlighting the danger of Phuket's surf during the southwest monsoon, two tourists drowned while the lifeguards were not at their posts (story here).

Ms Kanyarat today highlighted the critical service the lifeguards provide.

"From May 28, 2012 through April 27, 2013, the Phuket lifeguards rescued 882 people – that is, 156 Thais and 726 foreigners – from the surf," she said.

However, despite the good work of the lifeguards, 14 people drowned during the period.

"Nine people drowned while lifeguards were on duty [from 9am to 7pm] and five people drowned outside the duty hours," she said.

Regardless, Ms Kanyarat defended the lifeguards.

"They do their job. Those who drowned did so because of a pre-existing medical condition. Some of them were also drunk," she said.

Ms Kanyarat urged everyone to observe the surf warning flags.

'Red flags mean 'No Swimming'. They are posted to inform people of dangerous currents, submerged rocks and other threats that lurk offshore," she said.

"A yellow flag indicates the area is not supervised by lifeguards, but one may swim with caution, while flags that are yellow and red tell swimmers that lifeguards are on duty and keeping watch on the area between the yellow-red flags," Ms Kanyarat explained.

"People should only swim when the yellow-red flags are displayed, and they swim only between those flags," she said.
— Namsai Wongsaeree
Keep in contact with The Thaiger by following our Facebook page.
Never miss out on future posts by following The Thaiger.
Police say Phuket school won't be charged for employing foreign teachers without a work permit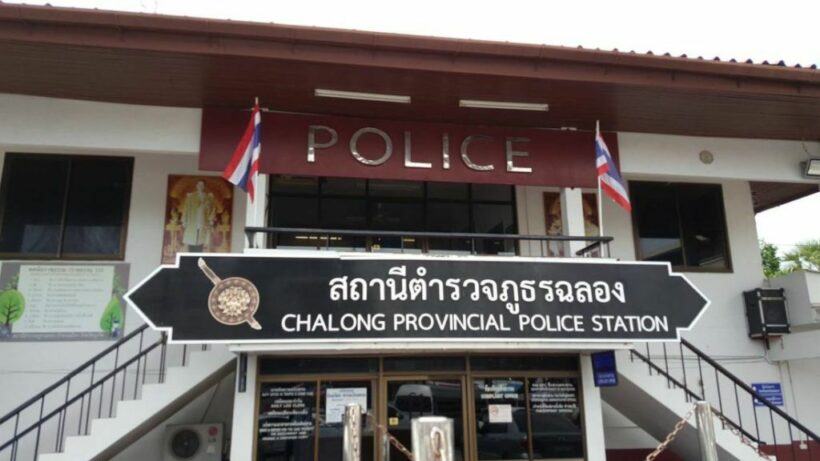 An international school in Phuket is not facing charges for employing foreign teachers without a work permit, police told the Phuket News. Back in November, 2 British nationals were arrested at the Palm House International School in Rawai in a raid by Phuket Immigration officers, acting on a tip that teachers were working at the school without a work permit.
The case was handed over to the Chalong Police. The department was also requested to investigate the school for suspected illegal hiring practices. When pressed by Phuket News reporters, the Chalong Police Chief Sarawut Chuprasit said the school officials are not facing any charges for employing the teachers illegally, without a work permit, and referred reporters to the provincial prosecutor.
"I have no reason to press any charge against the school at all. It is not right to accuse the school."
Many schools in Thailand, especially international schools, obtain work permits for foreign teachers and even pay the fees. It's also fairly common for foreign teachers to work without the proper documents, especially during the pandemic where travel restrictions make border runs nearly impossible.
Phuket News say police will not release the names of the 2 British teachers and will not give any additional information. They add that the provincial prosecutor's office will also not release information without a police case number or suspects' names. In a previous report, Phuket Immigration Deputy Chief also declined to identify the British nationals by name or age.
"Their visa status does not allow them to work or perform any form of business. They were arrested as they are suspected of working without a work permit."
SOURCE: Phuket News
Catch up with the latest daily "Thailand News Today" here on The Thaiger.
Keep in contact with The Thaiger by following our Facebook page.
Never miss out on future posts by following The Thaiger.
Phuket health chief urges "red zone" travellers to abide by quarantine measures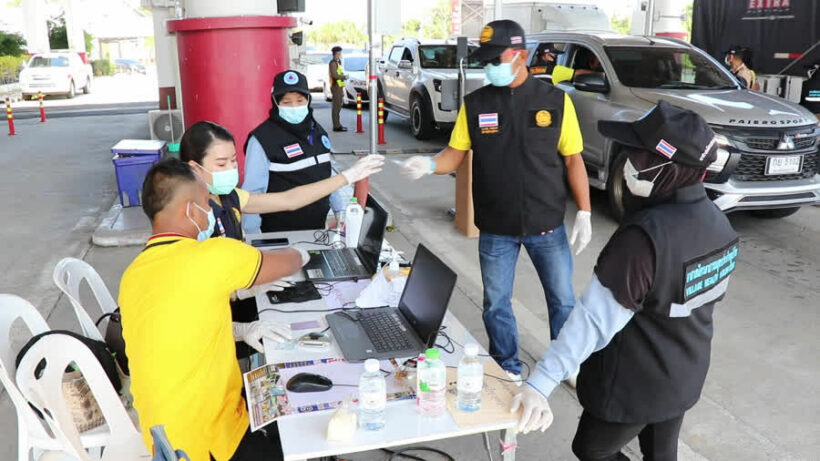 With Phuket's new disease control measures requiring those travelling from high risk areas to quarantine, the province's public health chief is now saying those at alternative state quarantine hotels won't be locked up in their rooms throughout their 14 day stay in isolation. He says guests can wander through certain areas of the hotel to have meals and do other activities.
Those travelling from "red zone" provinces are required to self-quarantine at a hotel or at their home for 14 days. People from areas classified as the "highest risk," including Samut Sakhon, Chonburi, Rayong, Chanthaburi and Trat, must quarantine and undergo a Covid-19 swab test.
The public health chief Thanit Sermkaew says there will be harsh penalties for anyone who violates the new measures and urges travellers to stay at their quarantine location, home or hotel, for 14 days. People who violate the order can be punished under the Disease Control Act, either under Section 51, which carries a fine up to 20,000 baht, or under Section 52, which carries up to a year in jail and a fine up to 100,000 baht.
"It would be great if visitors from the 'red zone' areas stay in their hotels, so we are asking for their cooperation. They do not need to stay only in their room. They are able to do activities within the hotel, such as having meals, swimming, yoga and other activities… Please do not go outside the hotel. That would be a good preventative measure in Phuket province."
Phuket Vice Governor Pichet Panaphong says hotels should "request" that their guests stay inside the hotel.
"Phuket officials have asked for the cooperation from operators to record the travel moments of guests before they arrived at the hotel and to request that their guests stay within the hotel area only, not to go outside of the hotel area."
People who completed quarantine in Bangkok and tested negative for Covid-19 do not need to quarantine in Phuket as long as they travel directly to the island immediately after being released.
SOURCE: Phuket News
Keep in contact with The Thaiger by following our Facebook page.
Never miss out on future posts by following The Thaiger.
Screening measures to enter Phuket, travellers from "red zone" provinces to self-quarantine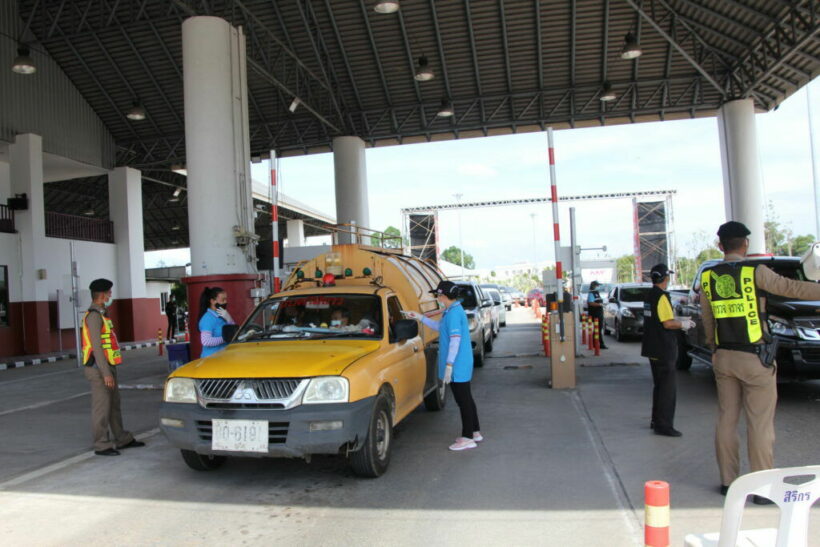 Phuket authorities have announced screening measures for those entering the island province, which includes requiring those travelling from 20 "red zone" provinces to self-quarantine for 14 days. Those travelling from "hotspot" and "high risk" areas are required to do a swab test. While measures were put into effect over the weekend, some people say nothing has changed.
The "required" self-quarantine, which is apparently monitored by the Mor Chana tracking app, might be more of a guideline than a requirement. Arrivees on flights from Bangkok to Phuket Sunday morning, just 24 hours after the new screening measures were imposed, were not required to self-quarantine.
The minimum required for all individuals travelling to Phuket is to 1) download the "Mor Chana" app on their smartphones and display them when the officer calls for inspection, and 2) register online through the website www.gophuget.com to inform officials of the travel details to Phuket.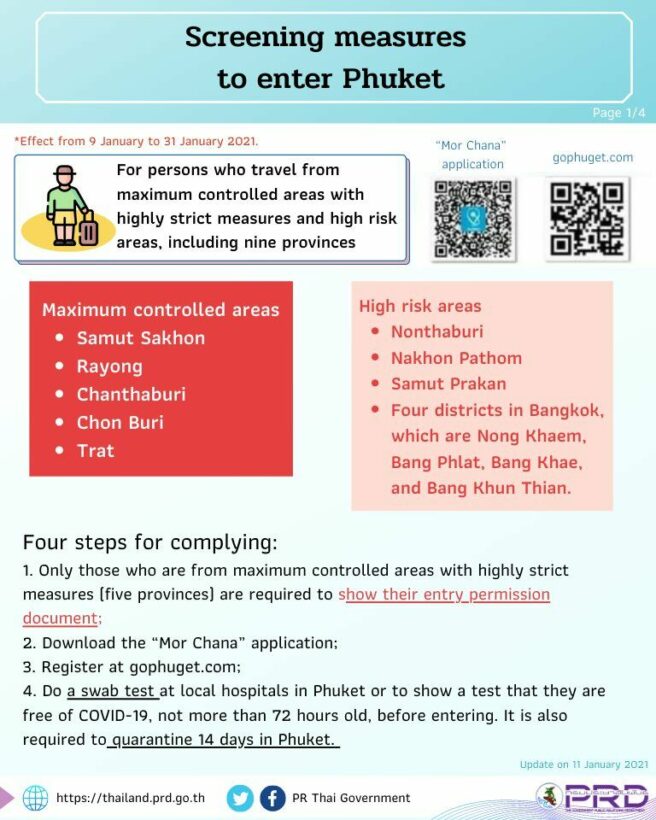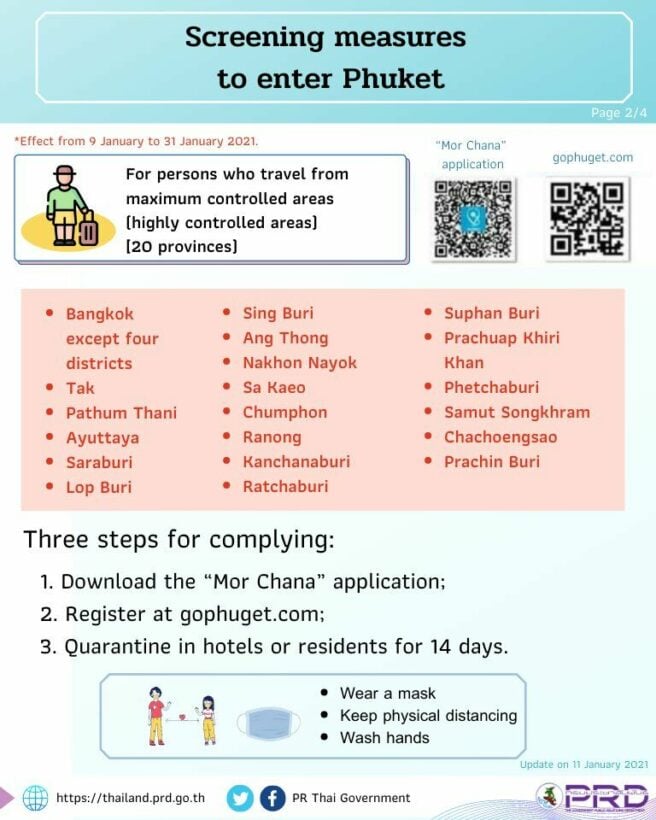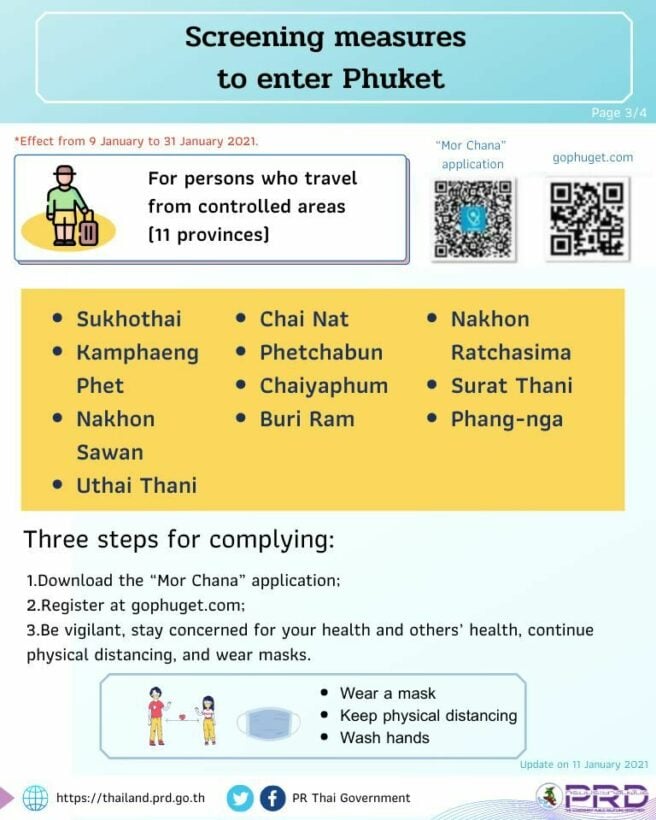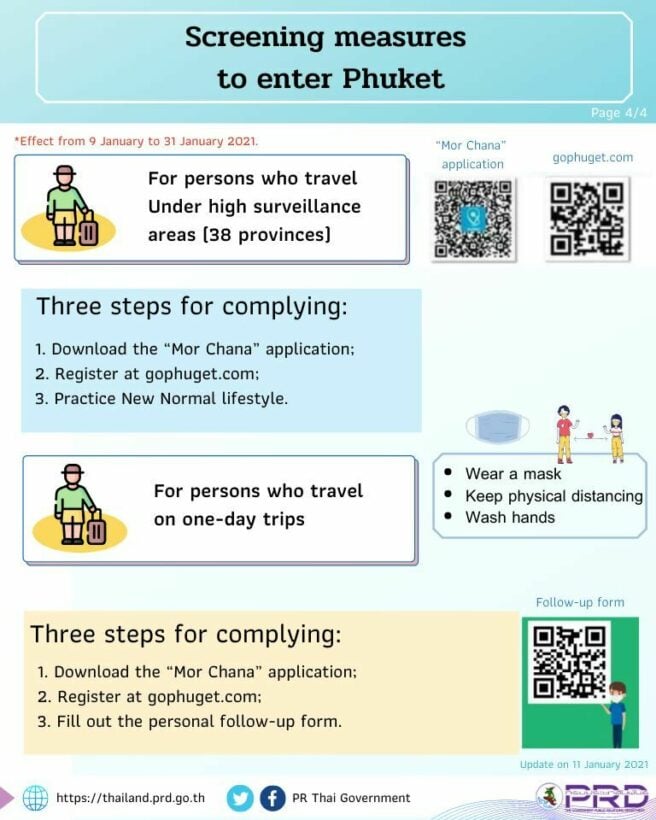 Catch up with the latest daily "Thailand News Today" here on The Thaiger.
Keep in contact with The Thaiger by following our Facebook page.
Never miss out on future posts by following The Thaiger.