Phuket King's Cup Regatta – Day Two. Perfect sailing weather.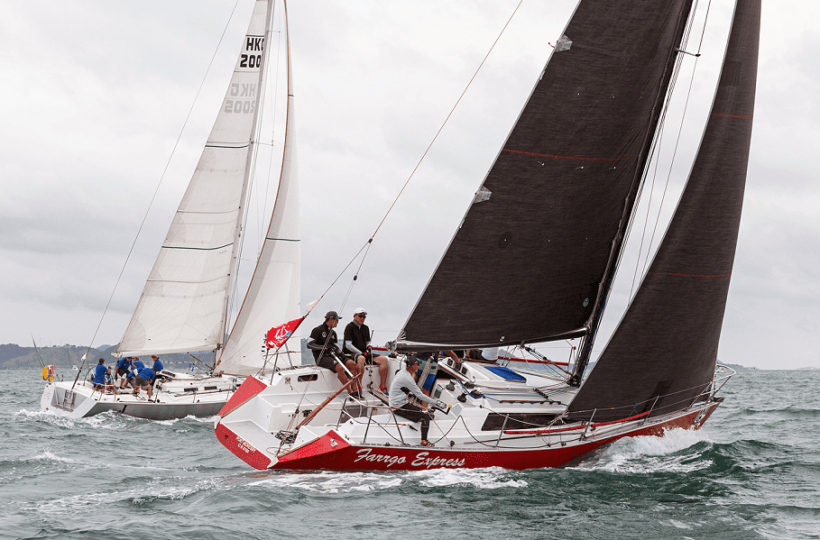 Day Two kicked off as strongly as yesterday had ended with consistent, shifting and challenging winds.
Race Director Simon James set the two courses around the southern end of the island. The fastest boats finished in around two and a half hours, up to five hours for the slower vessels.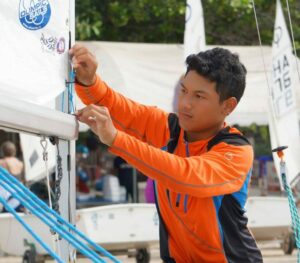 "We had gusts up to 18 knots and an average wind speed of 12 knots. A number of boats are still getting sails repaired following strong winds yesterday, but should all be back for tomorrow. Cruising class is subject to a performance handicap; 'Uminoko' dominated but the grouping is brought into tight contention because of the back-calculated handicaps. A very competitive day in good winds".
Consolidation continued across several classes with Kevin Whitcraft's Thai team THA72 dominating all three of their IRC0 class races again following modifications to their jib setup which has been highly successful in these conditions so far. Japanese team Karasu skippered by Yasuo Nanamori continued their first day's good form to win again today in IRC1. They remain undefeated in any race heading into the morning of day three (although took one disqualification yesterday after a protest hearings).
Following yesterday's faultless performance, Team Kata Rocks could only manage second behind rivals Big Boys Racing (Farrgo Express), a Chinese entry skippered by Shen Sheng. Kata Rocks Skipper Peter Dyer notes, "We have the lightest boat in the class and are hoping for some softer air tomorrow. Monday was amazing, we kept it tight and ran a conservative race as others were struggling with spinnakers and moving from side to side, so to get three bullets yesterday was incredible. It's all about teamwork rather than the boat on a day like today, and keeping it consistent and taking advantage of opportunities. We will be ahead tomorrow in winds we expect to be lighter and more favorable. Great week so far".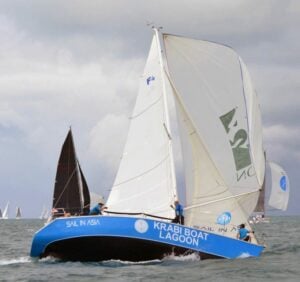 PHOTO: Gigi
Skipper of Pine Pacific, Ithinai Yingsiri competing in Premier class spoke of the Phuket King's Cup and more widely on regattas in Asia: "We raced a J80 at the China Cup last October (2016), where you see that about 80-85% of boats raced and sailors crewing them are Chinese. In the PKCR (Phuket King's Cup Regatta) or other regattas in Thailand, less than 5% are Thai sailors. So we should support and encourage Thai people to experience sailing and racing at any opportunity".
He concludes, "Thailand has many good and outstanding sailors in small boats but it can be tough for them to progress into bigger keelboats. The opportunity is rare to be fair, but we should try harder. Sailing and racing in any regatta is a very good sport with which to appreciate nature and a test one's determination and team effort, especially in an important event such as PKCR with its long history".
A hard work day for the keelboat crews really suited the catamarans. Voodoo skippered by Hans Rahmann was quickest of the 850's, British team Thor won again and Mojo Multihull Solutions (skippered by Rick Fielding) brought home the Cruising multihulls. It was a day of sunshine, thrills and some spills – and the fond hope that nothing changes wind-wise for tomorrow.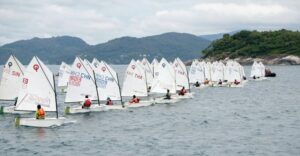 The Dinghy class racing is sponsored by the Government Lottery Office, with winners as follows: Suthon Yampinid (Laser 4.7), Nattapong Yoang-ngam (Topper), Jedtavee Yongyuennarn (Optimist), Keerati Bualong (Laser Standard), Manat Phothonh (Laser Radial), and Adisak Kingkaew & Kanchai Wongpaduang (420).
Keep in contact with The Thaiger by following our
Facebook page
.
Never miss out on future posts by
following The Thaiger
.
Sir Sean Connery dies at 90 years of age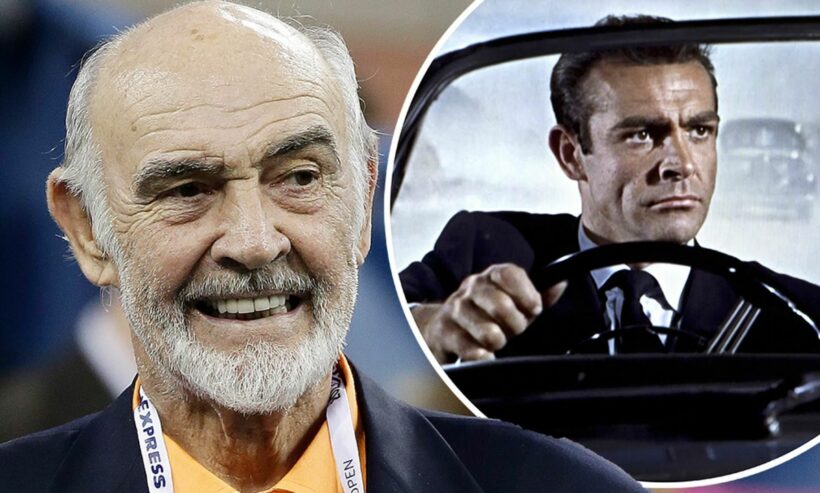 Sir Sean Connery has died at the age of 90. The Scottish actor was best known for his portrayal of British spy 007 "Bond… James Bond", doing his first Bond movie in 1962 in "Dr. No". According to his son, Jason Connery, he died peacefully in his sleep in the Bahamas.
He was knighted by the Queen at Holyrood Palace in 2000. He also received the Kennedy Centre Honour, and was knighted by Queen Elizabeth II. Scottish newspaper The Sunday Herald called him "The Greatest Living Scot" while People Magazine didn't just vote him "Sexiest Man Alive" in 1989 but "Sexiest Man of the Century" a decade later.
He was the first to bring the role of James Bond to the big screen , appearing in 7 of the Bond franchise films, and the first of 7 actors that have played the role. Sir Sean was often voted the best actor to have played 007 in the long-running franchise in many polls.
His acting career spanned 5 decades and he eventually won an Oscar in 1988 playing an Irish cop in "The Untouchables".
Sir Sean's other films included The Hunt for Red October, Highlander (a Thaiger favourite), Entrapment, Indiana Jones and the Last Crusade and The Rock.
Jason Connery said many of his family were with him and around when he died peacefully in his sleep.
"We are all working at understanding this huge event as it only happened so recently, even though my dad has been unwell for some time."
"A sad day for all who knew and loved my dad and a sad loss for all people around the world who enjoyed the wonderful gift he had as an actor."
Sir Sean was also a long-time supporter of Scottish independence, saying in interviews in the run-up to the 2014 referendum that he might return from his Bahamas home to live in Scotland if it voted to break away from the rest of the UK.
Keep in contact with The Thaiger by following our
Facebook page
.
Never miss out on future posts by
following The Thaiger
.
100+ foreigners ripped off in education visa scam on Koh Pha Ngan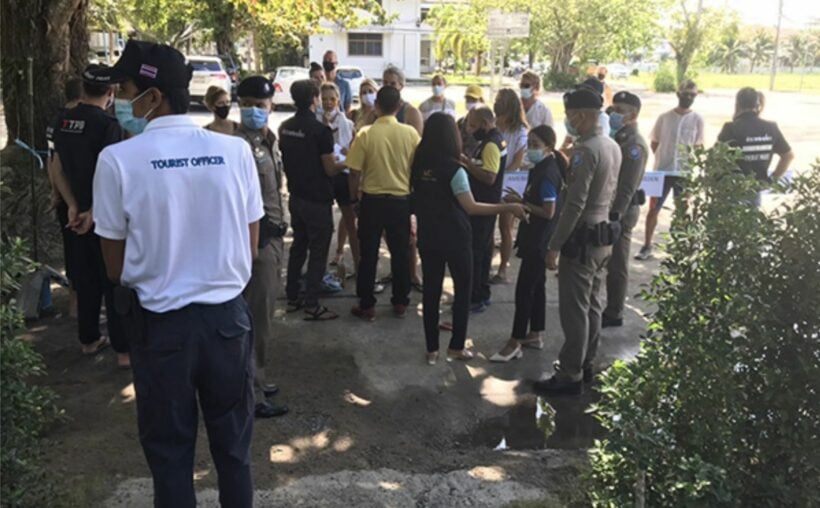 A language school in Koh Pha Ngan has ripped off more than 100 tourists claiming that they were able to issue them with a 1 year education visa.
A group of the victims have made an official report with the local police over the scam. The tourists were from the US, UK, Germany, France and Russia. Manager Online report that more than 100 people had been allegedly conned by the school in the Sri Thanu area of the island. The report explained that the people had originally heard about the school being able to get them a 1 year education visa from teachers working there.
The group have now made an official report, sending documentation to Koh Phangan district chief Poonsak Sophonpathumrak and the island's chief of police Pol Col Phisit Wisetwong and Immigration police.
They allege that they had been asked for 40,000 baht each for courses at the school on the understanding that the school would issue visas for them, changing their Non-B into an ED-Visa, as a way of extending their time in Thailand.
They told police that they had put down a 50% down payment tot eh school. Their visas were promised five weeks ago. But when no paperwork turned up they headed to the mainland Surat Thani immigration office where they were told it wasn't possible to change a Non-B into an education (ED) visa. When they confronted the school they were told there would be no refunds.
This isn't the only case of institutions and bogus visa agents taking advantage of the current confusion on visa amnesties and extensions. Immigration police are sorting through a range of similar cases.
Police assure the victims that they are investigation the case.
SOURCE: Manager | Thai Visa
Keep in contact with The Thaiger by following our
Facebook page
.
Never miss out on future posts by
following The Thaiger
.
US cuts Thailand's tariff benefits after long-running pork dispute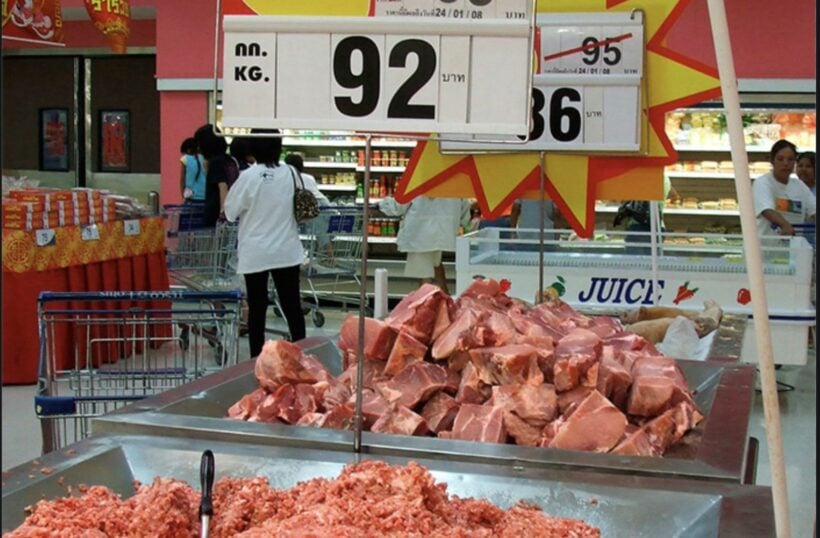 Thailand's duty-free privileges for US$817 million in exports with the US are to be revoked from the end of this year, according to US President Trump in an announcement yesterday. The President blamed a lack of progress in opening the Thai market to US pork products. Trump's letter announcing the action follows more than 2 years of threats and negotiations with Thai officials over issues ranging from access to Thailand's markets for US goods and the documented inadequate labour rights in the south east Asian nation.
Washington will now eliminate some tariff benefits for Thailand, accusing the country of failing to allow imports of pork from US producers.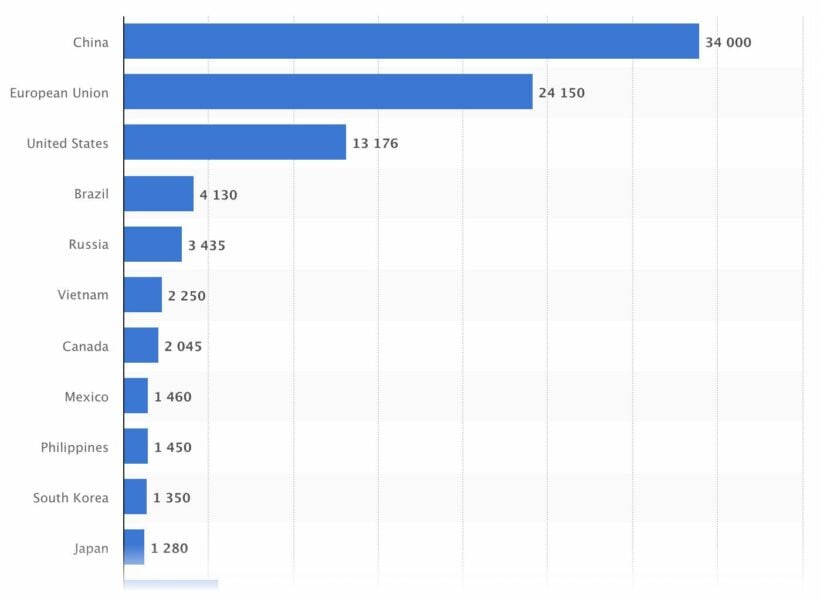 GRAPHIC: Global pork production in 2020, by country (in 1,000 metric tonnes) – statista.com
The suspension of the Generalised System of Preferences access follows a suspension earlier this year on about $1.3 billion worth imports from Thailand, which once had such privileges for about US$4.4 billion in exports to the United States.
The US Trade Representative's office said the list of products includes mango, pineapple, manicure kits, steel pipes and precious stones., auto parts, dried produce, tools, electrical products and aluminium kitchenware.
Writing to the House Speaker Nancy Pelosi, President Trump said… "I have determined that Thailand has not assured the United States that Thailand will provide equitable and reasonable access to its markets."
GSP, Generalised System of Preferences, is a 70s-era program of US trade preferences for developing economies aimed at improving workers' rights and access to broader markets.
"The US Trade Representative's office also announced that it had closed other GSP eligibility reviews with no loss of benefits for Georgia, Indonesia and Uzbekistan. It also said new GSP reviews were opened for Eritrea based on concerns about workers' rights."
SOURCE: Reuters | VOANews | statista.com
Keep in contact with The Thaiger by following our
Facebook page
.
Never miss out on future posts by
following The Thaiger
.