WEDNESDAY MORNING BRIEFING – All your news in 3 minutes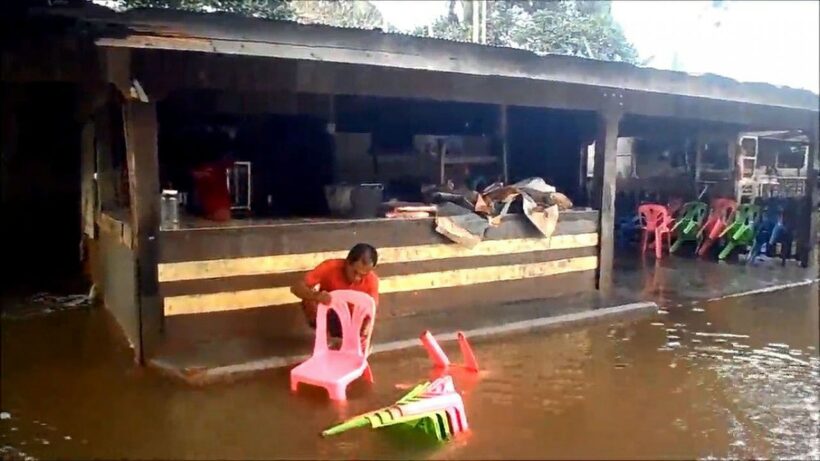 Day three of the Phuket King's Cup today and fresh winds are waiting for the 83-strong fleet off Kata. Our Deputy PM has got into hot water over a flashy watch, a mother is being asked to explain why she chained up her daughter and a truck has fallen on a passenger van killing two in Chiang Mai. Welcome to your Wednesday.
Now the mopping up starts
Residents of eight communities in Narathiwat's Sungai Kolok district have moved out of temporary shelters back to their homes after floodwaters significantly receded yesterday in the deep south.
Officials said only 30 riverside homes in three communities were still under 20cm of water. The rest of area was dry, so the 324 residents who had evacuated from 92 homes in eight communities moved back to their homes to begin cleaning up.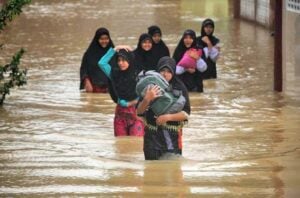 Mother of five chains up her seven year old daughter
A 33 year old Myanmar woman, who has received an warning warning for putting her seven year old daughter in chains in front of their apartment in Phuket's Muang district, says she did so out of love and caring because the "naughty" girl could be harmed or run over by a car.
After an image of the chained girl was shared on Thai social media, and subsequent child abuse complaints, Phuket children and family home care went to inspect the apartment yesterday morning.
They told the family that they couldn't chain the child, then took the mother, stepfather and children to the Phuket Police Station to record the incident. Officials have taken the young girl and her nine year old brother into temporary care pending an inquiry into the family's situation. The mother has five children, the youngest just one month old to the woman's new husband.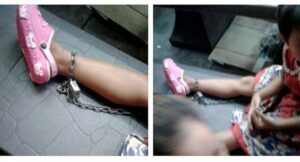 Freak accident in Chiang Mai kills two
A modified pick-up truck for public transport has rolled down a steep slope on the second floor of parking lot in Chiang Mai, then fallen five metres, killing two female Thai tourists and seriously injuring a third.
The two tourists were visiting Chiang Mai from Phang Nga and were 60 years old. Their 74 year old friend, also from Phang Nga was taken to the local hospital. They were sitting in the back of their transport when the truck fell on the van. The two were thrown out of the van which rolled over and crushed them.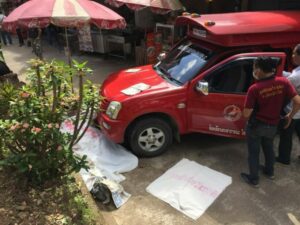 Record meth haul in Bangkok
The Royal Thai Police have unveiled a record seizure of drugs in the capital with 12 million methamphetamine pills and 12 kilograms of crystal methamphetamine.
Royal Thai Police commissioner Pol Gen Chakthip Chaijinda said the seizure followed the arrest of Pongsakorn Phaworn, a drug suspect, in Samut Prakan earlier this month.
Mr Pongsakorn was arrested while in possession of 10.3 million methamphetamine pills. The suspect allegedly named two more persons in his network .
They were kept under surveillance which led to the information that a major consignment of meth pills was being brought into Bangkok from the northern part of Thailand. Their pick-up truck was intercepted by plainclothes police offices who arrested them without a struggle. Police are still on the hunt for another three or four members of the same syndicate.
In another haul down south, Police and Army officers have raided a storage area containing smuggled cigarettes in Songkhla's Sadao district and seized 791 boxes worth 11 million Baht.
Police say the two houses had been used to store cigarettes smuggled from a neighbouring country without paying excise duties for distribution in Songkhla and other provinces.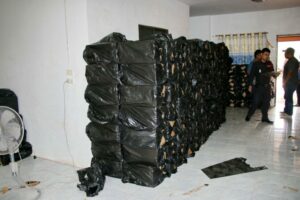 Thats a LOT of cigarettes!
Gold shops being told to 'get legal'
The Revenue Department is asking defiant gold shops to enter a single account system or else they could face a money laundering probe.
According to the department, some 1,000 gold shops still refuse to register as legal entities, or enter the proper single-entry accounting system despite the other 7,000 gold shops having already registered.
The director-general of the department says gold shops which refused to adopt the single account system will face punishment under the anti money laundering law, which is severer than the revenue tax law. Combined gold turnover of all the gold shops in the country are estimated at between 400-500 billion baht annually but only between 200-300 billion baht is currently taxed.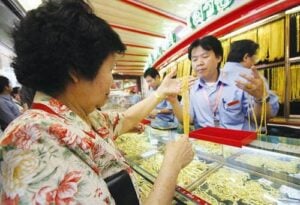 So, tell us about the flashy watch
Deputy PM and defence minister General Prawit Wongsuwan has landed himself in hot water after being caught wearing a flashy watch costing millions of baht in a recent photo.
A photograph of Prawit shading his eyes from the sun went viral on Monday after the new Cabinet had its first meeting and a group photo of the ministerial team was taken. The expensive looking timepiece was later found to be a Richard Mille that would have cost between 4 – 10 million baht.
Netizens questioned how a military officer could have afforded such a luxurious item and wondered whether he had reported his ownership of it to the National Anti-Corruption Commission. An equally flashy diamond ring was also being worn by the deputy PM.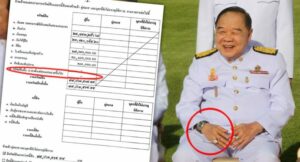 Daily briefings compiled with The Nation, Phuket Gazette and VOA.
- The Thaiger & The Nation
Machete-wielding BKK motorist jailed for threatening woman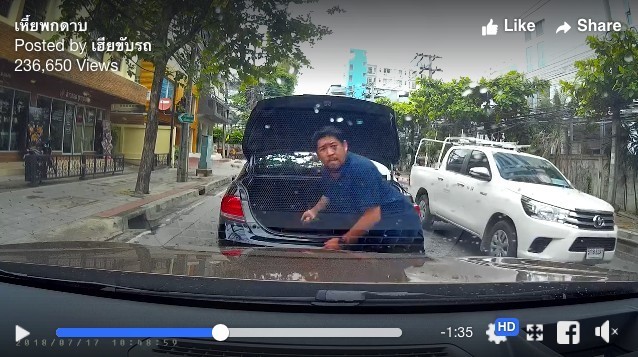 The South Bangkok district court has handed down a sentence today on a male driver. He's been sentenced to 2 months and 15 days behind bars.
The sentence follows the man's indiscretion caught on a dash cam (video and story below), threatening a female driver with a knife on July 18, after he drove against the traffic to cut in front of her car.
Read the original story and watch the video HERE.
42 year old Sitthiporn Suayngarm was arraigned in court by officers from the Thung Mahamek Police Station this morning (Saturday) and the court swiftly handed down the sentence after the defendant pleaded guilty. The video clip was used in evidence.
The court declined to suspend the jail term despite Sitthiporn pleading guilty, as the court regarded his act as a serious crime. Sitthiporn turned himself in to police on Friday and issued an apology to the woman, saying he was in a bad mood after quarrelling with his girlfriend.
The man was slapped with five charges: damaging another person's asset, intimidating another person, carrying a knife in a public place without licence, parking car in a prohibited area and changing lane unlawfully.
The crime took place on Tuesday morning at an intersection on Suan Plue Road in Bangkok's Sathon district near the Bangkok Technical College and was recorded by the dashboard camera of the 64 year old woman.
The clip from the dashboard went viral and had more than a 1 million views. The clip shows a man at the wheel of a black Toyota Camry repeatedly trying to cut in front of a car whose dashboard cam recorded the incident, by driving against the traffic. The man finally managed to complete the illegal overtaking manoeuvre after they drove through an intersection. He then stopped his car, exited, opened the trunk and pulled out a long knife.
The dashboard video showed him walking towards the woman's car before he disappeared from the clip.

STORY: The Nation
Singapore Airlines back on top. Thai Airways in 10th place.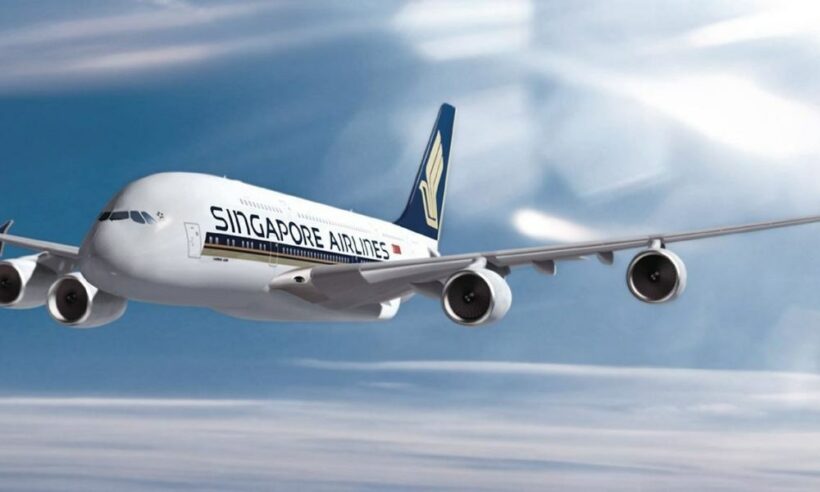 PHOTO: Flyer Talk
Singapore Airlines is back on top after a decade held out of the top airline position by middle-eastern competition. It's their fourth win since the Skytrax World Airline awards started back in 2001.
The island nation's national carrier was named Airline of the Year at the 2018 Skytrax World Airline awards. Singapore Airlines was last top of the list in 2008. This year it forced out last year's top honours winner, Qatar Airways, into second place.
Yeoh Phee Teik, Singapore Airlines's senior vice president of customer experience, said "We're very ecstatic."
The airline  also claimed best airline in Asia, best first class and best first class seat.
Asian airlines made a return to the winner's list this year with ANA All Nippon Airways receiving third place, Taiwan's EVA Air in 5th position, Cathay Pacific in 6th, Hainan Airlines in 7th, Garuda Airlines in 9th (an extraordinary achievement considering their reputation only a decade ago) and Thai Airways in 10th place.
Singapore's victory marked a resurgence in Asian carriers in the annual UK-based aviation industry review. Skytrax began its awards in 2001 and is recognised for its fairness due to passengers voting in all categories. Aside from a win by Hong Kong's Cathay Pacific back in 2014, all past seven years have all gone to middle east based airlines.
"We're glad that our work has been recognised and our customers have voted for us to be the world's best," said Yeoh.
Garuda Airlines, which has turned its service around since the early days of Skytrax, when it was banned from flying into European airspace, was presented with the prize for best cabin staff along with its 9th place overall.
Not one US airline picked up a single award.
Locally Air Asia picked up an award for Best low coast airline – Asia, Thai Airways won the award for best airline catering in Economy Class (The Thaiger thinks the voters weren't flying on the same flight when Thaiger experienced the economy class 'food') and Bangkok Ailines won Best Regional Airline – Asia.
The top 10 world's best airlines for 2018
1. Singapore Airlines
2. Qatar Airways
3. ANA All Nippon Airways
4. Emirates
5. EVA Air
6. Cathay Pacific
7. Lufthansa
8. Hainan Airlines
9. Garuda Indonesia
10. Thai Airways
Best airlines by global region
Northern Europe – Finnair
Western Europe – Lufthansa
Eastern Europe – Aeroflot Russian Airlines
Africa – Ethiopian Airlines
Australia / Pacific – Qantas Airlines
Central Asia / India – Air Astana
China – Hainan Airlines
Central America / Caribbean – Copa Airlines
South America – Avianca
North America– Air Canada
Asia – Singapore Airlines
Middle East – Qatar Airways
Europe – Lufthansa
Best low-cost airlines
Africa – Mango
Australia & Pacific – Jetstar Airways
Asia – AirAsia
Central Asia / India – Indigo
China – West Air
South America – Sky Airline
North America – WestJet
Middle East – Flynas
Europe – Norwegian
Best airline catering
Economy – Thai Airways
Premium economy – Aeroflot Russian Airlines
Business – Austrian Airlines
First class – Air France
Best airline seats
Economy – Japan Airlines
Premium economy – Air New Zealand
Business – Qatar Airways
First class – Singapore Airlines
Best regional airlines
Africa – Royal Air Maroc
Asia – Bangkok Airways
South America – Azul Brazilian Airlines
Central Asia / India – Azerbaijan Airlines
Europe – Aegean Airlines
Best airline lounges
First class – Qatar Airways
Airline alliance lounge – Star Alliance Los Angeles
Independent airport lounge – Plaza Premium Heathrow Terminal Two
First class lounge dining – Air France
Airline lounge spa facility – Thai Awards
Best airlines staff service by global region
Africa – South African Airways
Australia / Pacific – Qantas Airways
Central Asia / India – Vistara
China – Hainan Airlines
Central America / Caribbean – Copa Airlines
South America – Azul Brazilian Airlines
Asia – ANA All Nippon Airways
Middle East – Emirates
Europe – Austrian Airlines

Burmese maid returns bag containing $11,000 to tourist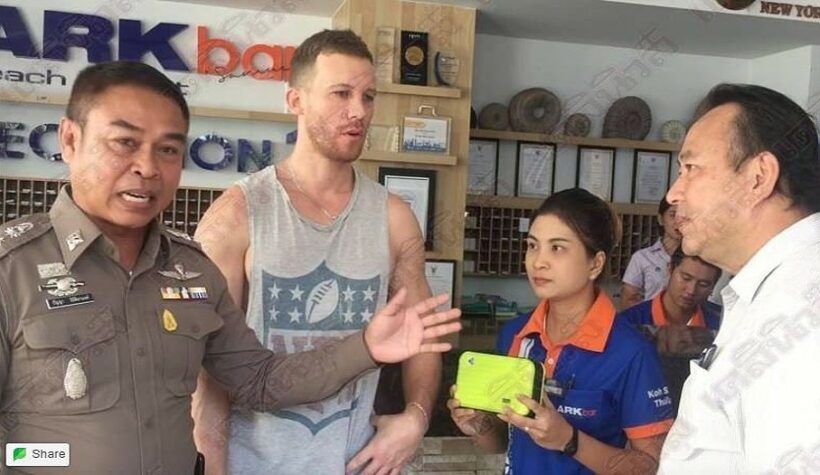 Daily News is reporting that a tourist from the Netherlands has thanked a Burmese maid at his hotel on Koh Samui. 37 year old Sawee Let Mau showed it was not just the Thais who are high up in the honesty stakes.
Sawee found the green bag under some stairs – it contained AUD$ to the tune of 280,000 baht – several years wages for a maid.
Police were called to the Ark Bar Hotel in Chaweng and CCTV was checked before 31 year old Alexander Joseph was confirmed as the rightful owner.
He gave the honest maid $100 as a reward. Daily News praises the maid for helping the tourist image of Thailand.
SOURCE: Daily News