Hong Kong property tzars team up for new Phang Nga development "Aquella"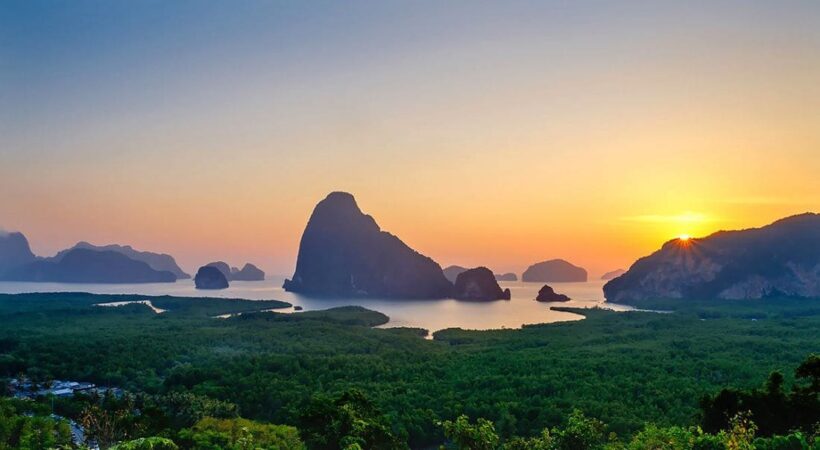 FILE PHOTO
Two of Hong Kong's leading entrepreneurs Allan Zeman and Richard Li are developing a mixed-use project in Thai Muang, Phang Nga named Aquella.
The initial phase of the development includes a par 72, 18 hole golf course, resort pool villa residences with two to four bedroom unit configurations back of a massive land site that offers over 2.5 kilometres of white sand beach.
Previously, the approximate 1,000 rai site was the home of the Thai Muang golf course. After acquisition the course was closed, and the master planned Pinetree project that was to contain a marina and luxury Park Hyatt hotel stopped when land zoning issues changed in Southern Phang Nga.
Today, the new golf course has been reconfigured and Zeman's Paradise Group who developed Kamala's posh Andara ultra villa resort in Phuket are collaborating with Li's Pacific Century Premium Developments (PCPD) group.
South West Phang Nga hosted some of Asia's most significant luxury villa sales in the mid 2000's given it's close access to Phuket International Airport, over the Sarasin Bridge.
Changes in the zoning regime stunted the area's growth over the past decade but a new wave of interest has been born in projects such as Charn Issara's Baba Beach Club.
Land prices in Koh Pilai and Koh Kloy have sharply escalated in recent months on the announcement of a second Greater Phuket airport by Thai aviation authority AoT.
That said, the area has a rich history in demonstrated luxury residential sales in projects such as Aleenta and Sava.
With Phuket bursting as the seams, and prime oceanfront plots limited, the recent transaction of the former greenfield site of the Ritz-Carlton Reserve has indicated positive sentiment.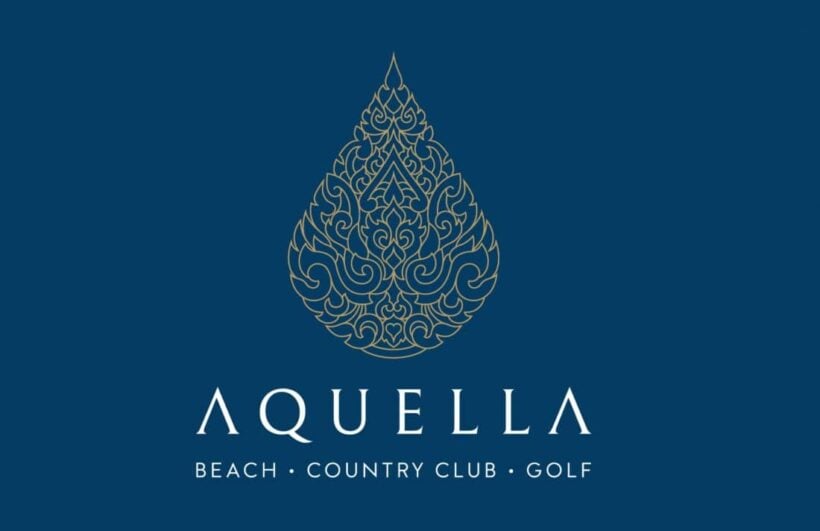 Find more property for sale and rent across Thailand at Thaiger Property, powered by FazWaz. You can even list your property for free.

Read more headlines, reports & breaking news in Phang Nga. Or catch up on your Thailand news.
Court rules that National Park can limit numbers to Similan Islands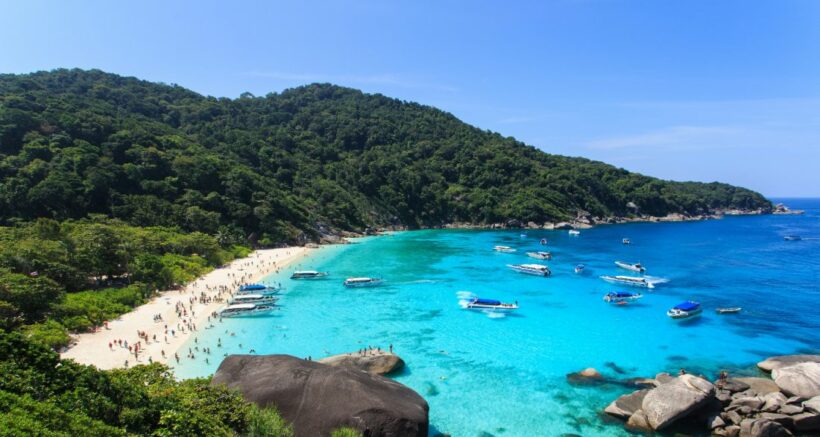 The Similan Islands national park will now be able to limit the number of visitors as a means to prevent ongoing environmental damage. This decision from the Supreme Administrative Court this week, overturning an earlier ruling from the Phuket Administrative Court.
The Similan Islands are a popular diving spot in the Andaman Sea off the coast of Khao Lak.
The ruling reverses an order of the local provincial Court last year which said a plan to limit numbers by the Department of National Parks, Wildlife and Plant Conservation, was not legal.
Last October the Department announced plans to put a tourist ceiling of 3,325 tourists and 525 divers per day into the national park and that visitors couldn't stay overnight.
Tour operators petitioned the Phuket Provincial Court to annul the limitations as it would severely affect their businesses. In December the Phuket Provincial Court issued an injunction against the visitor limitations but the Department appealed the ruling.
Now the Supreme Administrative Court has declared that tour operators were unable to present valid arguments against the Department's attempts to curb visitor numbers and their efforts to protect the island archipelago against further degradation.
The higher court was critical of the Phuket Administrative Court's ruling saying that its ruling  would have led to 'severe damage'.
Limiting tourist numbers at many of the Andaman's tourist hot-spots has become a part of the Department of National Parks, Wildlife and Plant Conservation legal weaponry since closing down Maya Bay, but is facing a lot of pressure from local tour operators.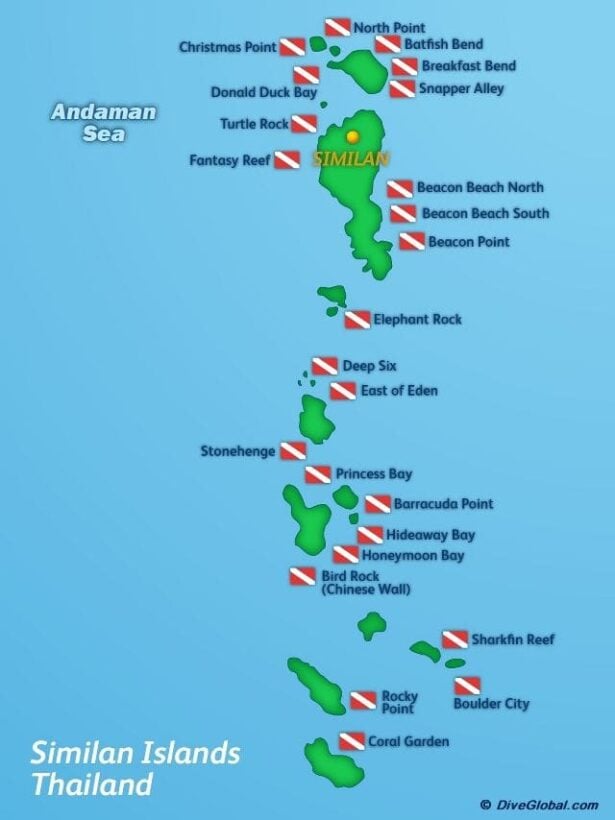 Three fined for fishing illegally in the Mu Koh Similan National Park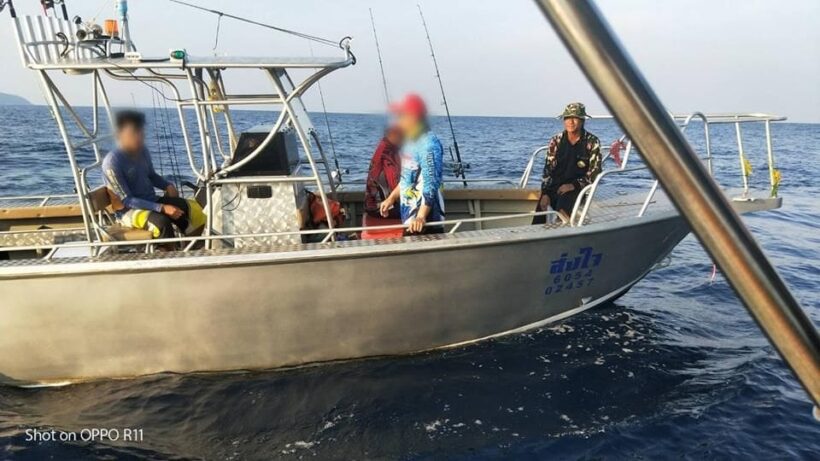 PHOTO: DNP
Three men have been fined after they were found catching fish in Mu Koh Similan National Park area in Phang Nga yesterday. Private fishing is illegal inside the marine national park area.
The head of the Mu Koh Similan National Park Ruamsin Manajongjaroen says that yesterday three men were fined after being discovered catching fish in the national park area.
A speedboat called 'Songjai' was found in the national park area by officials yesterday. They found one 'giant trevally' fish weighing about four kilograms with eight fishing rods and other fishing equipment.
Three Thai men, Ruengsak Sakwong, Patompong Buasri and Wiwat Panan, admitted to fishing in the park. They have been fined in total 6,000 Baht.
We're not sure what happened to the four kilogram trevally!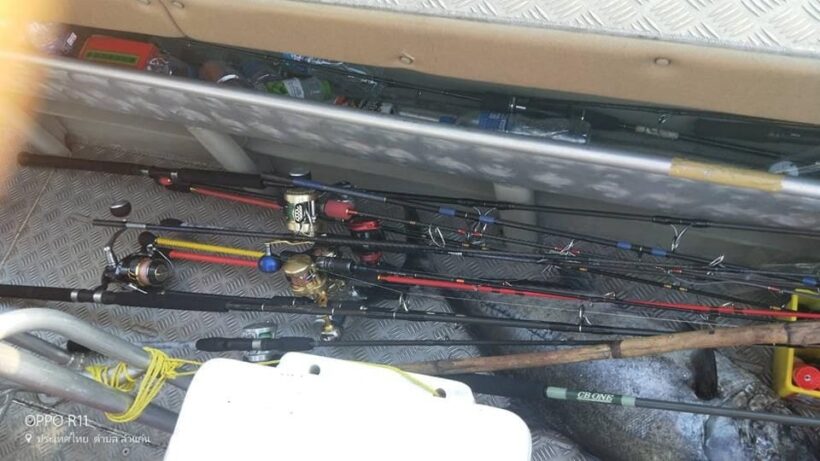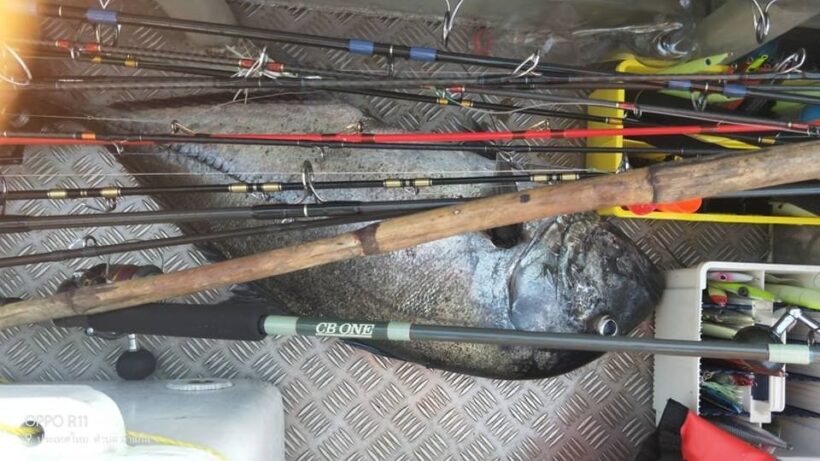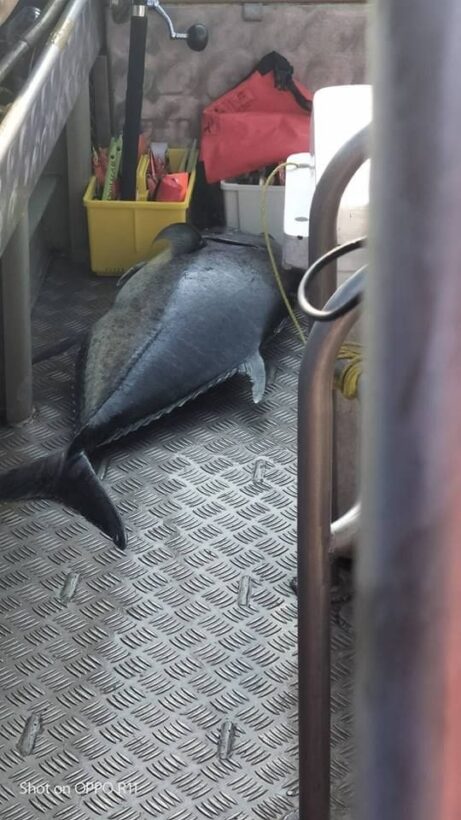 Whale shark sighted off Phang Nga – VIDEO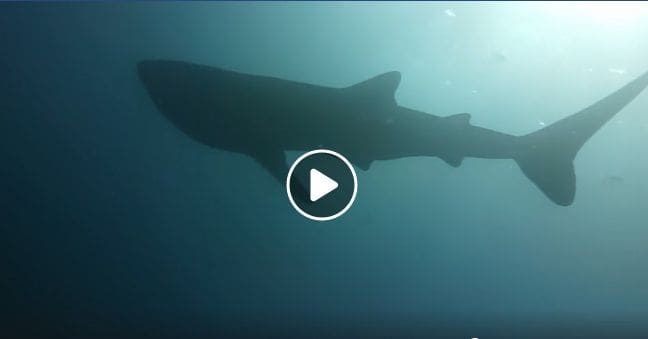 SCREENSHOT: Mu Koh Similan National Park Facebook / Sor Somboon 3 boat
Another mighty whale shark has been sighted of Phang Nga yesterday, the latest in a recent series of positive sightings.
Mu Koh Similan Nation Park officials confirmed that a whale shark was sighted at a deep diving point at Koh Tachai in Phang Nga yesterday at 4.30pm .
The whale shark was spotted by divers on a diving boat named Sor Somboon 3.
วันที่ 3 มีนาคม 2562 เวลา 16.30 น. พบฉลามวาฬบริเวณจุดดำน้ำลึกเกาะตาชัย(พินาเคิล) ฉลามวาฬ (Whale Shark) มีชื่อวิทยาศาสตร์ว่า Rhincodon typus ปลาฉลามวาฬเป็นสัตว์เลือดเย็นเหมือนกับปลาทั่วไปคือมีอุณหภูมิร่างกายใกล้เคียงกับอุณหภูมิของสิ่งแวดล้อมที่มันอาศัยอยู่และเป็นปลากระดูกอ่อนคือกระดูกทั้งตัวยกเว้นขากรรไกรและฟันเป็นกระดูกแข็ง กระดูกอ่อนเป็นกระดูกอ่อนแบบเดียวกับกระดูกใบหูของคนและฉลามวาฬยังได้จัดอันดับให้เป็นปลาที่มีขนาดใหญ่ที่สุดในโลก (ไม่ใช่ปลาวาฬเพราะปลาวาฬหรือวาฬเป็นสัตว์เลือดอุ่นซึ่งมีอุณหภูมิร่างกายคงที่ไม่ใช่ปลา) ฉลามวาฬโตเต็มที่มีขนาดความยาวประมาณ 12.5 เมตร และมีน้ำหนักประมาณ 21.5 ตันฉลามวาฬพบแพร่กระจายในทะเลในเขตร้อนและเขตอบอุ่น ประเทศไทยของเราพบฉลามวาฬได้ทั้งฝั่งทะเลอันดามันและฝั่งอ่าวไทย ฉลามวาฬแม้ว่าเป็นปลาที่มีขนาดใหญ่ที่สุดในโลกแต่อาหารที่มันกินนับได้เป็นอาหารเกือบจะมีขนาดเล็กที่สุดคือมันกินแพลงก์ตอนเป็นอาหาร ฉลามวาฬจะกินอาหารโดยการว่ายน้ำอ้าปากให้น้ำไหลเข้าปากแล้วใช้ซี่เหงือกกรองแพลงก์ตอนจำพวก โคพีปอด (copepods) คริลล์ (krill) ไข่ปลา ตัวอ่อนสัตว์น้ำ ละลุกหมึกและปลาขนาดเล็ก#ฉลามวาฬ #เกาะตาชัย #สิมิลัน ขอบคุณวีดีโอดีๆจาก เรือส.สมบูรณ์3และข้อมูลดีๆ https://phuketaquarium.org/ปลาฉลามวาฬว่าที่สัตว์ป/Cr. อุทยานแห่งชาติ หมู่เกาะสิมิลัน จ.พังงา

Posted by เหยี่ยวข่าว ภูเก็ต on Sunday, March 3, 2019
VIDEO: Posted by Newshawk Phuket