Nakhon Phanom teacher arrested for sexually abusing niece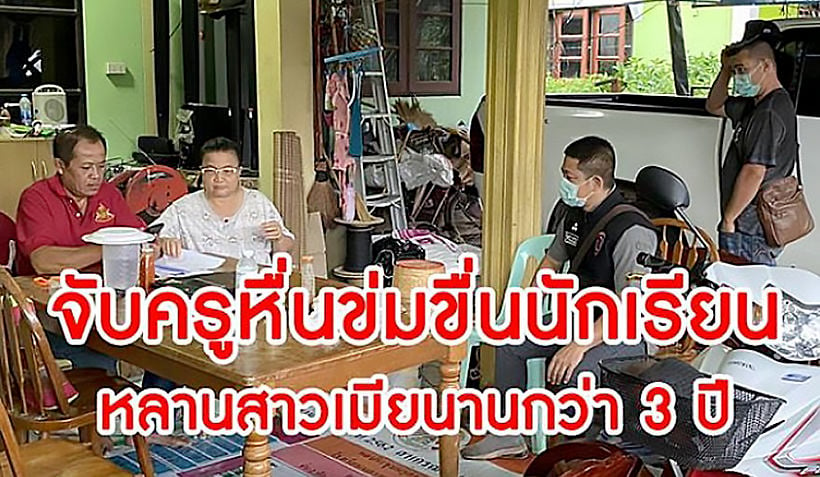 Police in Issan's Nakhon Phanom province yesterday announced the arrest of a teacher for the alleged sexual abuse of his 13 year old niece, who lived with him and his wife. The 52 year old man was taken into custody at his house in the downtown district after a provincial court approved an arrest warrant on Thursday. His name and the school's are being withheld.
The deputy chief of the city police says the man has denied the charge. He was taken to the provincial court where police requested to detain him further. It is the fourth case of alleged sexual abuse of minors involving teachers this month. Child rights activists are campaigning to protect students from rogue teachers.
The man's wife teaches at the same school, and was reportedly shocked by the allegations.
The girl had already stayed with her uncle and aunt for 3 years while her parents worked in another province. Police say her parents thought it unusual that the suspect was in the girl's room when they spoke to her by video recently.
They decided to bring her to stay with them. The girl later confessed that she had been sexually abused. The parents registered a complaint with Nakhon Phanom police on May 18. Police investigated and after a medical examination and decided to press charges
The school's director said the suspect would face severe punishment if he's found guilty.
SOURCE: Bangkok Post
Keep in contact with The Thaiger by following our
Facebook page
.
Millions of meth pills, tonnes of marijuana seized in 3 major drug hauls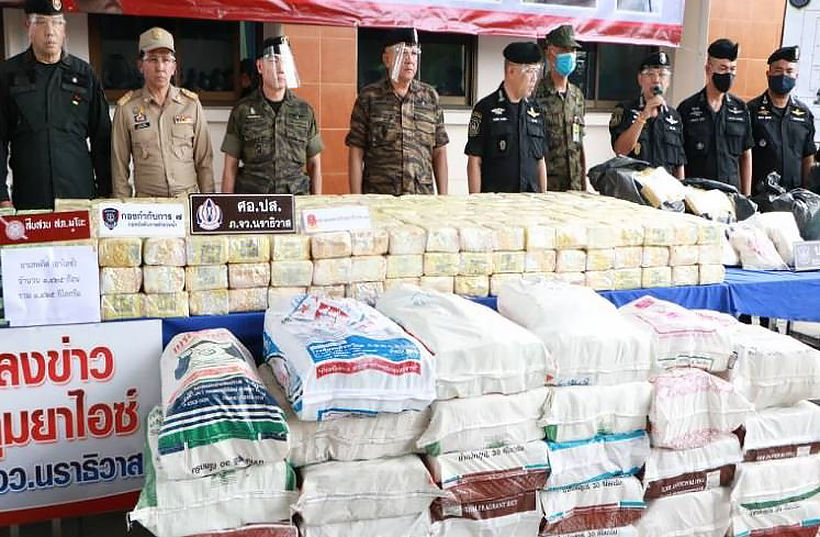 In what is becoming an increasingly common story, police have announced the seizure of millions of methamphetamine pills (ya ba) and more than 2 tonnes of marijuana, among other types of illicit drugs, in 3 major anti-drug operations last week. The head of the Narcotics Suppression Bureau told a press briefing that drug agencies confiscated nearly 1.5 million methamphetamine pills, 2.4 tonnes of cannabis and 6 kilograms of ketamine, and arrested about a dozen suspects.
He says that in the first bust, in Isaan's Sakon Nakhon province, officers seized about 400 kgs of marijuana, a Hyundai pickup, and arrested 24 year olds Peerapat Chaisunthorn and Chariya Niyompeng. In the second operation, police in Lampang province, near Chiang Rai, arrested 40 year old Songkod Sriharan, 63 year old Chaisri Kongauksorn, and Ratchanok Boonta after a traffic stop while they were making their way to Chiang Mai province. Around 1.5 million ya ba pills were confiscated.
The NSB chief says the 3 are believed to be connected to the same gang of smugglers arrested with 4 million methamphetamine pills in northern Thailand earlier this year.
In the third operation, police in Isaan's Udon Thani province nabbed 6 suspects and seized two tonnes of marijuana and 6 kgs of ketamine. They were identified as 31 year old Mongkol Chonthanasilp, 48 year old Thanabodee Yakasem, 36 year old Bussayaporn Rangvigee, 35 year old Niroj Mingkwan, 30 year old Boonprom Laknongbu and 38 year old Patracha Taweewan.
Police froze assets suspected to have come from the men's alleged drug dealings. In May, one of the biggest drug hauls in decades, was made in Myanmar's Shan state.
SOURCE: Bangkok Post
Keep in contact with The Thaiger by following our
Facebook page
.
Man fatally shot in hunting expedition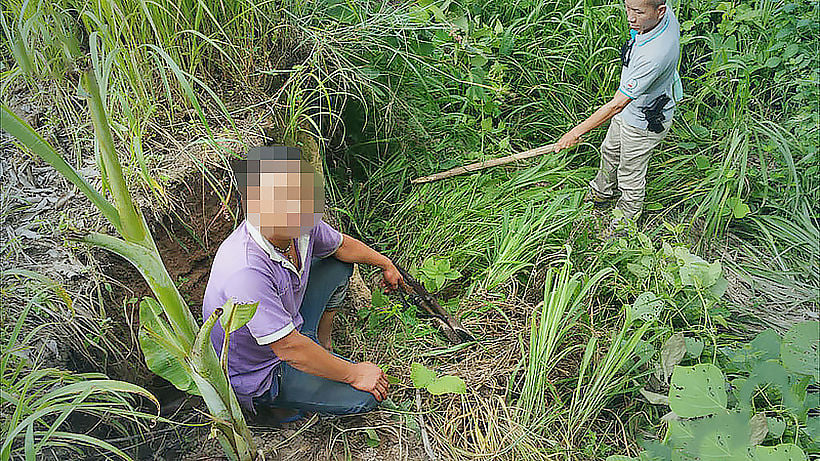 Authorities in Lamphun province, south of Chiang Mai, have arrested 29 year old Weerachai Rorwongtawan for allegedly shooting dead his friend, Phitsunu Tanupetchpan, while hunting with 2 other friends. The suspect told police he had invited his friends to go hunting with him, and that he and Phitsunu were in different areas of the forest. When he saw something moving among some bamboo, he thought it was an animal and fired. Phitsunu later died of his wounds.
Weerachai claims he was shocked to hear his friend's cries, and quickly decided to call the police and an ambulance. But the dead man's older brother pointed to inconsistencies in the alleged killer's story. He said Weerachai told him he thought Phitsunu was a wild cat and hence shot him. But when questioned by police he said he thought his friend was a rat.
He also said Weerachai did not confess initially that he had shot his brother, saying it was an accident. Police have confiscated the gun and are questioning Weerachai and the other people hunting at the same time. All were charged with use of narcotics after urine tests.
SOURCE: Nation Thailand
Keep in contact with The Thaiger by following our
Facebook page
.
Thousands arrested nationwide for illegal motorbike racing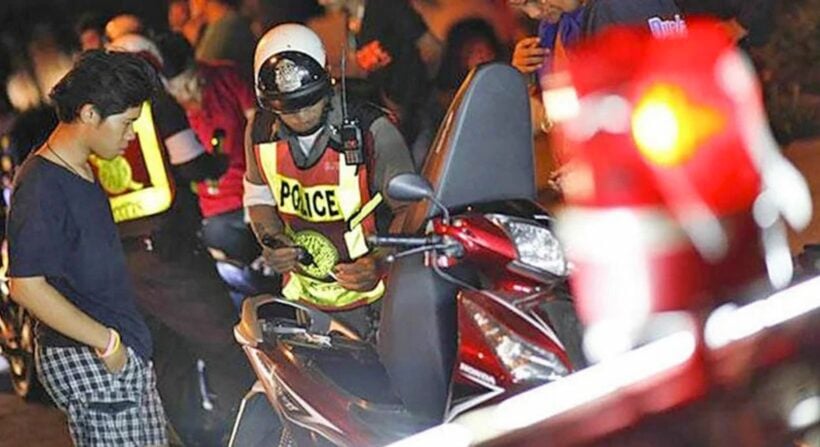 Since the lifting of the national curfew on June 14, gangs of illegal street racers, known as "dek waen" or "vanz boys" have quickly returned to Thailand's roads. From June 20-30, police arrested more than 5,600 racers and seized more than 17,700 bikes nationwide. PM Prayut Chan-o-cha has warned against gatherings and street racing, and says that regardless of the curfew police should take action against the racers, even threatening a renewed curfew. During the curfew, public complaints on illegal street races dropped from over 600 to less than 300 a month.
The assistant national police chief says Bangkok police and the Provincial Police Region 1 which covers the lower central plains, arrested 109 such racers, seized 11,743 motorcycles and prosecuted 3,088 shops for illegally modifying motorcycle parts. Most modifications were to motorcycles' exhaust pipes, increasing the noise they make, thus the locally coined word "vanz." Police also put 668 parents of illegal racers on probation.
The Provincial Police Region 8, covering the lower South, says it seized 237 motorbikes and 311 illegally modified exhaust pipes, and put 175 young motorcyclists and 28 parents on probation. Police in the northeastern Ubon Ratchathani province arrested 85 motorcyclists and seized 317 motorcycles and about 300 modified exhaust pipes. Police in the northeastern province of Nakhon Ratchasima arrested 476 motorcyclists and seized 665 bikes and 204 substandard exhaust pipes.
The Provincial Police Region 6, which oversees part of the North, arrested 6 racers, put 1,921 motorcyclists and 212 parents on probation and seized 1,306 motorcycles.
The Provincial Police Region 7 which also covers lower south provinces put 5,009 motorcyclists on probation and seized 4,632 bikes and 357 modified or substandard exhaust pipes.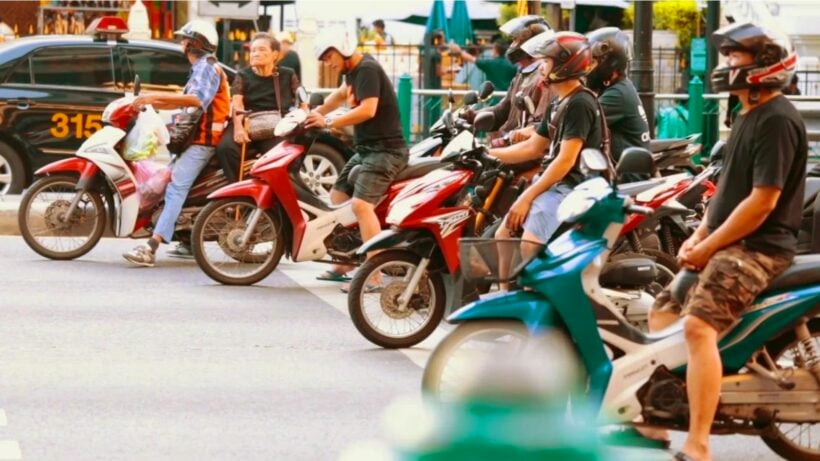 SOURCE: Bangkok Post
Keep in contact with The Thaiger by following our
Facebook page
.