Nearly 5,000 visited this year's Thailand Yacht Show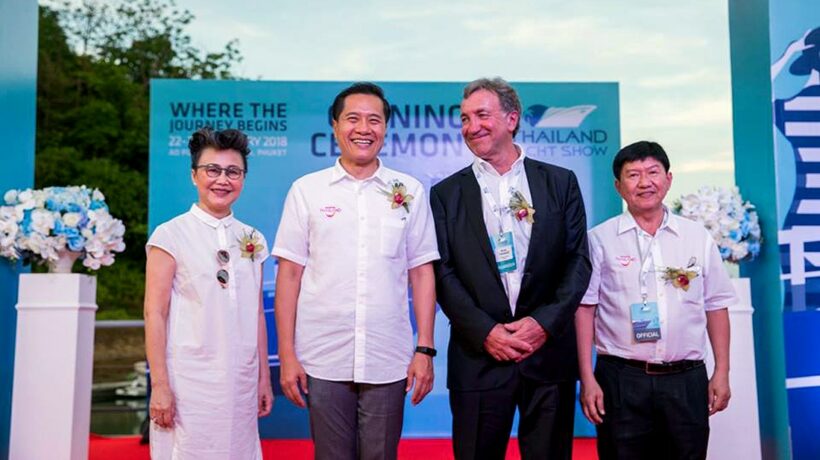 After four days and excellent weather, the third edition of the Thailand Yacht Show finished last Sunday with the traditional symphony of horns at Ao Po Grand Marina, Phuket.
Over the four sunny days the show welcomed a total of 4,730 visitors who were treated to new yachts on display, activities for kids and the family and the best of the region's yachting lifestyle. Visitors were able to try out the latest water sports and toys, get on board a wide range of boats and revel in glamourous yacht parties.
"The 2018 edition of TYS has really been excellent, especially given the very short lead time we had to work with again," said Andy Treadwell, co-founder of the show with the Thai government.
"We achieved all our goals, with some significant sales made by our exhibitors, a good number of charter superyachts on display, a great social calendar and a wonderful ambiance – it's really proved the concept," he added.
There were several international superyacht owners and captains on hand to confirm to government observers exactly how much they would spend with local shops and service providers, if only they were allowed to stay in Thailand and charter each winter —potentially totalling hundreds of millions of dollars within a few years.
"With the invaluable partnership we have with the Tourism Authority of Thailand and the Ministry of Tourism & Sports, we are making great headway towards transforming Thailand into a new winter charter base for the global superyacht fleet," Treadwell affirmed.
"As we continue our drive to boost marine tourism here by streamlining regulations, we are more and more confident that a developing yachting industry will trigger a major economic boost for local businesses and communities."
The show's patron and guest of honour, Minister of Tourism and Sports Weerasak Kowsurat, said in his opening address:
"Our support of the Thailand Yacht Show goes well beyond this four-day event. It is part of an extensive strategy to broaden our tourism products and services, attract inward investment to build and develop marine leisure infrastructure, and ultimately, create jobs for Thai people. The Thailand Yacht Show provides a focal point for this strategy and facilitates communication between the market, the industry and our officers."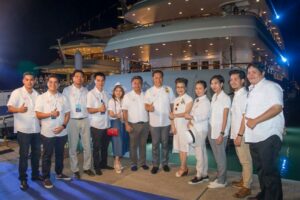 "The Ministry of Tourism and Sports is committed to positioning Thailand as a preferred destination for the global fleet of superyachts. To that end, we continue to work with the Thailand Yacht Show team and key industry players to devise cohesive regulations and promote Thailand as a natural and functional hub for the yacht tourism industry in Asia."
The impressive line-up at this year's show saw a completely full marina, with a sparkling fleet of nearly 50 yachts, sailing boats and catamarans for sale or charter. Leading brands Ferretti, Feadship, Perini Navi, Princess, Sunreef and Sunseeker all had major displays.
The 15-strong superyacht fleet included the 90m Cassens-Werft-built Lauren L, the biggest yacht ever to be exhibited at any show in Asia and presented by Titan Fleet Management; the 60m Feadship M/Y Paraffin, presented by Fraser Yachts; 47m Custom Line M/Y Happy Days, represented by Lee Marine; and the 38m Perini Navi S/Y La Numero Uno brought by Asia Marine.
The Thailand Yacht Show is organised by luxury lifestyle brand, Verventia, also owners of the Singapore Yacht Show, whose eighth edition will be taking place from April 12 – 15, 2018 in One°15 Marina in Sentosa Cove. The two complementary shows feature the biggest and best brands in the yachting industry and are the focal point of the luxury yacht business in Asia Pacific.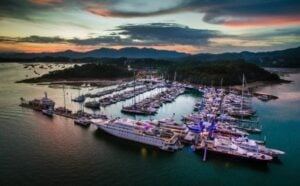 Looking to jettison some items before jetsetting away or chartering a yacht? Look no further than Thaiger Classifieds where you can find and post items, work, property and more for free. Be sure to check out YonderTours for things to do in Thailand and tours across the country.

Read more headlines, reports & breaking news in Phuket. Or catch up on your Thailand news.
5,000 Buriram citizens register for medical marijuana possession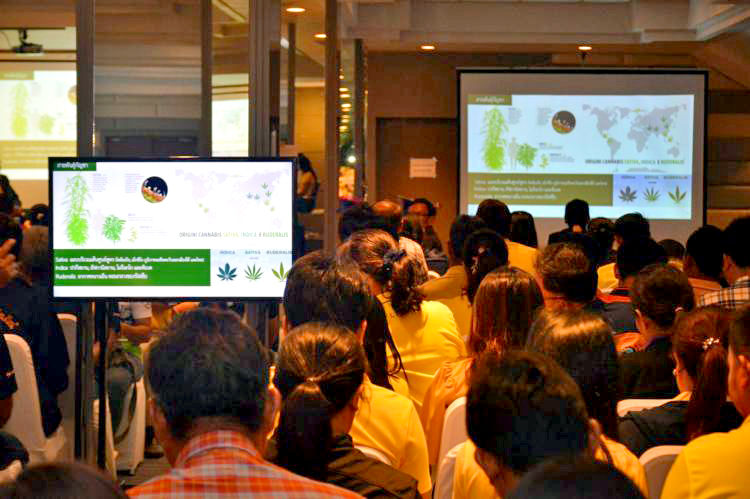 by Tanakorn Sangiam
The 90 day registration period for persons in possession of marijuana, without facing prosecution, end this Tuesday, May 21. 5,000+ persons in Buriram, north-east Thailand, have already registered their possession during this period. A community seminar on marijuana planting and management also took place yesterday to prepare Buriram province as a key manufacturer of medical marijuana.
About 250 people comprising of public health officials, agricultural officials, and community enterprises today joined a seminar on marijuana planting and management for medical usage. The seminar was aimed for participants to further distribute the knowledge on systematic medical marijuana planting and manufacturing management to help promote income distribution in local communities, specifically some 3,000 community enterprises in 23 districts in Buriram province.
These community enterprises will then be evaluated for their preparedness, and will be determined by the Food and Drugs Administration whether Buriram province is ready to become a key medical marijuana manufacturer of the country.
Talking about the end of the moratorium for persons in possession of marijuana, Buriram Provincial Public Health Official Withit Saruesadeechaikul said some 5,000 persons had so far registered as possessors – 2,000 villagers in the Buriram province and 20% of registered possessors being cancer patients.
SOURCE: National News Bureau of Thailand
Twitter and Facebook work to block anti-vax misinformation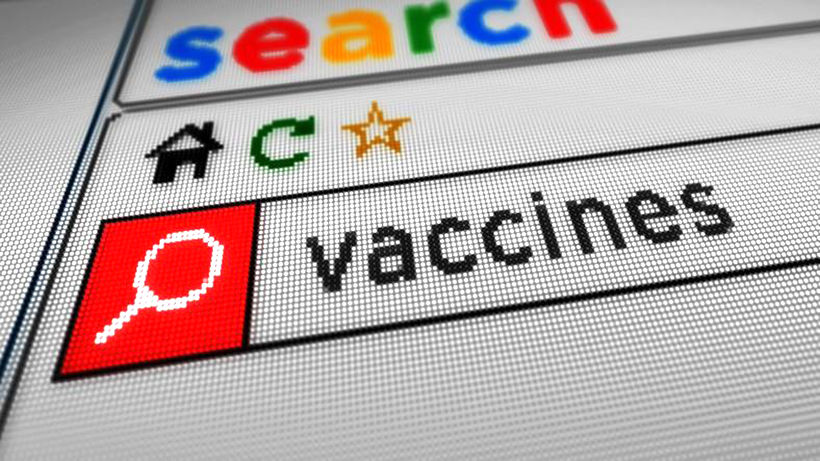 If you search for the word 'vaccines' in Twitter, the first thing you see from today is a post from the US Department of Health and Human Services pointing you to reliable health information instead of misinformation from the anti-vax adherents.
Twitter says it now has a new tool in 'search' prompting users to head to vaccines.org, which is run by informed officials and health professionals. Social media companies like Facebook and Twitter are facing intense pressure from lawmakers to remove anti-vaccination propaganda from their platforms. The push-back is coming from officials and netizens.
The tool shows up on Android, iOS, Twitter's mobile site, and on the newly designed desktop site in the US, Canada, the United Kingdom, Brazil, and Korea – more countries soon.
Twitter has used a similar tool that prompts users who search for terms related to suicide to contact a hotline for help. According to the blog post, Twitter intends to extend this tool to other health-related search terms in the future.
Last week, it was announced that Instagram would hide search results for anti-vax hashtags on its platform, effectively blocking any associated content. Two months ago Facebook announced it would also work to curb vaccine misinformation.
59 year old man shot dead in convenience store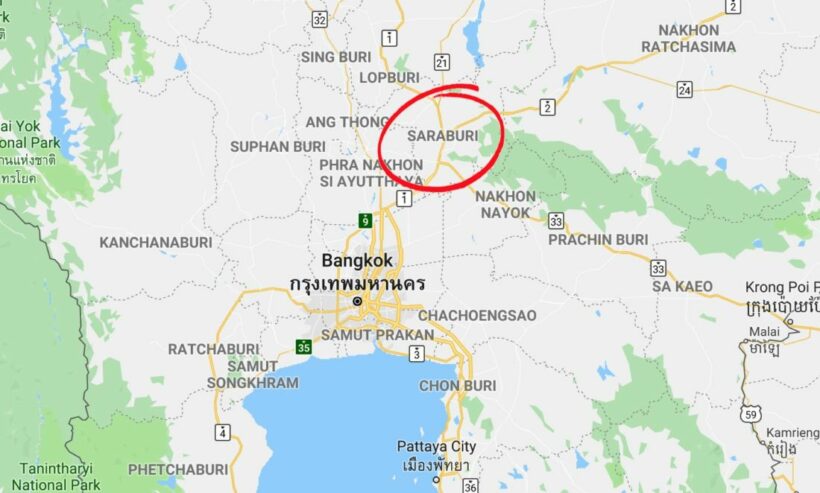 A man was killed inside a convenience store at sunrise today in Saraburi province, north of Bangkok, after shouting out loud, "If you have a gun, shoot me".
The victim is identified as 59 year old Preecha Khunthong. He was shot several times between the eyes.
"I don't know what happened between him and the gunman. At first, they spoke very softly before I heard the victim loudly challenging the other to shoot if they really had a gun," said the cashier.
Her name has been withheld. According to her, the victim was about to pay for instant coffee when the gunman approached him.
"Following the shooting, he walked out and left with his vending cart," the witness said.
Preecha's friend said the victim just had breakfast in the nearby market.
"We had a meal together and he said he would head back home. I don't know what happened," he said.
Police are investigating the shooting in a bid to nail down culprits.