Over 40 new parties registered in one day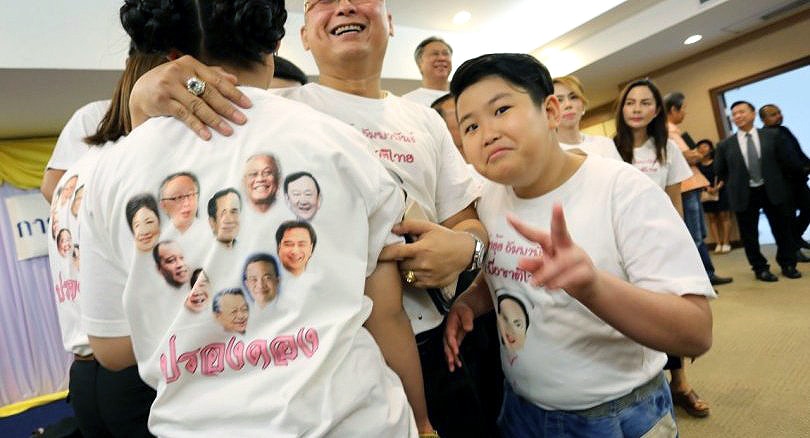 By Kas Chanwanpen
As many as 42 groups of people requested to establish new political parties on the first day of pre-registration organised by the Election Commission (EC) yesterday.
The EC's head office at Government Complex was full of energy as hundreds of prospective party founders and their supporters lined up to reserve the names and logos of new parties. Observers said so many groups showed up on the first day possibly because political activities had been restricted since the ruling junta's National Council for Peace and Order (NCPO) came to power after the May 2014 coup. But most analysts believe that only a few newly registered parties will be viable.
At least two pro-junta groups showed up yesterday, registering the names People's Reform Party, which is led by former senator Paiboon Nititawan, and Palang Chart Thai (Thai Nation Power) under the leadership of Maj-General Songklod Thiprat. Both men have previously worked under the coup-installed regime.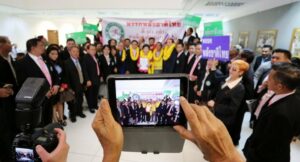 However, two highly anticipated new prospective parties, one backed by politician-turned-protester Suthep Thaugsuban and the other by pro-democracy billionaire Thanathorn Juangroongruangkit, were not registered yesterday as their representatives were not seen at the venue. They are expected to show up later this month.
Many party founders present yesterday are political novices with backgrounds in business, civil society, academia or agriculture. Among the crowd was a YouTube celebrity. One group wore T-shirts with the faces of the most bitter political rivals arranged in a heart shape above the word "reconciliation".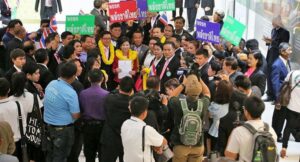 Registration will be open until the end of the month and election authorities have 30 days to approve the applications. Political scientist Stithorn Thananithichot said he believed the so-called "new blood" party led by young progressive people such as Thanathorn and law professor Piyabutr Saengkanokkul could offer new hope for politics.
"Politics has been frozen for four to five years. To change anything, we need new people in politics. And when I see this group, I feel we have some hope," Stithorn said.
However, Thanathorn and Piyabutr might be perceived by the right wing as being critical of the monarchy, which some believe could be a potential disadvantage for them in the election. Piyabutr, an academic with the Nitirat group, told BBC Thai earlier that he expected his new party would be a tool to bring people out of the dictatorship and return the country to a normal political system after a "lost decade" due to political conflicts.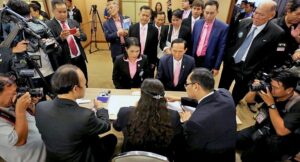 The Nitirat group of academics is known for campaigning for amendments to the lese majeste law. Thanathorn's group included progressive pro-democracy people as their supporters, but their success remained uncertain, Stithorn said.
"I think they can win tens or hundreds of thousands of votes – enough to have maybe one seat in Parliament," the political scientist said.
"It is uncertain if they can steal votes from Pheu Thai Party. There are some people who are loyal to the Shinawatra family and others who look at the end results. If they want to win the election, they have to vote Pheu Thai."
A new party that was expected to be successful would be backed by Suthep's group, thanks to support from people affiliated with the now-defunct People's Democratic Reform Committee, Stithorn said.
Well-established parties like Pheu Thai and the Democrats may also need young blood to boost their image, he said. In the pre-registration process, political groups could only reserve party names. Their official status as a political party will be confirmed only after they complete administrative work following the new regulations, such as gathering at least 500 founding members and raising a capital fund.
Newly registered parties also needed to seek permission from the ruling junta if they wanted to convene party meetings, Deputy Prime Minister Wissanu Krea-ngam said yesterday. He said they could do so by making requests through the EC and that the NCPO would consider such requests on a case-by-case basis. The junta still has not completely "unlocked the political restrictions" so new parties must be careful, he said.
Wissanu added that political parties had the right to name the candidates they wanted to support to become prime minister, but they were still not allowed to introduce policy platforms.
EC President Supachai Somcharoen said yesterday the number of new parties involved in the first day of pre-registrations was "beyond expectations". Despite its responsibility to ensure a free and fair election, Supachai said it was not the EC's job to examine if new parties might have been formed in particular to support General Prayut Chan-o-cha's return as prime minister. The EC just registered groups that met the qualifications required by the law, he said. In response to suspicions that some party names might be registered to be resold in the future, Supachai said it was unlikely given that party founders had to raise at least 1 million baht to confirm parties' status.
Election commissioner Somchai Srisutthiyagorn yesterday said the large number of parties seeking registration reflected the present-day high degree of public interest in political matters. However, he added that not all the prospective parties would succeed in being formally approved.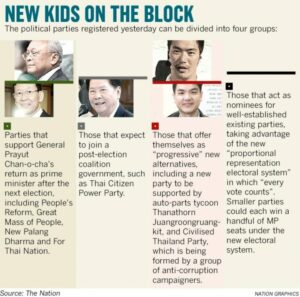 Keep in contact with The Thaiger by following our
Facebook page
.
Never miss out on future posts by
following The Thaiger
.
Thailand News Today | German Embassy, More STV tourists, Thanathorn in trouble | October 27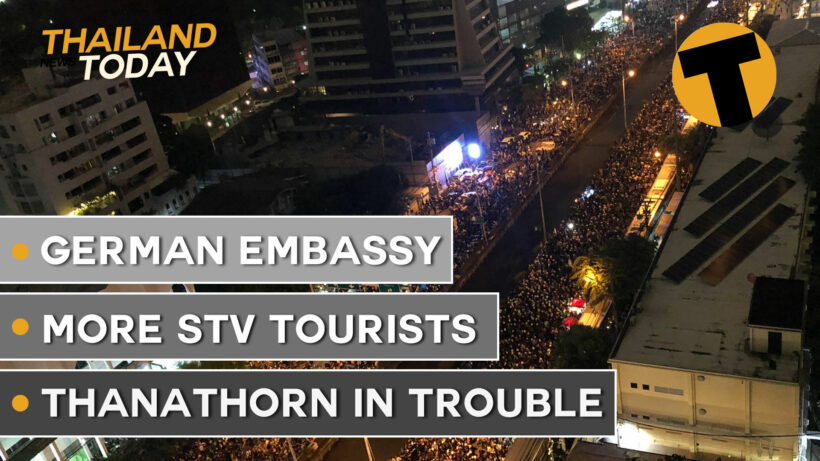 Today's latest Thai news from The Thaiger, hosted by Tim Newton with full, echoey sound! Sorry about the minor audio issues!
From Bangkok to Berlin – protesters deliver letter to German Embassy
Protesting students last night submitted a letter to the German Embassy, to be passed on to the German Government. The protest started around 4pm when the rally gathered at the Sam Yan intersection, near the Chulalongkorn University, and made its way along Rama IV Road to the German Embassy in Sathorn Road, some 1.5 kilometres.
After some 10,000+ students descended on the Embassy compound in Sathorn Road, the German embassy said it would be "ready to receive the petition and convey it to Berlin on condition it was conveyed in a peaceful manner".
The rally disbanded peacefully at around 9pm. Here are a few lines from the letter… the full contents are published on thethaiger.com
Addressed to His Excellency German Ambassador to Thailand.
During the last few days, we believe that Your Excellency have had the occasion to observe numerous alarming human rights violations in The Kingdom, including the excessive use of force against peaceful protestors and the suppression of free speech.
The protestors. at the receiving end of these egregious violations, were advocating for nothing more than democracy and accountability from the Government.
One of the most significant and courageous demands from the protestors is the accountability of the monarchy as an institution under the constitution.
In this regard, we are certain that Your Excellency is well aware of the open secret that H.M. does not habitually reside in Thailand, but rather in Bavaria, Germany. Khana Ratsadon International profoundly believes that this violates International custom, law, as well as Article I of the German Constitution.
We sincerely hope that Your Excellency would convey our grievances to the German Government.
Yesterday's Germany's Foreign Minister responded directly to the situation out side the German Embassy in the German parliament….
"Of course we are following developments taking place in Thailand, and know there are demonstrations and people taking to the streets for their rights. And, of course, I am also watching what the Thai King gets up to in Germany."
Earlier yesterday a group of some 500 supporters of the government and royalists dressed in yellow shirts also demonstrated outside the gates of the German Embassy voicing their support for His Majesty and a continuation of the current system.
Both rallies outside German Embassy broke the law – deputy police chief
Meanwhile both of the rallies outside the German Embassy in Bangkok – the royalists and government supporters earlier yesterday afternoon and the pro-democracy protesters in the evening – have been deemed illegal by Thai police.
Deputy Metropolitan Police Chief says both rallies held outside the embassy on Sathorn Road did not have the permit required to hold a gathering and demonstrators violated Covid-19 prevention measures under the emergency order (presumably the Covid 19 emergency decree as the State of Emergency was rescinded last Thursday by the Thai PM).
Around 500 royalists got to the embassy first in the afternoon to show support for the Thai Monarch. Most were dressed in yellow, the colour representing the Thai Monarchy, and many waved the Thai flag and held up photos of the Royal family.
6 face extortion charges after allegedly posing Thai immigration police officers
Police have arrested 3 people and issued arrest warrants for 3 others on extortion charges after they allegedly posed immigration police officers in Rayong and visited business owners with migrant staff, asking them for money.
Police say 6 men wearing immigration police uniforms visited business owners in Rayong on September 15. They allegedly asked for money from the businesses with migrant labourers.
Investigators where able to track down 3 of the suspects and found the immigration police uniforms they allegedly used.
145 more on Special Tourist Visa arrive in Bangkok
145 people on the new Special Tourist Visa arrived in Bangkok yesterday from Guangzhou, China, the second group after Thailand's 7 month ban on international tourists.
39 people on the new long stay visa arrived last week, a small, yet significant step forward for Thailand as it pries open the borders for tourists, albeit with a lot of paperwork, restrictions AND the 14 day quarantine.
In 2019, nearly 40 million tourists visited Thailand.
3 Chinese casino workers arrested with 8 million baht after illegal crossing from Myanmar
Officers from the Thai police and military have arrested 3 Chinese nationals after they crossed illegally into Thailand from the Burmese town of Myawaddy.
The 2 women and 1 man were workers at a casino in Myanmar and were arrested in possession of 8 million baht in Mae Sot, Northern Thailand. Officers detained them as they were getting into 2 cars allegedly arranged for them by 2 Thai men .
Thanathorn, other former Future Forward Party officials, are facing criminal charges
16 people from the dissolved Future Forward Party, including the former leader Thanathorn , could face criminal charges pressed by the Election Commission.
The charges are over a large donation that allegedly exceeds the maximum allowed under the Political Parties Act. The timing of the politically-charged legal action coincides with a peak of anti-government protest activity.
The 191 million baht loan, which exceeds the limit of 10 million baht per donor per year, led the Constitutional Court to dissolve the Future Forward Party back in February. The Court also ordered the party's executive MPs be stripped of their parliamentary status and banned from politics for 10 years.
Keep in contact with The Thaiger by following our
Facebook page
.
Never miss out on future posts by
following The Thaiger
.
Phuket told to prepare "response plan" in case of second Covid-19 outbreak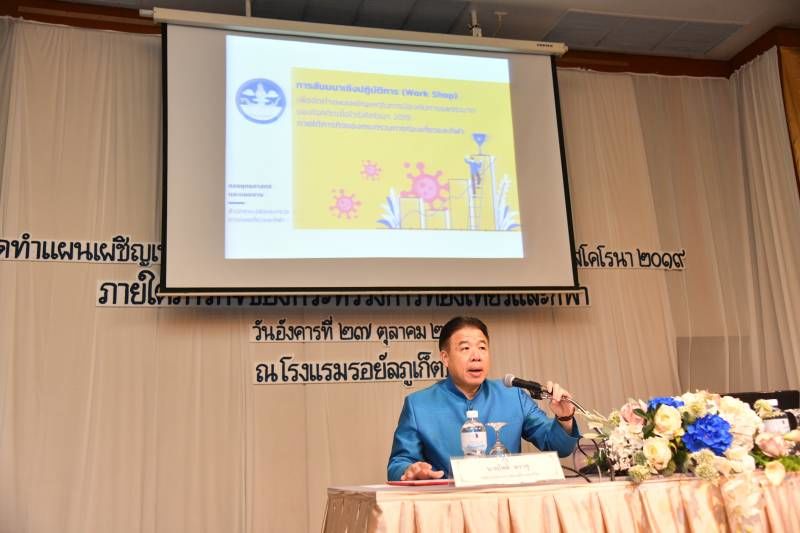 As Phuket awaits foreign tourists, city officials are told to prepare a "response plan" in case of a second wave of Covid-19. An official from the Ministry of Tourism and Sports held a workshop in Phuket today to discuss the risk of another outbreak as the country opens up to those on the Special Tourist Visa.
The ministry's permanent secretary Chote Trachu says now that the country is allowing tourists (who are required to quarantine upon arrival) an infection "may somehow slip through." He says a response plan needs to be in place in case this happens, adding that there should be corporation from the Ministry of Public Health and Ministry of Defense.
"If any tourists are found to be infected, the disease must not be allowed to spread among the people. There should be no panic, and public health officers will investigate the case. Tourist Police will track down the suspected person in an investigation with the Ministry of Public Health."
Chote says all provinces – not just Phuket – should have a response plan. Although tourists must go through a mandatory 14 day quarantine upon arrival, Chote says there are some cases where the incubation period for Covid-19 is longer than 14 days.
"There are a variety of cases. Sometimes, the infection does not show after 14 days, or even 15 or 16 days. Each situation is different."
Recently, a woman in Koh Samui tested positive for the coronavirus 5 days after she was released from a Samut Prakan quarantine facility. Traces of the virus were found on gym equipment the woman used at the quarantine, leading health officials to suspect she was infected before arriving to the island.
"We urge Thai people to not let their guard down. Everyone must wear masks, wash their hands and take care of personal hygiene. This will help prevent them from contracting the disease."
SOURCE: Phuket News
Keep in contact with The Thaiger by following our
Facebook page
.
Never miss out on future posts by
following The Thaiger
.
Don't forget to extend your visa! Thai Immigration warns about fines for late applicants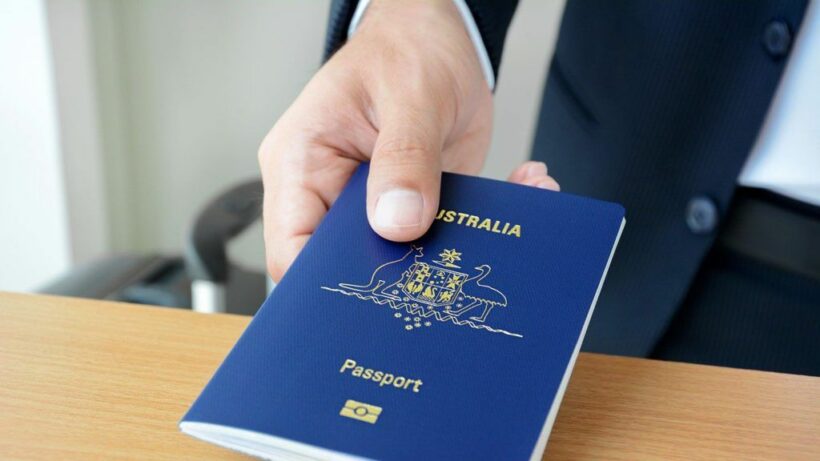 Still need to extend your visa? You have until Halloween, October 31. With the visa amnesty deadline approaching, Thai Immigration Bureau is reminding foreigners to get their visa in order by the end of this month. Late applicants will be fined, they say.
No matter when the visa is extended, as long as it's before the deadline, it will go into effect on November 1 and allow a 60 day stay. The immigration bureau says foreigners should file an application with their local immigration office.
Since the recent amnesty period was put in place a few days after the initial September 26 deadline, those who paid 1,900 baht for 30 day visa extensions last month are now allowed to stay until November 30, but they need to go to immigration to get a stamp with the new expiration date.
The amnesty was first put in place in April due to travel restrictions and the global spread of the coronavirus. The grace period was set to end in July, then extended to late-September, and then extended again after many were unable to leave the country or get their visa in order before the deadline.
SOURCE: Thai Immigration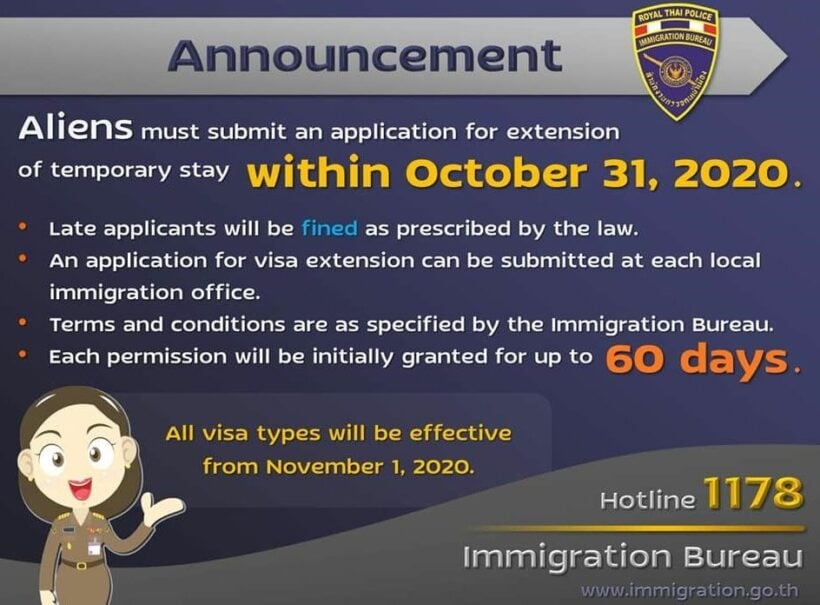 Catch up with the latest daily "Thailand News Today" here on The Thaiger.
Keep in contact with The Thaiger by following our
Facebook page
.
Never miss out on future posts by
following The Thaiger
.