Over 40 new parties registered in one day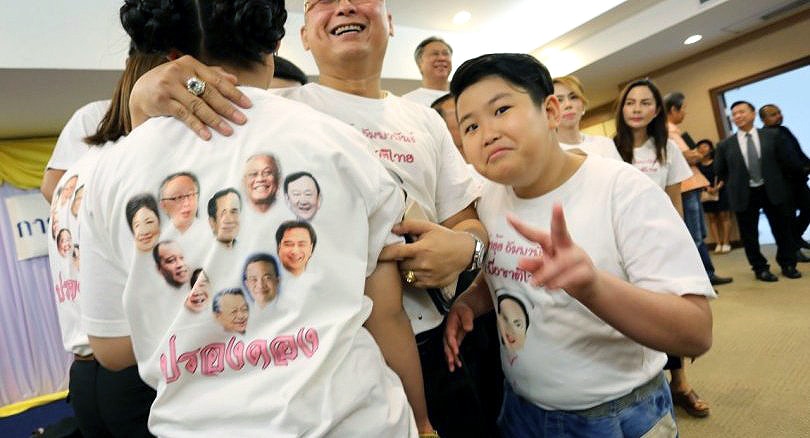 By Kas Chanwanpen
As many as 42 groups of people requested to establish new political parties on the first day of pre-registration organised by the Election Commission (EC) yesterday.
The EC's head office at Government Complex was full of energy as hundreds of prospective party founders and their supporters lined up to reserve the names and logos of new parties. Observers said so many groups showed up on the first day possibly because political activities had been restricted since the ruling junta's National Council for Peace and Order (NCPO) came to power after the May 2014 coup. But most analysts believe that only a few newly registered parties will be viable.
At least two pro-junta groups showed up yesterday, registering the names People's Reform Party, which is led by former senator Paiboon Nititawan, and Palang Chart Thai (Thai Nation Power) under the leadership of Maj-General Songklod Thiprat. Both men have previously worked under the coup-installed regime.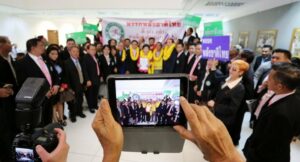 However, two highly anticipated new prospective parties, one backed by politician-turned-protester Suthep Thaugsuban and the other by pro-democracy billionaire Thanathorn Juangroongruangkit, were not registered yesterday as their representatives were not seen at the venue. They are expected to show up later this month.
Many party founders present yesterday are political novices with backgrounds in business, civil society, academia or agriculture. Among the crowd was a YouTube celebrity. One group wore T-shirts with the faces of the most bitter political rivals arranged in a heart shape above the word "reconciliation".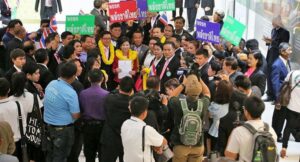 Registration will be open until the end of the month and election authorities have 30 days to approve the applications. Political scientist Stithorn Thananithichot said he believed the so-called "new blood" party led by young progressive people such as Thanathorn and law professor Piyabutr Saengkanokkul could offer new hope for politics.
"Politics has been frozen for four to five years. To change anything, we need new people in politics. And when I see this group, I feel we have some hope," Stithorn said.
However, Thanathorn and Piyabutr might be perceived by the right wing as being critical of the monarchy, which some believe could be a potential disadvantage for them in the election. Piyabutr, an academic with the Nitirat group, told BBC Thai earlier that he expected his new party would be a tool to bring people out of the dictatorship and return the country to a normal political system after a "lost decade" due to political conflicts.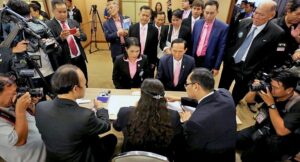 The Nitirat group of academics is known for campaigning for amendments to the lese majeste law. Thanathorn's group included progressive pro-democracy people as their supporters, but their success remained uncertain, Stithorn said.
"I think they can win tens or hundreds of thousands of votes – enough to have maybe one seat in Parliament," the political scientist said.
"It is uncertain if they can steal votes from Pheu Thai Party. There are some people who are loyal to the Shinawatra family and others who look at the end results. If they want to win the election, they have to vote Pheu Thai."
A new party that was expected to be successful would be backed by Suthep's group, thanks to support from people affiliated with the now-defunct People's Democratic Reform Committee, Stithorn said.
Well-established parties like Pheu Thai and the Democrats may also need young blood to boost their image, he said. In the pre-registration process, political groups could only reserve party names. Their official status as a political party will be confirmed only after they complete administrative work following the new regulations, such as gathering at least 500 founding members and raising a capital fund.
Newly registered parties also needed to seek permission from the ruling junta if they wanted to convene party meetings, Deputy Prime Minister Wissanu Krea-ngam said yesterday. He said they could do so by making requests through the EC and that the NCPO would consider such requests on a case-by-case basis. The junta still has not completely "unlocked the political restrictions" so new parties must be careful, he said.
Wissanu added that political parties had the right to name the candidates they wanted to support to become prime minister, but they were still not allowed to introduce policy platforms.
EC President Supachai Somcharoen said yesterday the number of new parties involved in the first day of pre-registrations was "beyond expectations". Despite its responsibility to ensure a free and fair election, Supachai said it was not the EC's job to examine if new parties might have been formed in particular to support General Prayut Chan-o-cha's return as prime minister. The EC just registered groups that met the qualifications required by the law, he said. In response to suspicions that some party names might be registered to be resold in the future, Supachai said it was unlikely given that party founders had to raise at least 1 million baht to confirm parties' status.
Election commissioner Somchai Srisutthiyagorn yesterday said the large number of parties seeking registration reflected the present-day high degree of public interest in political matters. However, he added that not all the prospective parties would succeed in being formally approved.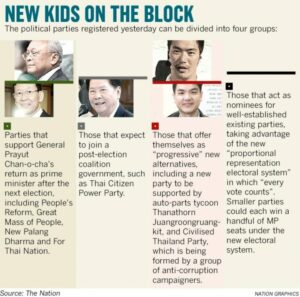 Keep in contact with The Thaiger by following our
Facebook page
.
Top 10 most boring news stories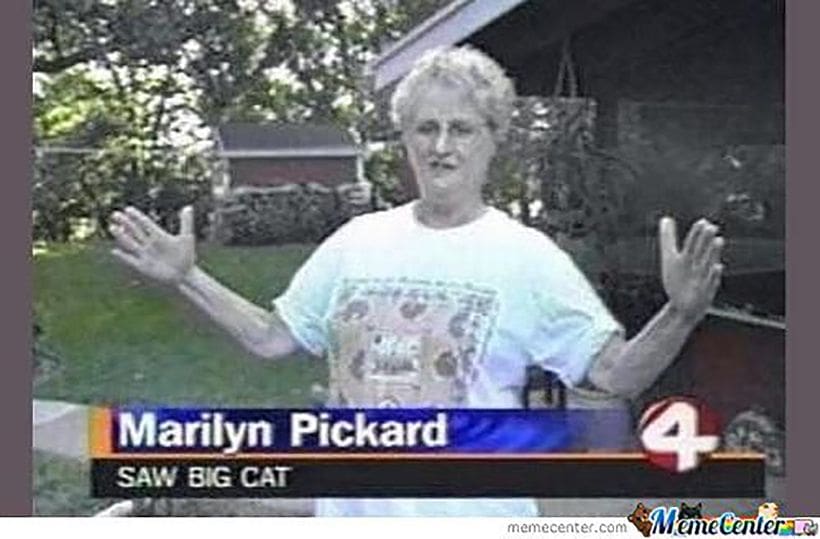 In the media we have 'slow news days'. These days are when you scroll through countless feeds and articles to find something, anything, worth writing about.
Then the deadline looms and you have to publish something.
Then there are those glorious moments when something get published that really should never have been. But being the internet. these magic moments will live on forever.
Here are our Top 10 most boringly stupid headlines we could find.
1. The Suspicious Package

2. The Grand Theft

3. The Major Discovery

4. The Surprise Closed Doors

5. The Great Fast Food Paper Ripper

6. The Horror Substitute

7. The Loud Gate

8. The Blob that went "Baaaa"

9. The Method-Acting Manager

10. The Most Hated Kitten

Keep in contact with The Thaiger by following our
Facebook page
.
PM defends the 80 billion baht munition spend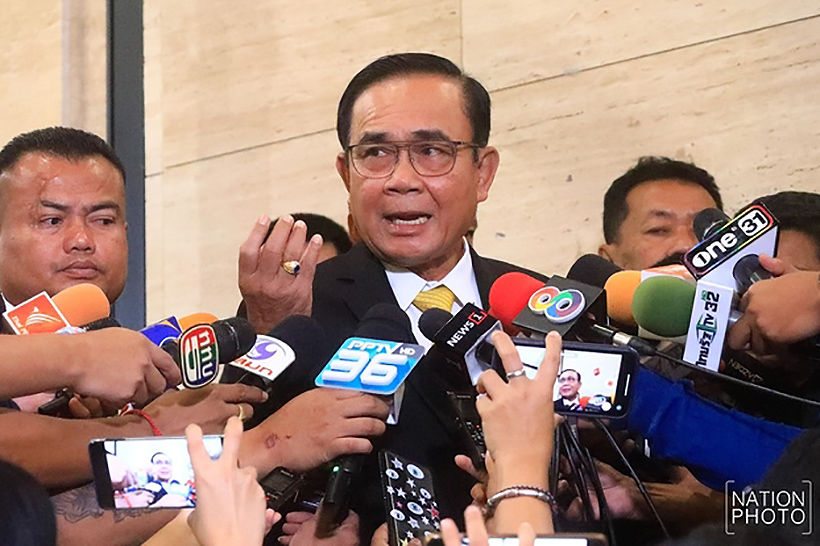 PHOTO: The Nation
Speaking to the House of Representatives' budget debate for the 2020 financial year yesterday, PM and Minister of Defence Gen Prayut Chan-o-cha defended the expenditure for the Defence Ministry. He claimed they must reserve a budget of 70-80 billion baht for buying munitions and vehicles for defense purposes.
"This money is part of the Ministry of Defense's allotted budget, nothing to do with the central expenditure budget."
"Our military personnel are patrolling 5,000 kilometres of border both by land and sea."
"It's a dangerous and important duty and they need modern ships for efficient operations."
The Nation reports that the PM explained to the parliament that the Ministry's existing fleet is more than 60 years old and most of the ships require urgent repair or replacement.
"All our neighbouring countries have modern ships, and Thailand needs to keep up with the changing world to maintain our negotiating powers, as well as show our potential and capability to protect our resources, especially around naval borders."
"The Ministry of Defence is trying its best to reduce costs, such as by using smaller ships or even trying to build the ships domestically. However, we cannot let up on naval patrol. As you can see from skirmishes with illegal, unreported and unregulated foreign fishing boats, we need to protect our people and resources as well as prevent matters that might escalate into bigger conflicts."
SOURCE: The Nation
Keep in contact with The Thaiger by following our
Facebook page
.
Thalang Police arrest local Phuket drug dealer with amphetamine pills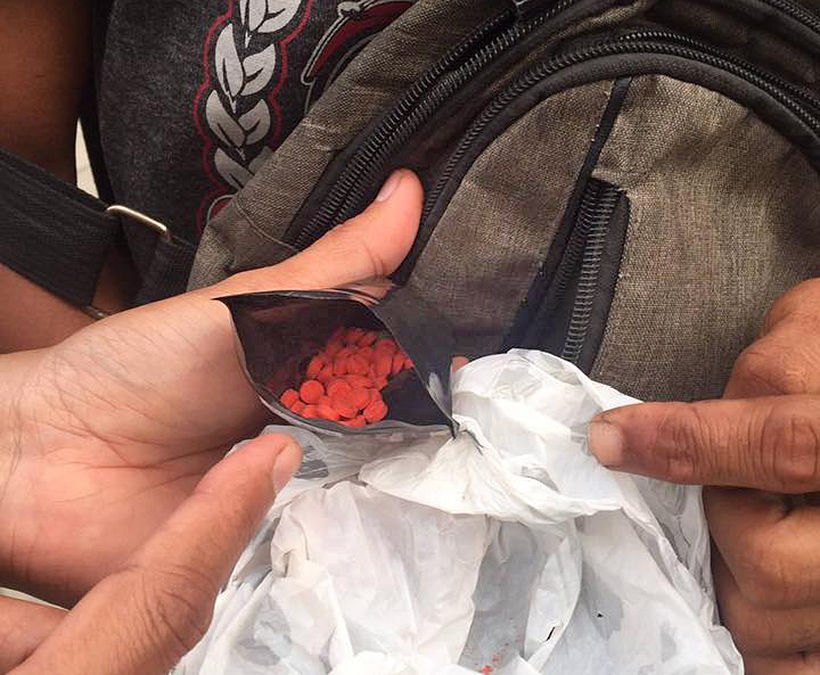 PHOTOS: เหยี่ยวข่าว ภูเก็ต Newshawk Phuket
Thalang Police have arrested a local drug dealer with more than 192 amphetamine pills. Thalang police in Phuket arrested 29 year old Wimon Songkong from Nakhon Si Thammarat with 192 amphetamine pills that he was carrying when they nabbed him in front of a 7-Eleven store inside a PTT gas station on Thepkasattri Road, in Thalang District.
The amphetamine pills were packed in a black zip-lock plastic bag, which was hidden in his grey shoulder bag. Two of the pills were green and 190 of them were orange, while each pill had the letters 'wy' printed on them.
Wimon was charged for possessing and trading illicit drugs and was sent to Thalang police station for further investigation and processing.
STORY: Newshawk Phuket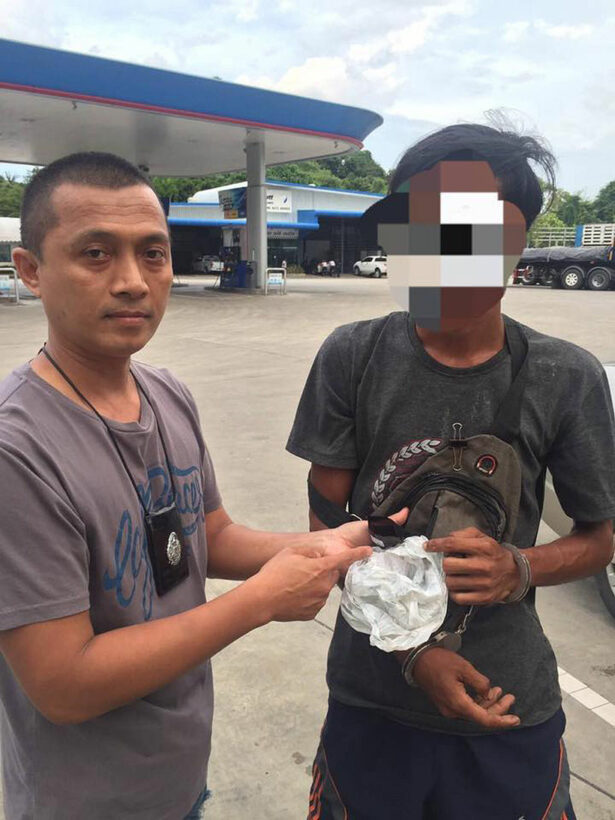 Keep in contact with The Thaiger by following our
Facebook page
.