Social media the key in the run up to the 2019 election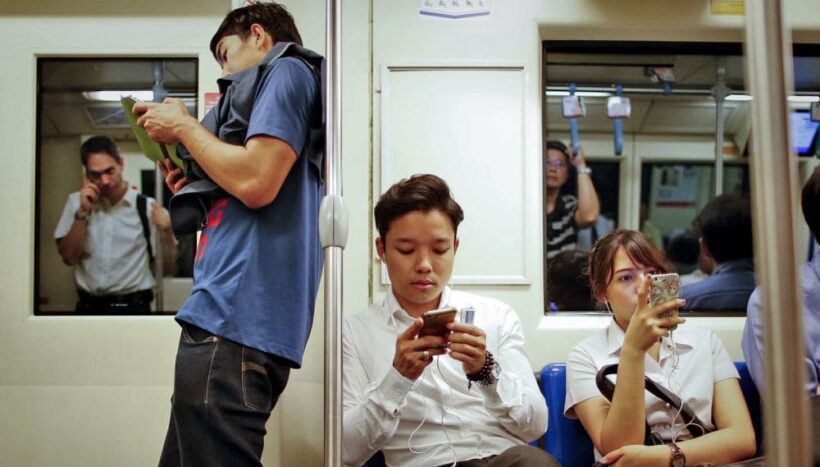 "Newspapers, once the beneficiary of political advertising, will now be side-lined in favor of targeted social media in the lead up to this year's election."
by Asina Pownwasin
Your social media platforms are about to be filled with banter, arguments and lots of advertising. The topic? The forthcoming Thai election (when a date is eventually announced).
For the first time since the last general election in 2011, Thailand is witnessing the fast-growing power of social media platforms, especially among young voters. The use of social media is believed to be a key in shaping voter intentions in the lead up to the election. The party who leverages social media the best will emerge the winner in the forthcoming poll.
Mana Treelayapewat, Dean of the School of Communication Arts at the University of the Thai Chamber of Commerce, says political parties have been using social media much more to try and win votes due to the online platforms' high penetration among the country's 50 million+ voters.
For the upcoming election, The Nation reports that the number of first-time voters age 18 and up is estimated to be around seven million, and social media is their preferred means of communication.
Most social networks are being used to present the parties' policies and activities and the details of MP candidates, Mana said.
"Voters will have to be on guard against the dissemination of content that's subtly distorted to win votes. Traditional media outlets can also be misled by such inaccurate content, so they too must carefully vet it before publishing or re-broadcasting."
Parties also use Twitter for quick and real-time communications with their base, while turning to Facebook for group communications and engagement. The Line platform can be used for both one-on-one and group communication. For controversial and viral video content, YouTube is used together with other platforms to spur social media interest.
"The role of micro-influencers is growing rapidly because they play a similar role to that previously done by party canvassers, especially with regard to discussing party policies," said Chanut Kerdpradub, a social-media communication specialist.
Micro-influencers on the internet and mobile devices are also useful for reaching niche and special-interest groups, whose votes are crucial to election outcomes but are often hard to reach and activate before the vote.
Content on social media will influence more than just first-time and young voters, Chanut said. Senior citizens tend to prefer Line, for example. Overall, political parties will aim to use social networks to penetrate specific voter groups with customised contents based on data analysis and artificial intelligence tools.
Chanut said traditional media will see their role and influence decline in the coming election due to the rapid digitalisation of the Thai economy and society.
Newspapers, once influential and useful in creating opinion during an election run-up are now rendered irrelevant by the power, reach and immediacy of social media. Traditional big spending on printed media will now move to social and online platforms as political parties seek better targeted contact with their constituencies.
Read the rest of this article HERE.

Want more from the Thaiger family?
📱 Download our app on Android or iOS for instant updates on your mobile
📧 Subscribe to our daily email newsletter
👍 Like/Follow us on Facebook
🔔 Subscribe to or Join our YouTube channel for daily video updates
Thailand to get 10 to 20 million doses of Pfizer Covid-19 vaccine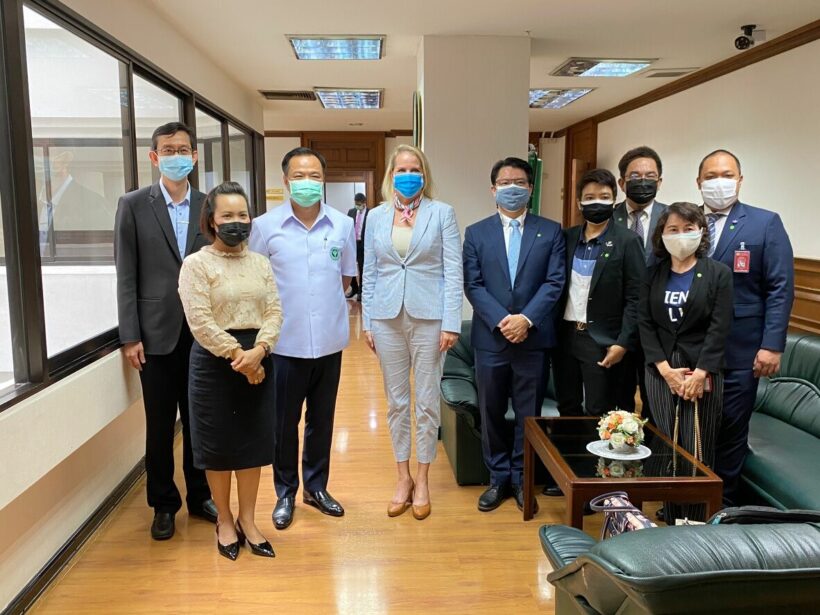 Thailand will get 10 to 20 million doses of the Pfizer vaccine, according to Public Health Minister Anutin Charnvirakul. The minister posted an announcement on his Facebook page along with a photo after a meeting with Pfizer representatives.
Anutin says the Thai Food and Drug Administration will facilitate the registration process as soon as possible. The Pfizer vaccine is expected to arrive in Thailand in the third or fourth quarter of the year.
Currently, China's Sinovac vaccine, also known as CoronaVac, is being administered in Thailand to adults ages 18 to 60 while the AstraZeneca vaccine is being administered to adults as well as the elderly. The 2-dose Pfizer vaccine has been appealing to Thai health officials because studies show it is safe and effective for children ages 12 and older.
The Johnson & Johnson vaccine has also been approved by Thai FDA. The Moderna, Covaxin and Sputnik V vaccines are in the registration process.
Want more from the Thaiger family?
📱 Download our app on Android or iOS for instant updates on your mobile
📧 Subscribe to our daily email newsletter
👍 Like/Follow us on Facebook
🔔 Subscribe to or Join our YouTube channel for daily video updates
Phuket to rollout rapid Covid-19 testing campaign for visitors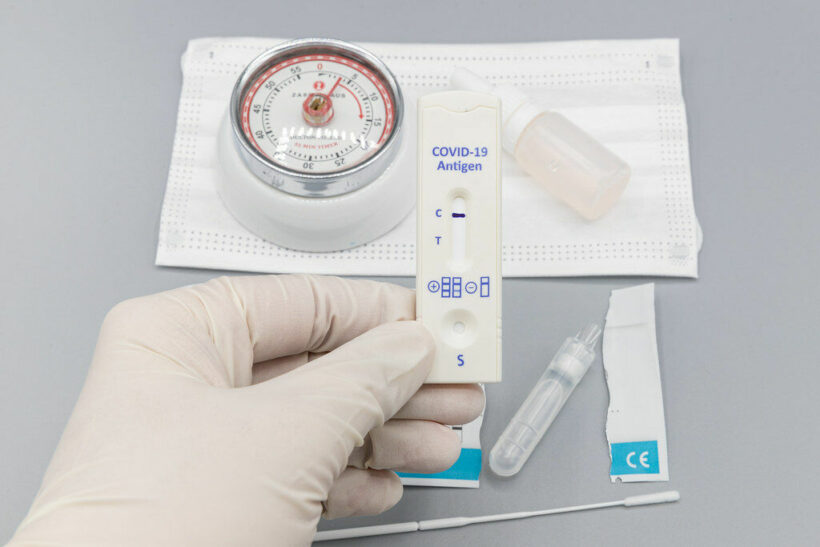 A rapid Covid-19 antigen testing campaign for visitors to Phuket is being rolled out to quickly detect cases in an effort to prevent the spread of the virus. The island province is set to reopen to foreign tourists in July, that is if the virus is contained and if at least 70% of the population is vaccinated against the coronavirus.
The rapid testing campaign will start today and go until May 15. Visitors from Krabi, Ranong, Trang, and Phatthalung will be tested, according to deputy Phuket governor Piyapong Choowong. After May 15, those entering Phuket through official checkpoints will under Covid-19 tests funded by the National Health Security Office.
If daily new Covid-19 infections are more than 20 after the rapid testing campaign ends next week, then local officials will impose stricter disease control measures to help contain the virus.
In the recent wave of infections over the past month, there have been 493 confirmed Covid-19 cases in Phuket with 229 currently in treatment, according to the chief of the provincial public health office, Koosak Kookiattikul. To help contain Covid-19 in Phuket, the governor has also ordered local officials to find at-risk groups and carry out active case finding campaigns.
Despite the recent Covid-19 outbreak, Phuket is still scheduled to reopen under the so-called sandbox model, allowing foreign tourists who are vaccinated against Covid-19 to travel to the island without undergoing quarantine. A mass vaccination campaign is being rolled out on the island province in an effort to vaccinate 70% of the population, reaching herd immunity, by the end of June. Expats in Phuket with a valid work permit will be able to register for a vaccine starting next week.
SOURCE: Bangkok Post
Want more from the Thaiger family?
📱 Download our app on Android or iOS for instant updates on your mobile
📧 Subscribe to our daily email newsletter
👍 Like/Follow us on Facebook
🔔 Subscribe to or Join our YouTube channel for daily video updates
Thailand's private sector to open 372 vaccination points nationwide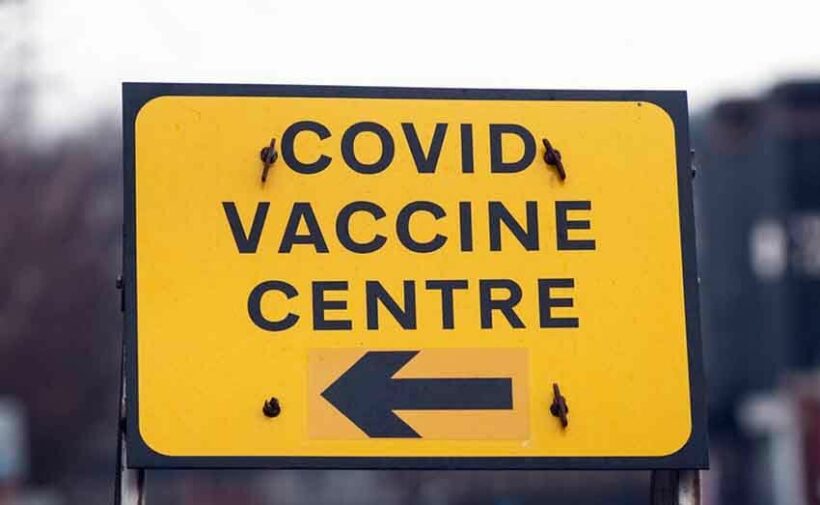 Thailand's Chamber of Commerce has confirmed the private sector will open 372 vaccination centres in an effort to accelerate the Covid-19 vaccine rollout. Nation Thailand reports that 82 of the centres will be in Bangkok, which, along with neighbouring provinces, is currently bearing the brunt of the third wave. The private sector aims to support the government's plans to vaccinate 50 million people this year.
Various premises around the country, including offices and factories, are being kitted out with mobile vaccination units, IT systems and equipment, printers, and card readers. Sanan Angubolkul from the TCC says volunteers are being recruited to staff the centres and food and drinking water will be laid on. The plan is to offer local vaccination, to prevent people from having to travel and potentially pass on the virus.
According to Nation Thailand, Saran met with the Interior Minister, Anupong Paochinda, for talks on increased public-private cooperation in the fight against Covid-19, particularly in supporting small to medium-sized businesses. Both acknowledge the vital role vaccination plays, enabling the country to re-open to desperately needed international tourists.
It's understood that a vaccination centre launched in partnership with Bangkok City Hall will serve as a model for provincial governors, chambers of commerce, and local health officials around the country.
Meanwhile, the government has confirmed that from next month, foreigners living in Thailand can register to be vaccinated as part of the government's rollout. That date has been brought forward on the southern island of Phuket, where expats in possession of a valid work permit can register from Tuesday. Phuket is aiming to inoculate 70% of its population as it aims for a July 1 re-opening to vaccinated foreign tourists.
SOURCE: Nation Thailand
Want more from the Thaiger family?
📱 Download our app on Android or iOS for instant updates on your mobile
📧 Subscribe to our daily email newsletter
👍 Like/Follow us on Facebook
🔔 Subscribe to or Join our YouTube channel for daily video updates