Phuket Gazette Thailand News: Push for bigger cigarette warnings; Rubber rally leaders face arrest; Appeal dropped in police killing; Bt11m to clean up Klity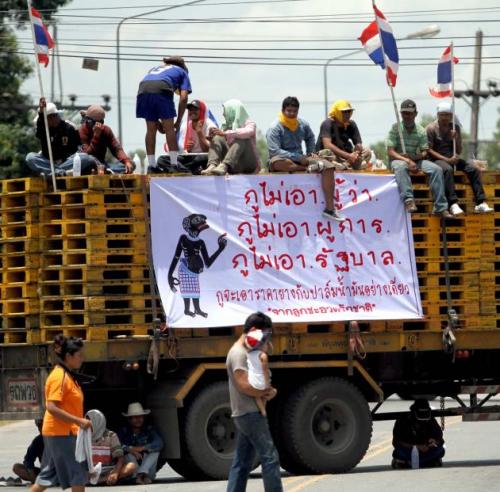 PHUKET MEDIA WATCH
– Thailand news compiled by Gazette editors for Phuket's international community
Ministry to appeal ruling on cigarette box images
The Nation / Phuket Gazette
PHUKET: The Public Health Ministry is planning to file an appeal with the Supreme Administrative Court so it can go ahead with making the warning graphics on cigarette packets larger.
The Administrative Court on Monday suspended the plan, under which tobacco companies would have to increase the size of the warning graphic from 55 per cent of the surface on cigarette packets to 85 per cent.
"I will consult with legal experts to find out about the appeal procedure," the ministry's permanent secretary Dr Narong Sahametapat said.
He had just received the Administrative Court's order to suspend imposition of the new ministerial edict. Meanwhile, Dr Nopporn Cheanklin, deputy director of the Disease Control Department, said health officials would convene today to study the legal procedure on filing an appeal to the Supreme Administrative Court within 30 days of the lower court's ruling.
He said that according to the World Health Organization's Framework Convention on Tobacco Control, a public health authority should not ask tobacco firms for recommendations on regulations aimed at controlling the consumption of their products.
"This regulation will not create any burden on the tobacco companies. In fact, this regulation will prevent young people from becoming addicted to smoking," he said.
The Administrative Court issued its ruling after the Thai Tobacco Trade Association, which represents more than 1,400 retailers nationwide, called on the court to invalidate the Public Health Ministry's "unconstitutional" decision to impose new warnings on cigarette packages. The association reasoned that the regulation would lead to real problems for retailers. These would include higher operating costs and a likely consumer shift towards cheaper, lower-margin, roll-your-own tobacco, which is not subject to the new warnings and yet makes up about half of all tobacco sold in Thailand.
It would also provide new incentives for the black market to increase – where products are less expensive to buy, highly profitable to sell and often have smaller warnings or no warnings at all.
Moreover, the ministry has no legal authority to issue this regulation, it argued. Dr Hathai Chitanont, director of the Thailand Health Promotion Institute, said he backed the ministry's attempt to control tobacco consumption and to file an appeal to the Supreme Court. He suggested the ministry do a lot of homework and collect more scientific data and evidence to prove that making the warning graphics bigger on cigarette packets would reduce the number of smokers and prevent new ones.
However, he acknowledged that he was aware of no research so far proving this assumption.
Keep checking the Phuket Gazette's
Thailand news pages
, join our
Facebook fan page
or follow us on Twitter
@PhuketGazette
for the latest national news updates.
Rubber-price rally leaders face arrest
Phuket Gazette
PHUKET: The protest by rubber farmers in Nakhon Si Thammarat has reached boiling point, with a court issuing arrest warrants for six protest leaders in the face of road closures and a rail line being blocked off.
Warrants were issued at the request of police yesterday for the arrest of Chayanin Konglang, Kongkiat Chuthong, Sompas Kwanthong, Sammit Juiplod, Prapas Pakdeerat and Wanida Kaewmanee. This is in addition to the arrest warrants issued for nine people last Friday after a bloody clash between police and protesting farmers erupted in this southern province.
Nakhon Si Thammarat police chief Maj-General Ronnapong Saikaew said he expected the arrests of the six protest leaders to take place this morning. Anti-riot police have already been dispatched to a wildlife sanctuary near the protest sites, he said.
Meanwhile, Governor Viroj Jivarungsan via a representative yesterday asked the provincial court to approve operations to reclaim public space from the protestors. Police spokesman Maj-General Piya Uthayo said the road and railway blockades had affected about 15,000 travellers.
"Train passengers are stranded, while those travelling by road have to take a detour," he said.
Prime Minister Yingluck Shinawatra yesterday urged protesters not to cross the line.
"The government has embraced patience, but people who have violated the law will face legal action," she said.
Several government figures have now tried to link opposition politicians to the intensifying protest by rubber farmers. Labour Minister Chalerm Ubumrung said he was fully confident that someone had engineered the ongoing protest.
"I can predict that this protest won't end easily," he said, adding, "It has never been easy to stop rallies in the South."
The southern region is known to be the stronghold of the Democrat Party. PM's deputy secretary-general Suporn Atthawong claimed his negotiations with rubber farmers' representatives had concluded satisfactorily with an agreement that the government would peg the rubber price at Bt80 per kilogram, but dozens of teenagers outside the meeting venue in Nakhon Si Thammarat later loudly rejected the agreed price. He insisted that the teenagers were not, however, rubber farmers.
Piya, meanwhile, said the demonstrators at the protest sites could be divided into two groups: real rubber farmers, and those who are pursuing a political goal.
Twenty-five Democrat MPs yesterday held a press conference at Parliament House to dismiss any suggestion that they were behind the angry protests.
"Those who hurl such allegations are shameless and unethical," said Surat Thani MP Suthep Thaugsuban.
Democrat deputy leader Thaworn Senneam said Democrat politicians had met protesters merely to express moral support after some of the locals were injured during the clash on Friday. He urged the government not to use violence against any of those involved in the protest.
Keep checking the Phuket Gazette's
Thailand news pages
, join our
Facebook fan page
or follow us on Twitter
@PhuketGazette
for the latest national news updates.
Uncle withdraws complaint for Bt1m
The Nation / Phuket Gazette
PHUKET: Somchai Kerdrungreung, the uncle of nine-year-old Chakkraphan "Nong Fluke" Srisa-ard who was shot and killed on February 23, 2003 in a drug sting operation, withdrew his appeal against three police officers from Bangkok's Bang Chan Police Station after he was offered 1 million baht in compensation.
Somchai had filed an appeal against the July 28, 201
— Phuket Gazette Editors
Keep in contact with The Thaiger by following our
Facebook page
.
Never miss out on future posts by
following The Thaiger
.
US cuts Thailand's tariff benefits after long-running pork dispute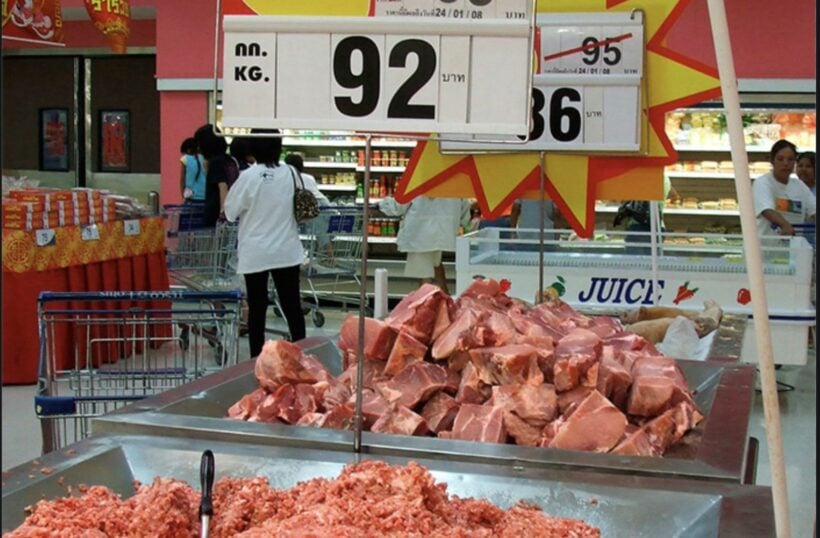 Thailand's duty-free privileges for US$817 million in exports with the US are to be revoked from the end of this year, according to US President Trump in an announcement yesterday. The President blamed a lack of progress in opening the Thai market to US pork products. Trump's letter announcing the action follows more than 2 years of threats and negotiations with Thai officials over issues ranging from access to Thailand's markets for US goods and the documented inadequate labour rights in the south east Asian nation.
Washington will now eliminate some tariff benefits for Thailand, accusing the country of failing to allow imports of pork from US producers.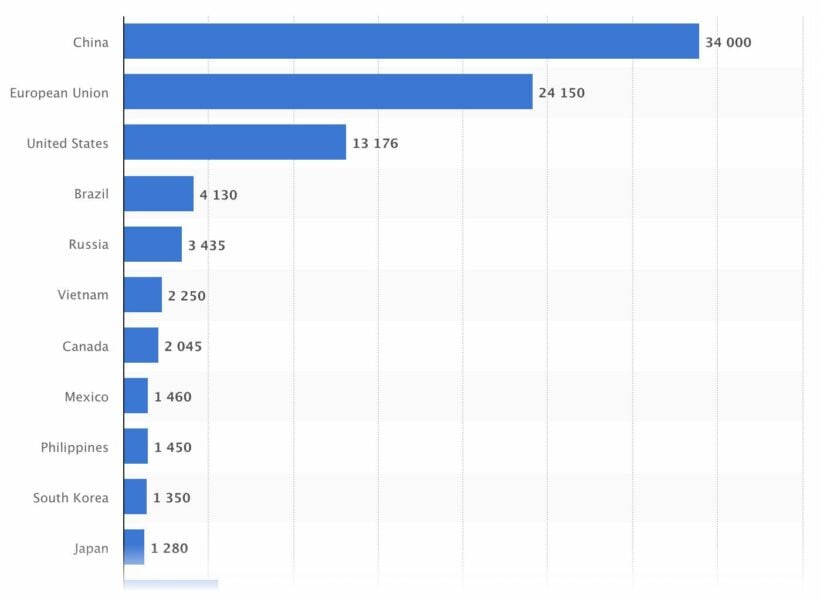 GRAPHIC: Global pork production in 2020, by country (in 1,000 metric tonnes) – statista.com
The suspension of the Generalised System of Preferences access follows a suspension earlier this year on about $1.3 billion worth imports from Thailand, which once had such privileges for about US$4.4 billion in exports to the United States.
The US Trade Representative's office said the list of products includes mango, pineapple, manicure kits, steel pipes and precious stones., auto parts, dried produce, tools, electrical products and aluminium kitchenware.
Writing to the House Speaker Nancy Pelosi, President Trump said… "I have determined that Thailand has not assured the United States that Thailand will provide equitable and reasonable access to its markets."
GSP, Generalised System of Preferences, is a 70s-era program of US trade preferences for developing economies aimed at improving workers' rights and access to broader markets.
"The US Trade Representative's office also announced that it had closed other GSP eligibility reviews with no loss of benefits for Georgia, Indonesia and Uzbekistan. It also said new GSP reviews were opened for Eritrea based on concerns about workers' rights."
SOURCE: Reuters | VOANews | statista.com
Keep in contact with The Thaiger by following our
Facebook page
.
Never miss out on future posts by
following The Thaiger
.
Dow and S&P 500 take a breath after an ugly week, tech stocks lead the way down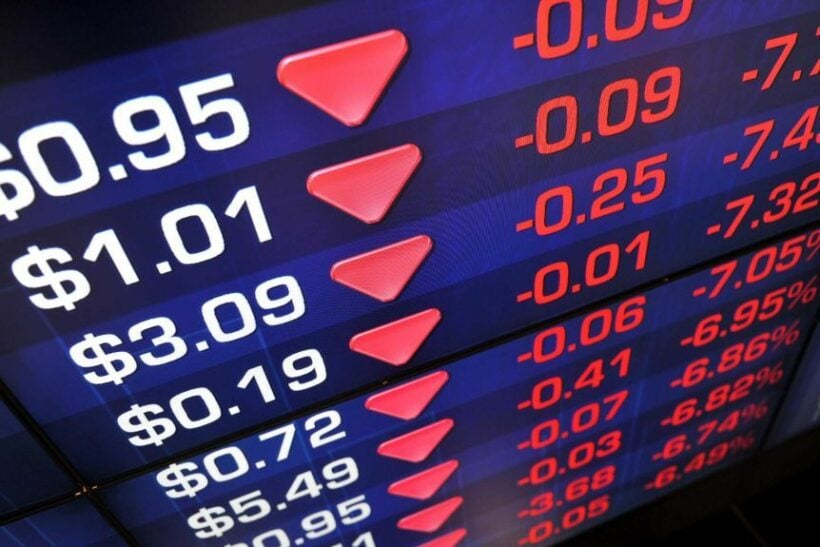 US stocks closed lower yesterday to end an ugly week downbeat with 'uncertainty' remaining the overwhelming sentiment. Tech stocks led the march downwards. The Dow Jones Industrial Average dropped in its biggest monthly collapse since March with investors reacting to rising Covid-19 cases in the US and Europe, peppered by nervousness ahead of next Tuesday's US presidential election. The increased volatility forced all three major indexes seeing their biggest weekly declines since the worst of the coronavirus-inspired selloff 8 months ago.
The Dow fell around 157 points, to end near 26,502, according to preliminary figures, while the S&P 500 lost around 40 points, or 1.2%, to finish near 3,270. The Nasdaq Composite gave up around 274 points, or 2.4%, closing near 10,912. The Dow had a 6.5% weekly fall and a 4.6% monthly drop. Friday's decline saw the Nasdaq negative for the month of October, falling 2.3%. The Nasdaq was down 5.5% for the week.
The Dow dropped more than 500 points at its session low with tech stocks – primarily Apple, Amazon, Alphabet and Facebook – leading the market decline.
A number of stocks were on the move, down, following a slew of earnings, including from the tech giants. Twitter sank more than 20% on slowing growth, while Exxon reported its 3rd straight quarter of losses.
Key moments yesterday…
Dow closed down 0.59% for its 5th negative day out of 6
S&P 500 closed down 1.21% for its 4th negative day in 5
Dow closed down 6.47% this week for its worst week since March 20
S&P closed down 5.64% this week for its worst week since March 20 when the S&P lost 14.98%
S&P closed down 2.77% this month for its second-straight negative month
Nasdaq closed down 5.51% this week for its worst week since March 20 when the Nasdaq lost 12.64%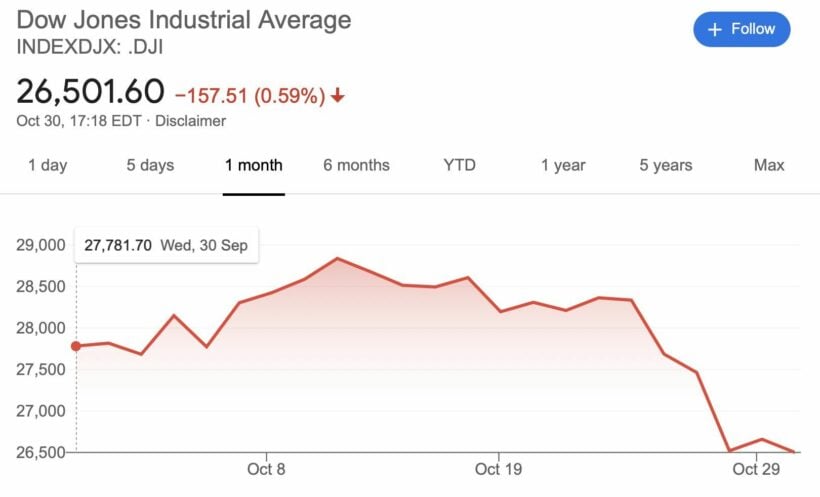 Keep in contact with The Thaiger by following our
Facebook page
.
Never miss out on future posts by
following The Thaiger
.
Free Trade Agreement talks continue between Thailand and EU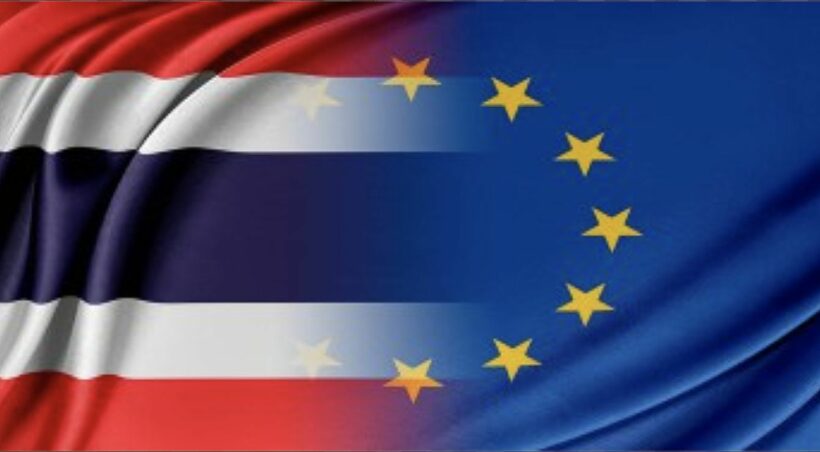 Thailand is resuming trade talks with the European Union on the long-delayed Thai-EU free trade agreement. The 15th Thai-EU Senior Officials' conference was held virtually between leading Thai and European trade officials this week. The push was on to have the Free Trade Agreement signed and sealed by the end of this year.
Discussions were held regarding the ongoing affects of the Covid-19 pandemic, the impact on Euro and Thai economies, the current political unrest in Thailand, the fight against Illegal Unreported and Unregulated fishing, promoting the protection of labourers and a commitment to strengthen ties between the Euro zone and Thailand.
The next step in the establishment of the FTA will be a forthcoming meeting on trade and investment in December.
The virtual meeting was represented by Sasiwat Wongsinsawat, the Director-General of the Department of European Affairs and the European Union's Paola Pampaloni , the Deputy MD for Asia and Pacific Department at the European External Action Service.
Keep in contact with The Thaiger by following our
Facebook page
.
Never miss out on future posts by
following The Thaiger
.