Phuket Gazette World News: West preps for Syria strike; Mexico's drug war scaled down; US seeks release of missionary jailed in N Korea; Bishop of Hong Kong warns of violence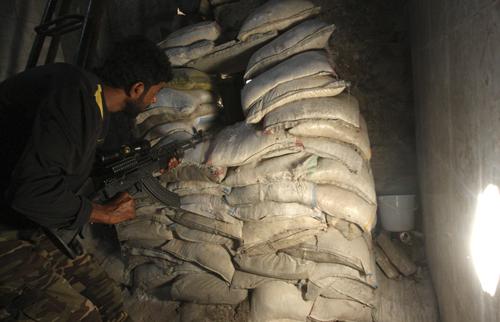 PHUKET MEDIA WATCH
– World news compiled by Gazette editors for Phuket's international community
U.S., allies prepare for probable strike on Syria
Reuters / Phuket Gazette
PHUKET: The United States and its allies geared up for a probable military strike against Syria yesterday that could come within days and would be the most aggressive action by Western powers in the Middle Eastern nation's two-and-a-half-year civil war.
Western envoys have told the Syrian opposition to expect a military response soon against President Bashar al-Assad's forces as punishment for a chemical weapons attack last week, according to sources who attended a meeting with the rebel Syrian National Coalition in Istanbul.
Amid a quickening drum beat of preparations, U.S. Defence Secretary Chuck Hagel said American forces in the region were "ready to go" if President Barack Obama gave the order.
Obama – long reluctant to intervene in the Syrian conflict – worked to solidify allied support, including calling the leaders of Britain and Canada, while U.S. intelligence agencies assembled what they are sure to say is final confirmation of the Syrian government's culpability for last Wednesday's poison gas attack near Damascus.
White House spokesman Jay Carney said it would "fanciful" to think that anyone other than Assad's forces was behind the large-scale chemical attack, which activists said killed hundreds of people as they slept.
"There is no doubt who is responsible for this heinous use of chemical weapons in Syria: the Syrian regime," Vice President Joe Biden said at a speech in Houston to the American Legion, a military veterans' group.
Obama has yet to make a final decision on the U.S. response, Carney said, but left little doubt that it would involve military action. He insisted, however, that Washington was not intent on "regime change," signalling that any military strikes would be limited and not meant to topple Assad.
The British military was also drafting plans. Prime Minister David Cameron, anxious, like Obama, not to emulate entanglements in wars in Afghanistan and Iraq that beset their predecessors, said any strikes would be "specific" so as not to drag the allies deeper into Syria's civil war.
Cameron, who consulted with Obama yesterday for the second time in four days, recalled parliament for a debate on Syria tomorrow.
U. N. chemical weapons investigators put off until today a second trip to the rebel-held suburbs of Damascus where the chemical attack took place.
While evidence of chemical warfare could bolster an argument for intervention at the United Nations in the face of likely Russian and Chinese opposition, Western leaders and the Arab League have already declared Assad guilty.
Ahmad Jarba, president of the Syrian National Coalition, met envoys from 11 countries at an Istanbul hotel, including the U.S. ambassador to Syria, Robert Ford. The rebel leaders proposed targets for cruise missiles and bombing.
One participant said: "The opposition was told in clear terms that action to deter further use of chemical weapons by the Assad regime could come as early as in the next few days."
Planning appears to focus on missile or air strikes. There is little public support in Western countries for troops to invade Syria.
"We have moved assets in place to be able to fulfil and comply with whatever option the president wishes to take," Hagel said.
The precise timing of possible military action remained unclear, but it is certain to wait for an official U.S. intelligence report expected to blame Assad's government for the chemical attack. The findings, considered merely a formality at this point, will be released this week, U.S. officials said.
Obama, under growing pressure for U.S. action on Syria, is expected to keep close watch on the situation there, but he will go ahead with a speech on Wednesday at Washington's Lincoln Memorial to mark the 50th anniversary of slain civil rights leader Martin Luther King Jr.'s 'I have a dream' speech.
"The clock is ticking, and the administration is not going to want that to tick too long," said Adam Schiff, a Democrat on the House of Representatives intelligence committee, as White House aides broadened consultations on Capitol Hill.
The large-scale use of chemical weapons in Syria crosses a "red line" that Obama established just over a year ago, and a failure to enforce it now could signal weakness to foes like Iran.
Keep checking the Phuket Gazette's world news pages, join our Facebook fan page or follow us on Twitter @PhuketGazette for international news updates.
Mexico's drug strategy unclear as security force pared back
Reuters / Phuket Gazette
PHUKET: Mexico's government yesterday diluted plans for a new security force to fight drug gangs, as President Enrique Pena Nieto struggles to break with the military-led strategy of his predecessor.
Pena Nieto took office in December vowing to take a different tack in Mexico's raging drug war. Former President Felipe Calderon tried to tame drug bosses with a military assault, but it was widely seen as a failure and more than 70,000 people died in drug-related violence.
Pena Nieto originally promised a 40,000-member gendarmerie, or militarized police force, that would take the lead in tackling violent crimes like extortion and kidnapping as the marines and army gradually returned to their barracks.
The aim was to move the command away from Mexico's complex network of poorly paid security forces, which have been easy targets for the cartels to infiltrate and corrupt.
The government has since said the armed forces will remain active in the fight against drug gangs because the death toll has remained stubbornly high. The gendarmerie will be much smaller and patrol mainly rural areas to safeguard the passage of people and goods.
"The gendarmerie will be a division of the federal police, made up of 5,000, who will begin their mission in July 2014," Manuel Mondragon, the government's national security commissioner, said at a security meeting with Pena Nieto.
He said the government had modified its plan after taking into account the opinions of community leaders and academics. Mondragon said 1,710 members of the gendarmerie had been hired so far.
Pena Nieto, who has tried to shift public attention away from the violence toward Mexico's economic potential, said the number of murders between December and July this year had fallen by 20 percent compared with the same period last year.
Still, about 1,000 people have died each month in drug violence since Pena Nieto took office, official data show.
Some analysts say little appears to have changed between the two administrations.
"It's starting to look like same-old, same-old," said Sylvia Longmire, a former agent with the U.S. Air Force Office of Special Investigations, who now works as a drug war analyst.
"The military is still out there, the gendarmerie is not taking shape as he originally planned … and he's still going after the big fish."
The government has capt
— Phuket Gazette Editors
World News

Join the conversation and have your say on Thailand news published on The Thaiger.
Thaiger Talk is our new Thaiger Community where you can join the discussion on everything happening in Thailand right now.
Please note that articles are not posted to the forum instantly and can take up to 20 min before being visible. Click for more information and the Thaiger Talk Guidelines.