Phuket Gazette Thailand News: Isarn floods as Bangkok forecast downgraded; Senators deny coup plot; Brits arrested for fraud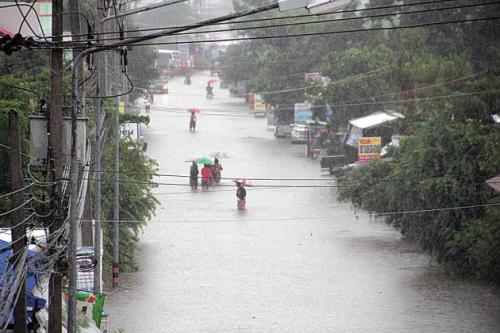 PHUKET MEDIA WATCH
– Thailand news compiled by Gazette editors for Phuket's international community
Provinces flood as rain forecast downgraded
The Nation / Phuket Gazette
PHUKET: At least seven provinces, mostly in the Northeast, are under water due to rain that has continued for several days under the influence of a tropical depression.
The depression has been downgraded to a low-pressure cell but was still expected to bring more downpours. With the cell reaching the Central region, Bangkok will also be hit with rain for the next few days.
Chatchai Phromlert, director-general of the Disaster Prevention and Mitigation Department, said yesterday that 54 tambons in Surin, Kalasin, Si Sa Ket, Ubon Ratchathani, Phitsanulok, Ayutthaya and Angthong were under water.
"We have deployed rapid response teams to help the victims," he said.
More than 7,000 residents in Si Sa Ket are now flooded, with Governor Prateep Keeratirekha saying Khun Han district has been hit the hardest.
In Surin, the Ban Truat School in Sri Narong district reported that water levels were rising so fast that some 20 students had been left stranded.
"The floodwater is over a metre high. Small vehicles can't travel around anymore. So, we need to contact relevant authorities to provide a military truck that can give the children a safe ride home," teacher Teetat Phuttiteerawong said.
The Meteorological Department has announced that the low-pressure cell hovering over the Central region will bring rain to Phitsanulok, Phetchabun, Nakhon Ratchasima, Nakhon Nayok, Prachin Buri, Chachoengsao, Chon Buri, Rayong, Chanthaburi, Trat, Nakhon Sawan, Uthai Thani, Chai Nat, Sing Buri, Saraburi, Lop Buri, Ang Thong, Suphan Buri, Ayutthaya and Bangkok.
Nakhon Ratchasima has been hit with floods after a few days of heavy rain.
"Things happened so fast. At around 9am, a rush of water broke down the wall surrounding our housing estate and flood waters started rushing in," Supoj Kongsupa, a board member of Krissada Garden Village, said yesterday.
Flood levels went well over the metre mark in an hour, forcing residents to call for help.
The Second Army Area sent in five military trucks to evacuate the stranded victims.
Governor Sukhumbhand Paribatra, meanwhile, has assured Bangkokians that they should not worry about floods. "There's no sign of a crisis," he said.
Adisak Khantee, director of the Bangkok Metropolitan Administra-tion's Department of Drainage and Sewerage, said Bangkok would continue being hit by rain over the next few days, but it would only be light.
"The areas hit by rain will also gradually reduce. Rain will cover 70 per cent of the capital over the weekend and then reduce to 60 per cent on Monday," he said.
Hydro and Agro Informatics Institute director Royol Chitradon, who leads a subcommittee of the Water and Flood Management Commission, also said with flood-prevention measures taken since early this month, the situation in Bangkok should be under control.
Relevant authorities are now closely monitoring the storm Usagi, which is moving towards Hong Kong, to see if it will hit Thailand.
Group of 40 senators denies govt ouster plot
The Nation / Phuket Gazette
PHUKET: The so-called group of 40 senators, who are critics of the Yingluck Shinawatra administration, yesterday denied the existence of any plot to overthrow the government as alleged by fugitive former premier Thaksin Shinawatra.
Appointed senator Somchai Swangkarn, a key member of the group of 40 senators, denied the allegation that the government would be unconstitutionally overthrown on October 8, but added that even a government with a majority number of MPs could fall if it tripped over its own legs.
He said Thaksin's remarks were just noise-making as the government had control over Parliament, the armed forces and the police – including the Interior Ministry – which administers the affairs of provincial governors. Somchai added that Thaksin was merely repeating a prediction by a fortune-teller known by the name Forngsanan Jamchanma.
Somchai urged Thaksin to take a hard look at himself and return to Thailand to face his sentence.
Senator Somjet Boonthanom, another member of the group of 40 senators, said that Thaksin's comments in Thai Rath newspaper about re-setting the country at zero in order to achieve reconciliation were irrelevant as long as he failed to recognise himself as being the cause of political division.
Somchai also expressed similar views, adding that Thaksin had amassed too much power while he was prime minister, leading to resistance. Reconciliation was not possible until Thaksin apologised and left politics for good, he said.
"Thaksin said he wants to reset the country at zero. I think that's not difficult if Thaksin returns to the Kingdom to face justice. He must set an example and not just say it without acting in accordance with his words," said Somchai, adding than 64 million Thais did not want to negotiate with Thaksin.
In related developments, Prime Minister Yingluck Shinawatra said the efforts to push for national reform, now led by former prime minister Banharn Silpa-archa, may not have succeeded in bringing opponents of the government to join the effort, but Banharn's attempts to approach them was a good start.
The premier said she still hoped those approached would eventually join the national reform bid – adding that the door was always open.
Asked what she thought about the opposition setting up a parallel reform forum, the premier said that it at least showed they too were concerned about reform. Yingluck said she believed once their ideas had crystallised, both sides might one day be able to sit down together and discuss the issues.
Amlo uncovers cash trail from Mideast to South
The Nation / Phuket Gazette
PHUKET: The Anti-Money Laundering Office (Amlo) said it has uncovered a trail of financial transfers from the Middle East to Thailand's violence-infested deep South.
Suwanee Sawaengpol, Amlo deputy chief, said yesterday that the agency was checking to see if these transactions were related to the insurgency.
So far, 27 agencies, including Amlo, have raided and launched investigations into individuals and companies suspected of financing insurgents in the South. As a result, assets worth Bt28.49 million have been seized between October last year and July this year, Suwanee said.
Meanwhile, the Internal Security Operations Command (Isoc), on orders from Army commander-in-chief General Prayuth Chan-ocha, is studying the five improved preconditions handed in by insurgent group Barisan Revolusi Nasional (BRN) to see how practical they would be if they are accepted.
Citing a BRN precondition that it be allowed to run a special administrative scheme in the deep South, Isoc spokesman Colonel Banphot Phoolphian said that though Bangkok and Pattaya City were self-administered, the cities' populations could be taxed and were capable of self-governing. However, he said, granting self-administration to the 2 million people in the South would not be viable on such grounds.
The Isoc will present its recommendations on this and the other four preconditions to the military and a new government coordination centre next mon
— Phuket Gazette Editors
Keep in contact with The Thaiger by following our
Facebook page
.
Never miss out on future posts by
following The Thaiger
.
Thailand beaches may limit visitors until Covid-19 vaccine is available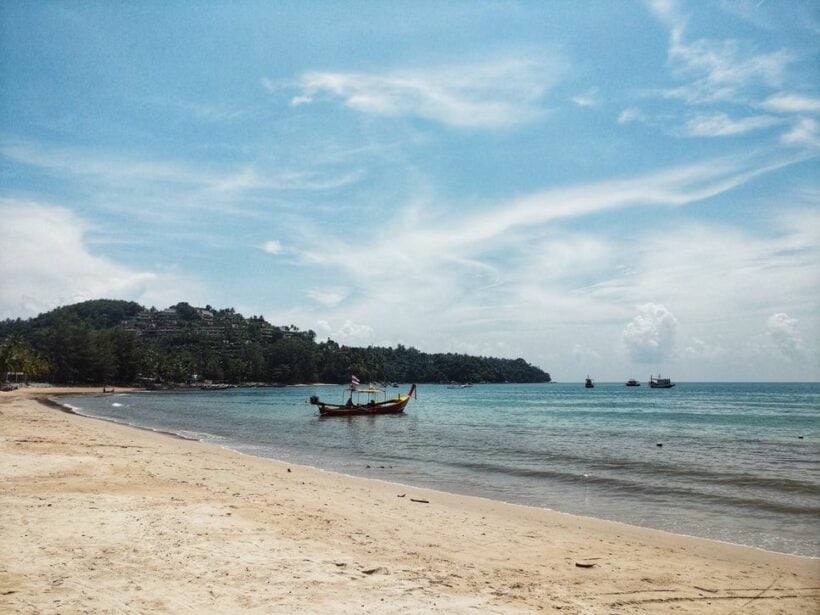 Beaches and national parks might not fully open to international tourists until a Covid-19 vaccine is available. Around 120 to 150 tourists departing from China are set to arrive in Phuket on October 8 after a 6 month ban on international tourists. They'll have to go through a 14 day state quarantine, but after that, they may not be able to enjoy some of the island's beaches. A report from Bloomberg says it's "unlikely" beaches and parks will fully open to overseas travellers until a vaccine is out.
Thailand's borders won't fully reopen to international tourists until a vaccine is widely available to the public, according to Tourism Council of Thailand president Chairat Trirattanajarasporn. For the time being, only tourists on select charter flights with a 90 day Special Tourist Visa can enter the country.
"It's good for the country to reopen even if it's just for trial … Once we've tested our reopening plan for a month, we can assess how to go forward and allow more visitors to come in."
The new Special Tourist Visa is an effort intended to help revive Thailand's tourism industry which has been crippled by the coronavirus pandemic. According to Bloomberg, the sector makes but about a fifth of the nation's economy. Last year, the tourism industry generated 1.9 trillion baht with about 40 million foreign visitors. With travel restrictions in place to control the spread of the coronavirus, Chairat predicts tourism revenue will drop 82.6% to 336.5 billion baht by the end of the year.
"Businesses that rely on foreign tourists, especially in Phuket, Samui, Pattaya and Chiang Mai, will continue to close in the coming months because there would only be a small group of people coming in after the reopening."
SOURCE: Bloomberg
Keep in contact with The Thaiger by following our
Facebook page
.
Never miss out on future posts by
following The Thaiger
.
Thailand News Today | Phuket re-opens, TripAdvisor review saga, Samut Prakhan chem spill | Sept 30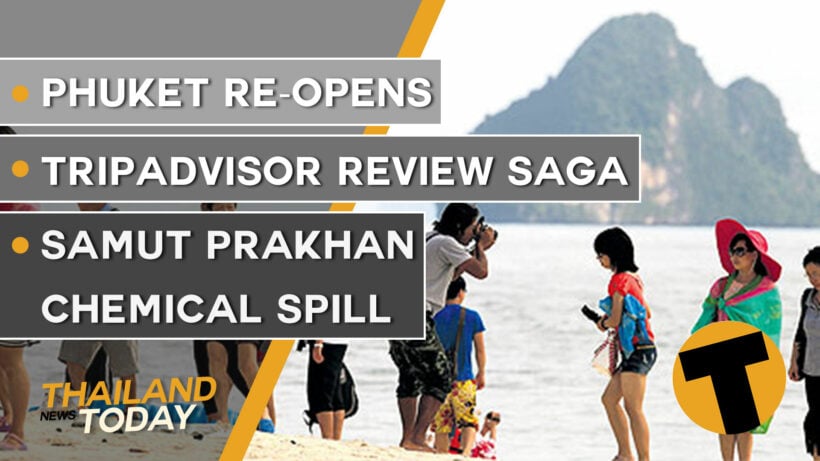 Daily TV news about Thailand. Updates and all the latest information from thethaiger.com.
Phuket prepares to welcome first Chinese tourists in over 6 months
The first group of tourists to arrive under Thailand's new Special Tourist Visa scheme will land in Phuket on October 8.
The flight from Guangzhou in southern China will carry 120 tourists, who will spend their first 14 days in alternative state quarantine. They are reported to be travelling under the government's new STV.
The resort islands of Phuket and Koh Samui will be the first to welcome travellers under the Special Tourist Via scheme. Guangzhou has not recorded any new cases of the Covid-19 virus for a prolonged period.
The CCSA reports that there will be a limit of 300 foreign tourists admitted each week, but this will be reviewed after the first phase of the re-opening. All arrivals will be subject to 14 day quarantine.
Minister calls for all complaints against Sarasas schools to be monitored amid abuse allegations
The Education Minister is asking the Office of the Private Education Commission to closely monitor all complaints filed against all Sarasas Witaed School branches around the country.
34 out of 42 of the schools have had complaints filed against them. Allegations of abuse first emerged when the actions of an abusive teacher at a branch of the school in the central province of Nonthaburi, just north of central Bangkok, were captured on CCTV.
Additional complaints made against several other branches of the private school allege harsh punishment, the charging of fees not sanctioned by the Education Ministry, and the use of unqualified teachers. The Thonburi school was also accused of using babysitters as teachers
The man who wrote the bad reviews for Koh Chang's Sea View Resort has a criminal record
In the ongoing stoush between the American, Wesley Barnes, and Koh Chang's Sea View Resort, it's now been revealed that Mr Barnes has been of interest to the US judicial system in the past, being accused of firing a weapon at a bar in Jackson County, Missouri.
Wesley Barnes, who has been working in Thailand as a teacher, posted a number of negative reviews on different platforms, including Trip Advisor, allegedly accusing the Koh Chang resort of "modern day slavery", amongst other complaints. He stayed at the resort in June this year.
But this isn't the first time Mr Barnes has come to the attention of police.
In the US there was an incident which is now public record. There was an official police complaint against the 34 year old in 2017. He was accused of firing a weapon near Waldo Bar, and later at a convenience store, told people he was a federal agent prior to the initial incident.
Of course the man's criminal record doesn't prevent him from posting negative reviews but provides just a little more context to the ongoing saga between the hotel and Mr Barnes.
PM dismisses rumours of alliance with opposition to form new government
Thai PM Prayuth Chan-o-cha has rubbished rumours that the ruling coalition parties plan to join forces with the opposition Pheu Thai party to form a new government.
While the PM initially didn't respond to the question, instead bidding reporters a good day and walking away, he did mumble that he had enough "headaches" with one of his coalition partners.
Meanwhile Deputy PM, Prawit Wongsuwan, also dismissed the question, accusing the media of being behind the speculation. Under the current constitution the Thai PM is elected by a parliamentary majority, and not automatically coming from the leader of the party with the most number of votes. But a coalition between Prayut and Pheu Thai does seem, at face value, extremely unlikely.
Around 10 villagers hospitalised after chemical spill in Samut Prakan
Around 10 people were hospitalised after a chemical tank spilled at a village in Samut Prakan, just southeast of Bangkok.
Those near the spill reported feeling nauseous and some had trouble breathing. Officials do not known what chemical was in the tank.
The 1 metre tank had been taken into the forest by 2 employees at a second hand shop who hoped they could take it apart and sell the scrap metal. The 2 employees fainted when the tank spilled. Trees and grass in a 100 metre radius of the chemical spill also died.
The chemical let off a strong odour and Thai media says the fumes spread to a nearby village. Those at the second hand shop, close by to the chemical spill, started to feel nauseous and some had trouble breathing. Some people reported skin rashes after the incident. Around 10 villagers, including children, were sent to hospital.
Keep in contact with The Thaiger by following our
Facebook page
.
Never miss out on future posts by
following The Thaiger
.
Thailand farmers hope to grow and export cannabis by next year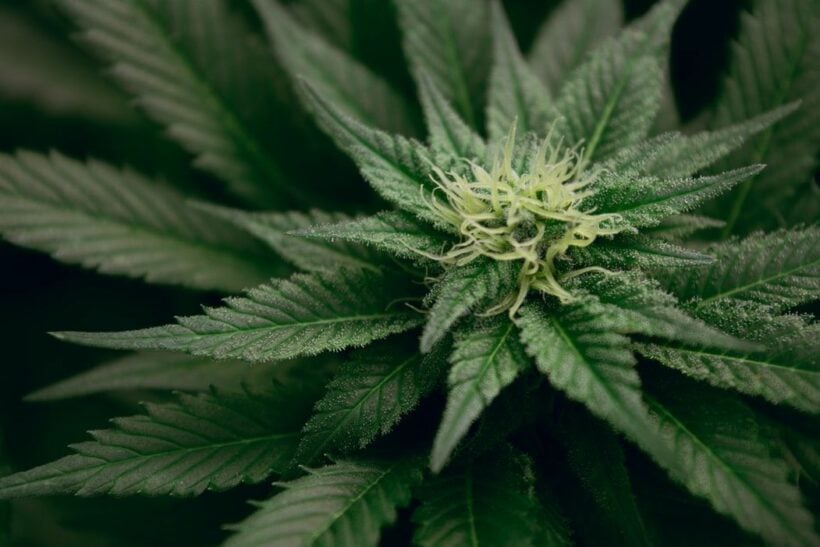 Under a proposed law, Thailand farmers would be allowed to grow cannabis and hemp for export without going through cannabis certified universities or medical institutes. The National Farmers Council president Praphat Panyachatrak says he hopes the new law will be in place by next year. The legislation is still being reviewed by the Public Health Ministry and National Legislative Assembly, but Praphat says he expects an announcement will be made soon.
Thailand's recent rush to decriminalise and even legalise marijuana follows the Bhumjaithai Party joining the government coalition in 2019, headed by current Health Minister Anutin Charnvirakul. His elected MPs provide essential votes for the fragile coalition. His party ran on a platform of legalising marijuana.
Thailand has been gearing up for the global cannabis trade with talk of classifying medical cannabis as an economic crop. The classification would allow the plant to be exported to other countries. The government has also talked about adding a variety of cannabis cultivars to keep up with the demanding cannabis industry.
The National Farmers Council has been advocating for the cultivation of cannabis and Praphat says the new law will make it easier for farmers to grow the plant. He adds that farmers would be able to get a permit to grow cannabis as soon as they got an order from overseas.
Recreational marijuana is still illegal in Thailand and is considered a Category 5 narcotic. Those charged with distributing cannabis face 2 to 10 years in prison and a fine from 40,000 baht to 200,000 baht. Those caught distributing over 10 kilograms of cannabis face up to 15 years in prison and a fine from 200,000 baht to 1,500,000 baht.
SOURCE: Nation Thailand | Chiang Rai Times
Keep in contact with The Thaiger by following our
Facebook page
.
Never miss out on future posts by
following The Thaiger
.