Thailand
Phuket Gazette Thailand News: Abhisit says he was framed; B1bn ATM skim scam; Krathongs down; Cops want bus lanes; Govt pressure builds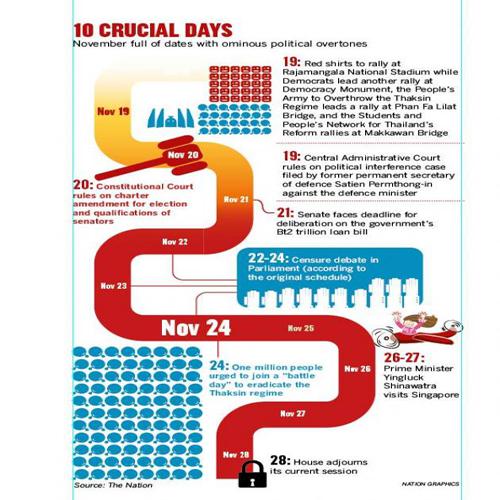 PHUKET MEDIA WATCH
– Thailand news compiled by Gazette editors for Phuket's international community
Abhisit says Tarit framed him, Suthep over 2010 riots
Phuket Gazette / The Nation
PHUKET: Department of Special Investigation Director-General Tarit Pengdith skewed the facts in order to frame suspects who are the subject of criminal indictments relating to the 2010 riots, the Democrat Party leader told a court yesterday.
The Criminal Court convened an inquiry session to hear Abhisit Vejjajiva testifying as plaintiff, before deciding whether his suit against Tarit would merit judicial review.
"The state of emergency was declared in the face of havoc wreaked by armed men in black, but this fact was omitted from the prosecution statement against me," Abhisit said.
Abhisit contends that Tarit abused his power by fabricating criminal indictments against him, as the then prime minister, and his then deputy, Suthep Thaugsuban, in relation to deaths that occurred during the riots.
In his statement to the court, he said that only the National Counter Corruption Commission had a mandate to prosecute political office holders.
He voiced suspicion that the DSI and the Office of the Attorney General had conspired to frame him and Suthep in order to pressure opposition lawmakers to accept the amnesty bill.
One month before the indictments were issued, Cabinet member Chalerm Yoobamrung revealed in the House that he had inside information about the pending charges, Abhisit said.
Cop, Russians held in B1bn ATM skim scam
Phuket Gazette / The Nation
PHUKET: A Royal Thai Police officer and two Russians have been arrested for their alleged role in a big ATM-skimming gang, said to have obtained over Bt1 billion over the past year.
"The [Russian] suspects have been active in the country for about one year, during which the damage is over Bt1 billion," Immigration Division 4 Office chief Pol Maj-General Chatchai Iamsaeng said yesterday.
Police were now trying to reclaim the money, he said.
Pol Senior Sgt-Major Nontapan Saengsuk, 37, a member of the Tourist Police division, had more than Bt2.8 million cash in his car at the time of his arrest on Sunday night. A search showed there were more than 200 fake credit cards and ATM cards in his vehicle too.
This officer was nabbed in Nakhon Ratchasima's Muang district shortly after the arrests of Vasilii Ivanov and Sergei Peternev at an ATM in front of the Nakhon Ratchasima Provincial Hall.
Plainclothes police noticed the two Russians acting suspiciously and searched them. The search showed the pair had more than 100 credit cards and ATM cards on them. During the search, a Toyota Wish almost stopped by but suddenly sped away.
The two Russians then told the arresting officers that the vehicle driven by Nontapan was supposed to pick them up.
Police later intercepted the vehicle and arrested Nontapan.
The three suspects confessed that they had been using the fake cards to withdraw cash.
Provincial Police Region 3 chief Lt-General Thirasak Klinpongsa yesterday announced the arrests of the three suspects.
"We had assigned plainclothes officers to keep watch on ATMs after receiving a tip-off that a Russian ATM skimming gang had come to Nakhon Ratchasima," Thirasak said.
According to the police, whose probe is ongoing, Nontapan in fact nabbed the two Russians before but accepted a bribe and ended up being their accomplice.
"The two Russians said they offered him an amount of money equivalent to 10 per cent of the withdrawal cash if he served as their driver during their operation," Thirasak alleged.
Nontapan said he did not know how the Russians acquired the ATM and credit cards.
"I drove him around many times before. When other policemen flagged us down on a road, I could easily claim that I was about to drive these tourists back to their hotel," Nontapan said.
The two Russians told police that most fake cards in their possession targeted foreign victims. They said they acquired the cards from other foreigners.
Police are investigating the case further. They suspect the pair are members of a big ATM skimming gang.
Fewer krathongs this year, but fires started by lanterns
Phuket Gazette / The Nation
PHUKET: More than 800,000 krathongs were floated in Bangkok during the Loy Krathong festival on Sunday night, according to an official from the Bangkok Metropolitan Administration who said BMA staff collected the krathongs.
The total number was 5.6 per cent lower than the figure last year, the BMA spokesperson said yesterday. The reduction resulted from a BMA campaign 'One Krathong One Family', as well as many Bangkok residents travelling to the provinces, said Bensai Keeyapaj.
Some 88 per cent of the 865,415 krathongs collected from canals and rivers in the capital – 757,567 of them – were made of disposable material while those made of hard-to-decay foam made up 12 per cent.
Floating lanterns were widely released this year at Loy Krathong events in Bangkok, which caused six fire incidents. She said the BMA would try to control use of yee ping lanterms, and that draft regulations were being worked out and would be passed by the city soon.
In Chiang Mai, local irrigation officials volunteered to collect krathongs floated in waterways above the Ping River watergate, which is under joint jurisdiction of two local administrative bodies, to cut short through administrative red tape and ensure this is done promptly.
The office said delays in collecting the krathongs would hit routine water management and harm the environment.
City police want bus lanes
Phuket Gazette / The Nation
PHUKET: Metropolitan traffic police want to enforce use of bus lanes, so that city buses and public transport vehicles get priority on Bangkok streets.
They also want cars with fewer than three occupants banned from entering congested roads, a senior policeman said yesterday. Bus lanes were first adopted in 1980 and have been tried on several occasions but were never a success in Bangkok because police failed to enforce restrictions on passenger vehicles using bus lanes, Pol Maj General Adul Narongsak said.
Police attempted a high-occupancy vehicle scheme in recent years but motorists opposed to it, so police enforcement of the move lapsed. The officer said both practices were being studied and the names of Bangkok streets these moves would be undertaken on would be known soon.
He said passenger sedans entering a main street from a soi would have to give way to city buses in designated bus lanes. And that both practices, if implemented and effectively enforced, would encourage motorists to stop driving and turn to using public transport.
Stressful week ahead for government, opposition
Phuket Gazette / The Nation
PHUKET: Thai politics has entered a dangerous phase again, with both the Pheu Thai-led government and the opposition Democrat Party walking on a tightrope.
Whethe
— Phuket Gazette Editors