One dead, one injured after trailer truck runs red light in Chachoengsao – VIDEO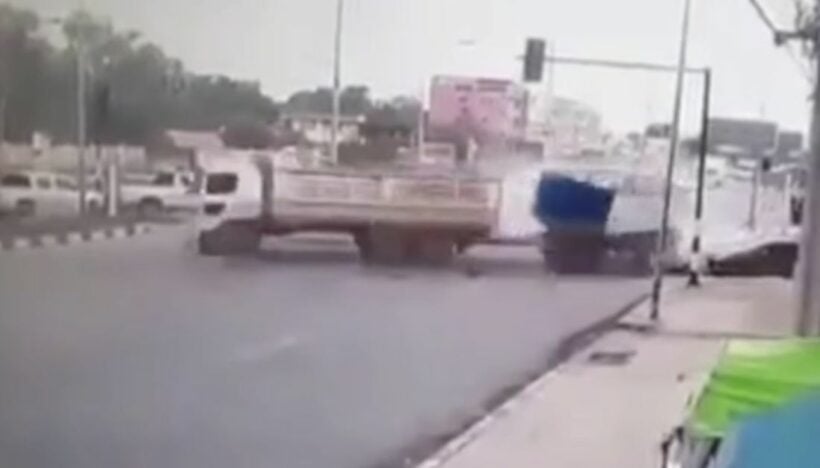 PHOTOS: ศูนย์วิทยุกู้ภัยฉะเชิงเทรา
One person has died while another has sustained an injury after a trailer truck ran through a red light and wiped out some motorbikes in Chachengsao.
Chachengsao Police were notified of the incident at an intersection in Bang Phra, Chachoengsao yesterday afternoon.
Emergency responders arrived to find the body of a woman who died at the scene. An injured male was rushed to a hospital. Nearby they found a damaged motorbikes and trailer truck.
Police are continuing their investigation into the incident and examining CCTV footage.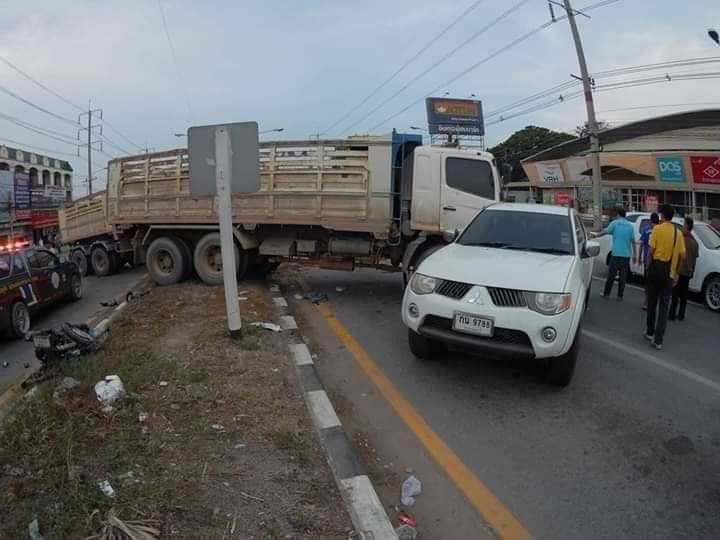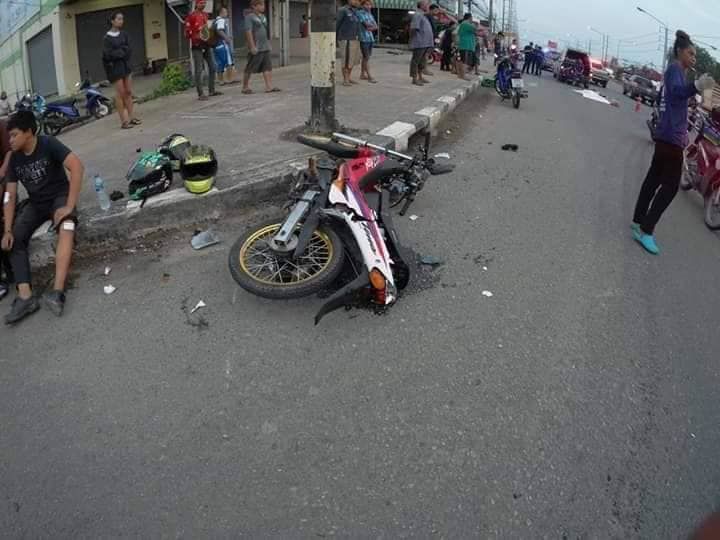 Keep in contact with The Thaiger by following our
Facebook page
.
Draft law would ban online alcohol sales in Thailand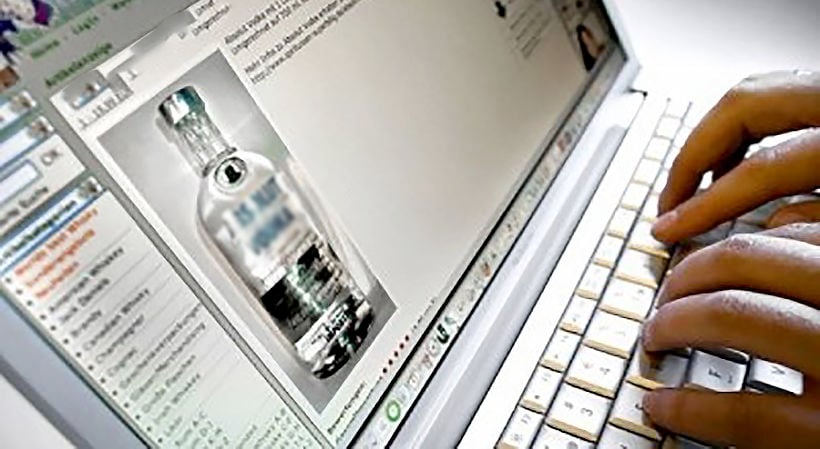 In April, the government imposed a nationwide ban on the sale of alcoholic beverages as part of the Emergency Decree to stem the spread of Covid-19. Now the country's top alcohol regulator has approved a draft regulation to ban online alcohol sales. The move comes after alcohol watchdog groups urged the government to crack down on the online sales, which surged during the local pandemic lockdown response from the Thai government. The deputy health minister says the new rule aims to prevent consumers from "having easy access to alcohol".
"The Covid-19 outbreak has given rise to online sales of alcoholic beverages, especially on social media, where promotions and home delivery services are offered. There are no age, time, or location restrictions, resulting in uncontrolled access to alcohol and difficulty in enforcing the alcoholic beverage control law."
Under current law, online sale of alcoholic isn't prohibited provided the vendor holds a valid license. However, it's illegal to post photos or publicly encourage people to consume or purchase booze, including on the internet.
Officials say the new restrictions will take effect soon, though the exact date is yet to be announced.
The chief of the Disease Control Department says the new rule will not apply to establishments that use electronic devices to display their drink menu since the transaction does not take place online.
Yesterday, representatives of alcohol merchants and brewers handed a petition to the Alcohol Control Board asking the government to postpone the decision, saying the industry is still reeling from the coronavirus crisis. According to the president of the Craft Beer Import and Distribution Association:
"Although alcohol can be sold now, businesses have to communicate with their customers. This will make things more difficult for the industry."
Alcohol sales will be prohibited from this Saturday to Monday due to a Buddhist holiday over the weekend.
SOURCE: Khaosod English
Keep in contact with The Thaiger by following our
Facebook page
.
Kanchanaburi park officials remove entry ban for foreigners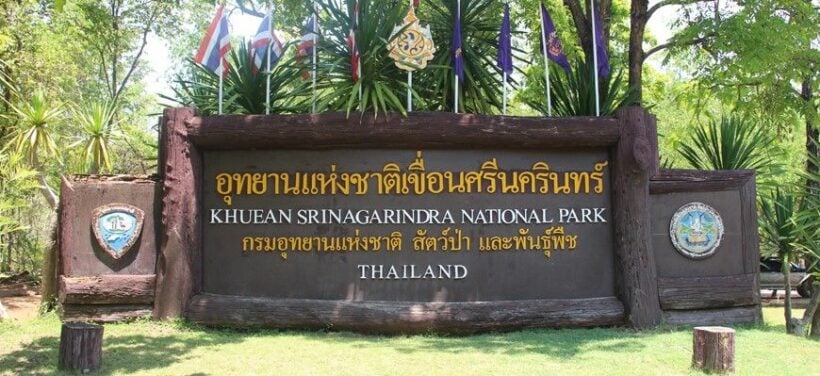 A ban on foreigners visiting the Srinakarin Dam National Park in the western province of Kanchanaburi has been rescinded. Park officials say both foreigners and Thais are now welcome to enjoy the park as it re-opens to visitors.
A report in Khaosod English says the ban on foreigners was originally announced on the park's official Facebook page two weeks ago. The post stated that the park would re-open to Thai citizens only, regardless of how long a foreigner, who might wish to visit, had lived in Thailand. The post has since been edited to remove reference to the policy.
National Parks chief Thanya Netithamkul says there is no ban on foreign visitors at any of the country's national parks, but that everyone, foreign and Thai, must register prior to arrival and comply with Covid-19 hygiene regulations.
SOURCE: Khaosod English
Keep in contact with The Thaiger by following our
Facebook page
.
Thai nightlife grapples with "new normal"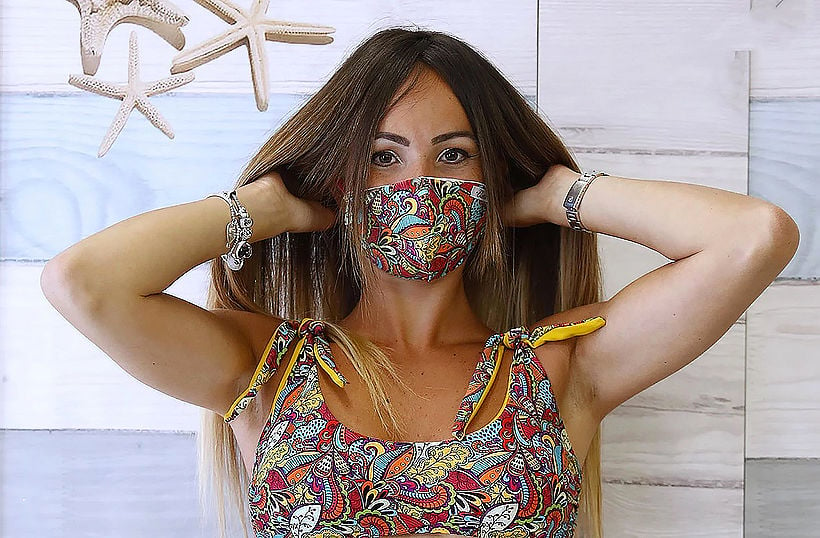 Thailand's nightlife scene is grappling with a 'new normal' as changes upon its recent reopening see facemasks joining the normal bikini wear in red-light districts across the Kingdom.
After being forced to close for more than 3 months in order to stop the spread of Covid-19,bars, karaoke venues and massage parlours are in the latest category of businesses allowed to reopen under new conditions, now that Thailand has gone more than a month without any community transmission of the virus.
The reopening means a return to work for hundreds of thousands of people in the nightlife industry who have struggled to survive. "Bee," a 27 year old dancer, who goes by her stage name at the XXX Lounge in the Patpong district, said:
"I lost all my income. I'm glad that I can come back to work in a job that I'm good at. I'm ok with the mask because it's one of the precautions."
All customers must have their temperature taken before entering, and must give a name and telephone number or register with the Thai Chana app. Inside, everybody must sit at least one metre apart, and 2 metres from the stage. But one British expatriate questioned the need:
"You can take a BTS train in the morning with 200 people on a packed train but then you come into a bar and still have to sit 2 metres apart."
The government has staggered the reopening of public places over several weeks with schools, colleges and universities officially resuming yesterday.
Despite a low death toll (58 out of 3,173 infections- a relatively low number even within the region), Thailand's economy is expected to sink further than any other in Southeast Asia, with the number of foreign tourists expected to drop 80% or more this year.
At the Dream Boy club in Bangkok's Patpong Soi 1, bare-chested men with face shields tried to entice the few passersby off the street, but many businesses remain shut and those who have opened are only seeing a few customers.
"There are bars all over Bangkok that have been open for 10 to 15 years and now they are closed and they are not coming back."
SOURCE: Bangkok Post
Keep in contact with The Thaiger by following our
Facebook page
.