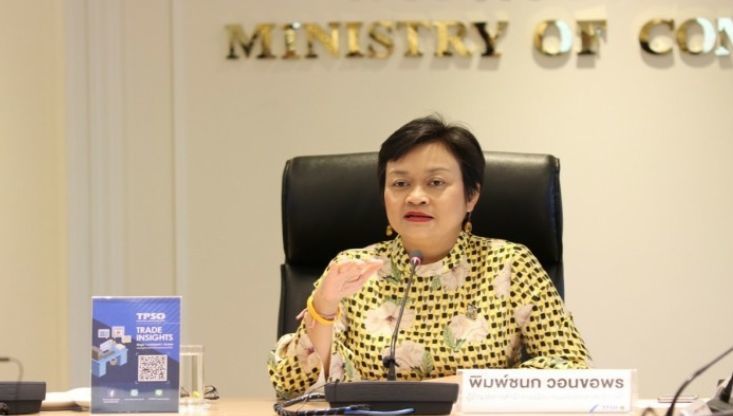 While Google searches for "prayers" spiked during the Covid-19 outbreak, people in Thailand are spending less time going to temples to pray. In a recent poll, less people are travelling to temples and making merit due to the pandemic, according to the Commerce Ministry's Trade Policy and Strategy Office. The office recently did a poll and found that 44% of the 7,904 respondents are not visiting religious venues as often as they did in 2019, saying it's due to the coronavirus outbreak.
Although religious tourism only makes up 0.36% of Thailand's total tourism revenue with Thais spending an average of 10.8 billion baht a year on religious travel, the office's director general Pimchanok Vonkorpon says it's important and locals should work together to promote religious tourism.
"Religious travelling is an important economic activity that helps create revenue at the community level, as Thailand has religious venues scattered in every province… Therefore, local administrators and communities must work together to promote local tourism as well as maintain religious venues in good condition to attract tourists."
Pimchanok says most Thais visit temples to pay respects and gain spiritual support. According to the poll, 54% enjoy horoscope readings, 21% enjoy palm readings and 12% enjoy tarot card readings.
"Over 70 per cent of respondents said they spend less than 200 baht for donations and merit-making on each trip to religious venues. People in this group are mostly students or unemployed, while those who spend more than 200 baht at religious venues are mostly civil servants and business owners."
While Pimchanok says religious tourism across Thailand has been at a loss, a temple in Nakhon Si Thammarat's Sichon district has seen an influx of tourists. A spirit called Ai Khai at Wat Chedi is known for granting wishes. An earlier report says so many people flock to the temple that hotels in the area are often fully booked.
SOURCE: Nation Thailand