Government mobilizes a new war on drugs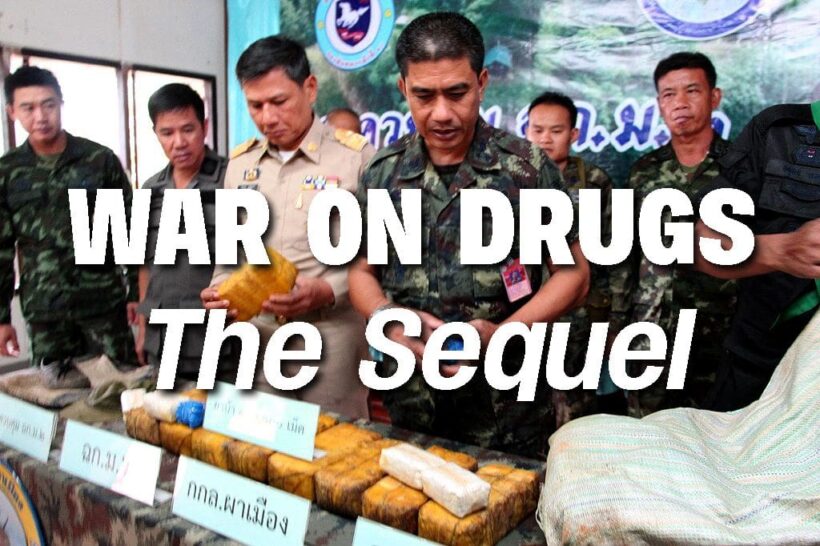 South East Asian governments have declared various 'wars on drugs' over recent decades, most notably President Duterte and The Philippines (2016 – 2018) and Thailand's former PM, Thaksin Shinawatra in 2003. Both of them have had questionable results with rights groups decrying the extrajudicial killings as trampling on basic human rights.
In February 2003, the Thai government, under then Prime Minister Thaksin Shinawatra, launched a 'war on drugs', purportedly aimed at the suppression of drug trafficking and the prevention of drug use. In fact, a major outcome of this policy was arbitrary killings. In the first three months of the campaign there were some 2800 extrajudicial killings. In 2007, an official investigation found that more than half of those killed had no connection whatsoever to drugs. Apart from the thousands who lost their lives, thousands more were forced into coercive "treatment" for drug addiction – Human Rights Watch.
Now the Thai government says it has decided to declare a fresh war on drugs. They say they're going to "get even tougher on narcotic drugs across the country with an expectation of positive result in three months."
Deputy PM Prawit Wongsuwan is convening high-level meetings of relevant agencies, including the military, the Internal Security Operations Command, Justice Ministry, Interior Ministry, Foreign Ministry and the police for discussions on cooperation between all agencies. This will include information-sharing, suppression operations, separation of responsibilities and strengthening of local communities to prevent drug abuses among their people.
The deputy PM has assigned ISOC to oversee the operations of all relevant agencies and local administration organisations and to provide support to them if needed. Troops based along the country's porous border and border checkpoints will be tasked with intercepting drugs smuggled across Thai borders from neighbouring countries.
Additionally, ISOC, Foreign and Justice ministries have been assigned to seek cooperation from neighbouring countries to crack down on drug production facilities in those countries.
Local administration officials, from governors down to district chiefs, kamnan and village heads are being tasked to join efforts in strengthening local communities to be free from drugs while the Education Ministry will instruct schools to watch out for drug abuses among their students and, if it is necessary, to ask for assistance from the police to deal with the problem.
Deputy Prime Minister Prawit stressed the importance of rehabilitation of drug users to help them "kick the habit or to reduce their dependence on drugs."
Discussing the drug seizures this year Prawit said authorities managed to seize 350 million meth pills, 18.5 tonnes of Ice, 900 kgs of heroin and 32 tonnes of marjjuana from last October until September this year.
He said that drug-making chemicals still continue to be smuggled to supply production facilities along Myanmar-China and Myanmar-Thailand border and Thailand remains a major transit point for the shipment drugs to overseas markets.

SOURCE: Thai PBS, The Thaiger
Keep in contact with The Thaiger by following our
Facebook page
.
Never miss out on future posts by
following The Thaiger
.
Twitter suspends Thai royalist linked account which spread pro-government posts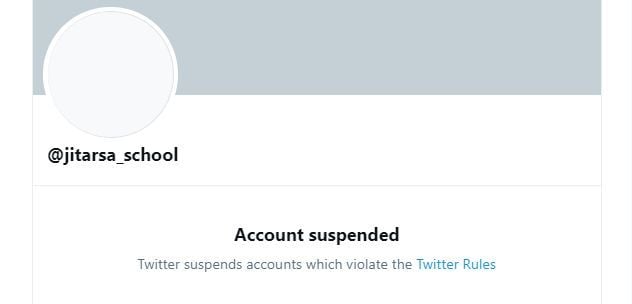 A Thai royalist-linked account was suspended on Twitter following a review by Reuters reporters that found the account spread posts in favor of His Majesty the King and the monarchy in what appeared to be a tactic to sway the public opinion.
While ongoing protests are calling on monarchy reform with statements considered unprecedented and taboo in Thai society, Reuters says they found tens of thousands of tweets from accounts amplifying the pro-government agenda, which an expert claims is a move to counter the pro-democracy movement.
While not directly linked, internal army training documents leaked to reporters show the Royal Thai Army used Twitter to spread pro-government propaganda and discredit the now-disbanded Future Forward Party. Hundreds of the Twitter accounts linked to the Army were suspended in October.
The account @jitarsa_school, created in September with 48,000 followers, was suspended after Reuters reporters reached out to Twitter for comment about the pro-monarchy accounts. A representative from Twitter told Reuters that the account violated the rules and that the suspension was not due to the reporters' review.
"The account in question was suspended for violating our rules on spam and platform manipulation."
Reuters found that of the 48,000 accounts following @jitarsa_school, 80% of them were created since the start of September. Reuters says thousands of the "bot-like" accounts only promoted royalist hashtags. Some hashtags shared by @jitarsa_school translate to #StopViolatingTheMonarchy, #ProtectTheMonarchy, #WeLoveTheMotherOfTheLand, #WeLoveTheMonarchy and #MinionsLoveTheMonarchy.
While the account does not appear to be associated with the Royal Thai Army, the activity is similar. In October, Twitter suspended 926 accounts linked to the Royal Thai Army which were "amplifying pro-government propaganda." At the time, the army said they were not associated with the accounts.
Recently, a 28-page document showing the army's plan to target opponents and spread pro-monarchy messages was leaked. The army claims the plan was used as a public relations training exercise.
While Twitter only suspended 926 accounts, the documents says that 17,562 Twitter accounts were run by 9,743 army officers. The army officers were split into a "White Team" and a "Grey/Black Team." According to the document, the accounts were aimed to appear like authentic accounts and officers were instructed to tweet with coordinated hashtags and retweet each other's posts.
SOURCE: Reuters
Keep in contact with The Thaiger by following our
Facebook page
.
Never miss out on future posts by
following The Thaiger
.
Ban on sales and promotion of alcohol online starts December 7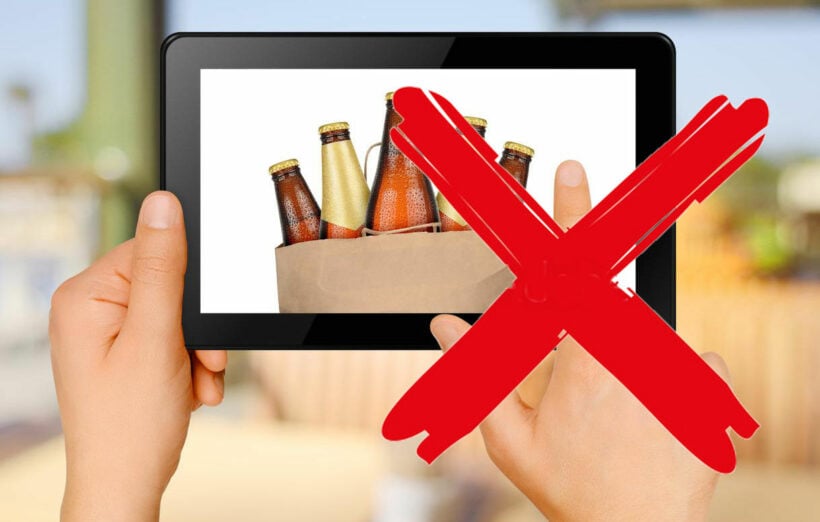 From December 7 you'll no longer, officially, be able to purchase alcohol online in Thailand, according to a posting in the Royal Gazette back in September, the Thai government will prohibit the sales and promotion of alcoholic drinks on every online platform from December 7.
The ban includes direct sales, promotion and introduction of alcoholic products online, but will not include electronic payments of purchases at retail stores, restaurants and bars.
Selling and buying beer, wine and spirits online has become more popular, but the Thai PM says that internet alcohol sales are harder to control than sales at local liquor stores. The announcement said that it's difficult to check that the provisions of the Alcoholic Beverage Control Act are being followed online, like no alcohol sales before 5pm or on certain holidays (although many local stores didn't follow the rules anyway).
"The Royal Gazette had published the announcement of 'Prohibition of the sale of alcoholic beverages via electronic sales nationwide' on September 8 noting that alcohol has become more easily accessible online due to the popularity of social media platforms and specialist Apps.
"No person shall sell alcoholic beverages or provide services related to alcoholic beverages on electronic channels. Online payment for trading such beverages at actual stores are excluded."
With Thai officials obsessed with the perceived evils of alcohol, Thailand already has a ban on the sale of alcohol before 11am, between 2 – 5pm, and after midnight. It's also illegal to brew your own beer at home or to post pictures of branded alcohol online, either as a private citizen or as a company. But the government's latest announcement, that drinkers won't be able to purchase alcohol online that really ignited the Twittersphere and social media.
Deputy PM and the Minister of Public Health, Anutin Charnvirakul, told AP after a meeting of the alcohol control committee on November 7, that they'd agreed to draft guidelines, under the revision of the Public Health Ministry, to inform the Public regarding the Royal Gazette announcement of banning online alcohol trading.
"Violators of the new ban will be subject to up to six months in prison and/or a fine of up to 10,000 baht."
People will still be able to use electronic methods of payment, like bank transfers, when buying alcohol at stores, restaurants or other establishments, just not purchase from online portals.
The Ministry is going to launch a publicity campaign about the new bans in the week leading up to December 7.
Keep in contact with The Thaiger by following our
Facebook page
.
Never miss out on future posts by
following The Thaiger
.
Thai netizens say pro-government royalists carried out Wednesday's protest shootings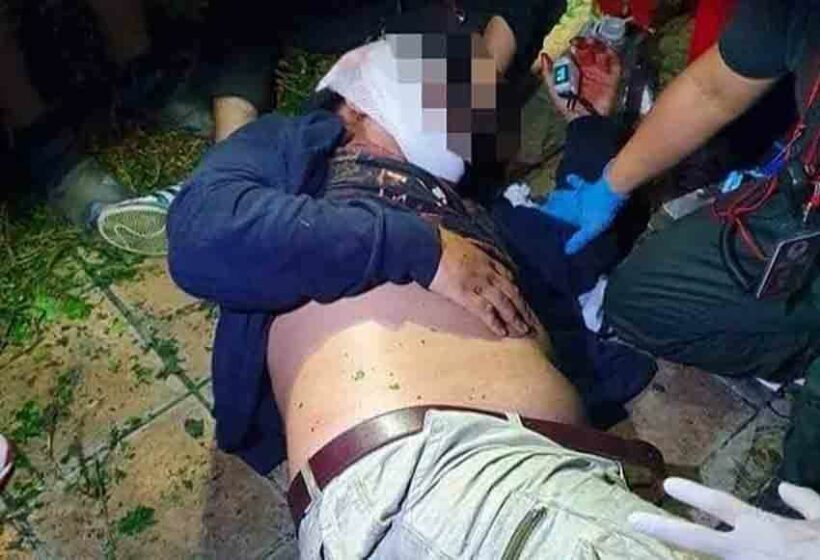 Thailand's netizens are refuting police's claims that pro-democracy protesters carried out Wednesday's rally shootings. The shootings occurred at the rally site near Bangkok's Siam Commerical Bank head office, where the rally site was originally planned but was then moved after protesters tried to avoid a clash with pro-government royalists. However, shots were fired, with police arresting a suspect on charges of attempted murder, shooting in public without reason, and carrying a firearm in public.
The netizens found footage of the scene, in which they say they identified the faces of the offenders. The revelation came after Deputy Metropolitan Police Bureau commissioner Piya Tawichai blamed Ratsadon guards for the shootings and injuries.
Further muddying the investigation, the shooters allegedly claimed they supported the pro-democracy movement, prompting netizens to scour videos that were taken of the rally. In light of the video evidence, Thairath TV has apologised for "blindly accepting" the police statement by accusing the pro-democracy protesters of causing the violence. PM Prayut has also ordered an investigation into the shooting, citing that the government may be blamed for the attack after authorities were reportedly only supposed to maintain peace in the rally, a job that clearly failed.
Meanwhile, the pro-democracy leaders have been called into questionby donors to the movement, as they have criticised how the leaders have used the donations, when a guard was shot and injured. Netizens took to social media to ask what "fairy godmother" Inthira "Sine" Charoenpura and Pakorn "Hia Bung" Pornchewangkurn were buying with the donation money with some online comments mentioning the display of yellow ducks and props as a poor use of donation funds. Some criticisers pointed towards using the donations to buy protective gear for protesters after the shootings occurred, prompting the 2 leaders to issue a statement that they would now use such funds for the injured guards.
SOURCE: Nation Thailand
Keep in contact with The Thaiger by following our
Facebook page
.
Never miss out on future posts by
following The Thaiger
.