Four arrested over death camp grave sites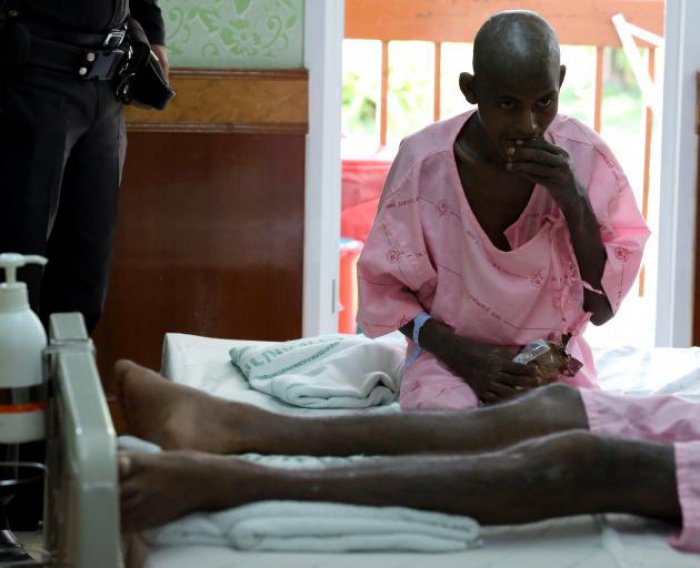 PHUKET MEDIA WATCH
– Thailand news selected by Gazette editors for Phuket's international community
Migrant graveyard arrests
The Nation / Phuket Gazette

PHUKET: The authorities have arrested four of eight suspects wanted in connection with an alleged extortion and murder camp in Thailand's southern border province of Songkhla.
In custody are Asan Intanu, 48, Ro-aey Sonyalae, 41, Alee Lahmoh, 47 and Soe Naing Arnua (Anwar), 40.
Still on the run are Prasit Lemleh, deputy mayor of the Padang Besar Municipality; Yalee Krem, village head of Moo 8 Baan Taloh; Pakphon Benlateh; and Charoen Thongdaeng.
All eight have been charged with human trafficking, illegal detention and seeking ransom money.
Authorities made the arrests following 26 bodies being exhumed from a mass graveyard in a border zone in Songkhla's Sadao district on Saturday .
At least one witness has said that the murders took place at a nearby border campsite where hundreds of migrants had been held.
It is believed that the bodies in the graveyard came from the camp.
The four arrested suspects have denied any role in illegal detention, extortion and human trafficking. Mr Asan has confessed to having a gun and ammunition in his possession illegally.
National Police Commissioner Somyot Poompanmoung said that police were urgently gathering evidence and would bring all the culprits to justice, even if they were government officials or politicians.
"If evidence suggests they might have been involved, we will arrest them," Gen Somyot said.
Judging by the fact that some bodies had been added to the grave recently, while others had long been buried, it was possible that the camp had been operating for a long time, Gen Somyot said.
Provincial Police Region 8 Deputy Commissioner Somchai Nittayabavornkul said that local policemen had engaged in the trafficking of Rohingya.
"These policemen have been arrested and prosecuted. It's just that their cases have not appeared in news reports," he said before he attended a meeting with Deputy Defense Minister and Army Chief Udomdej Sitabutr on how to tackle and prevent the trafficking of Rohingya.
During the meeting in Ranong, Gen Udomdej said that officials involved in the trafficking of Rohingya people into Thailand would face decisive legal action.
He instructed relevant state agencies to prepare a list of suspects involved with traffickers who smuggled Rohingya and other "boat people" into Thailand.
Gen Udomdej, who is also deputy director of the Internal Security Operations Command (Isoc), admitted that the trafficking network in Ranong was "not a small movement because they have been active for some time".
Gen Somyot said that Prime Minister Gen Prayut Chan-o-cha had directly instructed him to work closely with Gen Udomdej to initiate a fast crackdown on human-trafficking gangs that had caused severe damage to Thailand's reputation.
Ranong has been a key entry point for illegal migrants from Myanmar and Bangladesh.
Meanwhile, the head of the Satun Police will be suspended from duty in connection with the ongoing investigation into human traffickers, said Gen Somyot yesterday.
National police commissioner General Somyot Poompanmoung said that a team of investigators led by his Gen Aek Angsananont had suggested a transfer of Maj Gen Sunthorn Chalermkiat, who is chief of the Satun Police, to an inactive post at Royal Thai Police headquarters.
Gen Somyot said that this was because Maj Gen Sunthorn has close ties with a suspected leader of the trafficking ring.
Gen Somyot said that he would also transfer the five most senior officers at Padang Besar police station in Songkhla, including the superintendent, out of their current jurisdiction. Those transfers are in addition to seven more police transfers from Padang Besar of officers suspected of taking bribes from traffickers.
— Phuket Gazette Editors


Read more headlines, reports & breaking news in Thailand. Or catch up on your Thailand news.

New WHO world road death report – Thailand drops to number 8 but still high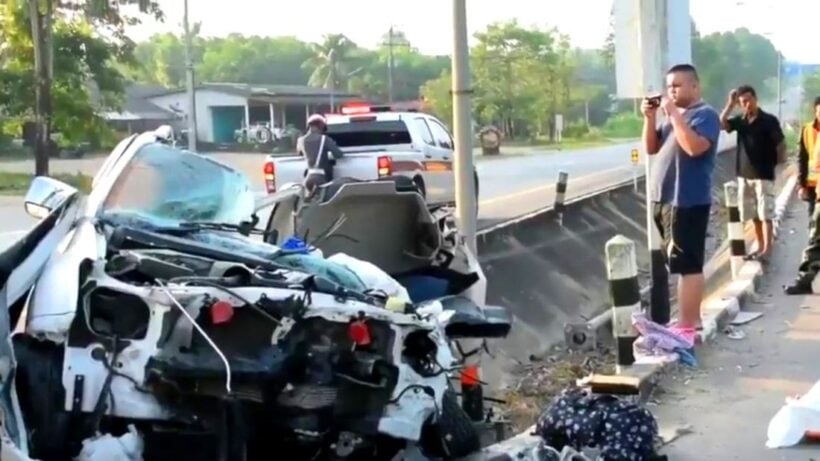 Thailand's roads remain some of the deadliest in the world. But the Kingdom has dropped from its previous number two position to number eight, behind a collection of backwater African states and other undeveloped countries.
A new report by the World Health Organisation shows that the road safety situation in Thailand hasn't improved. The shocking news is outlined in a the WHO report, Global Status Report on Road Safety 2018,
The report indicates the death rate per 100,000 population in Thailand was 32.7. This ranks Thai roads as at least the deadliest in ASEAN and amongst the deadliest in the world.
Only seven other nations fared worse than Thailand, while the countries with the highest road traffic death rate per 100,000 population were Liberia, Saint Lucia, Burundi and Chad.
The report, compiled using data from 2016 from 175 countries, shows that Europe has the safest roads with 9.3 deaths per 100,000 population. The African continent had the worst rates.
The report shows that there is an average of 22,491 people killed on Thai roads every year. South east Asia, where motorcycle-related deaths account for 43 percent of the total road toll, had an average of 20.7 deaths per 100,000 population.
Globally, the report found that the situation regarding road traffic deaths is worsening, with someone killed in a road accident every 24 seconds somewhere in the world.
The WHO road death Hall of Shame…
1. Liberia – 35.9 (per 100,000 people)
2. Saint Lucia – 35.4
Equal 3. Burundi and Zimbabwe – 34.7
Equal 4. Democratic Republic of Congo and Venezuela (Bolivarian Republic of) – 33.7
5. Central African Republic – 33.6
6. Thailand – 32.7
7. Burkina Faso – 30.5
8. Namibia – 30.4
9. Cameroon – 30.1
10. Mozambique – 30.1
Foreign Ministry assisting wife of Thai slain in France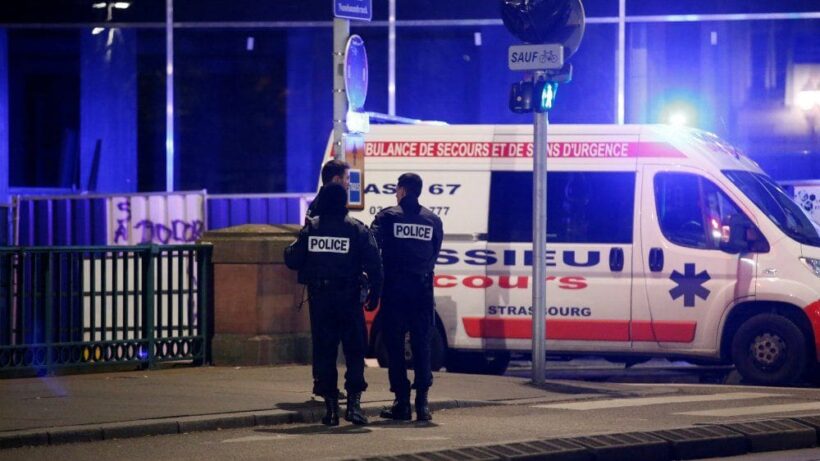 Thai Foreign Ministry officials are working with French authorities to assist the wife of a Thai tourist who was among three people killed by a gunman last night at a famous Strasbourg Christmas market in France.
A Foreign Ministry spokeswoman Busadee Santipitaksat says the Thai embassy in Paris had reported the death of 45 year old Anupong Suebsamarn, and contacted his wife, Naiyana, to offer help.
Busadee said Anupong and his wife had just arrived in France and planned to visit Strasbourg and Paris.
She said the embassy had contacted the Thai expatriate community in Strasbourg to coordinate with local authorities and take care of Naiyana while she was waiting to reclaim the body.
The embassy has also been in close contact with police in Strasbourg and will provide legal assistance to her.
Officials from the Thai consular office would travel to Strasbourg on Wednesday, Busadee added.
ORIGINAL STORY: The Nation
More about the Strasbourg shootings HERE.
Thaiger Radio News – Wednesday