21 injured in Nakhon Sawan bus accident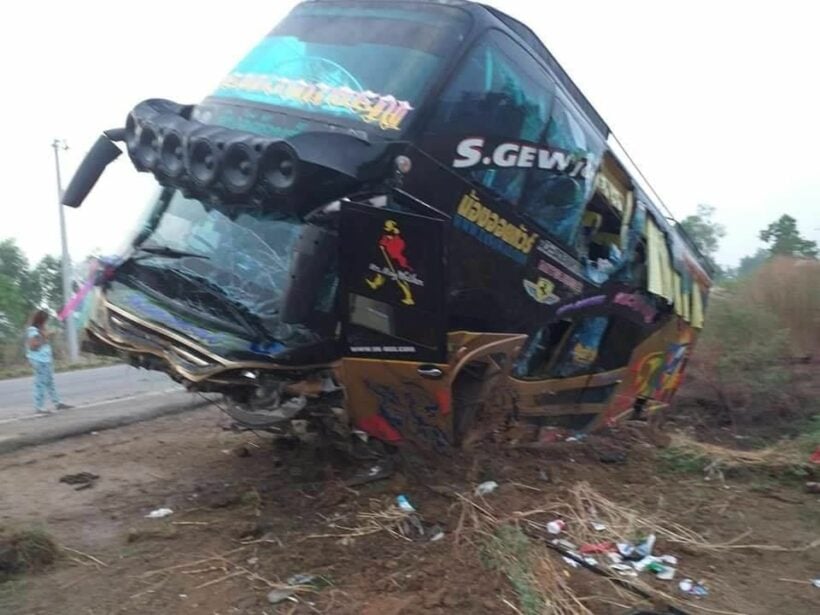 PHOTOS: ศูนย์อุบัติเหตุทุกพื้นที่ทั่วประเทศไทย
21 passengers travelling on a bus have sustained minor injuries in a bus accident in Nakhon Sawan early this morning. Nakhon Sawan is a province north of Bangkok in Central Thailand.
Tha Tako rescue workers were notified of the incident on Baan Khao Noi – Panomrok Road in Tha Tako District in Nakhon Sawan just after midnight.
Emergency responders arrived at the scene to find the bus overturned on the side of the road. There were a total of 43 passengers on the bus and 21 passengers had sustained minor injuries and taken to the Tha Tako Hospital.
Police are speaking to passengers and the driver to ascertain how the bus ended up running off the road.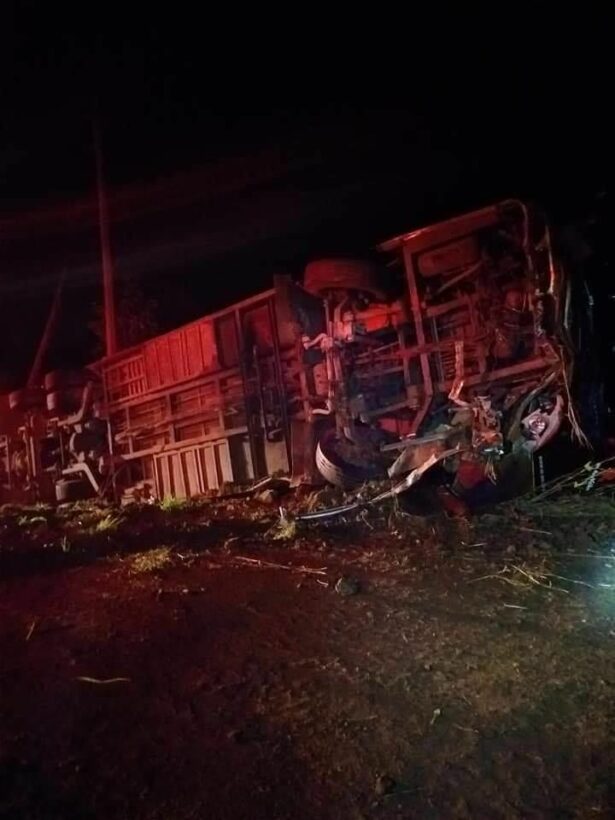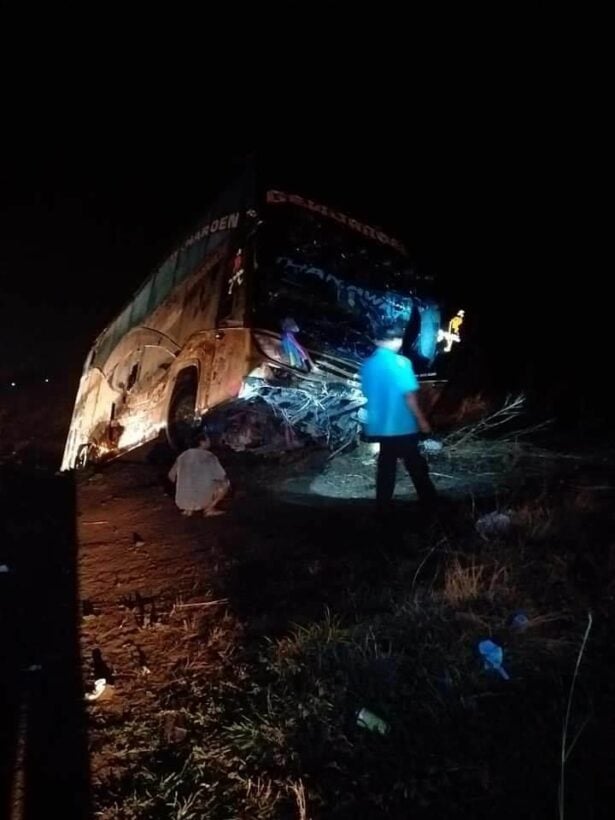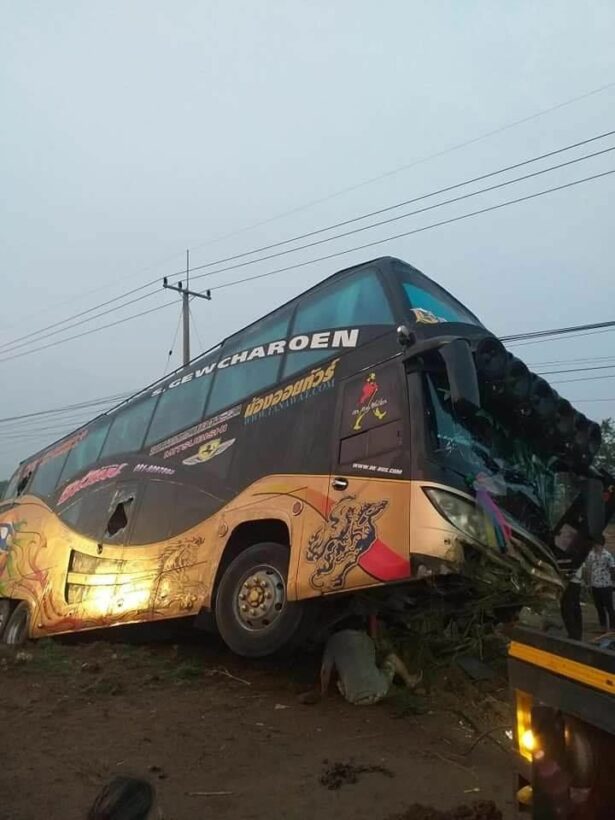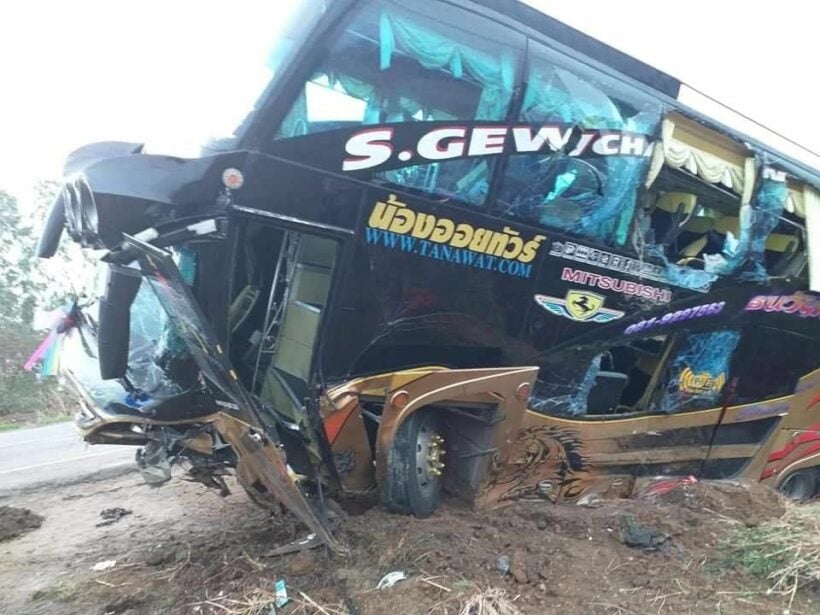 Keep in contact with The Thaiger by following our
Facebook page
.
21% of Thai teenagers are gambling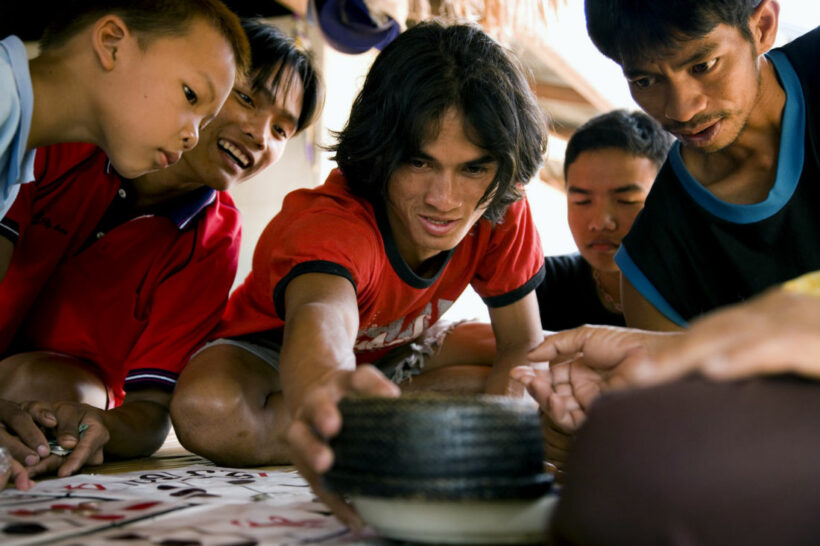 PHOTO: Gambling, local style, Rai Et, north-east Thailand – Pinterest
Early in October the Thai Health Promotion Foundation met to discuss the gambling situation in Thailand in 2019. Also present were the Centre for Gambling Studies, Stop Gambling Foundation and related groups.
The meeting was set up after a report revealed that more than half (57%) of the Thai population, or 30.42 million people, gamble. The director-general of the Centre for Gambling Studies at Chulalongkorn University shared the report, which was based on data from a survey of 44,050 people across 77 provinces.
The figure is an increase of 1.49 million people from 2017. While most Thai gamblers are of working age, 2.4% of the total were aged between 15-18 years. This means that 21% of that age group are gambling.
According to California's Council on Problem Gambling, youth, like everyone else, gamble for many reasons, including entertainment; socialisation; competition; loneliness, and boredom; to get rich quick; to impress others; be the centre of attention; make new friends, and because winning provides an instant, temporary boost of confidence.
"The California Council on Problem Gambling lists depression as one reason youth turn to gambling, noting that depression can just as easily be an effect as a cause. This is especially important to note in a country like Thailand."
In an article in The ASEAN Post, it was noted that in December 2017, Thailand's Department of Mental Health (DMH) reported that an estimated one million teenagers are believed to suffer from depression, many of whom go untreated, with two million more are at risk, making upward of three million among a population of eight million teens then.
The DMH said that stress and anxiety may affect a student's ability to concentrate and perform well at school, and they may show several warning signs, such as lack of attention, loss of interest in daily activities, lethargy, sadness, and sleeping issues.
"It is clear from studies that depression and gambling go hand-in-hand: the unfortunate case in Thailand is that it is affecting children too."
SOURCE: The ASEAN Post
Keep in contact with The Thaiger by following our
Facebook page
.
New controls on three toxic agri-chemicals take effect on October 20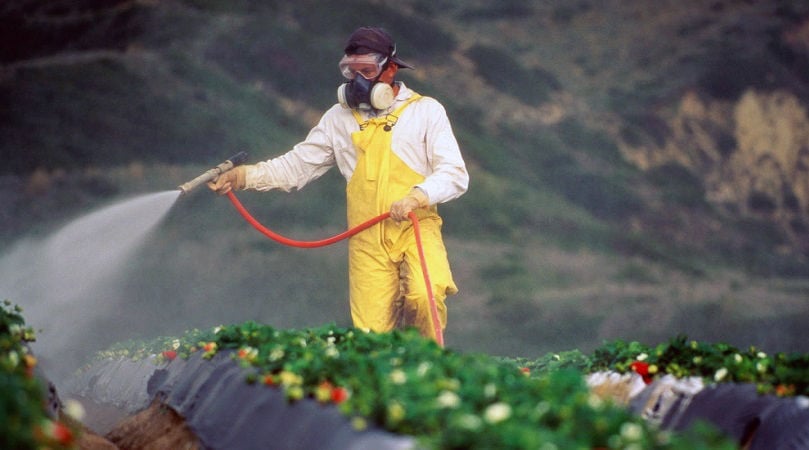 A number of ministers and officials are vowing to continue pushing for a ban on three controversial agri-chemicals – Paraquat, Glyphosate and Chlorpyrifos – all still widely used in Thai agriculture.
Meanwhile, strict measures on using the three chemicals, announced on April 5 and set take effect on October 20, have brought cheers from consumers and NGOs but protests from some farmers, who claim they still need to use the such chemicals.
When the new measures come into effect, farmers will have to provide certification that they have been trained on how to properly use the pesticides and herbicides, the crops they will be used on, and the area – all to calculate the amount of chemicals to be purchased. The person spraying the pesticides must be licenced, and shops may sell to registered and only tested farmers only. Manufacturers, importers and exporters must inform officials about production, import or export processes, and the purpose of possession.
The director-general of Agriculture Agency said farmers who still needed to use the three chemicals could apply for the training course with the government agency at any time.
Meanwhile, the president of the Agribusiness Association of Thai People reported that that in 2018, the country imported 170,000 tonnes of agricultural substances worth 3.62 billion baht – a decrease from 2017 imports of 198,000 tonnes.
SOURCE: The Nation
Keep in contact with The Thaiger by following our
Facebook page
.
Thais commemorate the passing of beloved King Bhumibol Adulyadej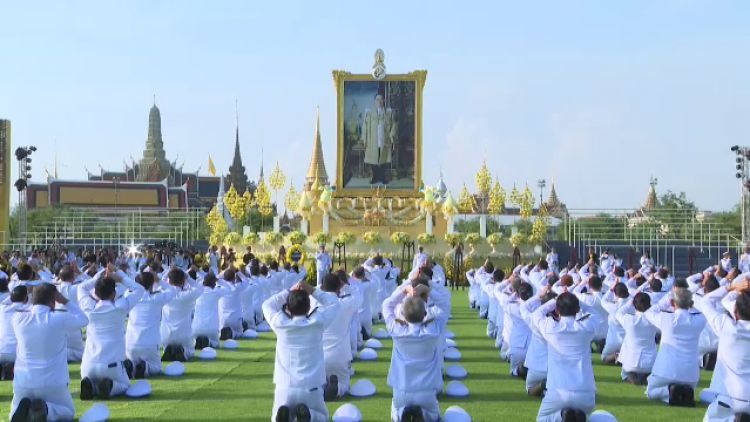 Thousands across the Kingdom, many wearing yellow, attended religious ceremonies and activities yesterday to commemorate the passing of the beloved late King Bhumibol Adulyadej. His Majesty died on October 13, 2016
In Bangkok, a large crowd offered alms to hundreds of monks and novices as PM Prayut Chan-o-cha led ministers, military leaders and officials in paying homage to the late King and placing wreaths in front of a huge portrait of the late monarch.
Similar activities were held at provincial halls throughout the country, and a candlelit ceremony, led by the Prime Minister, was held at Sanam Luang in Bangkok.
In Hua Hin, some 500 people, mostly dressed in yellow, the colour of the late King, joined a charity walk and run on the Phetkasem highway in the morning. In the north-east province of Yasothon, Thanisorn Chittama placed rice crops in his 1 hectare rice field to form an image of the late King, with wording related to the King's philosophy of sustainable economy.
SOURCE: thaipbsworld.com
Keep in contact with The Thaiger by following our
Facebook page
.