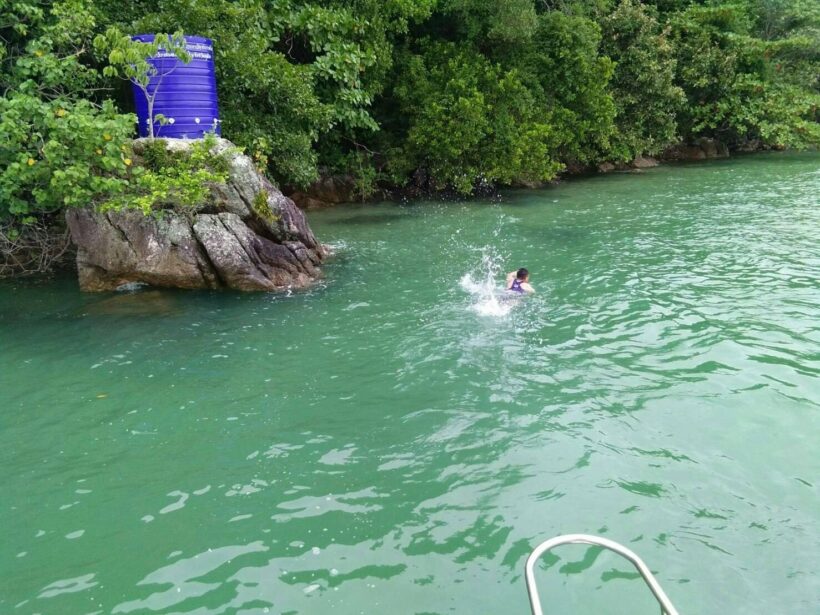 The task to move some of the migrating monkeys to Koh Payu in Paklok has been postponed due to strong wind and waves while the monkey sterilisations continue. Some sterilised monkeys will be released in Rassada today (June 18).
38 long-tailed macaques were caught at Soi Tha Chin in Rassada last Friday (June 15). Water tanks were also installed on Koh Tanan in Paklok last week.
Read more HERE.
Some monkeys were to be moved to Koh Payu off the coast of Paklok today but the journey was postponed as there was strong wind and waves. Boats weren't able to navigate safely offshore today. So today's monkey move ass put off to a day with safer weather conditions.
Meanwhile the monkey sterilisations continued, as they have since June 12. So far there are about 164 monkeys caught and being kept near the Bang Pae Waterfall in Paklok.
At 4pm today some of the monkeys that have already been sterilised will be released back to Soi King Kaew in Rassada. This is part of the agreement made at the public hearings for monkey birth control where some of the monkeys, once sterilised, would be released back to their habitat where they have been popular tourist attractions in the past before the populations got out of control.
Monkeys catching for the sterilisation process is continuing today at Koh Sirey (just in case there's any monkeys reading this… you've been warned!)