APEX launch Phuket's most exclusive address

The Residences at Sheraton Phuket Grand Bay on Phuket's east coast, a four billion baht development, includes a 5-star Sheraton resort and Phuket's first Sheraton-branded residences of which 70% are already sold.
Panoramic views across Po Bay to Ao Phang Nga National Park and the Phi Phi Islands beyond are what greet residents and visitors to Phuket's most exclusive residential address, The Residences at Sheraton Phuket Grand Bay. This four billion baht mixed use low density development on Phuket's east coast is by Apex Development Public Company Limited (APEX), and comprises 103 pool villas and suites and a 183 key five star resort managed by Sheraton.


Nestled on 66 Rai (26.4 acres) of hillside with a 650 metre long coastline, 220-metre sandy beach, vistas to die for and absolute privacy, The Residences at Sheraton Phuket Grand Bay have seen strong interest with 70% already sold to Thai and international investors.
"Our focus is mixed-use developments in high growth tourism provinces in prime locations, with international brand management that generates a good value for buyers, and The Residences at Sheraton Phuket Grand Bay is a perfect example of this.
"Phuket's east coast offers something special, the views are unmatched and Phang Nga Bay is just minutes away by yacht. This is a true investment in lifestyle where owners can use their units 30 days per annum as well as place them in an optional rental program to be managed as part of The Sheraton Phuket Grand Bay Resort," said Mr. Aekkachai Na Ranong, Vice President International Affairs & Development, Apex Development.
The low-rise design incorporates five unit types; Pool Villas which range from 90-137.5 sqm; Pool Suites are 84 sqm in size; and Suites at 53 sqm. Prices range from 9.8-36.7 million baht, with an option for either sea or mountain views, and units are available with freehold condominium title.

Located on the northern and southern sides of the site, The Residences at Sheraton Phuket Grand Bay surrounds The Sheraton Phuket Grand Bay Resort, which will feature a host of five-star facilities for guests and villa owners to enjoy including all-day dining, specialty restaurants, lobby lounge, swimming pool and pool bar, spa and fitness centre, business center, 24-hour room service and housekeeping and laundry facilities.
No expense has been spared as APEX are working with the best in the industry; architecture by The Office of Bangkok Architect, contemporary interiors using natural stone and timber, and with a hint of blue to reflect the seaside setting are by Leo International Design Group, while landscaping is by the multi-award-winning Thai landscape specialists, Shma Company Limited.
"We believe in delivering the best quality for our customers. Working with experts in their respective fields ensures the end product is of the highest quality, which means guests will enjoy the best possible 5-star experience and residence owners will get the best value for their purchase," added Mr. Aekkachai.
The Residences at Sheraton Phuket Grand Bay is located just 25 minutes from Phuket International Airport with the award-winning Mission Hills Golf Resort 15 minutes away and Ao Po Grand Marina less than 10 minutes.
The Sales Gallery and Show Units are available for viewing onsite. You can call +66 (0) 61 413 6888 to make an appointment.



Find more property for sale and rent across Thailand at Thaiger Property, powered by FazWaz. You can even list your property for free.

Belgian hit-and-run victim urges driver to come forward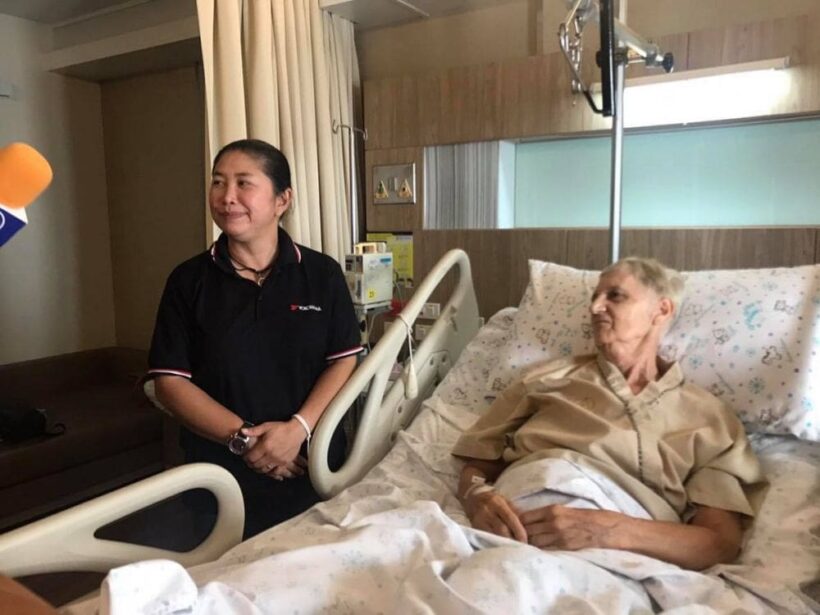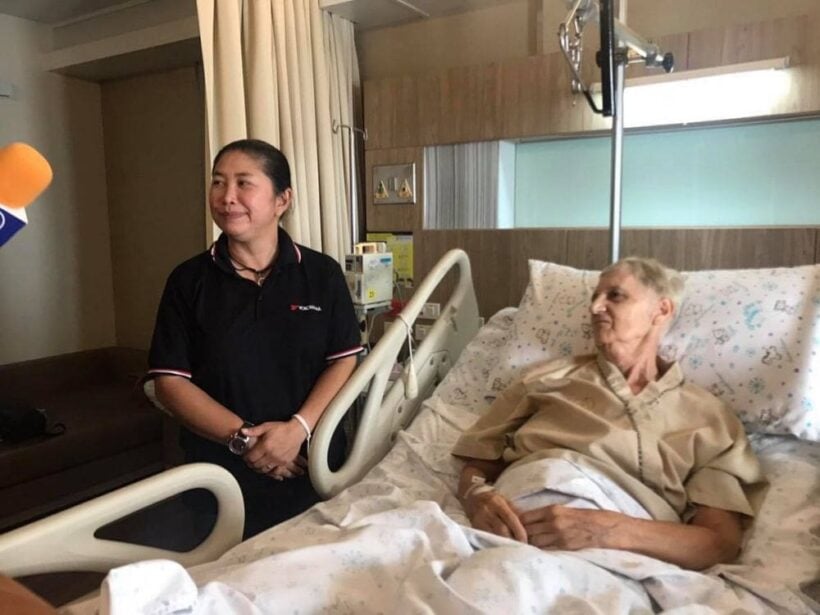 An elderly Belgian woman has been injured in a hit and run in Chiang Mai and now recovering in the Chiang Mai Hospital.
The 78 year old is urging the motorist who injured her to come forward and apologise.
Chiang Mai police deputy chief Pol Colonel Piyaphan Pattharapongsin on Tuesday said police were still trying to locate the driver of black car that hit and injured Gabriel Maria Elle (not official spelling) at 6 pm on December 9.
The woman was hit in front of a 7-Eleven shop on Hang Dong-Samerng Road in Hand Dong district's Tambon Nong Kwai.
She suffered a broken right leg and bruising to her right cheek and many other parts of the body. The car fled the scene after the accident.
She said she had been crossing the road, after checking there were no vehicles coming, when a car came out from nowhere and hit her, sending her tumbling to the ground.
She said the driver did not come out to check whether she was alright, and merely sped off.
Speaking form her bed in Chiang Mai Hospital, the Belgian said she hoped the driver would come to visit her and show a humanitarian gesture by doing so.
Thassanalai Thiansanti, an insurance representative who is taking care of the woman's case, urged witnesses who may have seen the incident and might remember the driver's licence plate to come forward and inform police.
She said a CCTV camera outside the 7-Eleven store had been unable to record the licence plate of the car clearly.

STORY: The Nation
Motorcyclist crushed by truck in Thalang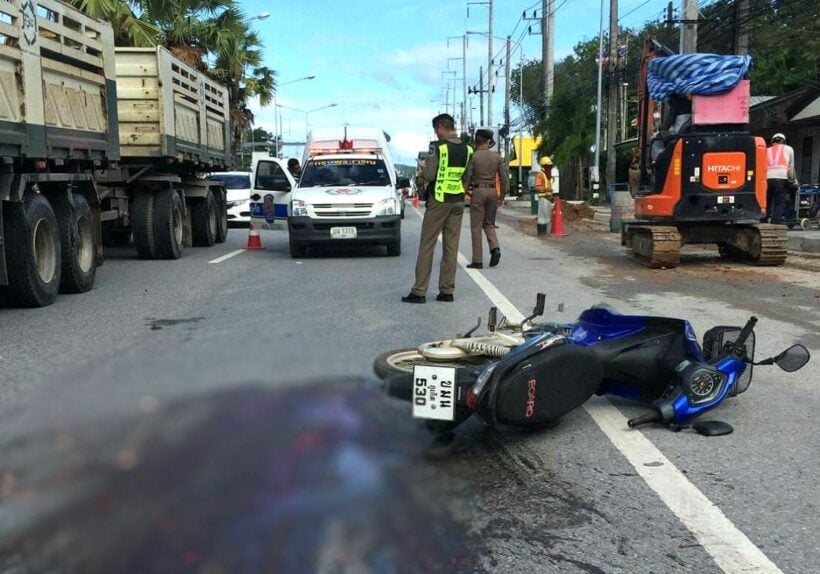 A motorbike passenger has died following an incident with a truck in Thalang this morning.
Thalang Police were notified of the accident on Thepkasattri Road southbound in Mueang Mai, Thalang.
Police and rescue workers arrived to find the body of a woman, identified by police as Boonnam Thepnui from Pattalung.  Her body was taken to the Thalang Hospital.
A motorbike on the road and a truck waiting were found at the scene.
Thalang Police report that the truck, whose driver was Nikorn Pakpoe from Surat Thani, was heading from Thalang towards Phuket Town. The motorbike, whose driver was Kamron Tampueak from Krabi with Ms Boonnam, were heading from the same way. Kamron sustained only minor injuries in the incident.
The truck slightly tapped the motorbike and the motorbike fell down on the road. Ms Boonnam was crushed under the truck and died at the scene.
Police are further investigating the incident.
If your motorbike is stolen, just wait a few days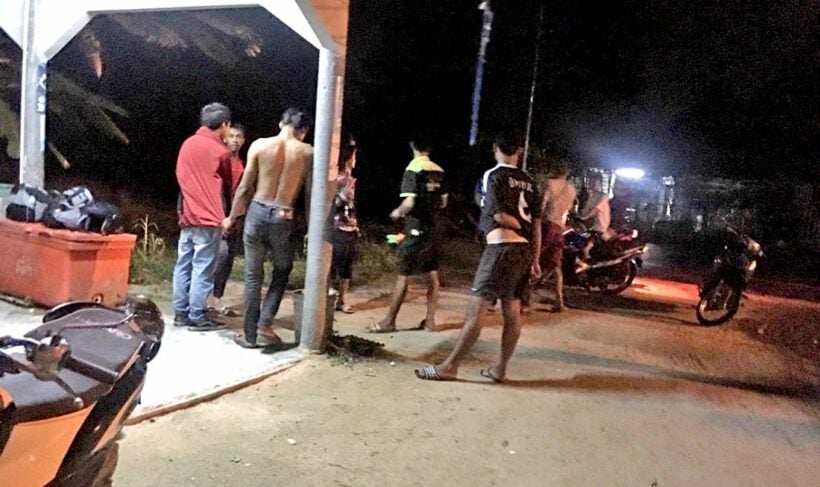 Not only did he get his motorbike back, but he should go out and buy a lottery ticket. What are the chances…?
The owner of a stolen motorcycle got his transport back three days later after a man ran out of petrol just in front of him in Songkhla's Muang district on Tuesday.
The owner of the motorcycle, identified only as Ken, and his friends briefly assaulted and captured the motorcyclist, identified only as 35 year old Piak, before handing over him to police.
But Piak was later released without charges after he claimed that he had borrowed the motorcycle from a friend. Police said they would later summon Piak's friend for questioning.
Ken said his motorcycle was stolen from in front of his house in Songkhla's Singha Nakhon district. He said he has been searching for it without success.
But he went to visit a friend in tambon Pawong in Songkhla's Muang district and while he and several friends were eating there, Piak stopped in front of the house as the petrol ran out.
When Ken and friends came out to check whether Piak needed any help, Ken recognised his bike and captured the man.