Marcus Rolli & Imogen Simmonds win the Foremost IRONMAN 70.3 Thailand 2017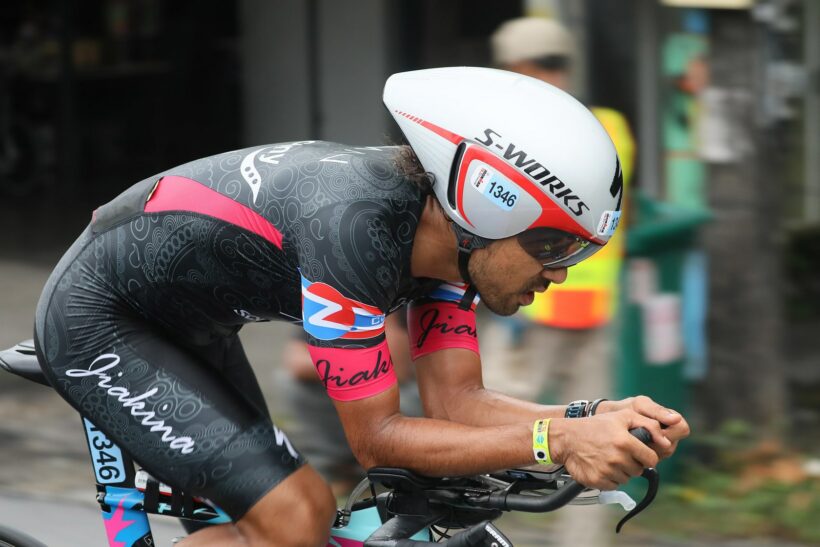 A bumper edition of the second Foremost IRONMAN 70.3 Thailand saw almost 1,500 triathletes turnout for the iconic half ironman distance race and the newly introduced Sunrise Sprint today (26th November) on Phuket island, a mecca for triathlon in Asia with a history of triathlon events dating back almost 30 years. With 31 Pros from around the world on the startline, it was all set to be a highly competitive race and the athletes didn't disappoint with two first-time IRONMAN 70.3 winners claiming their respective crowns: Marcus Rolli (GER) took the men's Foremost IRONMAN 70.3 Thailand 2017 title while rookie Pro, Imogen Simmonds (CHE), took the female title.
"It's been a fantastic race. We've seen some very competitive racing across all the age-groups and amongst the Professionals, and the new hilly bike course has really tested the athletes. We had near perfect race conditions today with a calm sea for the swim and the slightly overcast skies kept the temperatures favourable on the bike and run," commented Mr. Wilfred Steven Uytengsu, President of Sunrise Events Inc. and rights holder for IRONMAN in South East Asia.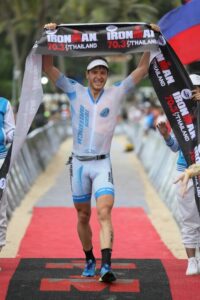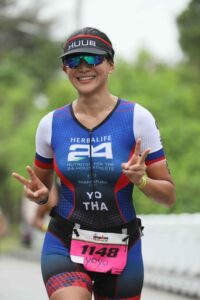 Rolli emerged from the swim stage of the race at Bang Tao Beach, which was officially started by Phuket's Governor, Mr. Norraphat Plodtong, in sixth place with an official swim time of 00:23:15, but managed to take the overall lead in the bike stage from which he transitioned some six minutes 40 seconds ahead of his nearest rival Timothy Van Berkel from Australia.
Van Berkel managed to make up some time on Rolli on the 21km run but still finished three minutes 42 second behind Rolli who completed the course in an official time of 03:49:02 and with it was crowned Foremost IRONMAN 70.3 Thailand 2017 Male Winner. Brazilian Fernando Toldi rounded out the podium with a time of 03:56:47.
Speaking after the race Rolli, who only turned Pro at the beginning of this year, said "The swim was not that fast for me, but for the bike, my trainer told me before the race to take it easy to begin with, then after the first five kilometres I decided to push it and kept pushing until the 90km mark. This resulted in me getting a rather big lead and ended with me winning the race."
Second placed Van Berkel, who finished third overall in last year's race, and has just become a father said, "I had a little boy about eight weeks before Kona which was exactly the best preparation for me. I feel a lot better this year than last, but this bike course was tough. I got through it in one piece and had a solid run to get second."
Female winner Simmonds, who is only 24-years old, also led her race from the bike stage and over the two-lap run course managed to extend her lead and claim the win in a time of 04:16:49, almost five minutes ahead of eventual second placed finisher Eimear Mullan (04:21:38), and third placed Dimity Lee Duke (04:22:54).
Following her break-out win, Simmonds said, "I'm so happy and and surprised. I've had three races in three weeks and this just tops it off."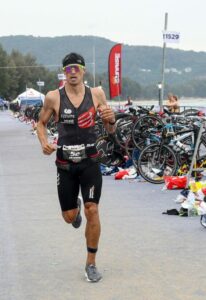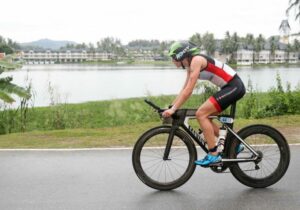 For the Thai athletes, it was Phuket's favourite son Jaray Jearanai who delivered a masterful performance to be the first Thai finisher and overall winner in the male 35-39 age-group and with this win Jearanai claims one of the age group qualifying slots for the IRONMAN World Championship in Kona, Hawaii in 2018.
Another stand out performance was from Sam Burns who finished third overall in the Male Asian Elite category.
As for the Thai females, Nichakarn Ruttanaporn was the first Thai finisher in a time of 05:09:20 – a new Thai middle distance record – and third overall in the 25-29 female age-group. With the most full distance IRONMAN finishes of any Thai female, Nampetch Porntharukcharoen crossed the line in a time of 05:31:31 while Thai celebrity Yossavadee "Yo" Hassadeevichit finished in an impressive 06:40:00.
Dr. Olarn Chowiwattana, Corporate Affairs Director of FrieslandCampina (Thailand) PCL., says, "I would like to congratulate all triathletes who have successfully finished the 'Foremost IRONMAN 70.3 Thailand' competition."
Meanwhile, in addition to the Foremost IRONMAN 70.3 Thailand, the newly added Sunrise Sprint event got underway at 08:00.
In the men's race it was Dennis Kruse from Germany who took the top podium place crossing the line in 01:00:23 followed by Saryu Onishi from Japan and Steven Gailliaert from Belgium who finished with times of 01:03:21 and 01:05:36 respectively.
In the female category, Sam McInnes from Great Britain took first place honours completing the course in 01:12:15. On Ki Chan from Hong Kong was second in a time of 01:15:43 while
Becky Bruhwiller from Switzerland finished third in 01:17:53.
TOP 5 RESULTS
Foremost IRONMAN 70.3 Thailand 2017 (Men)
1) Markus Rolli 03:49:02
2) Timothy Van Berkel 03:52:49.0
3) Fernando Toldi 03:56:47
4) Alberto Casadei 04:01:34
5) Alexander Polizzi 04:04:03.0
Foremost IRONMAN 70.3 Thailand 2017 (Women)
1) Imogen Simmonds 04:16:49
2) Eimear Mullan 04:21:38
3) Dimity Lee Duke 04:22:54
4) Parys Edwards 04:28:52
5) Robin Pomeroy 04:30:03
Sunrise Sprint 2017 (Men)
1) Dennis Kruse 01:00:23
2) Saryu Onishi 01:03:21
3) Steven Gailliaert 01:05:36
4) Russell Liew 01:07:29
5) Thanit Kanpai 01:07:48
Sunrise Sprint 2017 (Women)
1) Sam McInnes 01:12:15
2) On Ki Chan 01:15:43
3) Becky Bruhwiller 01:17:53
4) Brenda Haitema 01:19:54
5) Nicole Kiser 01:21:02
For more info about the series, click HERE.
Keep in contact with The Thaiger by following our
Facebook page
.
Never miss out on future posts by
following The Thaiger
.
Education ministry says curriculum revamp will promote analytical thinking over rote learning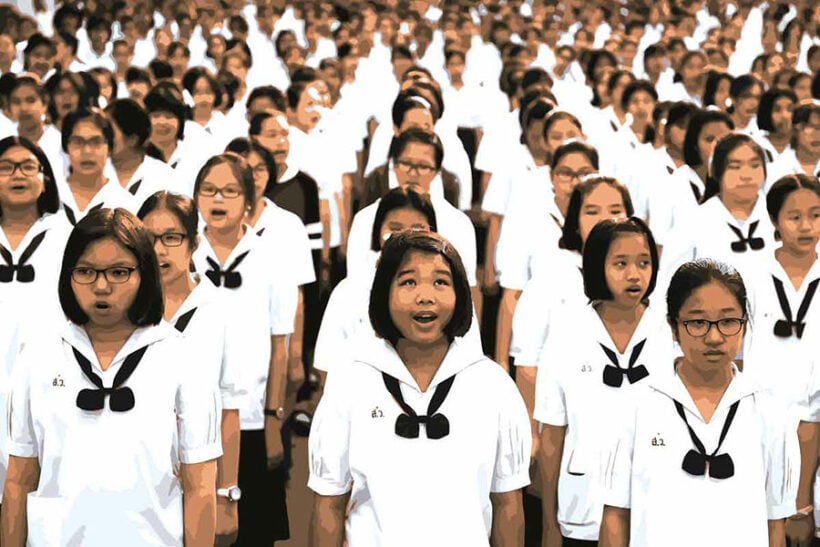 As anti-government sentiment among Thailand's student population shows no sign of abating, the Education Ministry says it plans to overhaul the Basic Education Core Curriculum to provide students with a better understanding of political developments in the Kingdom between 1932 and 1957.
Supat Chumpathong says the new curriculum will also place more of a focus on analytical thinking, instead of learning by rote. The Thai education system has come in for criticism in some quarters for not fostering critical thinking among students.
University academics are being drafted in to help with the revamp, with a draft expected to be submitted to the Education ministry by mid-December, in the hope it can be implemented in the 2022 academic year.
Supat says the social studies curriculum will be updated to consist of information currently not included. The ongoing anti-government protests refer to a 1932 revolution, organised by Khana Ratsadon (the People's Party), that overthrew King Rama VII's government, ending absolute monarchy in Thailand. One group of current-day protesters calls itself Khana Radsadon 2563 (2020) in memory of the original party.
The Bangkok Post also reports that Veera Khaengkasikarn, deputy permanent secretary for education, says the ministry plans to roll out teaching of "Sufficiency Economy" values in Thai schools.
To date, 27,520 academic establishments are considered, "Sufficiency Schools", 570 of which are learning centres promoting the philosophy of Thailand's 3 pillars of nation, religion, and monarchy, nationwide. The philosophy is aimed at creating a spirt of unity during times of crisis in the Kingdom.
SOURCE: Bangkok Post
Keep in contact with The Thaiger by following our
Facebook page
.
Never miss out on future posts by
following The Thaiger
.
From Bangkok to Berlin – protesters deliver letter to German Embassy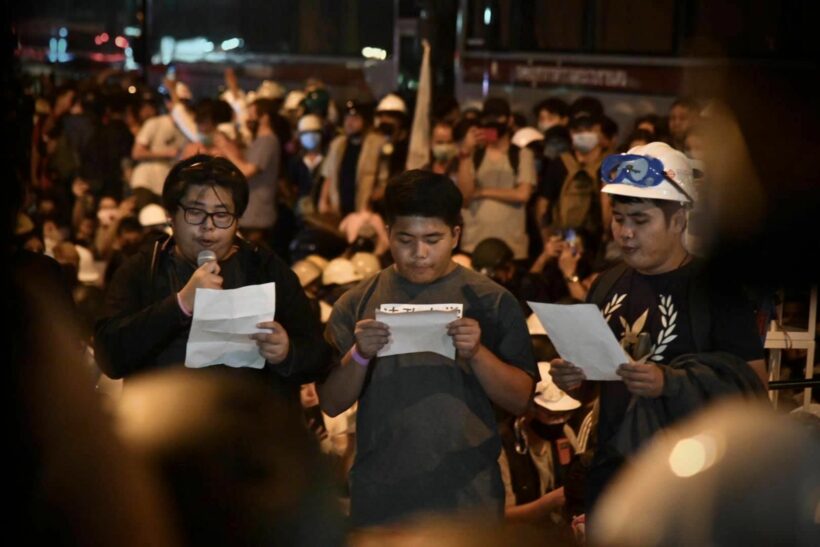 Protesting students last night submitted a letter to the German Embassy, to be passed on to the German Government. The protest started around 4pm when the rally gathered at the Sam Yan intersection, near the Chulalongkorn University, and made its way along Rama IV Road to the German Embassy in Sathorn Road, some 1.5 kilometres.
After some 10,000+ students descended on the Embassy compound in Sathorn Road, the German embassy said it would be "ready to receive the petition and convey it to Berlin on condition it was conveyed in a peaceful manner".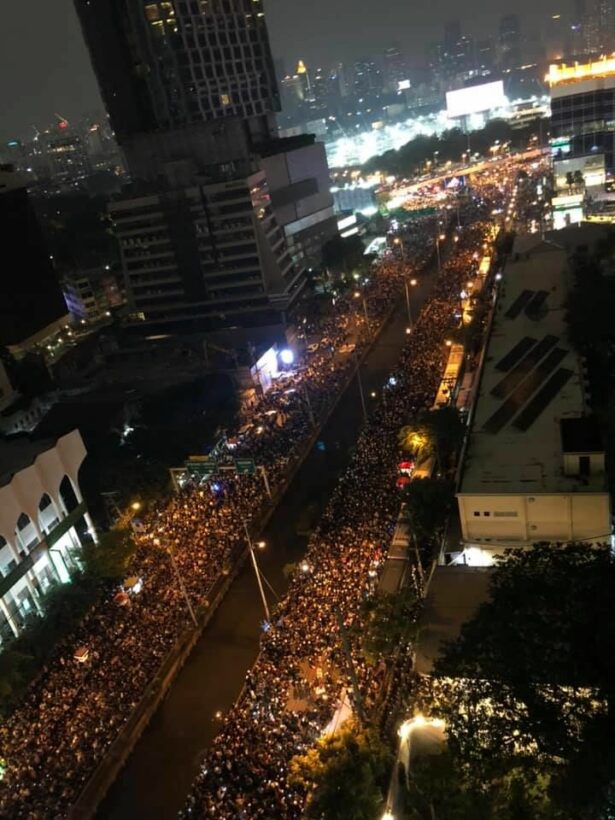 The rally disbanded peacefully at around 9pm after the letter was handed over, in 3 languages, on Khana Ratsadon letterhead. Here is is verbatim, dated October 26, 2020…
His Excellency Georg Schmidt. German Ambassador to Thailand.
On behalf of the association "Khana Ratsadon international, comprised of Thai students and professionals from multiple countries around the world, we would like to urge your excellency to advise the German Government against allowing any further residency of H.M. King Maha Vajiralongkorn in Germany.
During the last few days, we believe that Your Excellency have had the occasion to observe numerous alarming human rights violations in The Kingdom, including the excessive use of force against peaceful protestors and the suppression of free speech.
The protestors. at the receiving end of these egregious violations, were advocating for nothing more than democracy and accountability from the Government.
One of the most significant and courageous demands from the protestors is the accountability of the monarchy as an institution under the constitution. Although punishable by the draconian section 112 of the Criminal Code, the protestors have stood behind this demand, bravely exposing themselves to the arbitrary prosecutions from the palace.
In this regard, we are certain that Your Excellency is well aware of the open secret that H.M. does not habitually reside in Thailand, but rather in Bavaria, Germany. H.M. has conducted Thai state affairs, as well as ordering forced disappearances of oppositions from German soil. Khana Ratsadon International profoundly believes that this violates International custom, law, as well as Article I of the German Grundgese.
As a result, we started an online petition calling for the German Government to declare Maha Vajiralongkorn a persona non grata, which received over 210,000 signatures as of 26 October. An official petition to the Bundestag was also submitted on the 17th of October for consideration. We sincerely hope that Your Excellency would convey our grievances to thc German Government, and advocate for a stronger relationship once meaningful reforms are implemented in Thailand.
Yours Sincerely
Khana Ratsadon International
Yesterday's Germany's Foreign Minister responded directly to the situation out side the German Embassy in the German parliament….
"Of course we are following developments taking place in Thailand, and know there are demonstrations and people taking to the streets for their rights. And, of course, I am also watching what the Thai King gets up to in Germany."
"We've been keeping an eye on that, not only in the past few weeks. But we're continuously checking and if there are things that we find to be illegal then there will be immediate consequences."
Earlier yesterday a group of some 500 supporters of the government and royalists dressed in yellow shirts also demonstrated outside the gates of the German Embassy voicing their support for His Majesty and a continuation of the current system.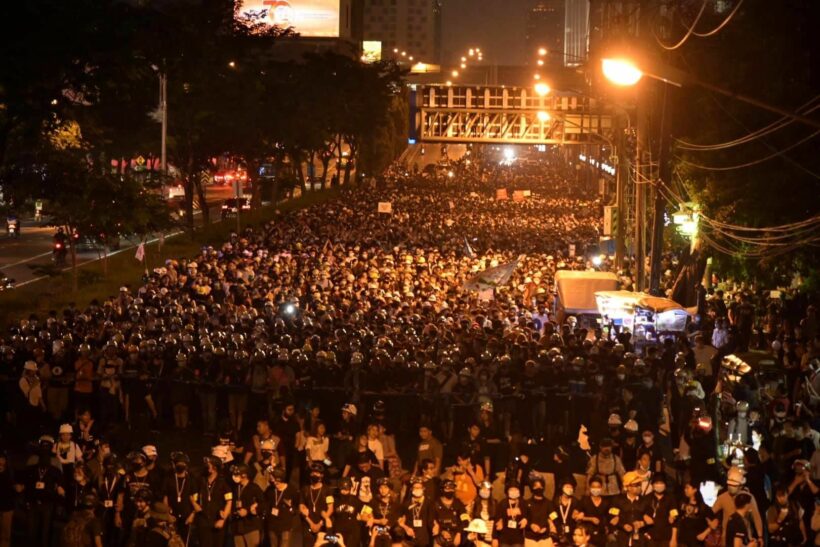 Keep in contact with The Thaiger by following our
Facebook page
.
Never miss out on future posts by
following The Thaiger
.
100+ test negative after Koh Samui Covid-19 case of the Thai/French woman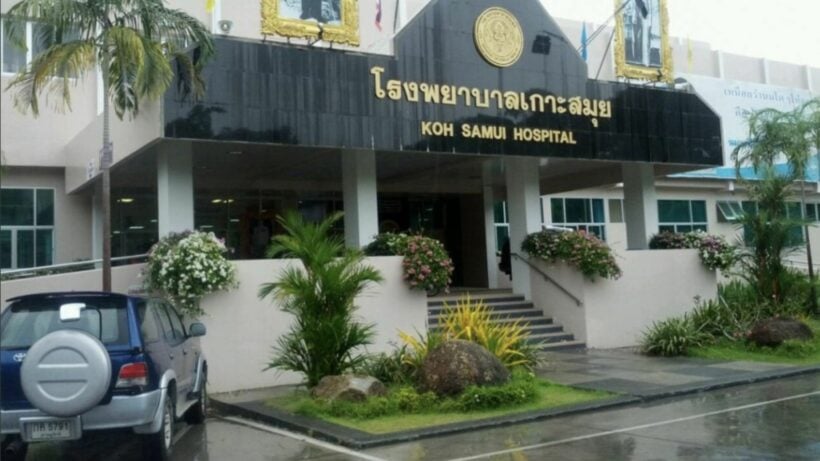 So far, more than 100 people have tested negative for Covid-19 after a 57 year old French/Thai woman tested positive for the virus in Koh Samui. Her case is the first on the island in 7 months and health officials are investigating to determine if she came in contact with the virus on the island, when travelling from France or possibly while in quarantine at an ASQ hotel in Samut Prakan, just southeast of Bangkok.
The woman, born in Thailand, was repatriating back to Thailand with her family. She has dual citizenship.
Meanwhile, 30 people are considered to be at "high risk" of contracting the virus. The Koh Samui Hospital director Veerasak Lorthongkum says those people, including her husband and son, as well as people seated close to her onboard a flight, show no signs of infection.
Traces of the virus were found on gym equipment at the ASQ hotel in Samut Prakan where the woman stayed when she arrived back in Thailand. She spent the mandatory 2 weeks in isolation upon entering Thailand and tested negative for Covid-19 twice during her stay. A few days after she was released, she complained of a fever. A few days later, she checked in to hospital in Koh Samui where she tested positive for Covid-19.
SOURCE: Coconuts Bangkok
Keep in contact with The Thaiger by following our
Facebook page
.
Never miss out on future posts by
following The Thaiger
.