Suspects arrested on Koh Phi Phi – Attack on 25 year old US tourist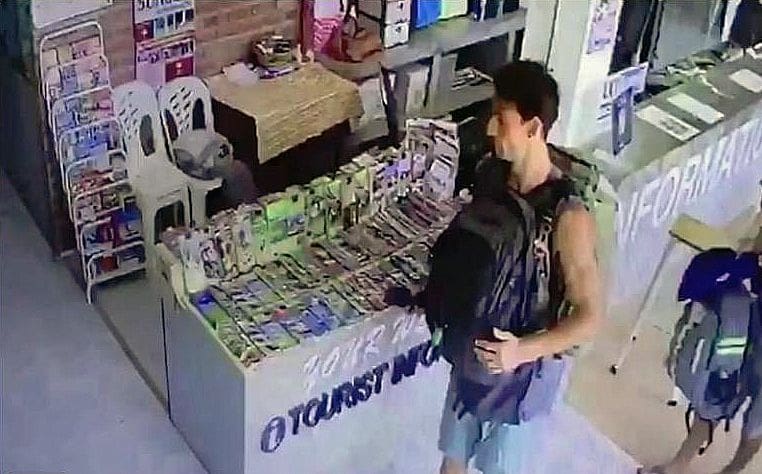 PHOTOS: Daily News
Krabi Police say that they have a second of three young men who attacked an American tourist on Koh Phi Phi back on on March 9.
But they are trying to locate 25 year old tourist Stephen Trimble who is now believed to be on Koh Phangan. They want him to give evidence so that they can determine if the alleged attackers were also involved in the theft on the beach.
Here's the original story about the attack HERE.
Stephen, a photographer and blogger from Florida in the US, had put pictures of himself on his Instagram account saying that he had tried to help a woman who had her things stolen while out swimming. He was then attacked by three men. The photos showed some of the wounds he received in the attack.
Daily News reports that the chief of the Krabi provincial police had convened a meeting and visited the island. He confirmed that the tourist had been drunk and was advised to come back and report the incident the next day by Koh Phi Phi police.
Stephen never returned the following day to make a formal report and they tried to locate him but he had already moved on to Koh Phangan.
CCTV has revealed Stephen with a bandage on his left knee and a backpack on his front.
Police say the three men in custody were all between 17-20 years old. Koh Phi Phi's Police say that one more suspect is now in custody.
The Koh Phangan police are trying to locate Stephen Trimble so that he can help identify the young men arrested and say if they carried out the theft as well.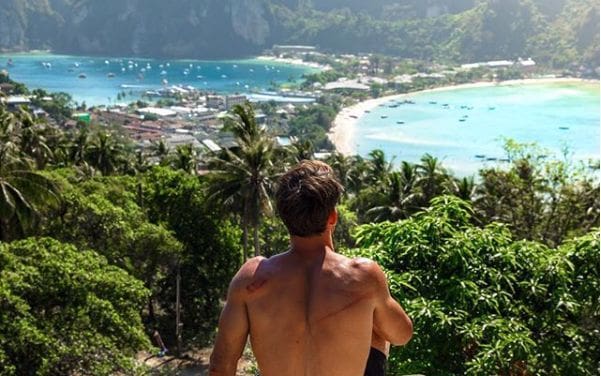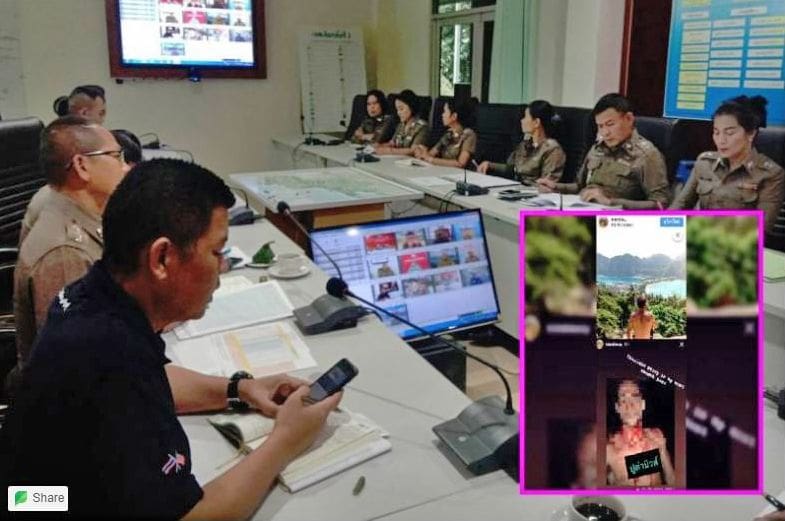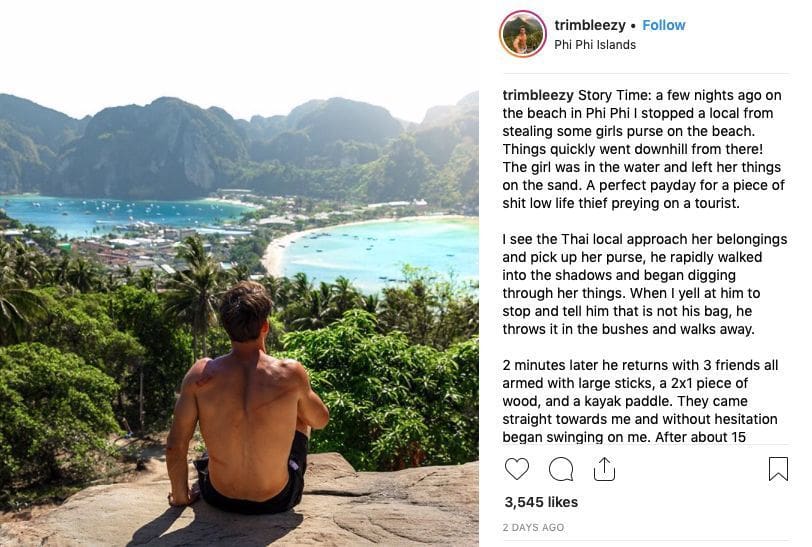 SOURCE: Daily News
Keep in contact with The Thaiger by following our
Facebook page
.
Never miss out on future posts by
following The Thaiger
.
Krabi beach stray dogs attack 4 year old boy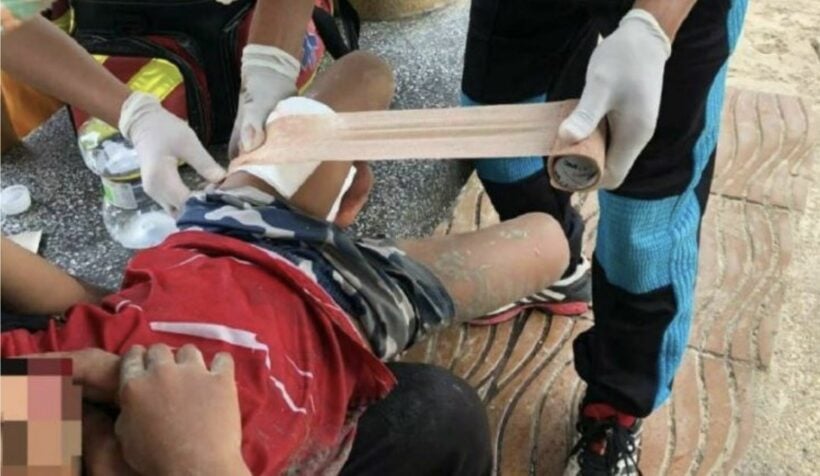 A 4 year old boy was attacked on Klong Hang beach, Ao Nang, in Krabi by a pack of stray dogs. The young boy, Attachai, was with his mother, brothers and sisters, playing on the popular beach at the front of a hotel yesterday morning.
A pack of 4 local stray dogs were lurking nearby. 2 of them ran at the young boy. As Attachai tried to run away the 2 dogs kept attacking and biting at his legs. The dogs kept biting and snapping at his legs and tried to drag him away before the hotel's gardener came to the rescue to help the distressed mother.
Attachai was quickly taken to hospital.
Local rescue volunteers told 77kaoded that the attack was the first attack of its kind since 5 year old Finnish boy was attacked in February 2019.
After last years attack, the Chief of Krabi Provincial Livestock said that 13 strays had been caught at Ao Nang Beach.
"One of the dogs has been kept and tested for rabies. We are finding other places for these stray dogs."
PHOTOS & VIDEO: 77kaoded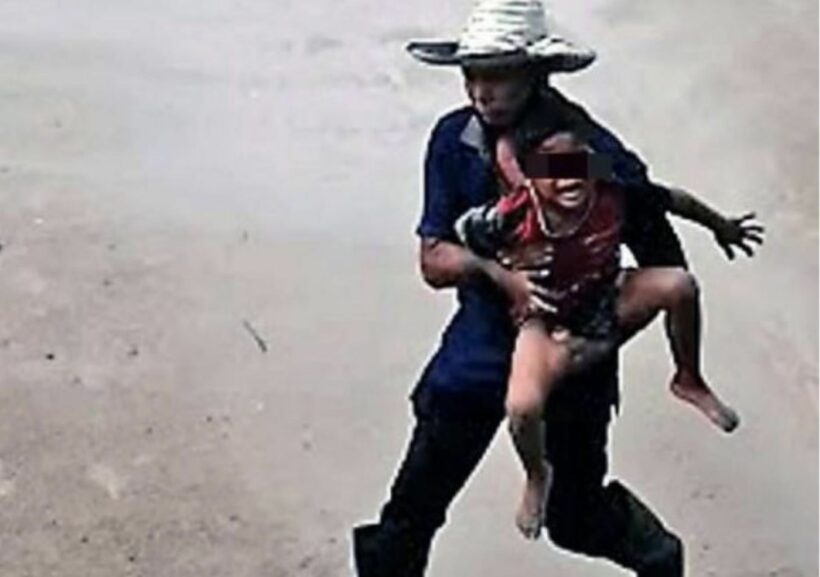 Keep in contact with The Thaiger by following our
Facebook page
.
Never miss out on future posts by
following The Thaiger
.
Large "chunk" breaks off Krabi island, damaging coral reef at popular dive site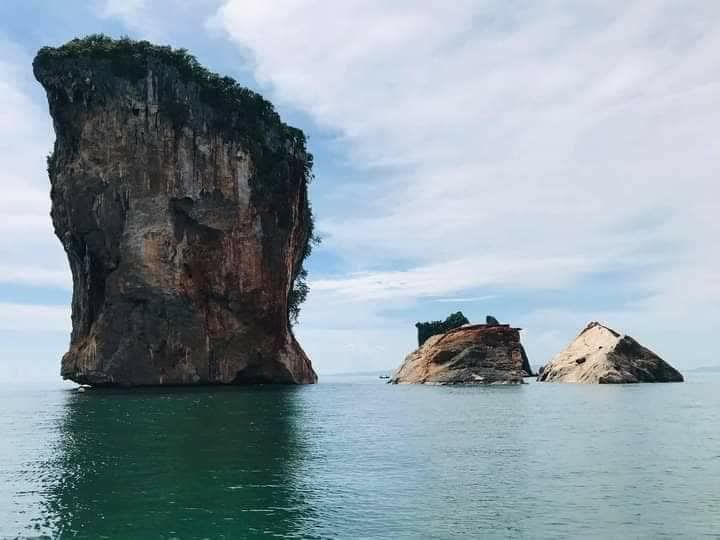 A large chunk of an island near Koh Phi Phi in southern Thailand has broken off and collapsed on top of a coral reef at a popular dive site. No one was around when the cliffsides sheered off and collapsed into the sea, but national park officers on a routine patrol noticed a section of the island had broken off and saw two large sections of rock above the water.
There has been considerable rain in the region over the past 2 months.
A section of Koh Mae Urai, located between Koh Phi Phi and Krabi, broke off in 2 large pieces estimated to weigh around 30,000 to 50,000 tonnes. Divers headed down to examine the site to see how much damage has been done to the coral reef. The water has been murky, so it's hard to tell how much damage was done, but Koh Phi Phi National Park chief, Prayoon Phongphan, says he thinks 20% of the coral around the island was damaged.
"At this stage, we do not know how much of the reef was damaged, but the reef is home to important coral, including staghorn coral, and was a popular dive site for tourists."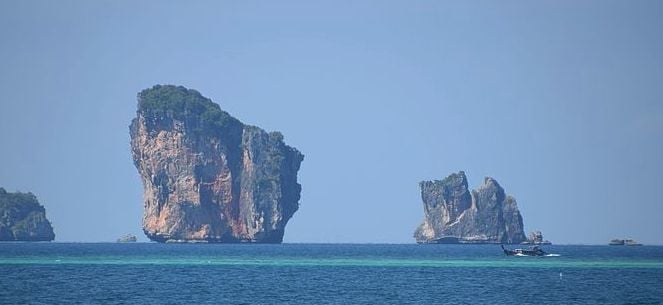 PHOTO: Wikipedia
Koh Mae Urai is a unique local dive spot with 2 tunnels lined with soft and hard corals, according to Lonely Planet. When the current isn't too strong and the visibility is good, Koh Mae Urai is "the most beautiful dive site in the Ao Nang area with number soft coral as well as seahorses", according to Krabi Magazine.
For now, the area around the island is closed off and boat operators are warned not to approach the site until marine officials can inspect the island's structure and be sure of the safety for divers and visitors.
"Please be careful. Boat operators must not approach the site. It can be dangerous… Park officers will mark off the area with buoys with a sign clearly explaining no entry to the sealed-off area."
SOURCE: Phuket News
Catch up with the latest daily "Thailand News Today" here on The Thaiger.
Keep in contact with The Thaiger by following our
Facebook page
.
Never miss out on future posts by
following The Thaiger
.
Man arrested for allegedly abusing stray cats at Koh Phi Phi hotels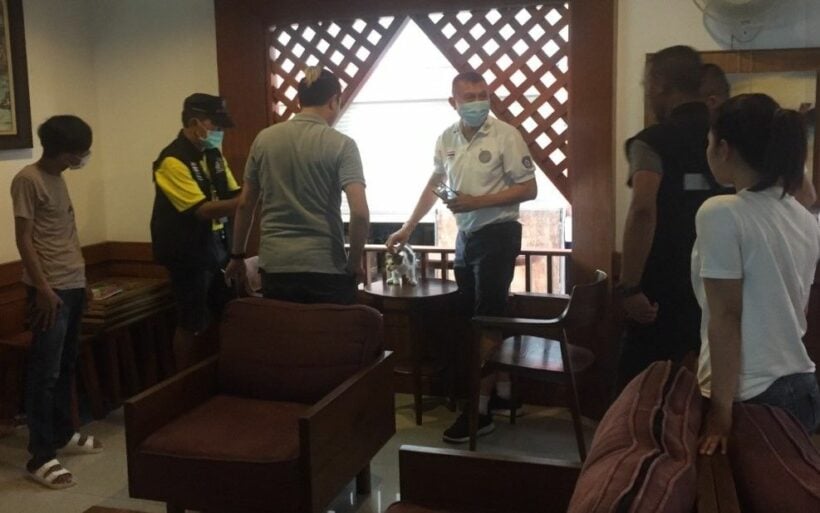 Police have arrested a 30 year old man for allegedly catching stray cats and torturing them at various hotels in Koh Phi Phi following a heads-up from Watchdog Thailand Foundation. Hotel staff cleaning up the man's rooms found blood, cat nails and fur in the rooms as well as in the refrigerator, according to police.
Chi Hang, from China, faces animal cruelty charges. In the past 2 weeks, Chi checked into 3 hotels on the island where he allegedly took stray cats to his room and tortured them, police say. The non-profit Watchdog Thailand Foundation caught wind of the alleged animal abuse and contacted the police.
Photos and videos allegedly from Chi's phone show cats being abused and in distress. One video shows a cat with wet fur and a binder clips pinching its paws. A nail clipper was nearby. One photo shows a cat with its face stuck in a plastic water bottle. Watchdog shared photos of the injured cats on Facebook. One had red marks and missing fur around its neck.
Chin allegedly told police that he loves cats and took them into his hotel room to take care of them. Police say the man claims he put a cat in the refrigerator because he thought the cat was hot and needed to cool off. He told police if the cats bit him, he covered their heads with a plastic water bottle and he also clipped their claws because they were infected.
Chi, who entered Thailand in February and has not travelled back to China because of the pandemic, allegedly told police he is unware of Thailand's animal abuse laws.
SOURCE: Pattaya News
Catch up with the latest daily "Thailand News Today" here on The Thaiger.
Keep in contact with The Thaiger by following our
Facebook page
.
Never miss out on future posts by
following The Thaiger
.