American tourist attacked by gang on Koh Phi Phi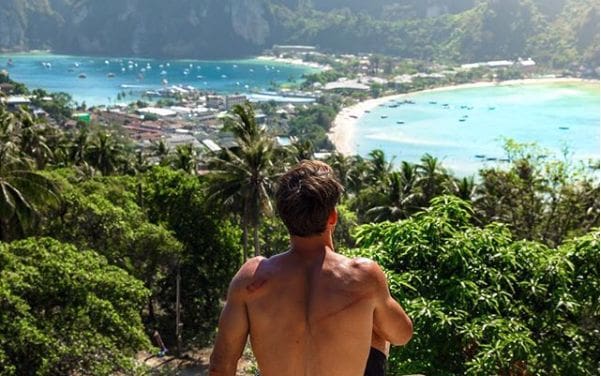 An American photographer and blogger says he was injured after being attacked by a gang of men on Koh Phi Phi this week.
Stephen Trimble revealed on his Instagram account that he was walking along the beach when he spotted a girl's possessions being stolen while she was swimming.
He says he yelled at the man to stop. The man left the girl's bag and ran away, only to return moments later with three other men, who were armed with sticks and a kayak paddle.
Trimble said the men attacked him, leaving him with injuries to his head, knee and back.
"They came straight towards me and without hesitation began swinging on me. After about 15 strikes they take off down a dark alley at the end of the beach."
He said he reported the incident to the "super helpful" police.
"At this point, I'm bleeding heavily from my head, arms and leg. I walk towards the nearest beach hostel to get some help, and come across a police on his moped. I explain to him what happened and he tells me to come to the station the next day at 10am to tell the police and they will look for the ones who attacked me.
"Anyways I got a few stitches in my head and a few more in my leg, also partially tore a ligament in my knee, and as you can see my back is a bit bruised and cut up. But I'm still alive and kicking! A few days of rest and I'll keep on keeping on!"
Trimble warned other tourists about the risks of leaving belongings on a beach unattended. He also warned others to be careful at night.
STORY: ThaiVisa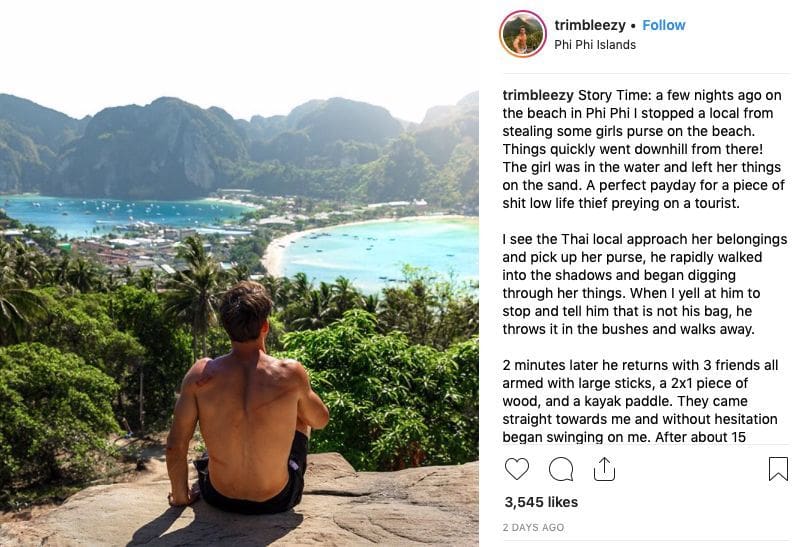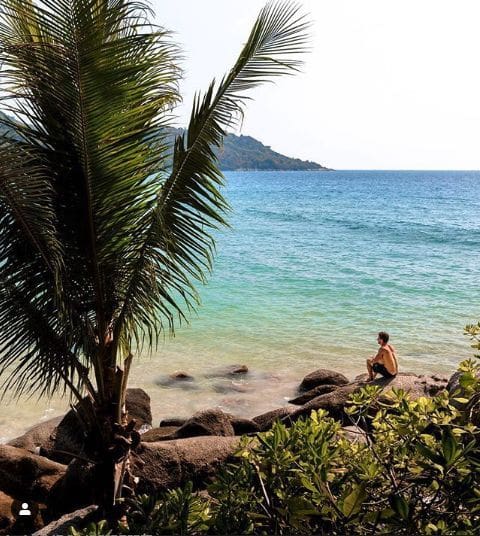 Keep in contact with The Thaiger by following our
Facebook page
.
Never miss out on future posts by
following The Thaiger
.
Opposition MPs petition for Bangkok State of Emergency to be lifted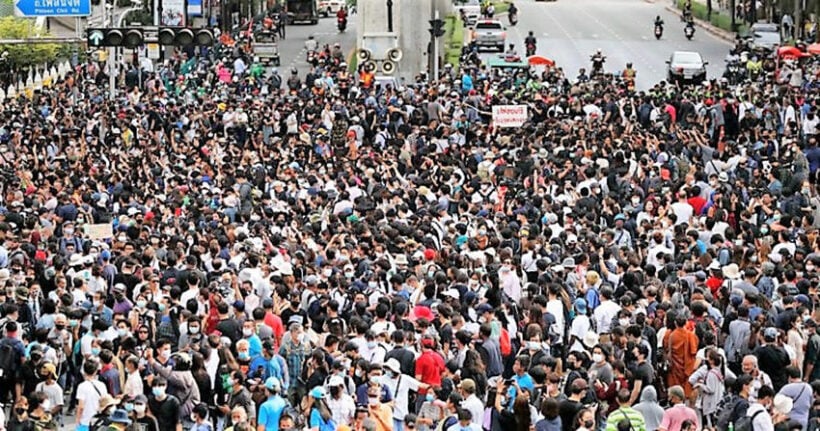 A group of opposition MPs and other activists will today petition to have the emergency decree currently in force in Bangkok rescinded. PM Prayut Chan-o-cha imposed the state of emergency last week, in the wake of escalating political unrest in the capital. Now a number of Pheu Thai MPs and other opponents of the decree are calling on the Civil Court to retract it.
One of those petitioning for the state of emergency to be rescinded, is the President of the Lawyers' Association of Thailand, Narinphong Jinaphak. He says enforcement of the decree is illegal and that there is nothing to justify it, pointing out that political rallies have been peaceful, and protesters have acted within the confines of the law. He also points out that the Thai Constitution guarantees citizens the right to assemble.
Meanwhile, the Bangkok Post reports that Cholnan Srikaew, Pheu Thai MP for the northern province of Nan, has described the PM's announcement of the emergency decree in the early hours of last Thursday as illegitimate. He adds that should the court decide the state of emergency is unlawful, the group may sue the government for having declared it.
The group is also petitioning for an interim injunction, to prevent authorities from using the emergency decree against protesters, while the court considers whether to revoke it altogether.
Meanwhile, national police chief, Suwat Jangyodsuk, says officers are still under orders to avoid the use of force when dealing with protesters, in order to protect them and the general public. He denies that water cannons used to disperse a protest in Bangkok on Friday contained chemical substances known to cause irritation.
SOURCE: Bangkok Post
Keep in contact with The Thaiger by following our
Facebook page
.
Never miss out on future posts by
following The Thaiger
.
Police threaten jail time for anyone taking selfies at protests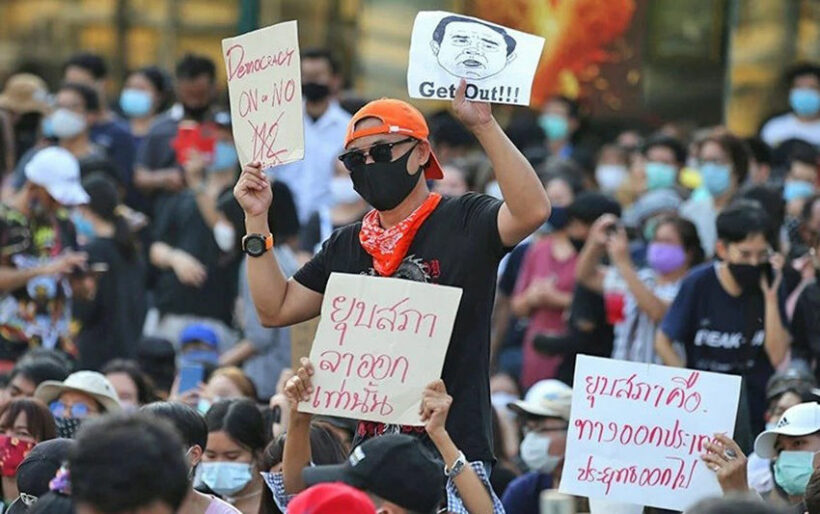 The State of Emergency recently imposed on Bangkok amid escalating political unrest carries some sweeping powers, some of them rather creative. According to a report in Coconuts, police are warning that anyone taking a selfie at anti-government protests is risking 2 years in jail and a fine of up to 40,000 baht. You'd have to really want that photo…
The emergency decree is being invoked in everything, from the arrests of protesters and their leaders, to the threat of restrictions being slapped on media outlets whose reporting is deemed unfavourable.
"We are under the severe state of emergency, which is a special law. We must hold this law seriously. Everything we do is under international standards."
Meanwhile, the latest clampdown has led to the arrest (and subsequent temporary release) of one doctor and the firing of another. After riot police in Bangkok used water cannons laced with chemicals to disperse a protest on Friday, around 400 Thai doctors called on officials to refrain from using such irritants against activists.
Jarosdao Rimpanichkit, a doctor at Bangkok's Mongkutwattana General Hospital, was promptly fired for having put his name to the letter. In a statement, the director of the military hospital, General Rientong Nanna, says the facility could not support employees who are, "allied with the king's enemies."
Meanwhile, another doctor, Tossaporn Serirak, has been released on bail after being arrested for violating the emergency decree. Tossaporn has become something of a hero figure to pro-democracy activists, after he began offering medical assistance at rallies and criticising officials for the tactics used against peaceful protesters.
SOURCE: Coconuts
Keep in contact with The Thaiger by following our
Facebook page
.
Never miss out on future posts by
following The Thaiger
.
International travel slow to take off, Covid-19 restrictions changing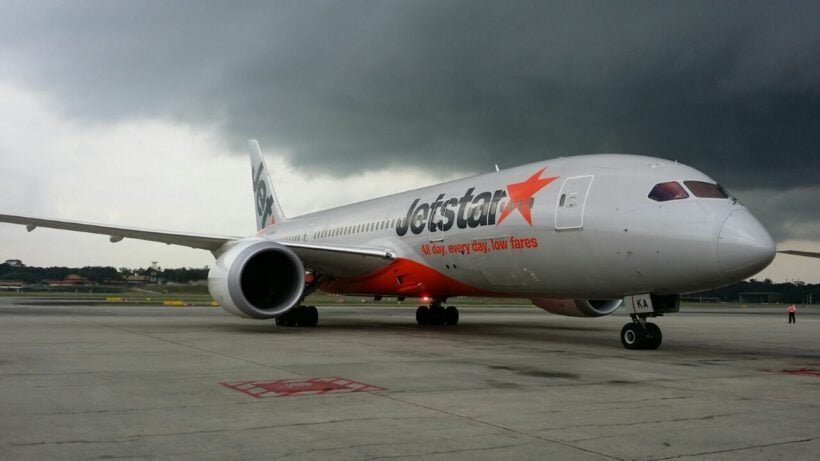 While Thailand is working on safely, and slowly, reopening its borders to foreign tourists after a 7 month ban, other countries are also adapting to new, pandemic-induced, travel measures. Some are slowly lifting restrictions and resuming flights, while some remain grounded.
Australia
Qantas Airlines flights from Australia to the United States will continue to be grounded until January 31, 2021 which includes the destinations New York, Los Angeles, San Francisco and Honolulu. The airline will also continue to ground flights to Japan, including Tokyo, Osaka and Sapporo.
Singapore
Jetstar Asia, based in Singapore, will resume flights to major destinations in Southeast Asia with flights to Bangkok starting next month. Since flights are always changing due to uncertainties and travel restrictions, flights to select Southeast Asia cities are only being offered from October 25 to November 15. JetStar will then review flights again. Destinations include Clark in the Philippines, Jakarta in Indonesia as well as Kuala Lumpur and Penang in Malaysia.
Hong Kong
Hong Kong and Singapore have agreed on a travel bubble schemed that will allow Hong Kong nationals and Singapore nationals to travel between the 2 countries without going through Covid-19 tests or quarantine periods. The countries have not announced when the scheme will begin.
Maldives
All incoming tourists and short-term visitors must have a certificate declaring negative Covid-19 test result issued 96 hours before arrival, extending the window from the previous 72 hours.
SOURCE: TTR Weekly
Catch up with the latest daily "Thailand News Today" here on The Thaiger.
Keep in contact with The Thaiger by following our
Facebook page
.
Never miss out on future posts by
following The Thaiger
.