American tourist attacked by gang on Koh Phi Phi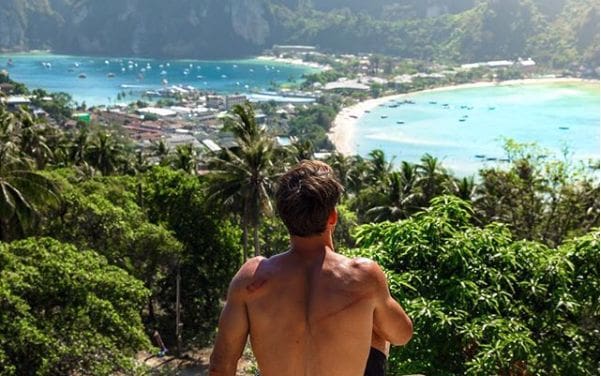 An American photographer and blogger says he was injured after being attacked by a gang of men on Koh Phi Phi this week.
Stephen Trimble revealed on his Instagram account that he was walking along the beach when he spotted a girl's possessions being stolen while she was swimming.
He says he yelled at the man to stop. The man left the girl's bag and ran away, only to return moments later with three other men, who were armed with sticks and a kayak paddle.
Trimble said the men attacked him, leaving him with injuries to his head, knee and back.
"They came straight towards me and without hesitation began swinging on me. After about 15 strikes they take off down a dark alley at the end of the beach."
He said he reported the incident to the "super helpful" police.
"At this point, I'm bleeding heavily from my head, arms and leg. I walk towards the nearest beach hostel to get some help, and come across a police on his moped. I explain to him what happened and he tells me to come to the station the next day at 10am to tell the police and they will look for the ones who attacked me.
"Anyways I got a few stitches in my head and a few more in my leg, also partially tore a ligament in my knee, and as you can see my back is a bit bruised and cut up. But I'm still alive and kicking! A few days of rest and I'll keep on keeping on!"
Trimble warned other tourists about the risks of leaving belongings on a beach unattended. He also warned others to be careful at night.
STORY: ThaiVisa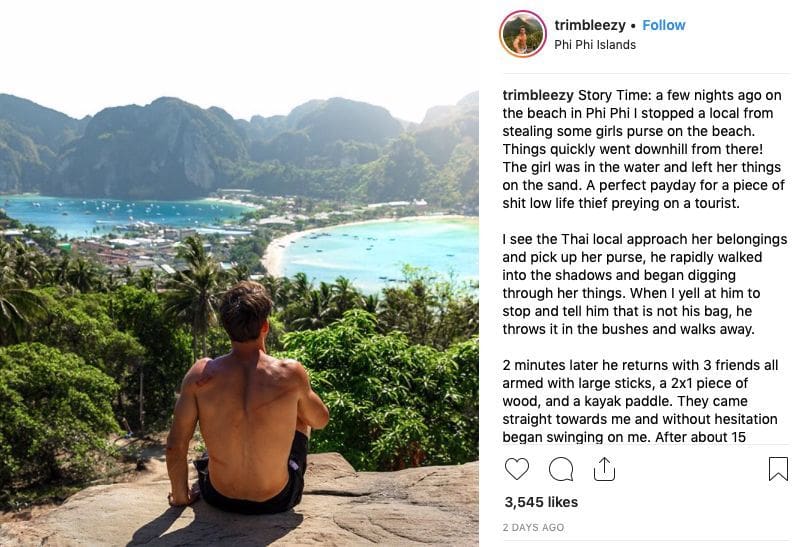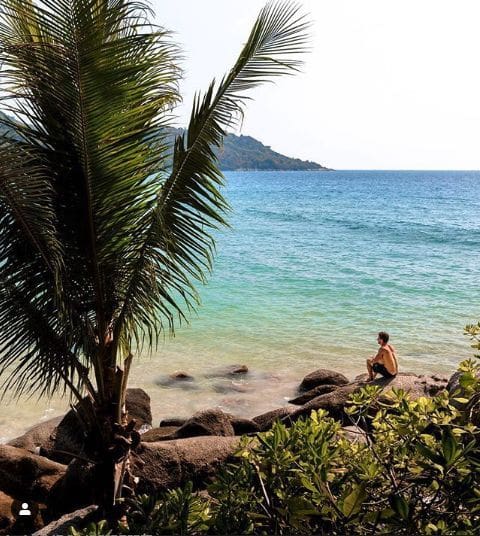 Want more from the Thaiger family?
📱 Download our app on Android or iOS for instant updates on your mobile
📧 Subscribe to our daily email newsletter
👍 Like/Follow us on Facebook
🔔 Subscribe to or Join our YouTube channel for daily video updates
Today's Chinese rocket debris not expected to hit land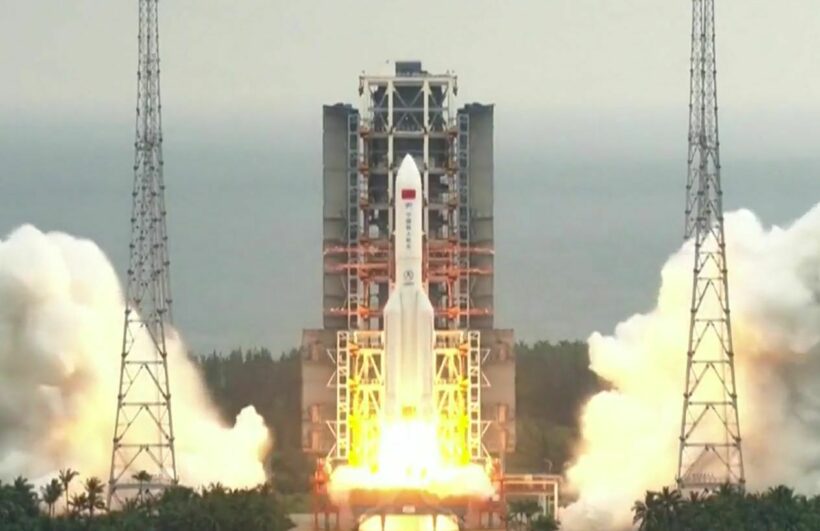 A Chinese Foreign Ministry spokesperson has assured the public that the debris from a large rocket re-entering the atmosphere today is not likely to do any harm. They said the majority of the Chinese rocket will mostly be burned up on re-entry. The Long March 5B rocket left the Earth on April 29th, launching from Hainan island in China.
This launch was the first part of an 11 part mission to construct China's own space station in Earth orbit. The Long March 5B rocket was carrying an unmanned Tianhe module as its payload, the first part of many to be constructed together in space. When attached as part of a permanent Chinese space station, it will serve as living quarters for future astronauts.
The Foreign Ministry spokesperson reassured that China is monitoring The rocket's journey very closely and that most parts of the spacecraft would burn up on re-entry. Any debris looks likely to land in international oceans, and the chances of damage being done on dry land is considered to be extremely low.
The re-entry is scheduled for today but the exact path of the rocket debris could not be completely determined in advance. The US military announced earlier in the week that the rocket would be tracked by US Space Command, calling it an uncontrolled re-entry. Statistically speaking, the debris is most likely to fall into an ocean somewhere as the Earth is 70% covered by water, but an astrophysicist at Harvard commented to Reuters that there is a chance that pieces would not burn up completely and would land on solid ground.
As the rocket tears at hypersonic speed into the Earth's atmosphere, most debris would be quickly incinerated by the heat generated from the re-entry. But another Chinese Long March 5B rocket fell to Earth last year in May 2020 and some parts did hit land, doing damage to some buildings in the Ivory Coast.
Projections based on the current orbit path yielded very broad results, with debris possibly landing anywhere in between Northern cities like Beijing, Madrid, or New York, to cities as far south as Wellington New Zealand or southern Chile. For now, Thailand seems safe from Chinese debris as they prepare for their own space programs.
SOURCE: Reuters
Want more from the Thaiger family?
📱 Download our app on Android or iOS for instant updates on your mobile
📧 Subscribe to our daily email newsletter
👍 Like/Follow us on Facebook
🔔 Subscribe to or Join our YouTube channel for daily video updates
Can foreigners get vaccines in Thailand? | VIDEO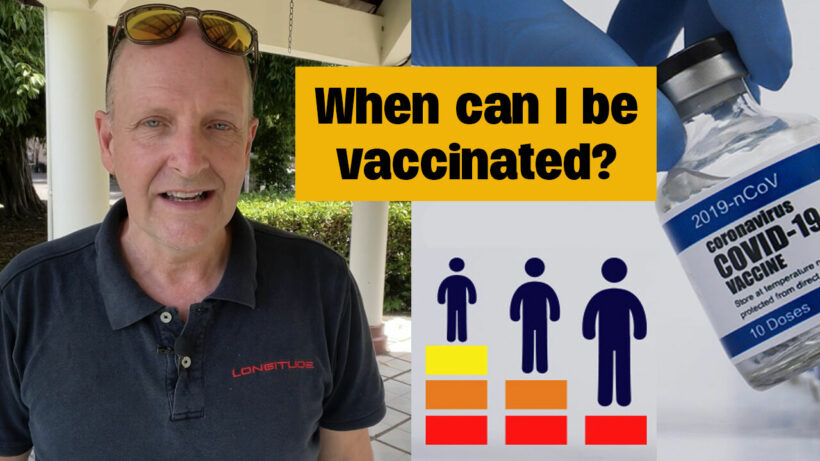 There is a lot of confusion about the vaccination of foreigners in Thailand. Tim Newton tries to paint the current picture for you. Thailand reaching a 70% level of vaccination, I think is more wishful thinking than anything else. Even in the US it appears very unlikely they will be able to reach the 70% immunisation level. In some states they're now offering free beers and other inducements to get people to come in for a free vaccine.
In Thailand you can add additional layer of superstitions, religious convictions, local conspiracy theories and just general distrust of the government to the hard rump of anti-vaxxers. Poll after poll shows that there is a chunk of Thais that just won't get vaccinated… for whatever reason. There is obviously a lot of confusion surrounding foreigners trying to get some clarity about when they can expect to be vaccinated.
There also appears to be a small exodus of foreigners who are just fed up with the vaccination vassilation in Thailand and are heading back to their home countries to source a free vaccine.
Want more from the Thaiger family?
📱 Download our app on Android or iOS for instant updates on your mobile
📧 Subscribe to our daily email newsletter
👍 Like/Follow us on Facebook
🔔 Subscribe to or Join our YouTube channel for daily video updates
American arrested for alleged murder in Chiang Mai has past record of abuse in Colorado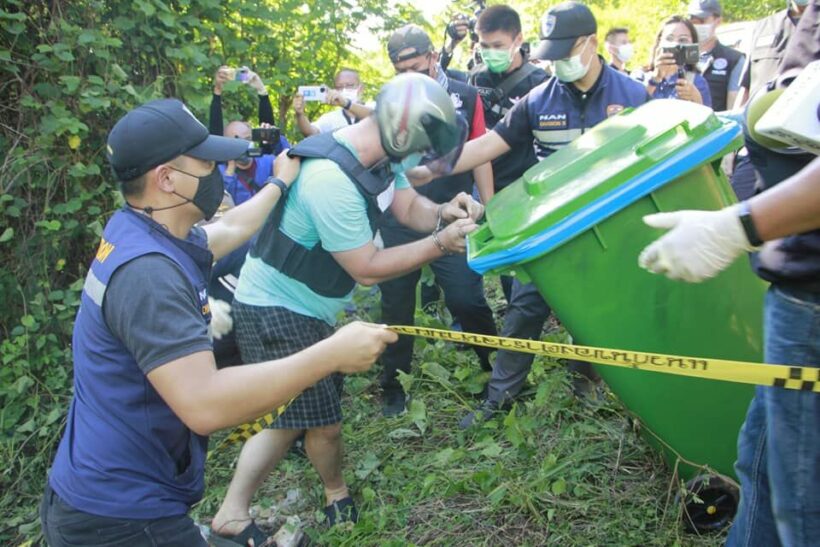 The American man who was recently arrested for allegedly murdering his pregnant Thai wife in Chiang Mai had been sentenced to 2 years of probation back in 2019 on assault charges after his gun went off while he was threatening a woman in Colorado. A report from the Associated Press says it appears to be the same woman.
Jason Matthew Balzer, 32, had initially faced attempted murder charges for assaulting a woman in Longmont, Colorado, but those charges were dropped. A Boulder District Attorney's Office spokesperson told a local reporter in a previous report that "in every case, we need witnesses to testify at a trial. Unfortunately, due to issues with the victim's availability, the higher charge had to be dismissed."
The victim had called the police saying Jason had asked to have sex and then assaulted her when she said "no," according to the arrest report. She told police he hit her face and slammed her head onto the bed's headboard several times before taking out a revolver and threatening to kill her, the report says. The woman told police she pushed the gun and it went off near her head.
Balzer pled guilty to third-degree assault in December 2019 and was sentenced to 2 years of probation. In December 2020, Jason was arrested in Colorado after police allegedly found 73 guns in his van. Possession of firearms is a violation of probation. It's unclear when Jason travelled to Thailand.
Since the case in Colorado involved a victim of domestic violence, the name was redacted in public court records, but a spokesperson for the District Attorney's Office told AP reporters that the victim has the same name as the woman killed in Thailand. Based on photographs, the spokesperson says they appear to be the same person.
On Thursday, Jason was arrested in Chiang Mai. Reports say he confessed to stabbing and killing his wife, 32 year old Pitchaporn Kidchop, who was 3 months pregnant. Police say Jason sealed his wife's body in a garbage bin before taking it to the woods about 5 kilometres away. In Thailand, a murder charge carries a maximum penalty of death.
Local police posted photos of the crime reenactment on Facebook. In Thailand, it is common for suspects to admit to crimes and reenactment the crimes to law enforcement officers and the press.

SOURCE: Time Call | Associated Press
Want more from the Thaiger family?
📱 Download our app on Android or iOS for instant updates on your mobile
📧 Subscribe to our daily email newsletter
👍 Like/Follow us on Facebook
🔔 Subscribe to or Join our YouTube channel for daily video updates