American tourist attacked by gang on Koh Phi Phi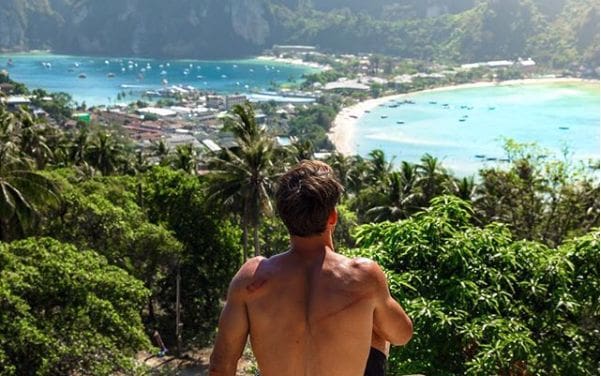 An American photographer and blogger says he was injured after being attacked by a gang of men on Koh Phi Phi this week.
Stephen Trimble revealed on his Instagram account that he was walking along the beach when he spotted a girl's possessions being stolen while she was swimming.
He says he yelled at the man to stop. The man left the girl's bag and ran away, only to return moments later with three other men, who were armed with sticks and a kayak paddle.
Trimble said the men attacked him, leaving him with injuries to his head, knee and back.
"They came straight towards me and without hesitation began swinging on me. After about 15 strikes they take off down a dark alley at the end of the beach."
He said he reported the incident to the "super helpful" police.
"At this point, I'm bleeding heavily from my head, arms and leg. I walk towards the nearest beach hostel to get some help, and come across a police on his moped. I explain to him what happened and he tells me to come to the station the next day at 10am to tell the police and they will look for the ones who attacked me.
"Anyways I got a few stitches in my head and a few more in my leg, also partially tore a ligament in my knee, and as you can see my back is a bit bruised and cut up. But I'm still alive and kicking! A few days of rest and I'll keep on keeping on!"
Trimble warned other tourists about the risks of leaving belongings on a beach unattended. He also warned others to be careful at night.
STORY: ThaiVisa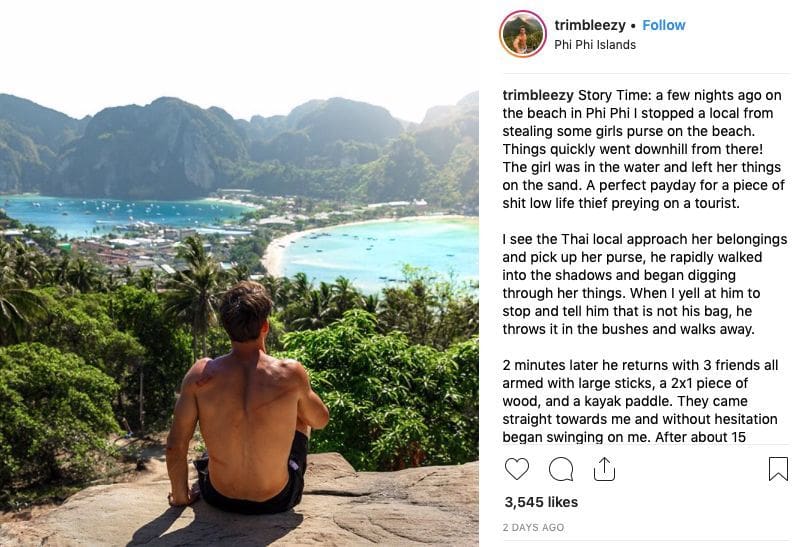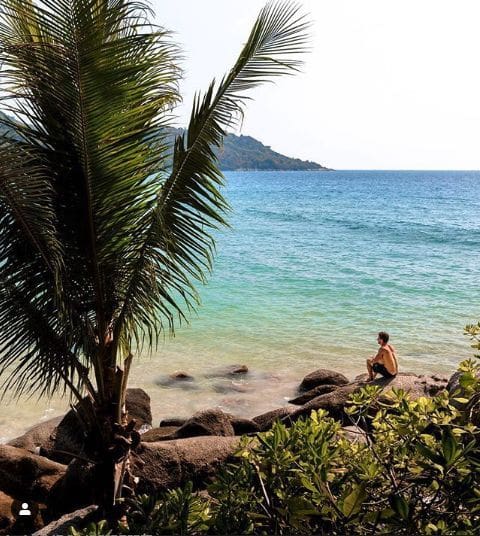 Read more headlines, reports & breaking news in Krabi. Or catch up on your Thailand news.
EC claims yesterday's ballots are safe and secure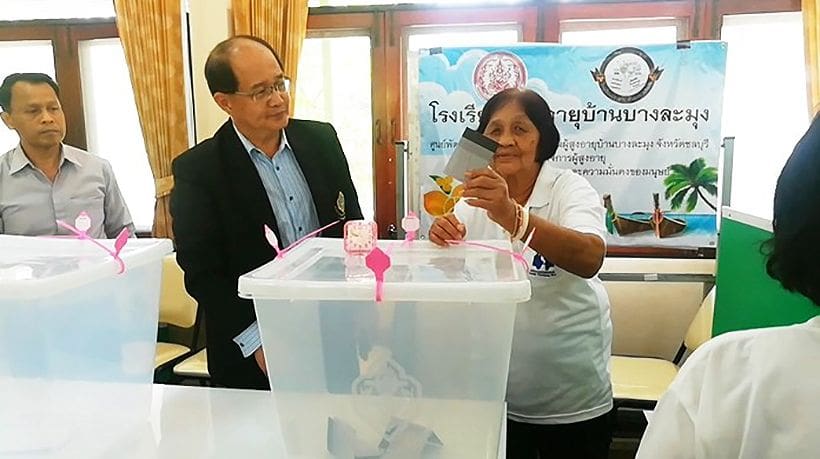 PHOTO: Pattaya Mail
The Election Commission says all yesterday's ballots are secure. They've told a suspicious media that they, and members of political parties, are allowed to check the security of yesterday's paper ballots at Thai Post offices and police stations around the country where they are being stored before heading to Thailand Post's HQ in Bangkok today.
The EC claims that, following the closure of polling stations around the country in yesterday's pre-election ballot at 5pm, the ballots were sealed in boxes and signed by local EC officials.
The EC, trying to allay fears from voters, candidates and the media, say the procedure is exactly the same as in the past. They say by sending them to Bangkok as soon as possible will prevent any local issues with the security of the ballots.
The advance ballot papers will eventually end up in the country's voting constituencies where they will be added to next week's main election day ballots for the big count.
They say all yesterday's ballots will be sent out to the 350 constituencies to join the other local ballots. Yesterdays voting papers will be escorted by police, CCTV and a GPS tracking system, as well as being accompanied by police escort.
Although the Election Commission and Government turned down the opportunity to host international observers for the conduct of the election, they say the Thai media are invited to monitor the storage and movement of the ballots.
Will it be same same but different after this Sunday's vote?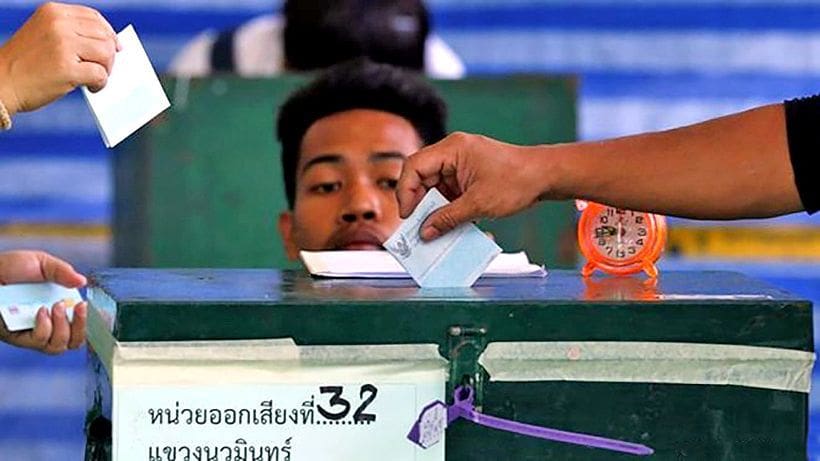 Thailand's military junta, which has ruled the Land of Smiles since snatching control in a coup in 2014, is now trying to bring its leader, Prayut Chan-o-cha, back as an 'elected' PM in next week's election.
The NCPO has cobbled together an ambitious economic plan that's rests on a 1.7 trillion baht (US$54 billion) spending spree to revive competitiveness in an economy that remains hamstrung by depressed business confidence and investment.
High speed rail links, an expanded economic corridor to the east of the capital, spending on airports and new infrastructure in the capital  – these are a few of the Junta's favourite things.
Economic growth is lagging its peers in the region, productivity has weakened and companies are reluctant to invest whilst the elephant remains in the room – political uncertainty and a whiff of military tampering.
The return of democracy this Sunday has its own risks. When the official results are eventually announced, perhaps weeks following the poll, there will be some sort of transition from military rule to civilian rule. If the Palang Pracharath party – pro-military and pro-Prayut – is able to convince voters to keep marching along, then the transition will be relatively simple.
If, however, and more likely, that a coalition of pro-democracy parties is able to form a majority in the country's lower house of Parliament, the transition may become 'messy'.
The new government will crow loudly that they have a mandate to unravel some of the long-term economic plans, and even the constitution, that was put in place by the NCPO during their half decade in power.
But the military-appointed upper house of review, the National Legislative Assembly, will likely quash any changes to the military's 'vision'.
And on we will go – more political uncertainty, more unrest, and potentially, more protests in the future.
Groundhog Day.
Thailand's establishment elites, principally based around Bangkok and parts of the south, have dueled for power with the populist alliances of former premier (and now fugitive) Thaksin Shinawatra for over a decade, a fault line that could bring gridlock to the next parliament.
Thaksin and his proxy parties have prevailed in each election since 2001, only to be unseated by the military or the courts each time, most recently in 2014 when the Yingluck Shinawatra government was kicked out of office.
The ongoing instability weighs heavily on Thailand's competitiveness and investment allure.
Thailand hasplunged 10 places on the World Economic Forum's global competitiveness index in the past 11 years, the biggest drop among South East Asia's top economies – to rank 38 out of 140 countries in 2018.
The index measures everything from the openness of the economy and quality of infrastructure to the strength of institutions and innovation.
But Prayut has cut red tape, making Thailand one of the 10 most improved nations in the World Bank's Doing Business 2018 rankings as it vies with neighbours such as Vietnam for investment.
Now it's the Thai voters who take the next step in this achingly slow politically drama that casts a long shadow over the future of Thailand.
Week kicks off with more choking haze and cancelled flights in the north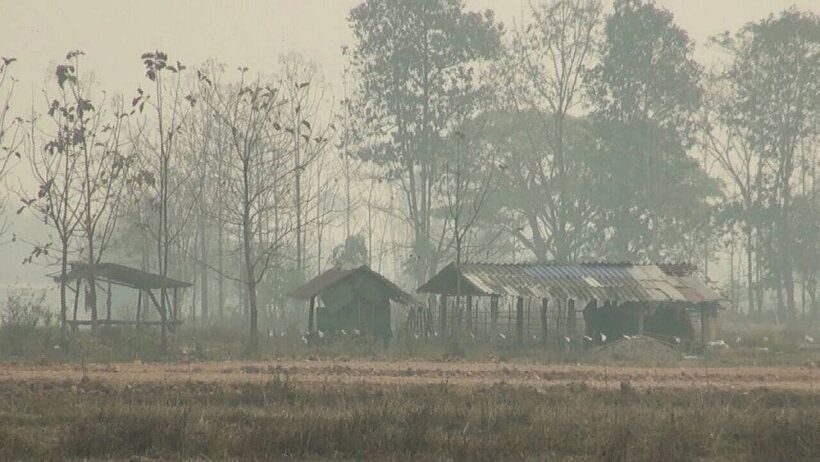 From Nan to Mae Hong Son, Phrae, Chiang Mai and Chiang Rai, choking smog continues to be a persistent problem and part of daily life in the North, where more than 400 brushfire hotspots have now been identified.
Most of the fires are in Mae Hong Son, on the far north-west border with Myanmar, which counted 100.
Bangkok Airways has already cancelled its morning flights between Chiang Mai and Mae Hong Son until at least next Sunday, extending the deadline from this weekend, saying there had been no improvement in visibility so the situation was too risky for flights.
Yesterday morning visibility at Mae Hong Son was just 1,600 metres, whereas Bangkok Airways requires 6,000 metres. At this stage other flights are continuing their schedule.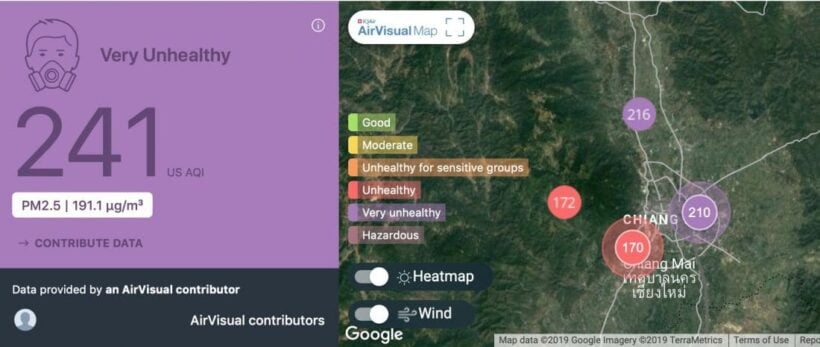 Areas north of Chiang Mai this morning, registering well above safe levels for air quality
The Pollution Control Department reported the level of PM2.5 – particulate matter 2.5 micrometres or less in diameter – in Mae Hong Son more than twice the safe limit of 50 micrograms per cubic metre.
Authorities say that deliberately set brushfires and plantation burn-offs are the main cause of the air pollution. With Mae Hong Son topping the list, Chiang Mai had 83 hotspots on Sunday, Phayao 54, Tak 49, Nan 38, Chiang Rai 37, Lampang 31, Phrae 24 and Lamphum 20.
Authorities in several provinces have declared total bans on outdoor burning, but farmers often risk the threatened fines because they have no other viable way to clear their land.
Several outdoor activities have been cancelled in Nan, such as sports tournaments, as a result of the danger to health.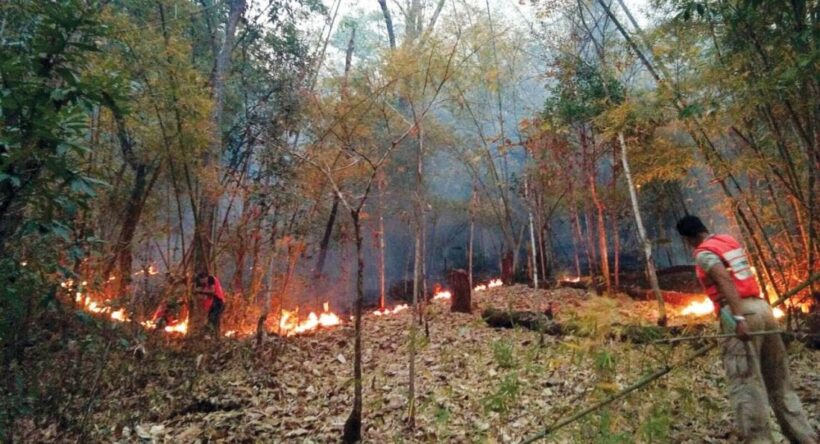 SOURCE: The Nation