American tourist attacked by gang on Koh Phi Phi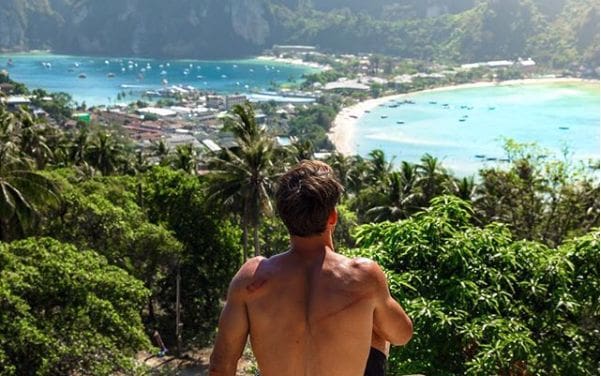 An American photographer and blogger says he was injured after being attacked by a gang of men on Koh Phi Phi this week.
Stephen Trimble revealed on his Instagram account that he was walking along the beach when he spotted a girl's possessions being stolen while she was swimming.
He says he yelled at the man to stop. The man left the girl's bag and ran away, only to return moments later with three other men, who were armed with sticks and a kayak paddle.
Trimble said the men attacked him, leaving him with injuries to his head, knee and back.
"They came straight towards me and without hesitation began swinging on me. After about 15 strikes they take off down a dark alley at the end of the beach."
He said he reported the incident to the "super helpful" police.
"At this point, I'm bleeding heavily from my head, arms and leg. I walk towards the nearest beach hostel to get some help, and come across a police on his moped. I explain to him what happened and he tells me to come to the station the next day at 10am to tell the police and they will look for the ones who attacked me.
"Anyways I got a few stitches in my head and a few more in my leg, also partially tore a ligament in my knee, and as you can see my back is a bit bruised and cut up. But I'm still alive and kicking! A few days of rest and I'll keep on keeping on!"
Trimble warned other tourists about the risks of leaving belongings on a beach unattended. He also warned others to be careful at night.
STORY: ThaiVisa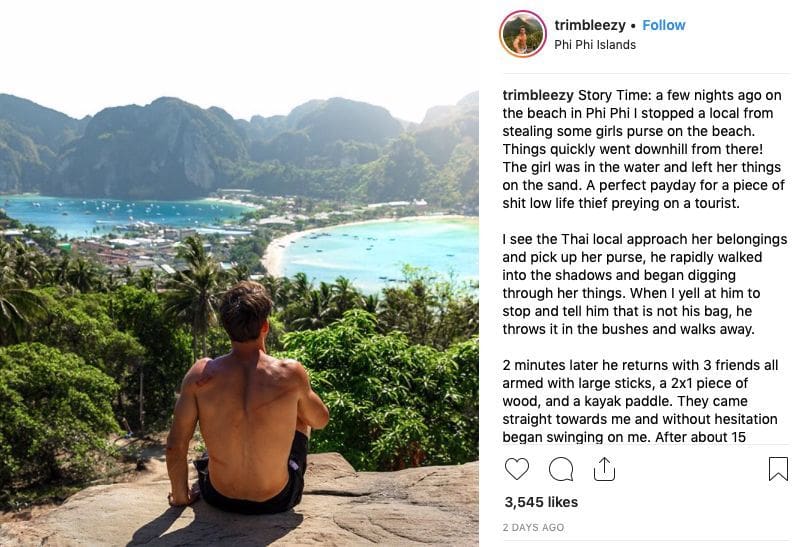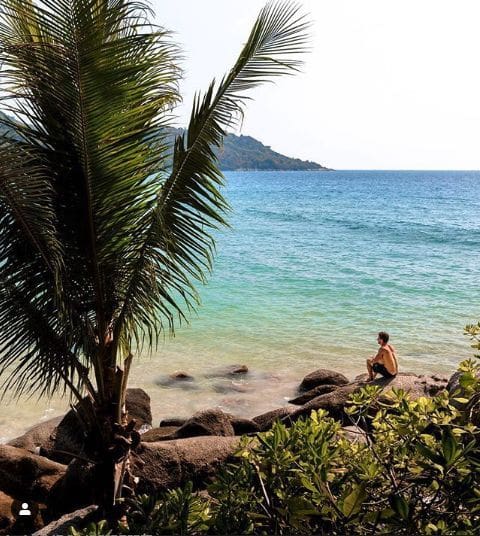 Read more headlines, reports & breaking news in Krabi. Or catch up on your Thailand news.
Update on Chikungunya cases in Thailand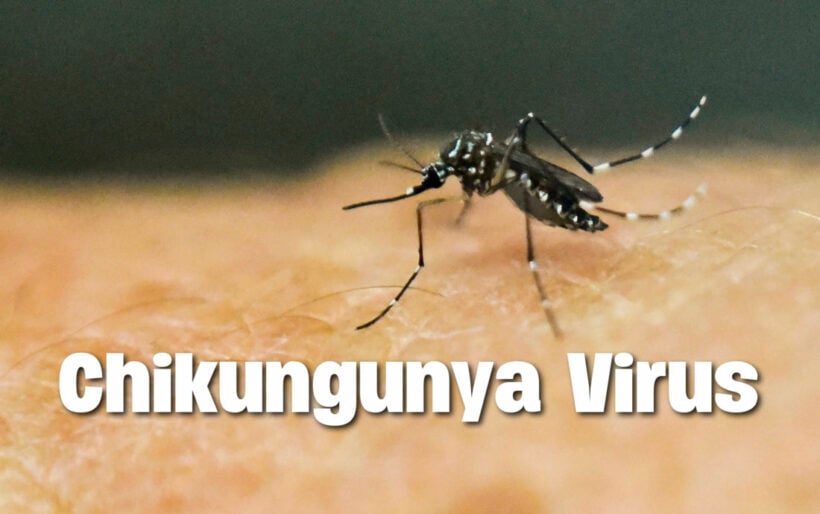 "Chikungunya Virus is an arbovirus of the alphavirus genus, transmitted by the bite of infected Aedes mosquitoes, same way Dengue is spread."
The Bureau of Epidemiology, along with the Thailand Health Ministry, are reporting 3,379 chikungunya cases in 23 provinces up to May 13 this year.
Phuket, Songkla and Ranong have been the most affected by the mosquito borne viral disease. The good news, health officials report the numbers are declining.
The word, Chikungunya, translates to "that which bends up", based on the stooped position of patients during the rheumatic symptoms of the disease.
In humans bitten by an infected mosquito, the disease symptoms usually appear after an incubation period of three to seven days.
Chikungunya can cause acute, sub-acute, and chronic disease.
In acute disease, symptoms develop abruptly and include high fever, headache, myalgia and arthralgia (predominantly in limbs and large joints). The appearance of a maculopapular rash is also frequent. Severe forms of the disease are rare. Symptoms usually resolve in 7-10 days, although arthralgia and joint stiffness may persist intermittently for several months.
The disease shares some clinical signs with dengue and Zika, and can be misdiagnosed in areas where they are common. As there is no cure, treatment is focused on relieving the symptoms.
SOURCE: OutbreakNewsToday.com
Google cut off Huawei's access to some Android apps and services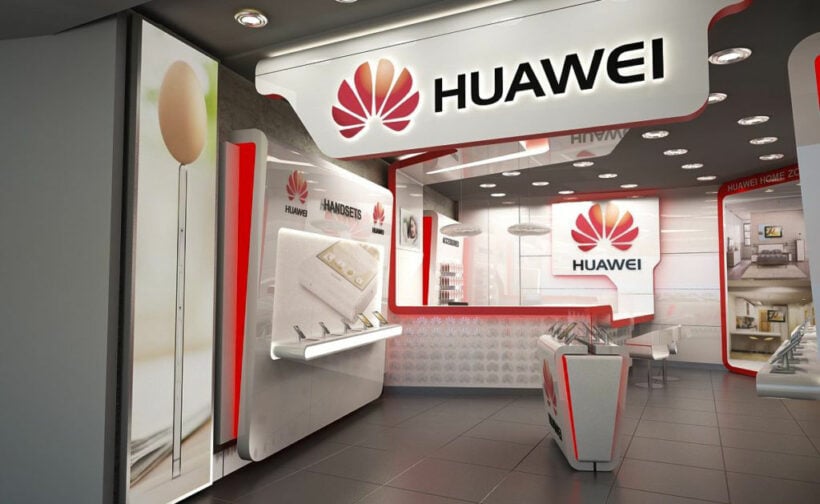 In a surprise response to the ongoing Huawei vs Trump administration spat, Google has halted its business operations with Huawei.
Huawei is one of the leading mobile phone manufacturers in the world. The Google 'pull out' is effective immediately, according to a report from Reuters. The halted business streams include anything in relation to the transfer of hardware and software products except the open source ones. If the reports end up being fully rolled out, it would send shockwaves across the world and massively impact Huawei users and businesses.
Huawei was posed to overtake Samsung soon as the largest seller of Android phones in the world.
According to Reuters…
"Huawei Technologies Co Ltd will immediately lose access to updates to the Android operating system, and the next version of its smartphones outside of China will also lose access to popular applications and services including the Google Play Store and Gmail app,"
Google have responded…
"We are complying with the order and reviewing the implications," a company spokesperson wrote in an email.
Reuters first reported the news via unnamed sources on Sunday afternoon, and The Verge followed up a couple hours later with — again, anonymously sourced — confirmation.
Last Thursday, the US Trump administration added Huawei to their trade blacklist and owing to that it will be extremely difficult for Huawei to do business with US companies. Google is one of the US companies with the highest number of consumers in the world using its open-source operating system Android.
The move will put the users of Huawei smartphones in limbo. They won't be able to get any new Android updates, security patches and even will lose access to Google Play Store which makes a huge portion of Android phone experience. The list of smartphones includes the recently launched high-end flagships of Huawei including P30, P30 Pro, Mate 20 Pro, and the list continues.
Huawei, in just the recent quarter of 2019, shipped more than 59 million smartphones which makes a huge chunk of devices powered by Android Operating System. A source closer to the matter mentions that Google was forced to end ties with Huawei as a result of trade blacklisting of Huawei in US. Otherwise, Huawei was expected to become the biggest seller of Android-powered devices in the world beating Samsung and other Chinese smartphone manufacturers by a good margin.
Huawei will continue to have access to the licensed open source version of the Android operating system, which is available for everyone to use.
Huawei has not yet commented on the development. But in a recent interview to a Japenese publication Nikkei, Huawei's CEO Ren had mentioned, "Huawei's growth might slow under the U.S. restriction, but only slightly."
The recent move by Google is going to change the power game between different smartphone manufacturers but only time will tell how Chinese smartphone companies and Chinese establishment will react and respond over this.
Thailand to ban three kinds of plastic by end of this year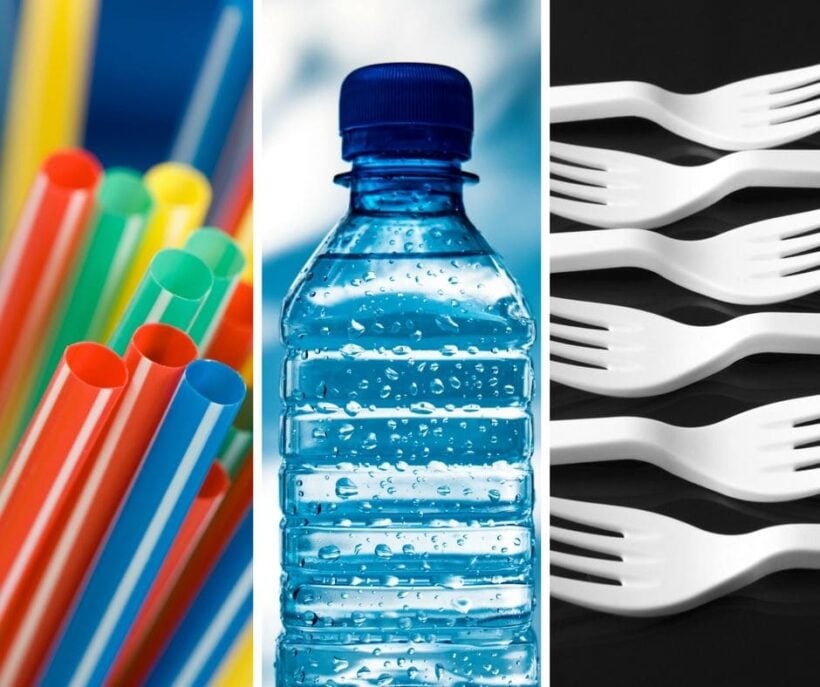 By the end of 2019 Thailand will be free from three types of plastic – microbeads, cap seals and oxo-degradable plastics.
Then by 2022 four other types of single-use plastics will also be banned – lightweight plastic bags less than 36 microns thick; styrofoam food containers for takeaways; plastic cups and plastic straws – according to a road map approved by the Cabinet.
The Plastic Waste Management Road Map 2018-2030 also includes an ambitious plan for Thailand to use 100 per cent recycled plastic by 2027 in various forms, including turning waste into energy.
The Cabinet has acknowledged the road map and assigned the Natural Resource and Environment Ministry to formulate a draft action plan for plastic waste management, so it is in line with the 20-year national strategy.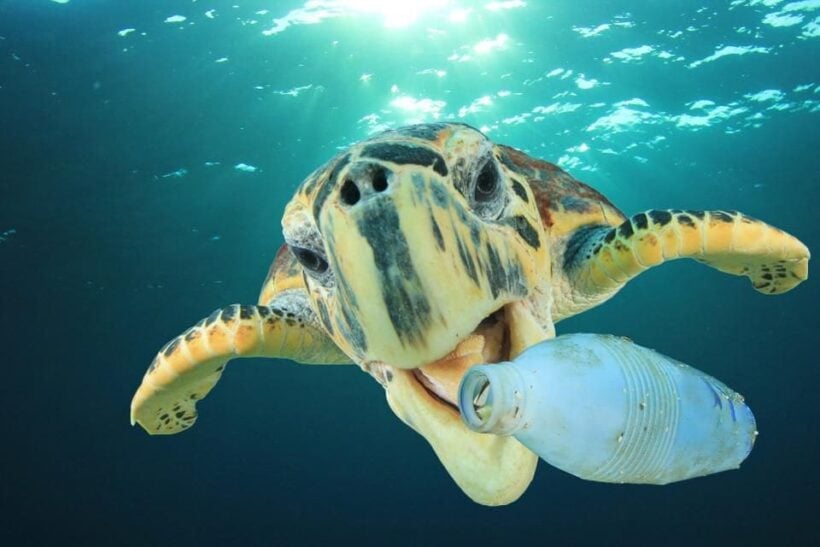 The Cabinet also called for clear details on related agencies' role in the integration of the work for managing plastic waste, which will also get huge participation from the private and business sectors. The related state agencies should create various mechanisms to propel this forward such as creating a good understanding among agencies, continuously implementing a public relations campaign via social media to achieve the set goals, the Cabinet instructed.
The work procedure must consider lifecycle plastic-waste management so steps are taken from the very start: with plastic products designed applying the "Eco Design" approach, manufacturing and post-consumption disposal which will include garbage separation, transport and storing, recycling and proper disposal.
According to the Department of Environmental Quality Promotion, Thais generate as much as 1.14 kilogram of garbage per head per day, contributing to the 27.04 million tonnes of waste per year.
One person uses approximately eight plastic bags a day – or 500 million plastic bags per day for the whole nation.
Most of the plastic waste ends up in the oceans, accounting for 16% of garbage in the seas.
SOURCE: The Nation