Krabi
10 vehicle pile up in Krabi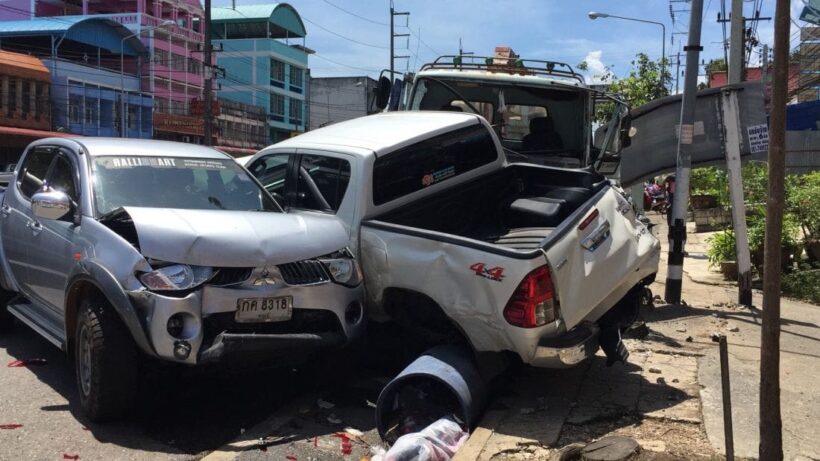 Amazingly, no injuries from a 10 vehicle pile up in Krabi City yesterday.
Krabi City Police were notified of the carnage on Sri Trang Road near an intersection in the Krabi City Municipality at about noon yesterday (Sunday).
Police and rescue workers arrived at the scene to find a ten-wheeler truck, carrying a machine, on the side of the road with its frontend badly damaged.
The 10-wheeler was back-ended by two pickup trucks. Those two pickup trucks were hit by a minivan which in turn was also struck in the rear by two cars.
Four more vehicles were also damaged in the collision cocktail.
In total, there were ten vehicles involved in the incident. No injuries were reported.
The 10-wheeler truck driver was 50 year old Suwit Nootieang who told police that he was heading from Phang Nga to Nakhon Si Thammarat. He has already told his company that the vehicle had a problem with the brakes but they allegedly allowed him to complete the journey.
When he arrived at the scene, a steep road heading down to traffic lights, he says he couldn't manage to slow down the truck. He decided to veer onto to the left side of the road because "most of vehicles didn't have people inside".
The driver was taken to the Krabi City Police Station where he was charged with reckless driving causing damage – lots of damage.