41 year old Singaporean arrested following Scoot bomb hoax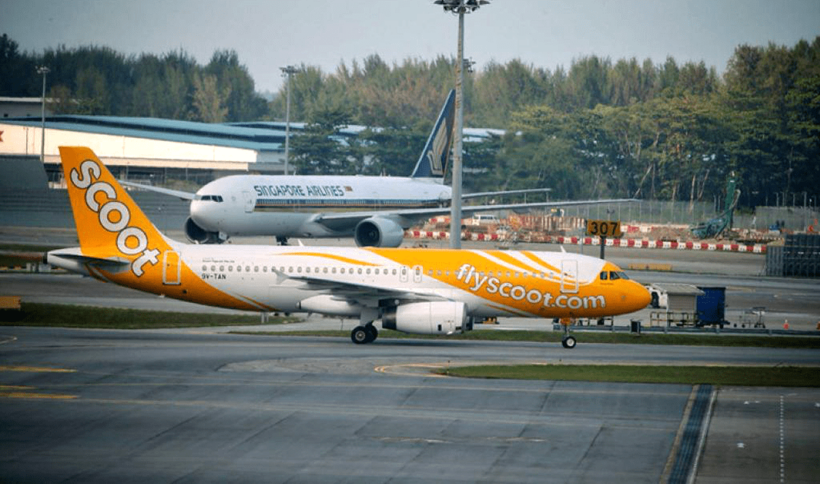 PHOTO: Kevin Lim
A 41 year old man has been arrested for making a false bomb threat on board a Scoot flight from Singapore to Hat Yai, Songkhla, which resulted in the plane returning to Changi Airport.
Flight TR634, which left Changi Airport at 1.20pm on Thursday (April 5), was escorted back by two Republic of Singapore Air Force (RSAF) F-15SG jets. This is protocol for such incidents according to The Straits Times.
The flight landed without incident at 3.23pm. A Scoot spokesman said the aircraft was carrying 173 passengers and six crew members. The police say preliminary investigations indicated that the suspect claimed he had a bomb in his carry-on baggage to a member of the flight crew. The pilot then decided to turn the plane back to Singapore.
A thorough security search was carried out on board the plane and the baggage of the suspect and his two travelling companions was examined. But no suspicious articles were found.
The Straits Times understands that the suspect is Singaporean. He was arrested under Regulation 8(1) of the United Nations (Anti-Terrorism Measures) Regulations, which states that it is an offence for a person to make false claims that a terrorist act has been, is being or will be carried out. Those found guilty can be punished with a fine not exceeding $500,000 or with imprisonment for a term not exceeding 10 years, or both.
The bogus bomb threat caused delays to passengers both in Singapore and Hat Yai.
Passengers on Flight TR634 bound for Hat Yai were finally able to depart again at about 6.30pm after the aircraft was declared safe after investigations and associated procedures were concluded.
An 18 year old student Daryl Koh was in Hat Yai waiting to board the return Scoot flight back to Singapore. He says passengers were initially told that the delay was due to technical issues.
"We didn't expect a flight delay, and certainly not a bomb threat."
In a Facebook post, Defence Minister Ng Eng Hen said that the two RSAF fighter jets took off within minutes after they were scrambled. Dr Ng added that RSAF pilots are on standby round the clock, and that "every threat is considered real until proven otherwise".
This is the second such threat against a Singapore carrier in recent weeks. Last month, a Singapore Airlines flight from Taipei to Singapore was delayed after a woman called the Taipei police hotline from a payphone, claiming there was a bomb on Flight SQ879. The plane took off 25 minutes late after the threat was confirmed as a hoax.
Want more from the Thaiger family?
📱 Download our app on Android or iOS for instant updates on your mobile
📧 Subscribe to our daily email newsletter
👍 Like/Follow us on Facebook
🔔 Subscribe to or Join our YouTube channel for daily video updates
Southeast and South Asia struggling with rapid Covid-19 spread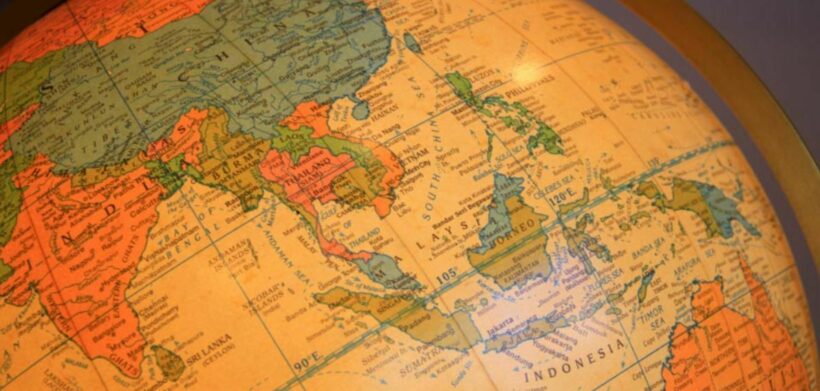 With outbreaks in many countries throughout the region, and India in a Covid-19 crisis, the World Health Organisation and other health organisations are urging action in South and Southeast Asia. The International Federation of Red Cross and Red Crescent Societies have joined the call to action to aid the Earth's most populous region, and the pandemic now ravaging it. The Asia-Pacific regional director urged action in a statement.
"We need to act now and we need to act fast to have any hope of containing this human catastrophe. This virus has no respect for borders and these variants are running rampant across Asia."
The newest wave has been spreading quickly and rampantly, reaching through countries in the region and creating a crisis-level catastrophe in many. The massive strain on many nation's medical facilities and needed supplies for testing and treatment has resulted in shortages of beds and needs like oxygen.
Over 2.7 million new Covid-19 infections were reported in Southeast and South Asia this week, 19% more than last week. And fatalities rose a staggering 48% this week with over 25,000 deaths reported. India is the main factor behind these statistics, with the country currently making up a quarter of all deaths in the world and half of all Covid-19 infections this week.
But beyond India's borders, neighbouring South Asian countries like the Maldives, Nepal and Sri Lanka are experiencing their own Coronavirus spreads. In Southeast Asia, Covid-19 infections are reaching levels vastly outnumbering all waves in 2020 in Cambodia, Indonesia and Thailand.
Today, The Thaiger looks at the Covid-19 situation in each of these countries. Full stories can be found by clicking each country below:
Sri Lanka – A fivefold increase in daily cases, largely due to New Years celebrations similar to Songkran has battered a nation with only 5% vaccinated.
The Maldives – Last week set record daily infections numbers, but Asia's smallest nation is still welcoming tourists, even from India.
Nepal – From Kathmandu up to Mount Everest, infections surged 1200% as Indians flee north to escape their own crisis.
Cambodia – Strict lockdowns were ended this week amid humanitarian outcry, but Covid-19 cases are surging.
Indonesia – Already the most Covid-19 in Southeast Asia, expected defiance of a travel ban for the end of Ramadan holiday and a scam of reused nasal swabs threatens to see further infection spread.
Thailand – Globally admired for Covid-19 containment in 2020 despite being the first country the virus travelled to, this year's third wave has been devastating and uncontrolled.
India – Amidst a deepening crisis, Thailand's King and Queen send desperately-needed oxygen supplies and aid to the struggling country.
SOURCE: CNN
Want more from the Thaiger family?
📱 Download our app on Android or iOS for instant updates on your mobile
📧 Subscribe to our daily email newsletter
👍 Like/Follow us on Facebook
🔔 Subscribe to or Join our YouTube channel for daily video updates
American arrested for alleged murder in Chiang Mai has past record of abuse in Colorado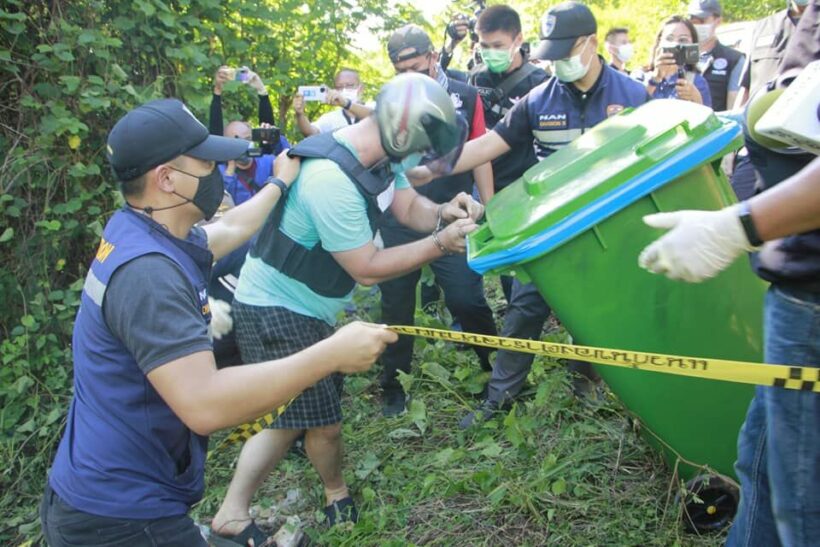 The American man who was recently arrested for allegedly murdering his pregnant Thai wife in Chiang Mai had been sentenced to 2 years of probation back in 2019 on assault charges after his gun went off while he was threatening a woman in Colorado. A report from the Associated Press says it appears to be the same woman.
Jason Matthew Balzer, 32, had initially faced attempted murder charges for assaulting a woman in Longmont, Colorado, but those charges were dropped. A Boulder District Attorney's Office spokesperson told a local reporter in a previous report that "in every case, we need witnesses to testify at a trial. Unfortunately, due to issues with the victim's availability, the higher charge had to be dismissed."
The victim had called the police saying Jason had asked to have sex and then assaulted her when she said "no," according to the arrest report. She told police he hit her face and slammed her head onto the bed's headboard several times before taking out a revolver and threatening to kill her, the report says. The woman told police she pushed the gun and it went off near her head.
Balzer pled guilty to third-degree assault in December 2019 and was sentenced to 2 years of probation. In December 2020, Jason was arrested in Colorado after police allegedly found 73 guns in his van. Possession of firearms is a violation of probation. It's unclear when Jason travelled to Thailand.
Since the case in Colorado involved a victim of domestic violence, the name was redacted in public court records, but a spokesperson for the District Attorney's Office told AP reporters that the victim has the same name as the woman killed in Thailand. Based on photographs, the spokesperson says they appear to be the same person.
On Thursday, Jason was arrested in Chiang Mai. Reports say he confessed to stabbing and killing his wife, 32 year old Pitchaporn Kidchop, who was 3 months pregnant. Police say Jason sealed his wife's body in a garbage bin before taking it to the woods about 5 kilometres away. In Thailand, a murder charge carries a maximum penalty of death.
Local police posted photos of the crime reenactment on Facebook. In Thailand, it is common for suspects to admit to crimes and reenactment the crimes to law enforcement officers and the press.

SOURCE: Time Call | Associated Press
Want more from the Thaiger family?
📱 Download our app on Android or iOS for instant updates on your mobile
📧 Subscribe to our daily email newsletter
👍 Like/Follow us on Facebook
🔔 Subscribe to or Join our YouTube channel for daily video updates
Saturday Covid UPDATE: 2,419 new infections and 19 deaths, provincial totals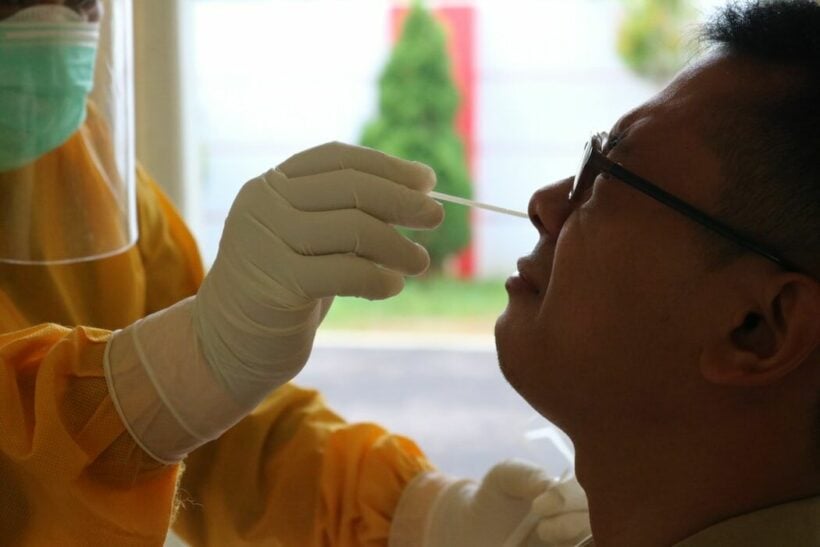 The tally for Covid-related infections and deaths reported over the past 24 hours reports 19 new deaths and 2,419 cases. There have been 52,411 confirmed Covid-19 infections in the recent outbreak with more than 16,000 cases in Bangkok, the epicentre of infections. Since the start of the pandemic last year, the Centre for Covid-19 Situation Administration has reported a total of 81,274 Covid-19 infections and 382 coronavirus-related deaths.
Thailand now has 29,473 active Covid-19 cases. Most patients with Covid-19 are asymptomatic or have mild symptoms. More than 1,000 Covid-19 patients are in critical condition including 380 people on ventilators.
Out of the 2,419 new cases, more than 1,000 cases were detected in Bangkok. Most cases were local transmissions or detected through active case finding.
Of the 19 new coronavirus-related deaths, most were in Bangkok and surrounding provinces. The majority of deaths were the elderly and many of them contracted the virus from infected family members or friends.
Over the past week, new clusters of Covid-19 infections have been detected in crowded Bangkok neighbourhoods, including the Khlong Toey slum. Poor communities in Bangkok have been seen as vulnerable to coronavirus outbreaks as people live in close proximity to each other and many cannot afford to stop working to abide by stay-at-home orders. CCSA spokesperson Natapanu Nopakun says active case finding in Bangkok clusters have been "beefed up."
With cases in Bangkok still on the rise, the current disease control measures imposed in the capital will be extended until May 17. Schools and entertainment venues must remain closed.
Provinces with the highest number of new confirmed cases…
| | | |
| --- | --- | --- |
| Province | New Cases | Total since April 1 |
| Bangkok | 1,112 | 18,029 |
| Nonthaburi | 217 | 3,249 |
| Samut Prakan | 114 | 3,016 |
| Prachuap Kiri Khan | 100 | 1,267 |
| Pathum Thani | 93 | 1,192 |
| Samut Sakhon | 77 | 1,376 |
| Chon Buri | 72 | 3,200 |
| Prachin Buri | 63 | 284 |
| Ranong | 50 | 379 |
| Surat Thani | 35 | 1,070 |
Districts in Bangkok with the highest number of confirmed cases…
| | |
| --- | --- |
| District | New cases |
| Khlong Toey | 37 |
| Ratchathewi | 26 |
| Pathumwan | 24 |
| Bang Kapi | 13 |
| Chatuchak | 11 |
| Don Mueang | 9 |
| Lat Phrao | 9 |
| Dusit | 8 |
| Yan Nawa | 7 |
| Wang Thonglang | 7 |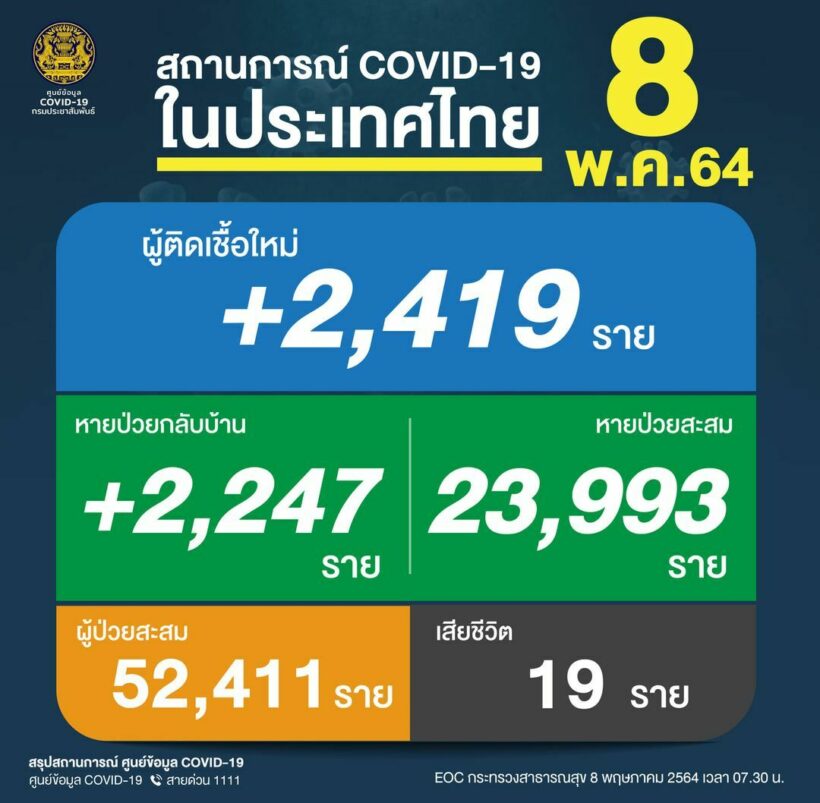 Want more from the Thaiger family?
📱 Download our app on Android or iOS for instant updates on your mobile
📧 Subscribe to our daily email newsletter
👍 Like/Follow us on Facebook
🔔 Subscribe to or Join our YouTube channel for daily video updates