Police getting ready for Songkran – national initiatives to increase safety over the holiday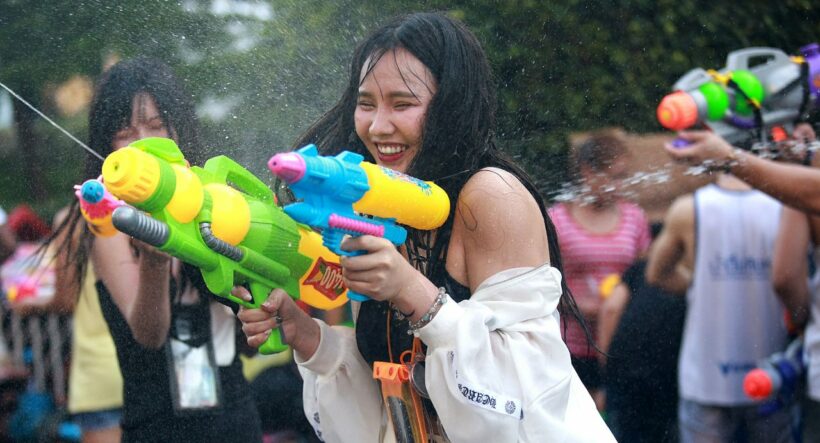 The Royal Thai Police are launching various safety and security measures, including a vacation home-watch scheme, for the upcoming Songkran holidays. Among the measures are preparedness of the Bangkok-based 191 Emergency Call Centre (Phanfa), which is in the process of being upgraded to a national-level centre linking related agencies to ensure help arrives within 10 minutes of a call.
Tourist Police deputy chief Maj-General Surachet Hakpan concurred with the idea, as it would make the country's current 50 emergency hotline numbers – which caused confusion and inconvenience to the public – into one number: 191.
Meanwhile, Pol Maj-General Jirapat Phumjit, the city's deputy police chief in charge of traffic, has instructed officers at 88 precincts to strictly enforce traffic laws, especially against those who violated the top five traffic offences: speeding, drunk driving, failing to wear a safety helmet, failing to present a driver's licence, and failing to wear a seat belt.

National police deputy commissioner Pol General Chalermkiat Srivorakan yesterday invited the public to register their homes with the RTP's vacation home-watch scheme during the Songkran holiday period. He was inspecting the scheme's area in Bangkok's Min Buri district, including the home of actress Khemanit "Pancake" Jamikorn.
He said the Songkran seven-day period of accident monitoring from April 11-18 would see police checkpoints screen for drunk drivers and other law-violating motorists all over Bangkok, while police would join transport authorities to conduct sobriety tests of bus and public transport drivers from April 3-11.
The Royal Thai Police has also issued an order prohibiting heavy trucks to run on some sections of three main highways where traffic will be very congested during the upcoming Songkran festival next week.
However oil trucks, cold storage trucks with seafood cargo, and trucks with farm product cargo, will be exempted.
The ban on heavy trucks having 10 wheels up came after the government has ordered all related state agencies to tighten up measures to ensure safe travelling and to facilitate travellers during the festival from April 11-17.
Moreover, the government will ease its ban to allow Songkran revelers to ride in the back of pickup trucks in the water-playing zones, so they can enjoy splashing water joyously.
However, the drivers must not travel over the speed limit. Alcohol tests will be conducted for drivers to prevent road accidents, he said.
Back in the capital the Bangkok Metropolitan Administration (BMA) is trying to encourage the use of crash helmets as a way to reduce Songkran road casualties.
Motorcycle drivers and pillion passengers account for the biggest number of road-accident victims, particularly during long holidays when millions of people hit the roads. Bangkok was selected by Bloomberg Philanthropies to join its Initiative for Global Road Safety (BIGRS) for five years starting in 2015 and has implemented a safety initiative under this programme.
Ahead of Songkran, BMA has sought collaboration with various organisations under the theme "Driving carefully, be aware of traffic law".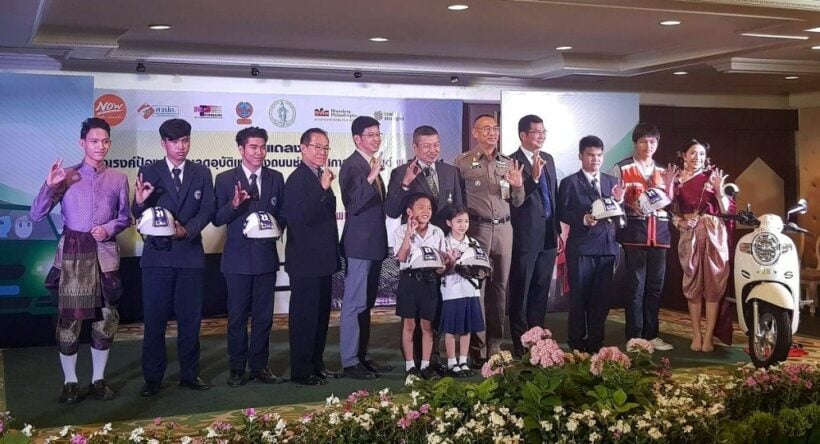 Keep in contact with The Thaiger by following our
Facebook page
.
Progressive Movement hits back at allegations of donation mismanagement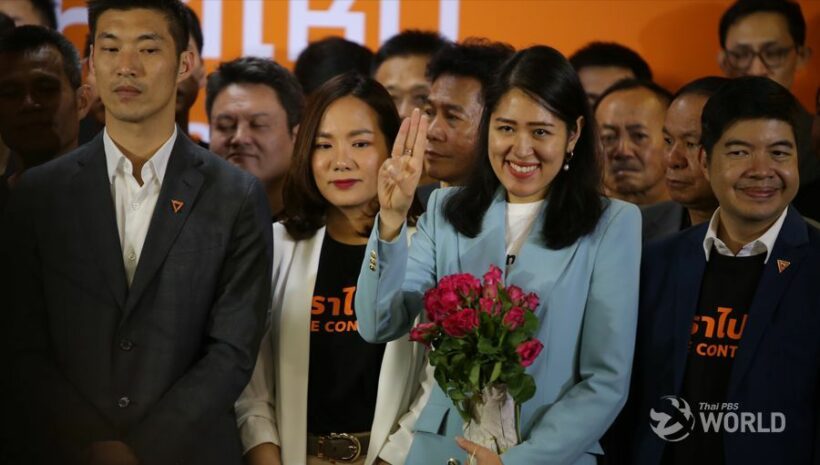 Members of the recently formed Progressive Movement have hit out at suggestions that party donations have been mismanaged. The party, rising from the ashes of the now-disbanded Future Forward Party, says the allegations are nothing more than politically-motivated slander. Its critics accuse the Progressive Movement of the misappropriation of more than 7.7 million baht of public funds.
In a statement issued by the party, they say that on May 1 and 2, they held a number of fundraising concerts to support artists and others facing financial hardship as a result of the lock-down. Members say they used party funds and donations to pay for the staging of the events, totalling over 7.7 million baht.
Between May 1 and 3, over 15,000 deposits were made into the bank account of party member Pannika Wanich, formerly the Director of Communications for the Future Forward Party. The Progressive Movement says over 7.5 million baht was dispersed, in over 2,400 transactions, leaving over 222,700 in Ms Pannika's account. Around 200,000 baht in additional donations came in after the concerts, most of which the party says was spent on providing learning materials for school children and paying the water bills of families in impoverished slum dwellings.
The party confirms that over 222,700 still remains in Ms Pannika's account and that no funds have ever been used for personal reasons, as its detractors allege. It adds that the names of all those who received donations from the fund have been published on its website, along with a financial report. It also invites anyone with concerns about the potential mismanagement of funds to view the copy of bank transactions it has published on the site.
The party accuses those making the allegations of having no proof to back up their claims, saying it is merely an attempt to stir up public distrust and resentment.
SOURCE: Thai PBS World
Keep in contact with The Thaiger by following our
Facebook page
.
One drowned, another still missing off Surat Thani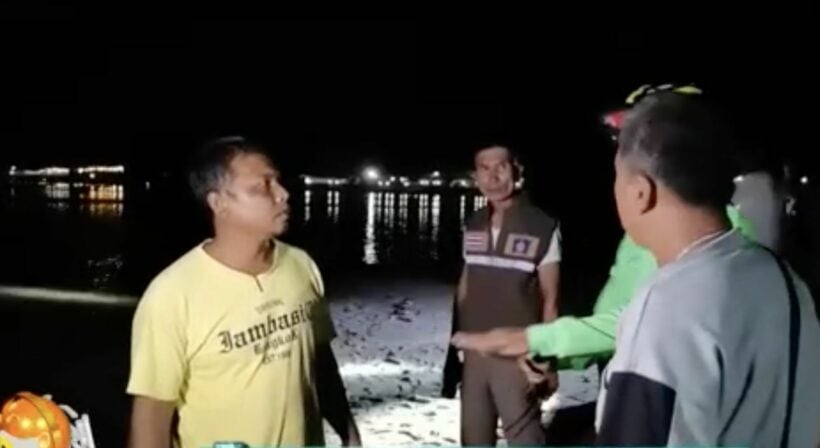 One person is still missing, one has been recovered and another person has drowned after a search for coastal molluscs and cockles went wrong in Surat Thani yesterday. A woman was reported as being washed out to sea and her daughter-in-law is still missing, while collecting molluscs at a Laem Pho beach in Chaiya district, north in Surat Thani province.
There was a "no swimming" sign on the shoreline.
59 year old Prayoon Sridaengma, her 33 year old son (reported as a 'nephew' in other media), and her 21 year old daughter-in-law, went into the sea to collect shellfish. The woman's husband and a grandchild remained on the beach.
Soon after heading into the shallows the husband noticed that the three had disappeared from view. The husband told police he believed they had been swept away by strong undercurrents.
Police called on a fishing boat returning to the shore to help search fro the missing trio. The crew pulled the mother and her son from the water. Here daughter-in-law could not be found at the time. The mother was already dead when she was pulled from the water. Her son was still alive and rushed to hospital. A search is continuing for the 21 year old daughter-in-law.
Thai-language video report from Channel 7 HERE.
SOURCE: Bangkok Post
Keep in contact with The Thaiger by following our
Facebook page
.
Government defends "monkey business" after PETA call for boycott on Thai coconut products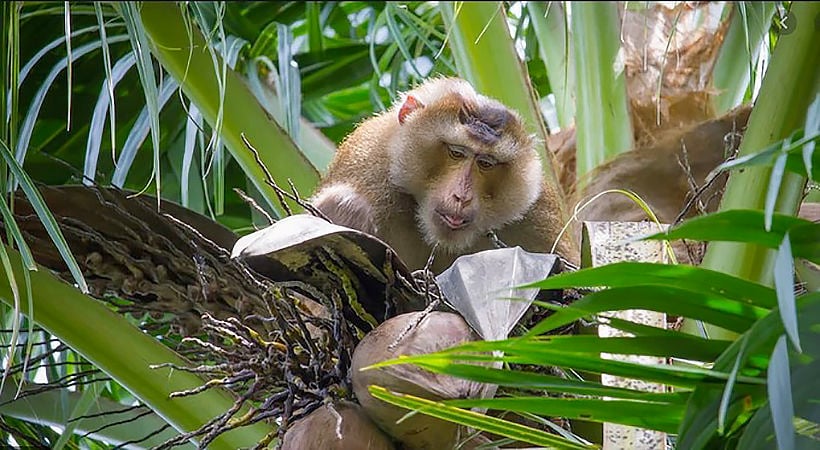 People for the Ethical Treatment of Animals, the US-based animal rights group, is no stranger to controversy and has been accused of double standards in the past. Now it faces accusations of "cultural racism" after its open call to ban all Thai coconut products because some of the coconuts may have been harvested by monkeys. In a statement issued this morning…

"PETA hopes that at today's meeting, Thai Minister of Commerce Jurin Laksanawisit and the coconut industry will stop lying to the public and acknowledge the industry's exploitation of monkeys. Our documentation is clear and unequivocal: Monkeys are kept chained, caged, and isolated for life simply because the industry won't expend funds to mechanise coconut picking as other countries have done.
"These animals, some of whom were seized from their natural habitat as babies, cannot play or be with their families: They are denied freedom and any semblance of a natural life, and the industry's training methods are harsh and psychologically damaging. Forcing monkeys to pick coconuts must be relegated to the history books, and now is the time for the government and the coconut industry in Thailand to realize that using and abusing monkeys is no longer an option."
But in a Facebook post today, the secretary-general of the Kla Party asked about the difference between using monkeys to pick coconuts in Thailand and the use of pigs to search for truffles in Europe. He said that the use of monkeys and pigs are two different cultures and both are respectable, and that in Thailand, monkeys and men work together to pick coconuts, with the animals properly trained at special schools. In the West, he said, pigs have been used for generations to find truffles, an expensive delicacy.
"PETA's concern over animal cruelty is understandable, but its campaign for countries to ban coconut products from Thailand is cruel and an insult to our culture. Nowadays, one should respect racial and cultural diversity."
TV celebrity Narakorn Tiyanont is calling on PETA to look at the way Western farmers raise geese to make foie gras, or goose liver, a delicacy in French cuisine. She says the geese are force-fed using metal tubes to fatten the liver. She also cited the brutal treatment of cows in the dairy industry.
A Former Prachuap Khiri Khan MP candidate says the accusation of monkey abuse might have an ulterior motive to ban Thai products…
"In the past, Thai rice farmers used water buffaloes in paddy fields and foreigners never banned Thai rice."
In a statement to Thai PBS World, PETA senior vice president Jason Baker confirmed their findings of cruel treatment of monkeys in the harvesting of coconuts in Thailand.
"When the government tries to explain away extreme cruelty to monkeys, it only makes the public angrier. The world doesn't want to see these animals being deprived of their natural lives and exploited by the coconut industry. The government can lead the industry to operate humanely, with an animal-free method, which the rest of the region has already adopted, or it can be responsible for the industry's downfall, because the writing is on the wall."
"Increasing numbers of consumers are speaking with their wallets, and retailers are listening. Our investigator was told repeatedly that these monkeys are taken from their families in nature, kept chained-up, abusively trained and forced to climb trees. They should be with their families, not enslaved."
SOURCE: Thai PBS World | Chiang Mai One
Keep in contact with The Thaiger by following our
Facebook page
.