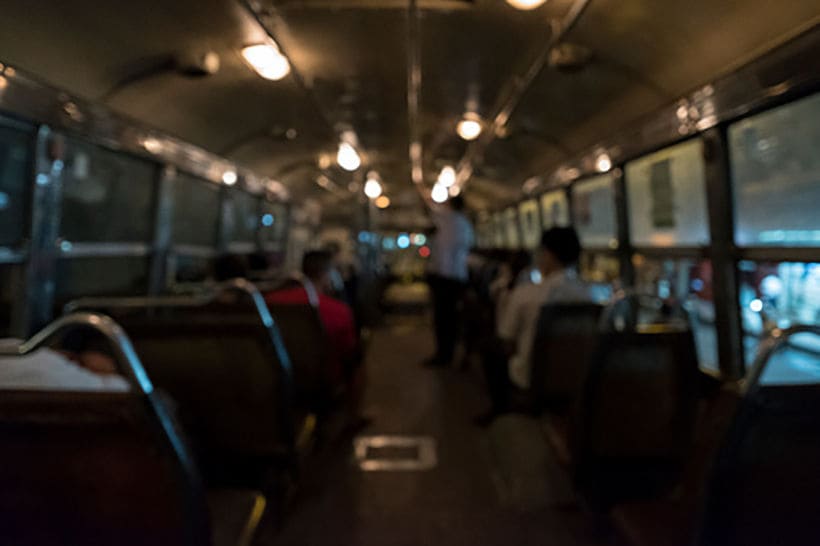 An inter-provincial Thai bus conductor has been fired and the bus company fined 5,000 baht after he allegedly molested a transgender passenger on-board. The bus was travelling to Nong Bua Lamphu, near Udon Thani, north-east Thailand, from Bangkok.
The bus company, which Land Transport officials have declined to name, was fined 5,000 baht by his office for providing substandard bus services.
Officials say the conductor, 52 year old Chokchai Laoweerapong, was fired by the company after he was fined 5,000 baht by the Suwan Khuha police station.
The land transport office took action after the 25 year old transgender lady, 'O' (not her real name) made a Facebook post complaining about what happened while she was riding the air-conditioned bus to her home district of Suwan Khuha.
O recounted that she took the bus alone and it departed Bangkok at 8.40pm. The Nation reports that Chokchai fetched her a blanket sheet and touched her arm and she thought the bus conductor was just teasing her. A moment later the bus conductor touched her arm again and she sensed that something was wrong but did not say anything.
She said she fell asleep and was woken up when she felt something was rubbing her arm. She woke up to see that the bus conductor was rubbing his penis on her arm, she wrote. He then grabbed her hand to kiss and then kissed her cheek so she shouted, "What are you doing?" and he walked away.
O said when the bus reached Nong Bua Lamphu, there were only three passengers left and two of them later got down in Na Klang district, leaving her on the bus alone. O said the bus conductor then walked to sit beside her and started chatting with her while molesting her. She fended him off by filming a video clip with her phone and telling him it's not right to have sex on a bus.
O said when the bus reached its destination in front of the district police station, she called a relative to pick her up and also filed a complaint with police against the conductor.
SOURCE: The Nation