Bus conductor fired, company fined for molesting ladyboy passenger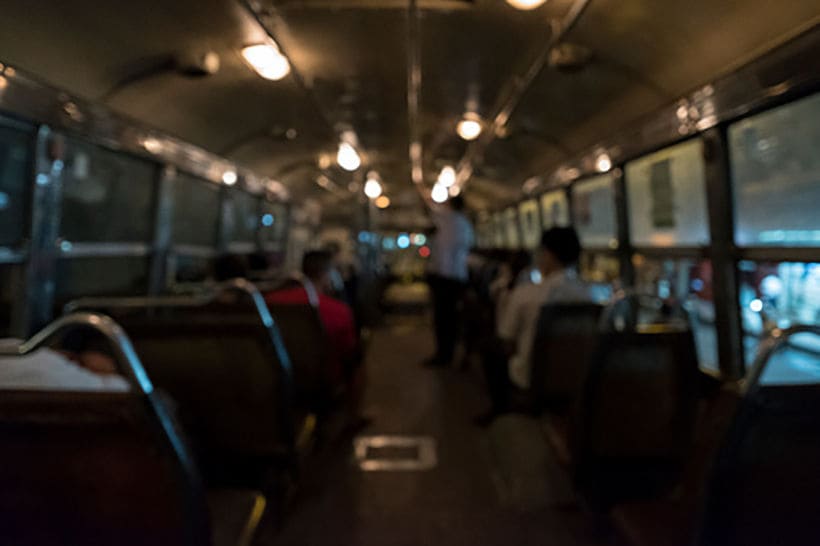 An inter-provincial Thai bus conductor has been fired and the bus company fined 5,000 baht after he allegedly molested a transgender passenger on-board. The bus was travelling to Nong Bua Lamphu, near Udon Thani, north-east Thailand, from Bangkok.
The bus company, which Land Transport officials have declined to name, was fined 5,000 baht by his office for providing substandard bus services.
Officials say the conductor, 52 year old Chokchai Laoweerapong, was fired by the company after he was fined 5,000 baht by the Suwan Khuha police station.
The land transport office took action after the 25 year old transgender lady, 'O' (not her real name) made a Facebook post complaining about what happened while she was riding the air-conditioned bus to her home district of Suwan Khuha.
O recounted that she took the bus alone and it departed Bangkok at 8.40pm. The Nation reports that Chokchai fetched her a blanket sheet and touched her arm and she thought the bus conductor was just teasing her. A moment later the bus conductor touched her arm again and she sensed that something was wrong but did not say anything.
She said she fell asleep and was woken up when she felt something was rubbing her arm. She woke up to see that the bus conductor was rubbing his penis on her arm, she wrote. He then grabbed her hand to kiss and then kissed her cheek so she shouted, "What are you doing?" and he walked away.
O said when the bus reached Nong Bua Lamphu, there were only three passengers left and two of them later got down in Na Klang district, leaving her on the bus alone. O said the bus conductor then walked to sit beside her and started chatting with her while molesting her. She fended him off by filming a video clip with her phone and telling him it's not right to have sex on a bus.
O said when the bus reached its destination in front of the district police station, she called a relative to pick her up and also filed a complaint with police against the conductor.
SOURCE: The Nation
Keep in contact with The Thaiger by following our
Facebook page
.
Never miss out on future posts by
following The Thaiger
.
Thai woman dressed as a zombie sells dead people's clothes – VIDEO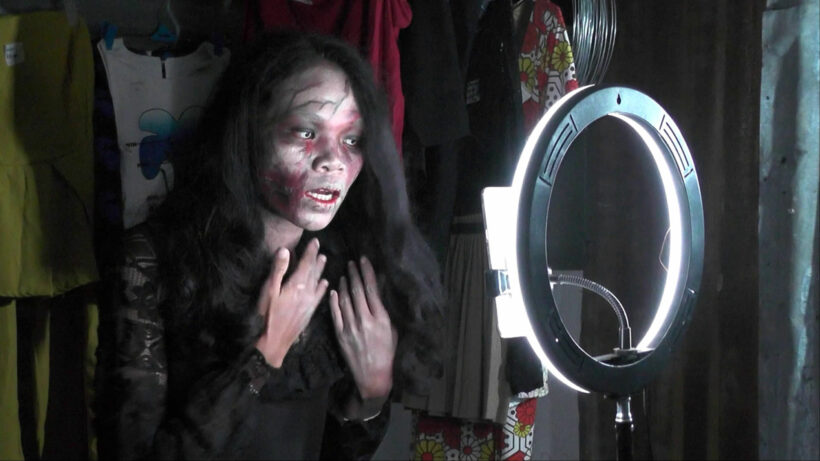 A zombie saleswoman is selling dead people's clothes online. 32 year old Kanittha Thongnak sells clothes of the deceased on a Facebook live stream while dressed as "the living dead". She gives a story behind every pieces of clothing, explaining how each person died. Perhaps it would be a real business kill in most countries, but not in Thailand where the spirit world and superstition are just as real to some Thais as the world of the living.
It all started at a funeral, Kanittha says. Traditionally in Thailand, clothes of the deceased are burned.
"There were a lot of clothes from the deceased, so I thought it would be better to sell them than to burn them."
She gets the clothes from a local temple. She says a monk does a blessing for the deceased before the clothes are given to her. The prices range from 10 to 100 baht. Some brand names and designer clothes are also sold at vastly reduced prices. She's donated some money from the sales back to the temple. In addition to the dead's clothes, Kanittha sells handmade zombie dolls.
"All the clothes belonged to dead people who died from various cause – accident, drowning, suicide."
Kanittha live streams each week from her home in the Northern province of Phetchabun. It takes her up to 3 hours to apply her zombie makeup, but she says the costume helps draw in viewers.
"Since I started to wear scary makeup, the audience increased to 5,000, then 6,000."
Many Thais believe in ghosts and spirits and just about anything vaguely superstitious. While some might be concerned about buying clothes that belonged to someone who is now dead, Kanittha says the people who end up making a purchase don't get scared.
SOURCE: Reuters
Catch up with the latest daily "Thailand News Today" here on The Thaiger.
Keep in contact with The Thaiger by following our
Facebook page
.
Never miss out on future posts by
following The Thaiger
.
3 Chinese casino workers arrested with 8 million baht after illegal crossing from Myanmar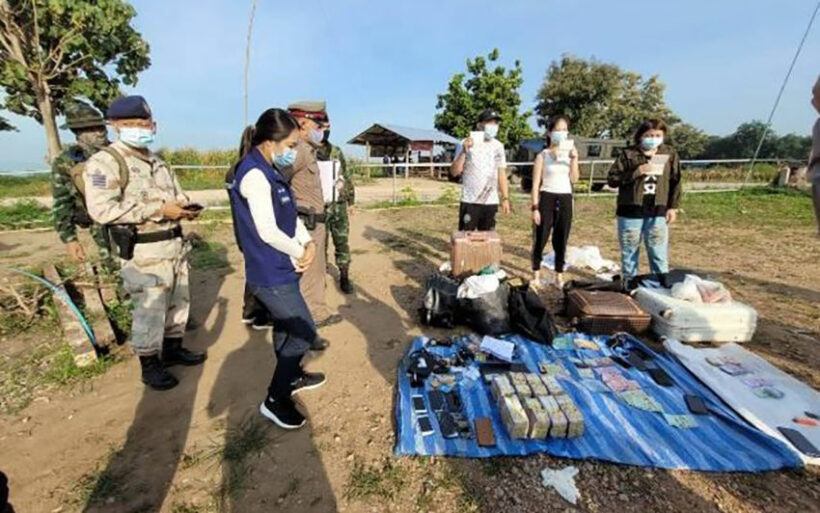 Officers from the Thai police and military have arrested 3 Chinese nationals after they crossed illegally into Thailand from the Burmese town of Myawaddy. Thai Residents reports that the 2 women and 1 man were workers at a casino in Myanmar and were arrested in possession of 8 million baht. Officers detained them as they were getting into 2 cars allegedly arranged for them by 2 Thai men .
The arrests happened in the district of Mae Sot, in the northern Thai province of Tak, where border patrols have been increased in light of a surge in Covid-19 cases in Myanmar. The Chinese nationals crossed the Moei River, which separates Myawaddy and Mae Sot, with the assistance of a Burmese national. It's understood they were attempting to flee Myanmar due to the Covid-19 outbreak in the country.
SOURCE: Thai Residents
Keep in contact with The Thaiger by following our
Facebook page
.
Never miss out on future posts by
following The Thaiger
.
Governor halts movement of goods between Tak and Myanmar amid Covid fears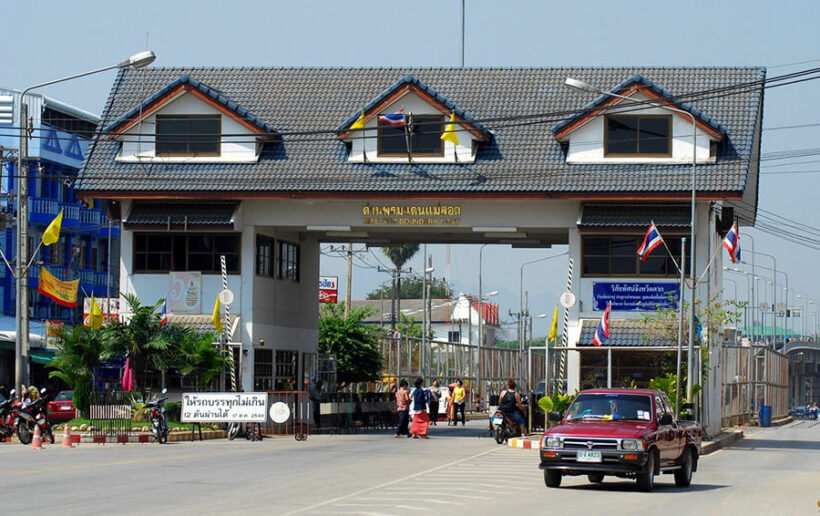 The governor of the north-western province of Tak has put a temporary stop on the transport of goods between the province and Myanmar, just across the border. The suspension comes amid increasing anxiety about the number of Covid-19 cases in the neighbouring country and is expected to remain in force until at least October 25.
Governor Pongrat Piromrat called a halt to the movement of goods after 3 Burmese truck drivers tested positive for the virus, followed by 3 Burmese workers, all members of the same family, who were living in the Mae Sot district of Tak. Last week, residents of Mae Sot gathered at a checkpoint by the Friendship Bridge, which spans the Moei River, and connects Mae Sot with the Burmese city of Myawaddy. They were protesting what they see as lax control of drivers crossing from Myanmar into the Kingdom.
Thai PBS World reports that the area where the latest infections have been discovered is now under 24 hour watch by village guards, with everyone entering and leaving having to undergo health screening, including temperature checks.
SOURCE: Thai PBS World
Keep in contact with The Thaiger by following our
Facebook page
.
Never miss out on future posts by
following The Thaiger
.