Student activist arrested on charges from protesting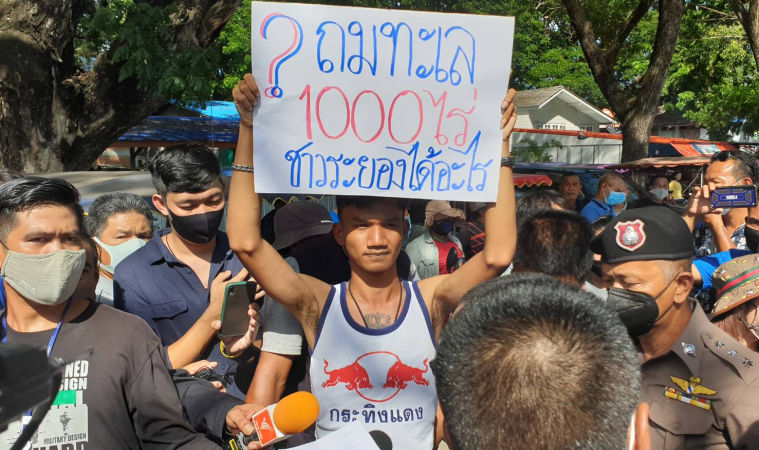 Police arrested a student while he protesting outside a market PM Prayut Chan-o-cha was visiting. The student Panupong Jadnok, known as Mike Rayong, was holding up a sign saying "1,000 rai sea reclamation. What will Rayong people get?"
Apparently Mike's land reclamation protest didn't have much to do with his arrest. He had an arrest warrant for his role in the August 10 protest at Thammasat University in Pathum Thani. The student was also arrested on August 8 for his role in the July 18 protest at Democracy Monument. Mike says his protest yesterday didn't have anything to do with politics, he just wanted to question government officials about Rayong's reclamation project.
A report from the Bangkok Post did not say that charges the student faces. In previous reports, protesters at the university rally may have violated Section 112 of criminal code, known as the lèse-majesté law, by offending the Thai Monarchy.
While many activists in the nation are speaking up about the political opinions by holding large protests and calling for democracy, police are investigating to see whether the protesters broke any laws and are issuing arrest warrants. Police say they are on the lookout to see if any protest leaders, who were previously arrested, are out violating their bail conditions by taking part in protests.
Police have also said they used a "electronic monitoring device" at a recent rally as a security precaution and it would only be used if the police noticed something suspicious. The Post did not go into detail about what exactly the equipment is.
With a mass pro-democracy protest planned for September 19, police are now training specialised crowd control units to prepare for the rally.
SOURCE: Bangkok Post
Keep in contact with The Thaiger by following our
Facebook page
.
Never miss out on future posts by
following The Thaiger
.
Police confiscate 300 kilos of marijuana in central Thailand drugs bust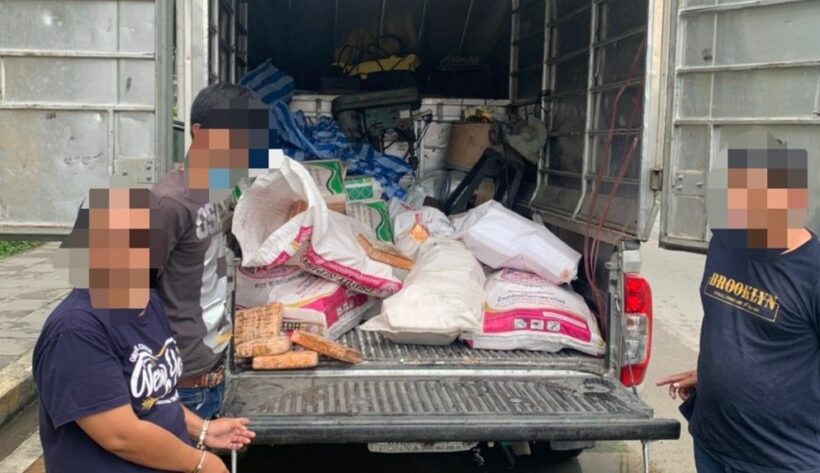 A drugs bust in the central province of Nonthaburi, just north of central Bangkok, has netted 300 kilos of marijuana, valued at around 2 million baht. Anti-narcotics officers confiscated the haul yesterday when they apprehended 3 men in a department store car park.
Thai Residents reports that dried marijuana usually fetches around 6,500 baht per kilo on the black market. It's understood this consignment was on its way to a Bangkok-based dealer when it was intercepted.
SOURCE: Thai Residents
Catch up with the latest daily "Thailand News Today" here on The Thaiger.
Keep in contact with The Thaiger by following our
Facebook page
.
Never miss out on future posts by
following The Thaiger
.
Veterinarian arrested for giving beauty treatments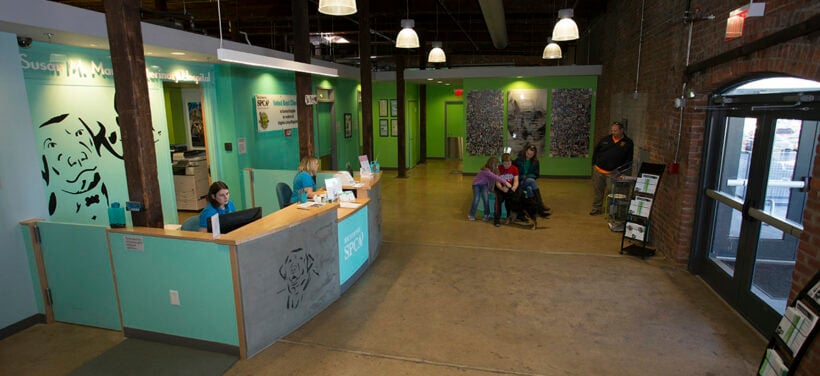 Dogs with breast augmentation? Cats with face lifts?
After customers reported some suspicious behaviour, a veterinarian in Sisaket province, in northeastern Thailand, has been arrested for giving cosmetic beauty treatments at a veterinary clinic in Phitsanulok, Central Thailand. The veterinarian, known as B, was allegedly giving botox and filler injections to customers despite not being licensed to do so. The veterinary clinic where he was allegedly giving treatments was inspected by the Phitsanulok Provincial Public Health Office where officials found many medications without proper serial numbers or sources.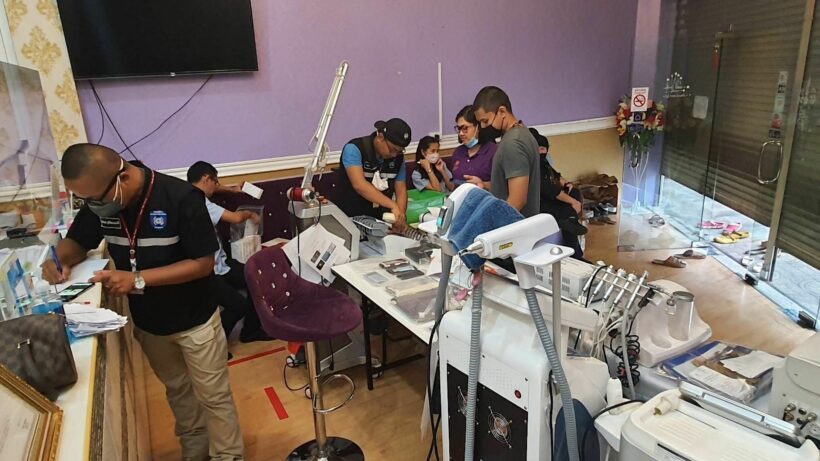 The clinic's registered doctor had cancelled the clinic's medical registration in July 2020, however, officials found the clinic to still be open and operating as normal. Health office officials have requested the clinic to report back on who is actually in charge of the establishment but have not received a response despite the clinic staying open.
SOURCE: Thai Residents
Keep in contact with The Thaiger by following our
Facebook page
.
Never miss out on future posts by
following The Thaiger
.
'Noul' weakens as it pushes through Central Thailand today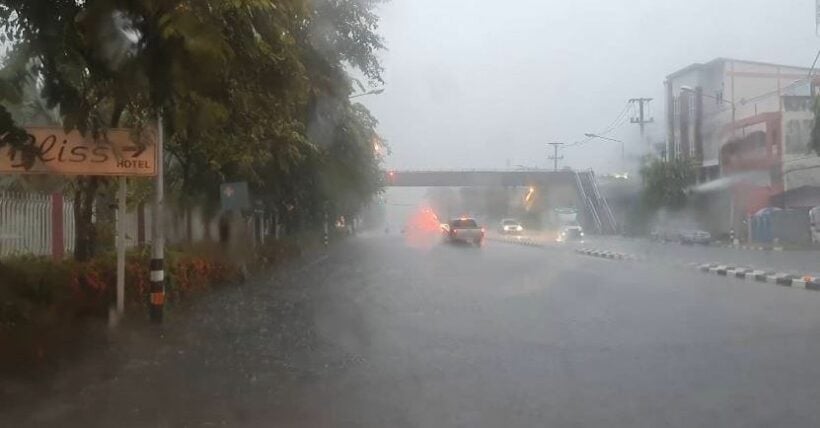 The remnants of Tropical Storm Noul are now situated over Central Thailand after passing over Vietnam's central coast yesterday morning and then into Laos and north eastern Thailand last night with some high winds and rain preceding the eye of the storm.
Provincial officials warned of flash floods and landslides in northern provinces ahead of the storm. The depression, now continuing to weaken, continue to head westwards through Thailand today. The PM this morning asked officials to be "efficient" in attending to any emergency requests.
The Joint Typhoon Warning Centre this morning reported that 'Noul' made landfall on the Vietnamese central coast, just north of Hue, in the early hours of September 18 (Friday, Thai time) and begun to track inland as it slowly started to dissipate and lose strength, whilst dropping heavy rain in its path.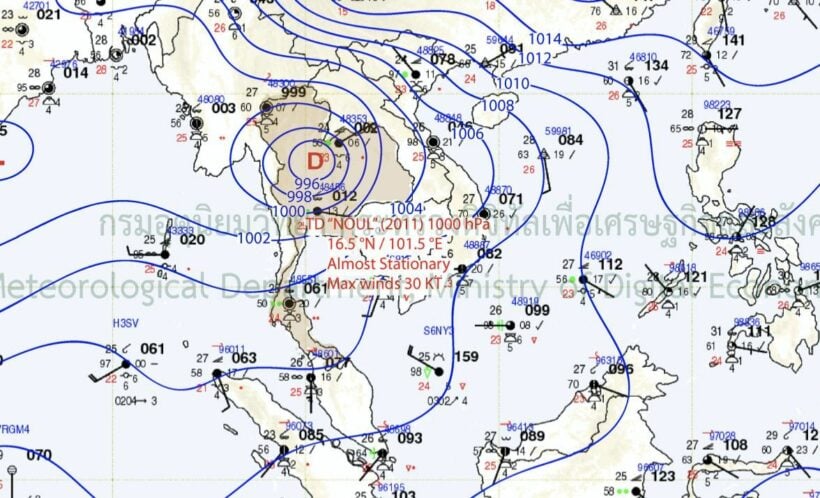 Thailand's meteorological department is still warning those in its path to stay on "high alert" this weekend.
"People were strongly advised to stay indoors and avoid sheltering under unstable structures due to strong winds."
Rain has been heavy ahead of the storm, especially in the north east and eastern regions, with rain expected in many part of the country today. The tropical depression is also dragging moist air from the Indian Ocean, intensifying the south west monsoon and increasing rain in Thailand's south.
Bangkok's forecast today is for the rain to continue. Heavier rain is expected in central and western Thailand, and parts of the north.

Keep in contact with The Thaiger by following our
Facebook page
.
Never miss out on future posts by
following The Thaiger
.